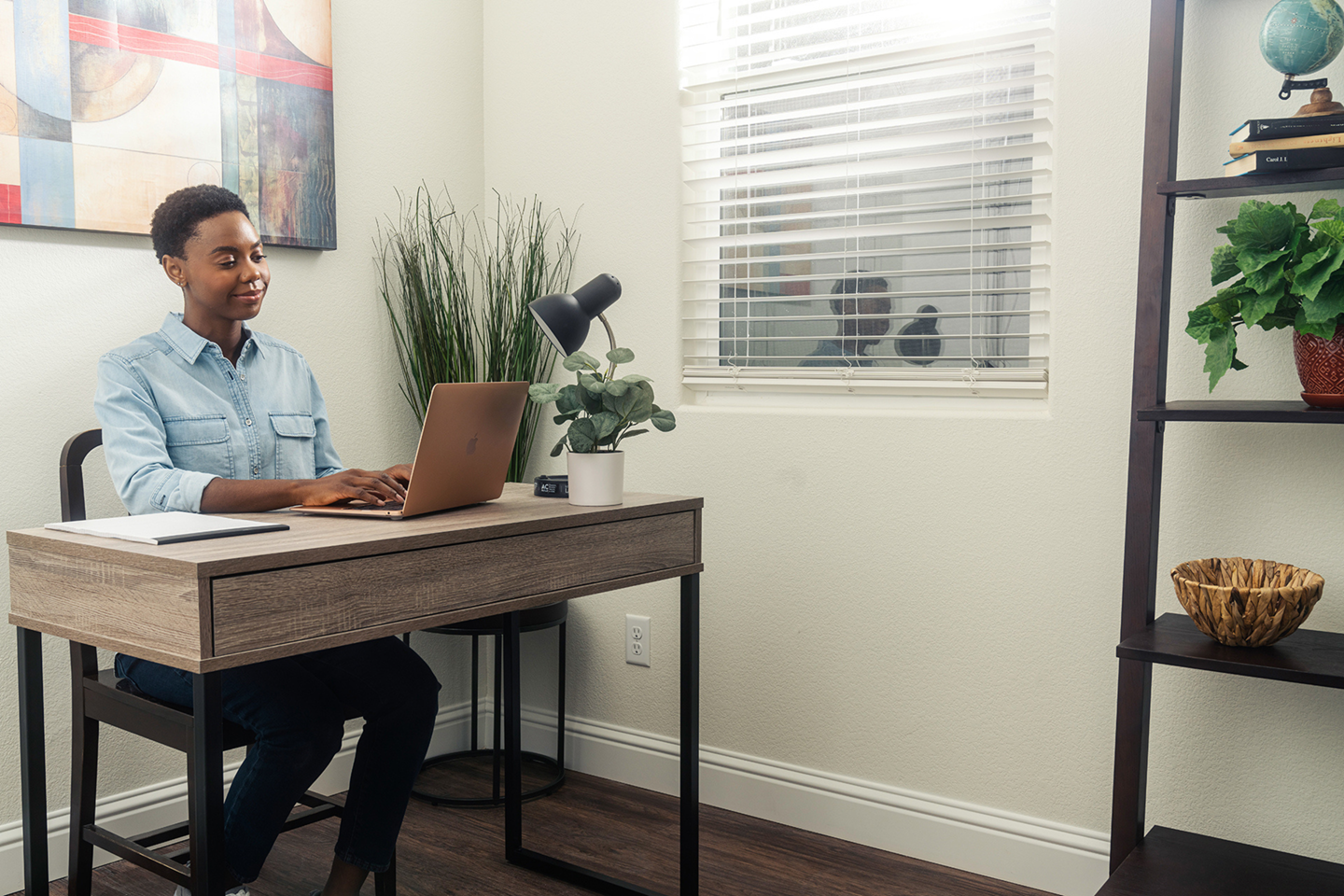 16 key leasing terms explained
Posted by AMH Team
5m read time
Feb 8, 2023
Whenever you're signing a new lease or renewing an existing lease, it's important to understand the language in the document. Here are some common leasing terms in simplified language so you know what you're committing to.* 
Lessee and lessor
In any leasing contract, there are typically two primary parties involved: the lessee and the lessor. The lessee is the tenant — that's you. The lessor is the owner, landlord, or property management company that oversees the property and the tenant relationship.
Tenant and co-tenant
A tenant is typically the primary lessee, who signs the lease. A co-tenant is an additional occupant of the residence, like a spouse or roommate, and has equal responsibility with any other lessee on the lease agreement. It's expected that all co-tenants will share rent and care for the property.
Guarantor or co-signer
A guarantor or co-signer is an individual in addition to the lessee who signs the contract to share financial responsibility for the lease. They may not live at the property but vouch to help the tenant get approved. Usually, the guarantor or co-signer has a good credit history and consistent income, which makes up for a tenant who is lacking in either area.
Credit history
Credit history refers to financial background information that is collected in credit reports from one or more of the three major credit bureaus: Equifax, Experian, and TransUnion. A landlord typically runs a credit check to feel confident that the lease applicant is likely to pay the rent on time. 
Premises
This leasing term refers to the property that is included in the lease. It could be a specific apartment number or a single-family home that includes a yard and garage. The lease agreement should clearly identify what you're getting in exchange for your rent. You can always ask for clarification if you're unsure. 
Rent
Rent is the amount of money you and your landlord agree on to be paid in exchange for living on the premises. The lease agreement should state what period of time each rent payment applies to. In most cases, it's monthly. Be sure to note the recurring date the rent is due (such as the first or last day of the month), and what payment forms are accepted.
Security deposit
In addition to paying your first month's rent, most lease agreements require tenants to pay a security deposit as well. This is an upfront payment that is used to secure the lease. In case any damage is noticed when you move out, the landlord may withhold some or all of the security deposit to cover the repairs. The security deposit is held in escrow and may be returned after the lease is over, if the property is left in good condition. 
Pet deposit
In addition to a security deposit, you may have to pay a pet deposit if you're allowed and intend to have a furry friend live with you in the rental property. Like a security deposit, the pet deposit is held in an escrow account during your lease and used to repair any pet-related damage. If there is none, you could receive this money back at the end of your lease. 
Term
The term defines the length of time during which the lease is in effect. It usually lasts for one year. The lease may also outline how the renewal process works after the initial term ends. For instance, do you have to renew for another year or do you automatically revert to month-to-month?
Renewal
A renewal is the tenant's right to extend the lease once the initial term is over. The landlord may change the terms of the lease, but this part of the agreement still gives you the choice of whether you want to extend your term.
First refusal right
Some leases may give the tenant a first refusal right. That means you would be able to have the first choice of whether to renew your lease before the listing is made publicly available. 
Amenities
This refers to any community features that tenants get to enjoy as part of the lease. Amenities could include places like a clubhouse, common areas, trails, or playgrounds. Any use restrictions, such as hours of operation, may also be outlined in the lease and any community or HOA covenants, conditions, and restrictions (CC&Rs). 
Renter's insurance
Your lease may have some type of language that requires you and any co-tenants to obtain renter's insurance. While the property owner may be responsible for insuring the structure, it's recommended to obtain renter's insurance to financially protect your personal property in case of a qualifying event. Your lease may include a minimum liability requirement and you may need to show proof of insurance before the lease agreement can be finalized. 
Modifications or amendments
A modification or amendment is any change to the original lease agreement during the term. For instance, after the initial term is up, your landlord may modify the lease with a new term length, rental price, or other detail. 
Use
The "use" portion of a lease agreement outlines what activities are allowed or prohibited in the rental property. For instance, a lease agreement may prohibit conducting business out of the property. Or it may limit how many tenants or guests are allowed to stay there. 
As-is condition
Lease agreements usually state the rental property should be left in as-is condition. In other words, when you leave, the home should look the way it did when you moved in. It's important to conduct a walk-through before moving in and at move-out to ensure everyone is on the same page about the condition of the property. 
Final thoughts
Hunting for a rental property can be tough enough as it is, without the added jargon, but it's important to know what you're signing up for when it comes to your lease. With these definitions in mind, we hope you'll feel more confident about finding a new home that's right for you. 

*Note: This does not constitute legal advice. You should consult an attorney when signing any lease documentation. These terms and definitions may not apply to all leases, including AMH leases. Be sure to carefully review any lease you're considering signing. 
© 2023 American Homes 4 Rent, LP
American Homes 4 Rent®, AMH®, AH4R®, Let Yourself In®, AMH Development®, American Residential®, and 4Residents® are registered trademarks of American Homes 4 Rent, LP. 4Rent℠, AMH Living℠, and 4Communities℠ are service marks of American Homes 4 Rent, LP.  AMH refers to one or more of American Homes 4 Rent, American Homes 4 Rent, L.P., and their subsidiaries and joint ventures. In certain states, we operate under AMH, AMH Living, or American Homes 4 Rent. Please see www.amh.com/dba to learn more.