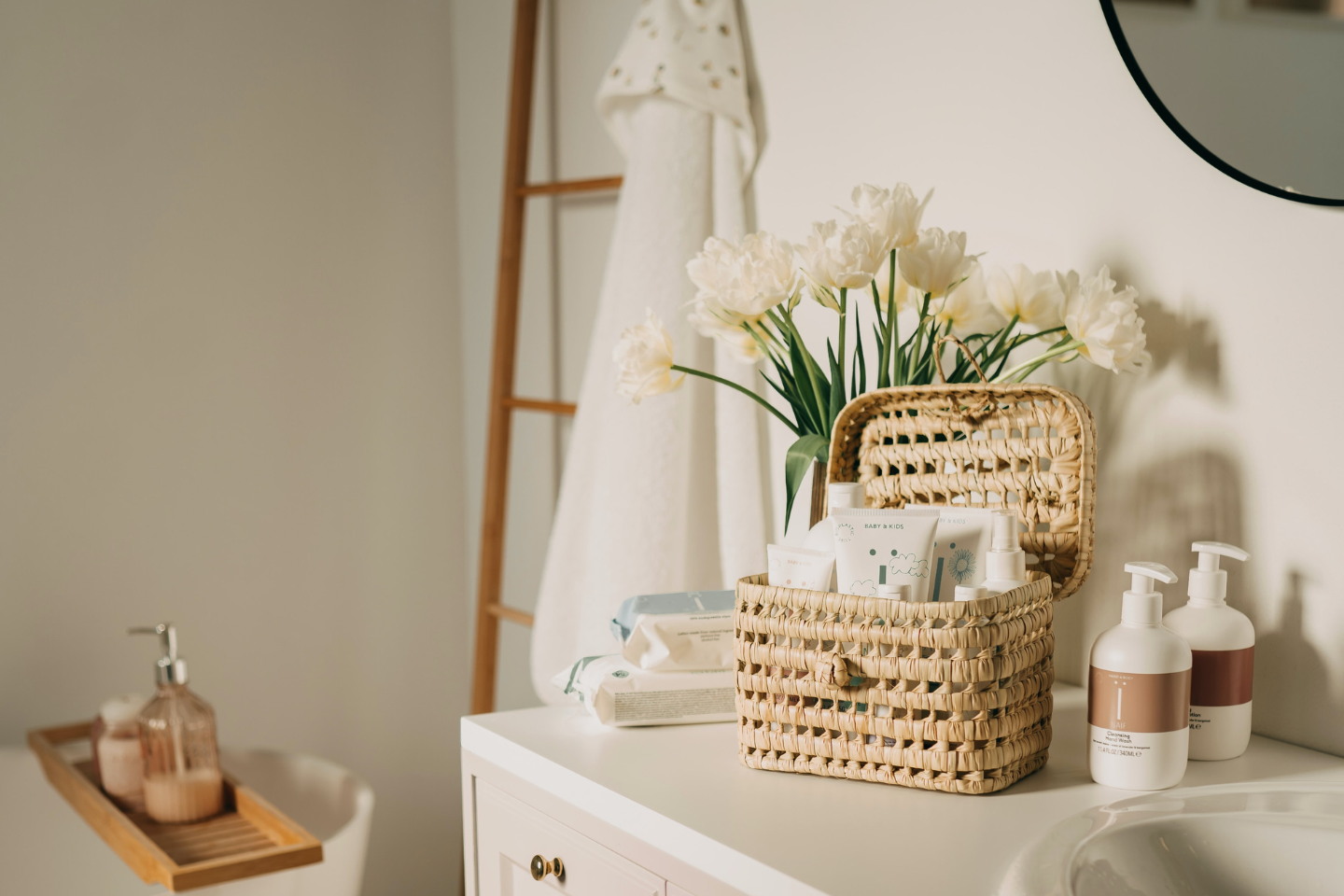 11 easy ways to turn your bathroom into a spa
Posted by AMH Team
5m read time
Aug 30, 2022
Did you know that August is National Wellness Month? In other words, it's time to take a moment and treat yourself. One of the best ways to incorporate a daily self-care routine is to create a beautiful bathroom space that invites you to wind down and relax. And it doesn't take a renovation project or huge budget to make it happen. Here are a few of our favorite ways to turn your bathroom into a spa. 
Clear the clutter
Start off with a clean slate by clearing out the clutter in your bathroom. Get rid of expired medicines and vitamins along with old makeup you haven't touched in years. Then take the time to organize everything you decide to keep and find a spot to store it out of sight, so you can keep your surfaces completely clutter-free. Getting rid of the visual noise is a huge part of creating a serene environment where you start and end your day. 
Keep it clean
Once you've whittled down your bathroom contents to the things you actually use, give it a deep clean (or hire someone to do it for you). Those surfaces are much easier to wipe when they're not crammed with dozens of lotions and perfume bottles. Also give your shower a quick spritz and scrub every time you finish showering, so that it's sparkling and ready for the next day. If your grout is looking dingy, get a good cleaning solution and give it a little extra elbow grease every few months. 
Add a bathtub caddy or shower bench
Now that your space is cleared and clean, it's time to incorporate the spa vibes. Start with adding either a bathtub caddy or shower bench. A caddy is basically a water-safe tray that lays across your bathtub while you soak underneath. It's the perfect place for a candle, glass of tea or wine, and a good book. A shower bench gives you a comfortable spot to shave or simply enjoy a few extra minutes soaking. 
Create a gallery vibe
Get inspired to spend more time in your bathroom by hanging artwork on the walls. You can either cluster multiple pieces or hang one large focal piece to draw in your attention. 
However, there are a couple of things to consider before you hang up art in a moisture-heavy environment. First, avoid using a wooden frame since it's not moisture resistant over time; instead, opt for metal. Also, remember to turn on the exhaust fan any time you're taking a shower, which helps draw out the moisture and keep your artwork in top condition. 
Upgrade your towels
This one is a simple and inexpensive way to give your bathroom a luxury feel. Swap out your old towels for a fresh, uniform set. White towels are easy to maintain since you can bleach them, and they also add to the room's feeling of calmness. But you can also pick a bold color to add a pop of excitement to your bathroom. It's up to you and what makes you feel best. Some people prefer a neutral feel, while others want to be inspired by bold colors. 
Bring in live plants
The bathroom is an ideal place to add some house plants, especially when you pick the right ones based on the light and moisture levels. And that extra dose of nature will add to your relaxation every time you step foot in your bathroom. Succulents, ferns, and aloe should all enjoy the humidity, as well as the indirect light. Ferns like a consistent misting of water, while succulents and aloe can (and prefer to) go longer without heavy direct moisture. 
Use aromatherapy 
There are lots of studies that suggest aromatherapy provides both physical and mental benefits. Either way, adding a signature scent to your bathroom can at the very least help set a relaxing ambiance. For a steady stream of scent, try essential oils in a reed diffuser. You can also burn incense or sage, but make sure to limit your inhalation of these smokes by opening the window and circulating air while they're lit.   
Soften things up with an area rug
A pretty area rug adds both texture and softness to what can otherwise feel like a cold room. Just like your towels, you can opt for a neutral tone to create a relaxed environment, or something colorful to brighten up the feel of the bathroom. Depending on the size and shape of your bathroom, you could grab a circular or rectangular rug to fill up a large space, or a runner rug to place in front of the vanity. This simple addition can make such a difference in feeling like you're in a spa. 
Swap out your shower curtain
Both a new shower curtain and liner are a cheap and easy way to upgrade the look of your bathroom. A bold print can make it a focal point, or you could add a textured fabric in the same color as your wall to add a layered effect. And there's nothing like a fresh curtain liner to make your bathroom look spotless and relax you every time you walk in.
Add a Bluetooth speaker
Don't forget about the power of sound in your bathroom spa. Plug in a small Bluetooth speaker and pair it with your phone to play nature sounds, relaxing piano, or some New Age tunes. Just be sure to opt for a waterproof speaker to make sure it lasts.
Treat yourself to a few luxury toiletries
You cleared out all of your old, outdated toiletries and makeup. Now consider incorporating a few select luxe options that make you feel great. A new face oil, bathing salts, or body wash can encourage you to spend a few extra minutes on your self-care each day.
Final thoughts
It's easy to create a spa-like retreat at home with just a bit of organization and a few upgrades. Start off by incorporating a couple of these ideas at a time to discover what works best for you! 
© 2023 American Homes 4 Rent, LP
American Homes 4 Rent®, AMH®, AH4R®, Let Yourself In®, AMH Development®, American Residential®, and 4Residents® are registered trademarks of American Homes 4 Rent, LP. 4Rent℠, AMH Living℠, and 4Communities℠ are service marks of American Homes 4 Rent, LP.  AMH refers to one or more of American Homes 4 Rent, American Homes 4 Rent, L.P., and their subsidiaries and joint ventures. In certain states, we operate under AMH, AMH Living, or American Homes 4 Rent. Please see www.amh.com/dba to learn more.