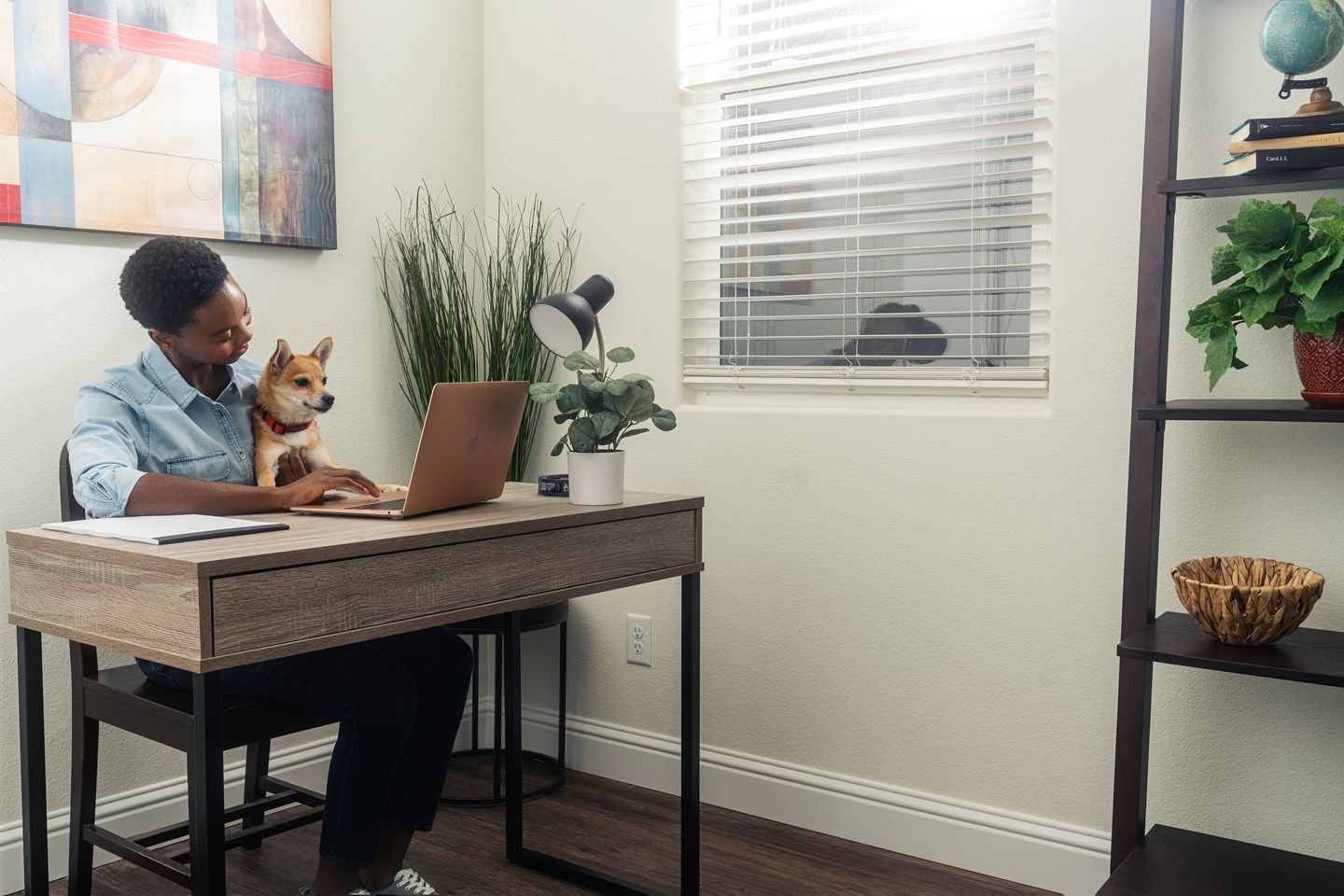 11 ways to maximize your nook spaces
Posted by AMH Team
7m read time
Apr 27, 2022
Designing and theming nooks is an ideal way to turn your home into a multi-use space, whether you work remotely, have kids attending school virtually, or need room to devote to a creative project. Instead of discarding a small nook as a throwaway space, get creative in how you can use it to maximize your life at home. Plus, it can add a sense of order to your living space without taking up a huge footprint in your floor plan. Here are 11 inspirational ideas to repurpose your home's nook spaces:
Create a WFH office
More people than ever are working from home, but that doesn't mean you automatically have a built-in workspace or the ability to devote an extra bedroom as an office. Transforming a nook into a pocket office is an effective way to establish a sense of privacy during your workday, rather than setting up shop at the kitchen table or in your bedroom. Not only does it create a physical boundary between your office space and personal space, it can also help psychologically separate where you live and work at home, with positive impacts on your well-being. Set up a desk that fits perfectly into your space by using a piece of wood cut to fit the width of the area. You can place that on top of shelves or filing cabinets to achieve an ergonomic height, as well as additional storage space. From there, you can incorporate green WFH practices to turn your nook office into a sustainable working space that's mindful of the environment as well.
House your plants
House plants are all the rage. Not only do they add a natural, inviting element to your home, they let you flex your green thumb all year long without performing hard labor outside. A nook space can easily be staged as a house plant display area. It's easy to control the lighting with the appropriate lamps, and you can use shelves and a credenza to support your green friends. A plant nook can also hold any small garden tools you use inside or out, so you know exactly where to look whenever you're ready to give your plants some TLC. Check out our guide to planting flowering bulbs to get started.
Use as a workout or meditation space
Not everyone likes to go to the gym, but that doesn't mean you can't enjoy a workout session at home and on your own timeline. Depending on the size of your nook, you could fit in a piece of stationary equipment like a treadmill or bike. That way it's convenient to use without taking up space in your other living areas. Are you more of a yogi rather than a runner or cyclist? Go for a more relaxing approach by using your nook as a zen-inspired yoga and meditation space. Store your mats, blocks, and other equipment, then set out some comfortable floor cushions to work on your mental wellness. Learn more about how to design a calm, distraction-free space at home here. 
Carve out a cozy reading corner
Make your own Instagram-worthy book nook with just a few shelves, a comfortable armchair, and an adjustable floor lamp for the perfect reading space. Any avid reader will love a designated spot to store their favorite volumes, not to mention lounge with a cup of coffee on a weekend morning or a stormy afternoon. Level up your reading nook by styling your bookshelves. Instead of alphabetizing authors, for example, you could arrange your books by spine colors. Add in some favorite trinkets, candles, and a throw blanket for a truly cozy atmosphere any day of the year.
Set up a mini-bar
Designing your own at-home bar gives you the feeling of a sophisticated happy hour without the hefty price tag. Start off by finding a bar cart or cabinet to use as your serving station, either new or secondhand. Then hit up your local thrift store for all the drink-slinging accoutrement you may need, such as glass tumblers, a cocktail shaker, stirrers, and an ice bucket. Complete the look with a few of your favorite bottles of wine or liquor, a bowl of lemons and limes, and maybe a mixology book. You'll be inspired to make the time for an at-home happy hour every day of the week. 
Designate a kids' play area
Designating a hangout space is a great way to engage kids of all ages and encourage them to follow their own interests. Maybe you turn your nook into a kid-friendly reading area or simply a storage space for all those toddler toys. Go all out with a whimsical theme using a fun rug, some bean bag chairs, and simple storage shelves. Woven baskets are also an eye-catching way to corral small toys so you don't have to see them all the time. Alternatively, go all in by focusing on your child's favorite passion. For example, you could turn the nook into a mini-stage for your budding actor or a Lego workshop for your future engineer. Get creative and involve your kids in the process for a bonding experience that culminates in a completely personalized final product. Worried about spillover? Learn how to keep your child's area organized with these 13 tips.
Pack a punch with wall decor
Planning your nook space can simply be a way to tease out your inner designer. Experiment with bold styles and techniques that you may not do elsewhere in your home. Going all in on a nook is much more affordable than a large space, and you can quickly make a statement without overwhelming the eye. Try things like putting up a patterned removable wallpaper or hanging a dramatic piece of artwork. Another idea is to experiment with a design philosophy you've been curious about, like hygge, wabi-sabi, or biophilic design. When you find a style you really love, you can begin to extend it to other areas of your home, feeling confident in your design decisions. 
Organize a crafts station
Whether you sell crafts on Etsy or regularly tap into your creative self for your own personal expression, consider turning an underused nook space into your own crafting corner. A small desk and storage containers to fit your supplies will keep the space tidy and organized. Select trays, tubs, and other containers that specifically fit your most used mediums. Then you can add in a small task lamp to shed light on your intricate work. If you have blank wall space, a crafting corner is also a great place to hang an inspiration board to track ideas for future projects. 
Turn it into a self-care salon
Have you ever dreamed of your own vanity area, complete with a huge mirror, great lighting, and a comfortable chair? Turn your nook into your own makeup or self-care station for a truly sophisticated feeling that invites you to spend on your well-being. Depending on how much space you have, you could slide in a desk or simply use some basic shelving to store your favorite products. Opt for some pretty storage tubs, like clear acrylic drawers and mesh canisters. Then you can see all of your makeup and supplies and enjoy them as part of the decoration. 
Display your collectibles
If you are a collector of any kind, your nook can be used as an impactful display area. It's a great alternative to keeping your collections spread out or even stored away where you can't enjoy your treasures. Set up shelves to emulate customized built-ins or use a glass display cabinet that fits the space. Then you can deck out the area with your favorite china, baseballs, dolls, or any other collectible you love. Displaying your collection in a nook keeps everything organized and easy to clean. Plus, it will bring you joy to see those items every day.  
Give your pets their own space
Turn your nook into an adorable hangout space for your dog, cat, or other small pets. Add a bed and a blanket to give them a quiet space to relax, plus a basket of their favorite toys. You can even add curtains if they like a bit of darkness to get really cozy. Another idea is also to use your nook to house a crate for your pet when you're away from home. Being in a smaller space with minimal distractions can decrease their stress levels when you're gone. Learn more about how to be a better pet owner here.  
© 2023 American Homes 4 Rent, LP
American Homes 4 Rent®, AMH®, AH4R®, Let Yourself In®, AMH Development®, American Residential®, and 4Residents® are registered trademarks of American Homes 4 Rent, LP. 4Rent℠, AMH Living℠, and 4Communities℠ are service marks of American Homes 4 Rent, LP.  AMH refers to one or more of American Homes 4 Rent, American Homes 4 Rent, L.P., and their subsidiaries and joint ventures. In certain states, we operate under AMH, AMH Living, or American Homes 4 Rent. Please see www.amh.com/dba to learn more.