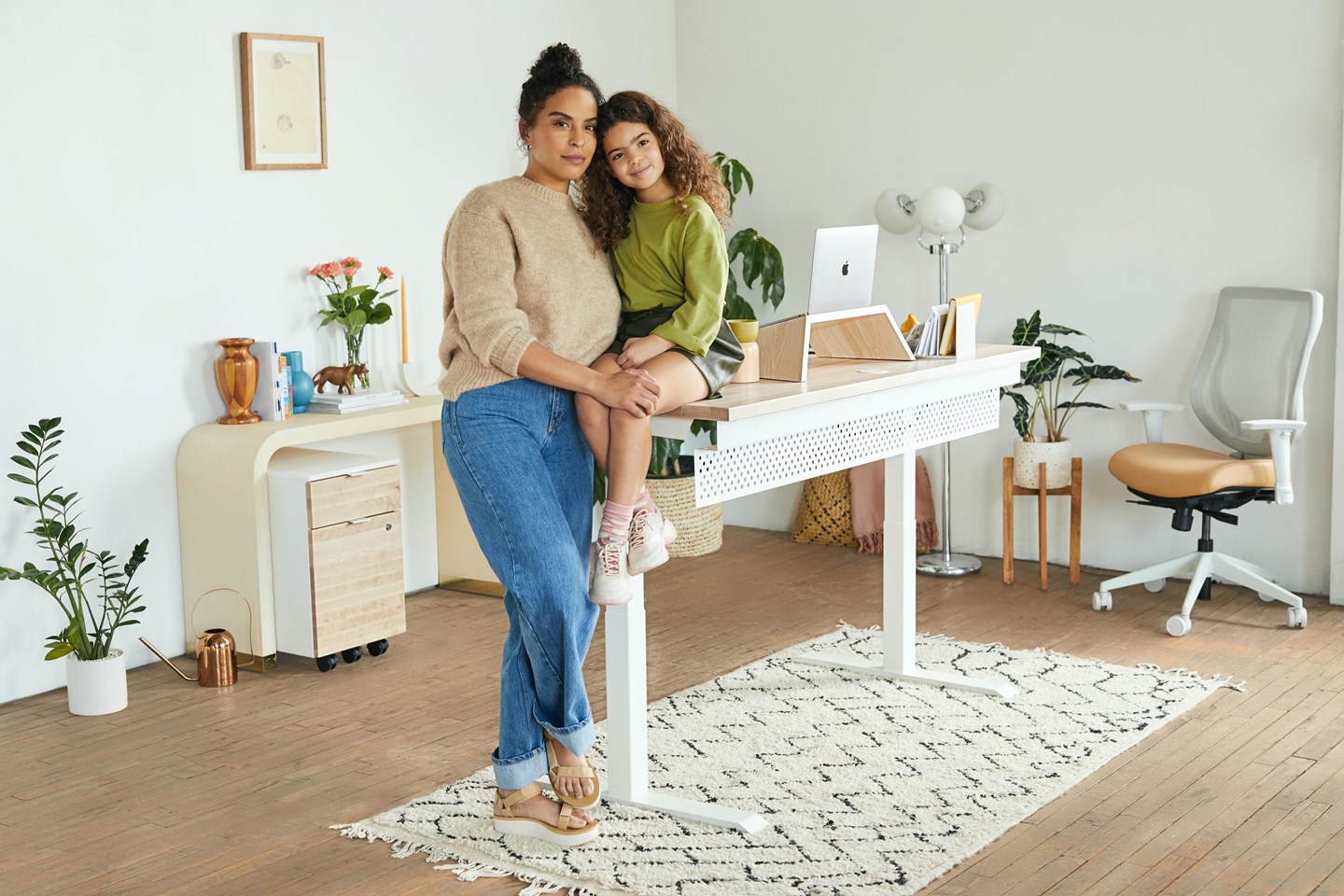 2022 home interior design trends we love
Posted by AMH Team
9m read time
Nov 16, 2021
Home is no longer a landing pad between work, travel, and other responsibilities. Most people still spend a vast majority of time at home, and interior design trends for 2022 reflect this pace of life. While calming neutrals and a minimalist aesthetic are still on trend for many people, 2022 is also opening the doors to maximalism, complete with brighter colors and bolder decor all around. Here are some of the latest design trends for the year ahead, plus tips on how to incorporate them into your own home. 
Bold patterns
A new home decor trend for 2022 is the shift from neutral color palettes to bold patterns. From removable wallpaper to textiles like bedding and linens, patterns are popping up everywhere. You can mix and match stripes and plaids or incorporate whimsical patterns that have a folk art feel. For a less dramatic approach, you can also opt for light florals.
This diversity in print options is what makes the patterns trend so universal: you can incorporate the look no matter what your preferred aesthetic may be. Choose abstract lines if you prefer a clean, modern look. Or layer vintage-inspired botanical prints for a warm, "grand Millennial" feel (a grandma-chic look for a younger generation). The point is to showcase your personality while creating a space that truly feels loved and lived in. And bold patterns are more widely available than ever, giving you total freedom in incorporating textiles and removable wallpapers that work for your space.
Striking accent colors
Whether you incorporate dramatic patterns or prefer a neutral background, accent colors are having their moment as an upcoming home decor trend. If you're unsure of how to add some pops of color without overwhelming the space, there's an easy rule of thumb to follow: think of accents as accounting for 10% of the color in your room. 
Accent colors can definitely be bright colors that add personality to a space. But even if you prefer a more minimal look, you can use dark colors against a neutral background to achieve drama without creating too much busyness.
In living rooms and bedrooms, think throw pillows, blankets, lampshades, and curtains for your accent colors. In the bathroom, choose towels that offer a pop of interest. This is a budget-friendly home trend that lets you easily experiment with different styles to find the look you love the most.
Touches of metal
Adding metal into your decor is a current interior design trend that is set to continue in 2022. There are several reasons why we love this trend so much.
First, it's totally fine to mix and match metals like copper, brass, and chrome. That makes it easy to incorporate items you already own with new pieces. Plus, it's a simple way to elevate any room in any style, whether you're a minimalist or maximalist — or somewhere in between. 
Some of our favorite ways to incorporate metallic touches throughout your home include: the legs of dining room chairs; ornate mirrors; accessories like trinket dishes and candle holders; lamps; and planters.
Shop what you already have at home, then search for some complementary pieces that tie the entire look together. Remember, these are just accent pieces, so it's easy to add in this layer for a more sophisticated design scheme in your home.
Multifunctional spaces
The last two years have placed a burden on our homes to function in a number of ways. Not only do we need a place to eat, hang out, and sleep, many people also need space to work and even teach their kids. It's no surprise then that 2022 is ushering in the trend of having multifunctional spaces at home. Open concept living is a thing of the past. Instead, people are opting for flexibility in how they use the rooms in their home.
One big trend is the ability to create privacy so you can take that Zoom call or offer a quiet study space for your child. There are plenty of non-permanent options out there that you can easily incorporate into your home, like curtains or folding screens. In a similar form, modular furniture is another growing trend that lets you reinvent the space each day, depending on what it's being used for.
Permanent workspace
Even if you can't devote an entire room as an office, 2022 design trends are all about finding ways to create a workspace that suits your needs. Here are some ideas you can incorporate that don't involve any major construction.
Create faux built-ins. Whether you have a spare bedroom to use as an office or simply want a more formal space carved out of a living room or dining room, built-ins automatically elevate a space. But you don't need to take on a carpentry project to get the look. Instead, use bookshelves to create the look of custom cabinetry. Get inspiration by searching for Ikea built-in hacks — there are tons of ideas for how to utilize standalone pieces that look totally customized for your space. 
Transform a closet. An underused closet can actually work as a permanent office space. Find a desk that fits within the space, then hang some shelving above it to store files, cords, and other work-related items. 
Snag a writing desk. You can still create a designated workspace even if you don't have a room or closet to devote to it. Choose a lovely writing desk that fits in a corner and folds up after the workday is over. It helps you concentrate during work hours, then hides everything out of sight when you're ready to switch back to "home" mode.
Curved lines
If you're looking to refresh your space with one of the newest home decor trends, consider incorporating curved lines into your home. We've seen a lot of angular, abstract shapes and patterns in recent years. But 2022 is bringing in curved lines in all kinds of ways. Curved chairs and sofas, for instance, are not only comfortable, they also make a space feel softer and even romantic. Mirrors are a low-cost option as well. Large, round shapes have been popular the last few years. But you can now find beautiful options that are still rectangular to provide plenty of reflection while incorporating interesting curved tops with a distinctly art deco feel. 
Curved lines also work well in a number of aesthetics. Pick soft furniture in neutral tones to keep a natural look. Or choose a bright color with tufted fabric for an eclectic aesthetic. It's easy to keep your personality while creating a soft, welcoming environment with curved lines.
Velvet textiles
Utilizing velvet gives your home a vintage throwback feel, while also providing a cozy, inviting environment to any room. Velvet automatically adds a luxe look to any style and also pairs well with metal accents. 
Furniture is an obvious choice for adding velvet to your living room. But you don't have to invest so heavily in order to get the look. Instead, try incorporating velvet textiles in the form of curtains or bed covers. These fabrics look great in dark, moody colors for fall and winter. But you can easily swap to softer colors with peaches, light blues, and mossy greens all year round.
Nature indoors
Bringing the outdoors in is a trend that's set to continue throughout 2022. There are a number of ways you can do this, especially if you're on a budget. First, simply forage outside for beautiful pieces of nature to bring into your home. Scatter some acorns on your dining room table when cool weather arrives, or fill a bowl full with pine cones as you prepare for the holiday season. It's fun to get creative with tablescapes that make you feel connected to what's happening right outside your front door.
Houseplants are another way to bring nature inside. This is a generational trend that's not set to slow down anytime soon. If you've never cared for plants before, start with succulents. They require little water and only need indirect light. From there you can step up to options that need a bit more attention.
Vintage and antique items
Sourcing vintage and antique pieces into your home decor is a sustainable practice that we love for a number of reasons. First, you can find beautiful furniture and decor, often at a lower price than you'd buy new. Since most vintage items are no longer mass-produced, you will have totally unique pieces. It's also fun to mix in older items with new pieces as well.
Additionally, it looks like supply chain issues are here to stay in 2022. That means you may have to wait several months to get a popular piece of furniture. But by shopping for vintage and antique pieces, you can avoid these issues while also preventing beautifully crafted pieces from ending up in the dump. Scope out your local thrift stores, antique dealers, and flea markets. Delivery is often available so you don't have to worry about fitting things into your car.
Global inspiration
While travel is beginning to open back up, many people are still feeling nostalgic for days when it was easier to go abroad. This pull towards other countries is beginning to show itself in home decor trends where international themes shine through. You can incorporate this by showcasing your own travel souvenirs and collectibles or by emulating a specific locale in your design choices.
Here are some ways to manifest this trend:
Bring home the tropics. Get that resort feel with wallpaper and fabrics featuring tropical plants like palm trees and ferns.
Travel to ancient Asia. Incorporate Oriental rugs and chinoiserie fabrics on your curtains or furniture to feel like a traveler from days gone by.
Relax like you're in the French countryside. Bring in washed linen fabrics, aged wood, and copper accent pieces to create a rustic European vibe. 
Kitchen organization
Because people are still spending a lot of time at home, the kitchen has become a more frequently used hub for cooking and eating. A huge continued trend in 2022 will be to organize your kitchen space and even hide items that aren't being used. There's plenty of inspiration to be found on Instagram and Pinterest, from picture-perfect pantries to fully matching container sets for your bulk food goods. 
But the bottom line is functionality. You need to be able to comfortably store all of your gadgets without feeling like items are spilling out of every corner. Put a system in place that helps keep the clutter to a minimum. It's worth the clear head, especially when you're spending more and more time in your kitchen.
Outdoor space
People are continuing to maximize their space at home, which includes turning your backyard into a fully functioning living space. If you haven't already, snag a firepit or other outdoor heater to extend the season. You can also invest in comfortable furniture that makes you want to spend your free time grilling and hanging out in your outdoor space. Finally, source durable plates and flatware that can withstand the elements. That way you can be inspired to entertain outdoors without worrying about breaking your usual dinner dishes.
Bottom line
Make 2022 the year of inspired living by incorporating some of these new interior design trends into your home. You don't have to spend a lot of time or money to give your home a fresh look that leaves you eager to wake up every morning and start your day.
© 2023 American Homes 4 Rent, LP
American Homes 4 Rent®, AMH®, AH4R®, Let Yourself In®, AMH Development®, American Residential®, and 4Residents® are registered trademarks of American Homes 4 Rent, LP. 4Rent℠, AMH Living℠, and 4Communities℠ are service marks of American Homes 4 Rent, LP.  AMH refers to one or more of American Homes 4 Rent, American Homes 4 Rent, L.P., and their subsidiaries and joint ventures. In certain states, we operate under AMH, AMH Living, or American Homes 4 Rent. Please see www.amh.com/dba to learn more.