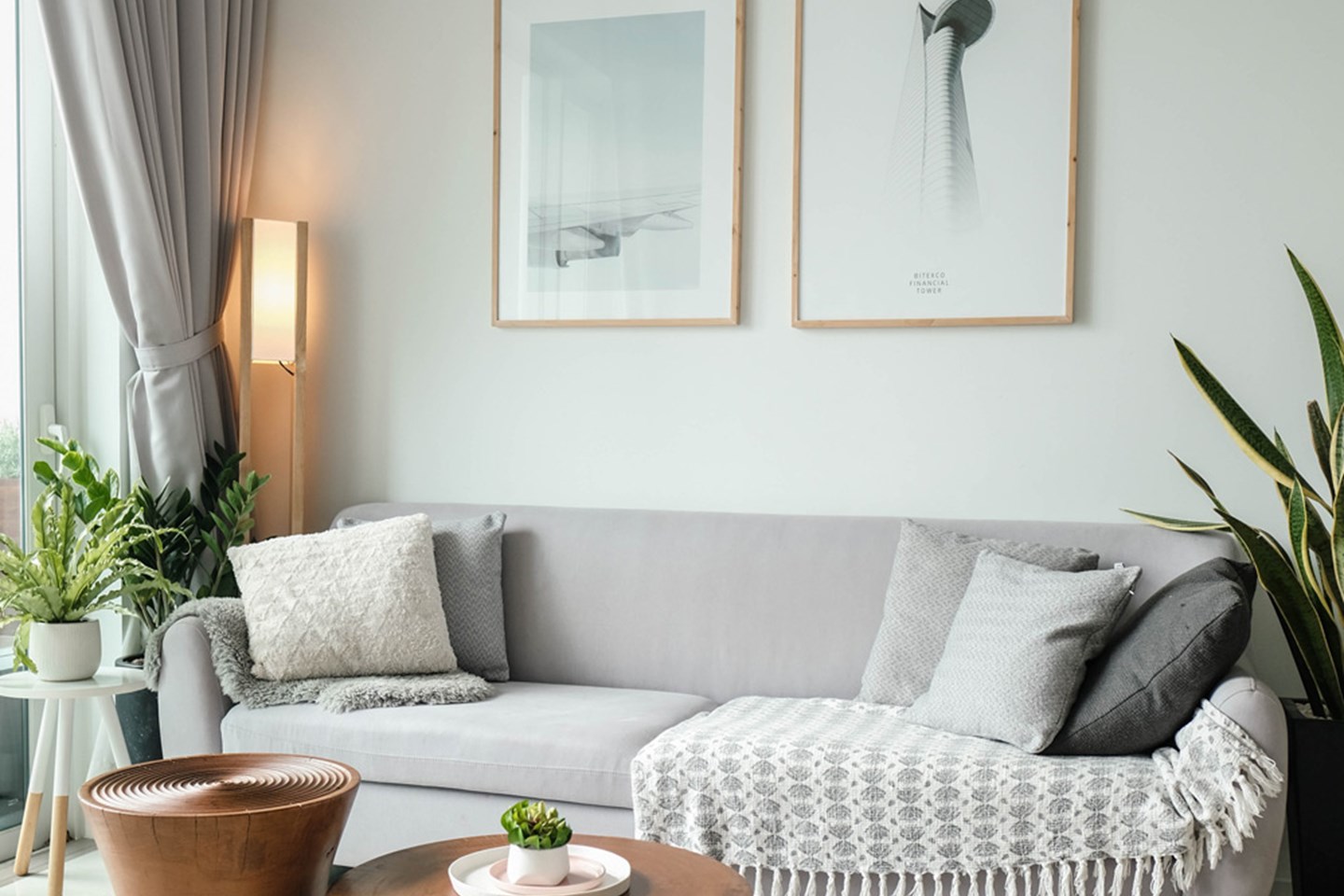 3 philosophies to incorporate into your interior design
Posted by AMH Team
9m read time
Nov 2, 2021
Revamping your home design isn't just about buying new things; it's about reshaping the framework of how you use your space. There are three interior design trends in 2021 that truly embody this principle: wabi-sabi, hygge and biophilic design. Each one focuses on using your home to improve your well-being. After all, your house should be a retreat from the stress of the day, not another thing that nags at the back of your mind.
Find out what each design style means and how to incorporate these types of interior design schemes into your home for a timeless, inviting result you won't regret. And you don't even need a huge budget to pull it off.
Wabi-sabi Japanese interior design ideas
The Japanese phrase "wabi-sabi" means embracing imperfection. This may seem counterintuitive in a world where perfectly staged house photos are all over social media and television. But applying the wabi-sabi aesthetic to your own home not only looks great, but makes you feel great, too. Here are some interior design ideas for creating your own wabi-sabi look at home.
Craft a lived-in feel
The wabi-sabi design aesthetic is all about enjoying your home as it is. Look at your spaces and appreciate them for reflecting how you and your family utilize each room day in and day out. Try simple upgrades that elevate your most used areas. Swap out your throw blankets and pillows in living areas to encourage your family to curl up with a book or movie. Showcase mementos you already own, like styling your bookshelf with a few seashells from last summer's beach trip. Wabi-sabi is all about what makes you unique.
Simplify your walls
As you learn to appreciate what you have, use your wall space as a backdrop for your life — not a showcase. Wabi-sabi designers often leave bare walls as a way to neutralize the space. You'll feel more relaxed in your home when your eye isn't constantly shifting from one stimulus to the next. Instead, embrace a minimalist interior design scheme and be truly reflective in what you choose to hang on your walls.
Invest in timeless pieces
One of the best things about the wabi-sabi interior design style is that you don't need to buy the latest home decor pieces each season. Avoid constantly accumulating "fast decor" pieces that will end up at the neighborhood yard sale next year. Instead, spend a bit more on pieces that you'll love forever and won't age out as a bad design trend of the 2020s. Check out local artisans to find pieces like hand-thrown vases or a set of earthy coffee mugs to greet you in the morning.
Engage all of your senses
Wabi-sabi is all about being fully present exactly where you are today, rather than wishing for something different or better. Help yourself live in the moment by creating ways to stimulate all of your senses. Light a candle as you get ready in the morning. Use interesting textiles like linen and woven baskets rather than polyester and plastic. Play some nature sounds or lowkey chillhop in the background while you cook dinner. All of these elements affect you in a positive way and better connect you to your home.
Use tranquil colors
Another tip to incorporate elements of wabi-sabi at home is to tone down your color palette. Look to nature for inspiration and opt for muted tones of cream, brown, gray or light green. You already pared down the decor on your walls. Perfect the look by incorporating earth tones in your paint choices for a truly relaxing atmosphere. Plus, muted colors never go out of style. Paint once and you'll be good to go for years to come.
Incorporate asymmetry
Asymmetry is a big part of accepting imperfection through the wabi-sabi aesthetic. Using natural materials and handmade items is an ideal way to incorporate this interior design ethos. Even if your favorite serving dish gets chipped, don't throw it away. Continue to use it as a showstopper piece at your next party. It's accumulating the memories of a well-lived life in which you are truly present. Drop the pretensions and the burden of trying to achieve perfection. Instead, embrace your inner wabi-sabi and learn to appreciate the wear and tear that naturally comes with life.
Hygge Scandinavian interior design ideas
Originating in Denmark, hygge design focuses on comfort and simple living. Many people take it one step further and associate the style with coziness. Follow these tips to create your own hygge-inspired home.
Use neutral colors
This modern interior design trend is all about creating a relaxing atmosphere at home. Opt for soft, warm colors on your walls and big pieces like furniture and rugs. Not only will these tones always stay in style, it's also easier to create a consistent flow throughout each room of your house. In addition to earth tones, also consider warm pastels to create a cozy, inviting atmosphere in every room.
Warm the space with candles and lighting
Scandinavian winters are cold and dark. The hygge design trend focuses on creating a warm ambience all year long. No matter what kind of weather is outside, you'll automatically feel relieved when you walk into a hygge-inspired room. Pull this off by keeping candles in every room. Skip the plastic lighter and purchase beautiful boxes of match sticks instead (just keep them out of reach if you have young children at home). Additionally, don't rely solely on overhead lighting. Place lamps throughout each room to brighten up the space. Use warm-toned light bulbs rather than the kind with a blue hue.
Turn your bathroom into a haven
The hygge aesthetic should make every room feel inviting, including your bathroom. It's easy for a bathroom to feel cold and sterile. Challenge yourself to warm up the space with soft textiles and wood-tone accessories. Installing a light dimmer is another easy way to get the ambience just right when you're ready to settle in for a bath. Also opt for scented products that you truly love so you feel motivated to take an extra few minutes for self-care each day.
Create inviting table settings
At the heart of a comfortable home is spending time with the people you love. Elevate the everyday dinner by creating a simple yet welcoming table setting. Spread out a linen tablecloth and light a few taper candles. Use cloth napkins and matching dishes for a cohesive look. To really get into the spirit of hygge, grab some small sheepskin rugs (like the ones at Ikea) and drape them over the backs of each chair. It's a small luxury that will make everyone want to linger even after dessert.
Use natural textures
Hygge encourages you to swap out cold, sterile materials for warm, natural ones. Linen, wood, and wool are ideal materials to use throughout your home. Plus, these types of materials come in a range of color palettes so you can really start to express your individual style through a hygge-inspired lens. Tinted sheep rugs, diverse wood tones and even shibori-dyed linens give you the opportunity to get creative.
Biophilic modern interior design ideas
Biophilic design is an emerging contemporary interior design that focuses on bringing nature into our homes and offices. This has become increasingly important as we've all been spending more time at home than usual over the last year and a half. Follow these tips to bring a little of the outdoors in.
Let in natural light
Lighting has a huge impact on our mood and even our health, particularly in winter months when we're not seeing the sun as much. Rethink your curtains and blinds to find a way to let in more natural light. You could remove curtains altogether and let the window itself be a focal point. Or you could use tie-backs to let in as much light as possible. Also move your furniture closer to the windows so you maximize your chances of gazing outside.
Invite fresh air into your home
Let in fresh air on a regular basis to keep your home cleaner and to improve your mood. Even in the winter months, opening your windows for a few minutes each day can cross-ventilate the space and reduce the chance of mold growing inside. Plus, you'll feel better when you get a deep breath of fresh air in your home. Take advantage of screened windows or simply leave the back door open for a few minutes while you're cooking.
Jump on the houseplant train
Houseplants are having their moment right now and they fit in perfectly with the biophilic design trend. They bring an organic element indoors and allow you to connect with nature even if you don't have time to go outside for a walk. Plus, while houseplants are low maintenance, having the responsibility to care for another living organism can increase your sense of well-being. And, unlike dogs or cats, your houseplants don't mind if you leave them behind while you go on vacation.
Add an indoor water feature
A water feature may seem better suited for your backyard, but biophilic designers recommend having one inside as well. The sound of water is soothing to the soul and gives you a feeling of zen when you walk by. A miniature tabletop fountain is an accessible way to do this in any room, like your dining room or office. Alternatively, if you have kids, consider getting a few fish and an aquarium for a low maintenance pet that also brings a bit of nature inside.
Use natural materials
It's no surprise that a nature-based design aesthetic would encourage you to incorporate natural materials into your decor. Use macrame wall hangings to warm up a room while adding a soft texture. Or take your houseplant game to the next level and install a living plant wall for a huge statement. Hanging paper lanterns in a room with tall ceilings also adds soft lighting and an inviting texture that makes you want to reach up and touch.
Incorporate organic shapes and curves
Biophilic design shuns hard lines in favor of organic shapes. If you're in the market for a new sofa, consider a curved back for added interest in your living space. Circular coffee tables and dining tables are another easy way to opt for softer lines in your home. You can also introduce curved patterns in your textile choices, like rugs, curtains or even wallpaper. Look for shapes in nature that you love, such as honeycombs or seashells, and find ways to incorporate them throughout your home.
Bottom line
Picking a new home interior design scheme gives you the chance to create an environment that makes you excited to open the door and walk inside after a busy day. The wabi-sabi, hygge and biophilic design trends are all similar in that they encourage you to simplify your design choices and use colors and materials that relax you, rather than overstimulate the senses.
Each school of thought also recognizes that design is more than a visual art; it's a full sensory experience that should make you pause to smell the flowers, gaze into the fire and grab that soft blanket while enjoying the moment.
© 2023 American Homes 4 Rent, LP
American Homes 4 Rent®, AMH®, AH4R®, Let Yourself In®, AMH Development®, American Residential®, and 4Residents® are registered trademarks of American Homes 4 Rent, LP. 4Rent℠, AMH Living℠, and 4Communities℠ are service marks of American Homes 4 Rent, LP.  AMH refers to one or more of American Homes 4 Rent, American Homes 4 Rent, L.P., and their subsidiaries and joint ventures. In certain states, we operate under AMH, AMH Living, or American Homes 4 Rent. Please see www.amh.com/dba to learn more.