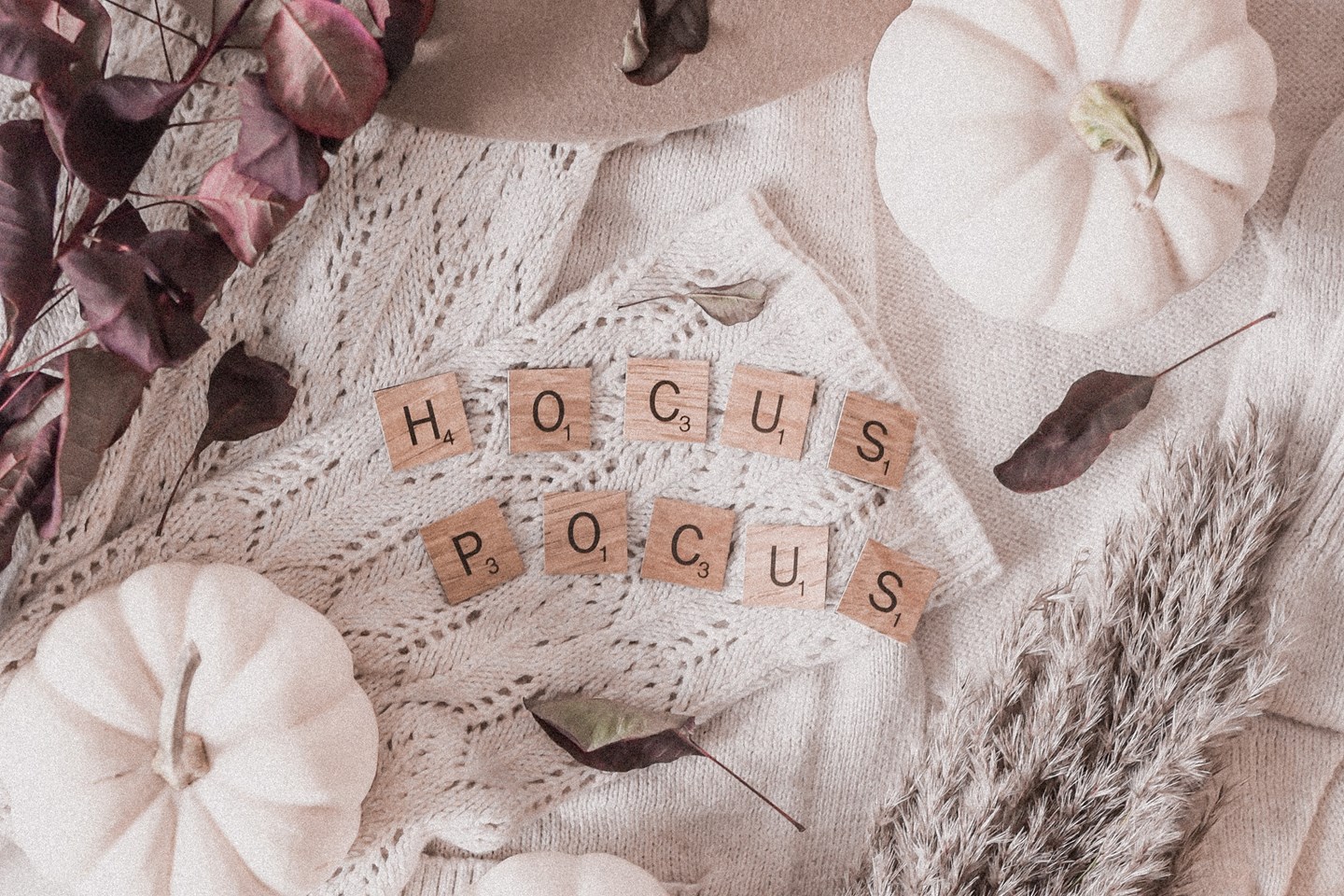 7 Halloween movies to inspire your home's holiday decor
Posted by AMH Team
6m read time
Oct 28, 2022
Halloween is a great time to show off your style. You can create an expansive world in your own home with decorations, become an entirely new person (or creature) with your costume choices, and get creative with the candy you hand out to trick-or-treaters. But sometimes you simply want to curl up, watch a Halloween movie, and be transported into a universe that is magical and, for some, horrific. Whatever your holiday style, we've got you covered:
If your ideal haunted house is more charming than scary: Halloweentown (1998), directed by Duwayne Dunham, rated NR
When most kids are teenagers, they're just trying to navigate the most awkward time of their lives. Could you imagine also learning you're a witch or a warlock and being whisked away into a secret town?
That's what happens to Marnie Piper (played by Kimberly J. Brown), her brother Dylan (Joey Zimmerman), and her sister Sophie (Emily Roeske) in Halloweentown, one of the earliest Disney Channel movies. Luckily, the children's grandmother is a witch who's quite familiar with the town. She also just so happens to be Debbie Reynolds, which is a nice perk. Halloweentown is perfect if you prefer your haunted houses to be more elaborate and alluring rather than terrifying.
And if you really dig this movie, check out the three sequels: Halloweentown II: Kalabar's Revenge, Halloweentown High, and Return to Halloweentown.
If you collect vintage furniture and artwork: Hocus Pocus (1993), directed by Kenny Ortega, rated PG
The Hocus Pocus franchise got a jolt in 2022 upon the release of Hocus Pocus 2, though the original has been delighting us for decades.
A trio of witch sisters (played by Bette Midler, Sarah Jessica Parker, and Kathy Najimy) steal the soul of a young girl in Salem in 1693 while turning her brother into a black cat. The sisters are put on trial, though one of them casts a curse: They'll be resurrected if someone lights the Black Flame Candle in their cottage on All Hallows' Eve.
Three centuries later, that's exactly what happens as Max Dennison (Omri Katz), his sister Dani (Thora Birch), and his crush Allison (Vinessa Shaw) stumble upon the witches' cottage while out trick-or-treating. Suddenly, instead of simply trying to avoid a lousy candy haul, the kids now must break this ancient curse — and grow a stronger bond in the process.
If you're into pumpkin carving: It's The Great Pumpkin, Charlie Brown (1966), directed by Bill Melendez, rated NR
During Halloween, the Peanuts gang does plenty of typical activities. They put on costumes and go out trick-or-treating. They play football. They wait in a pumpkin patch for a supernatural, mysterious figure to bring toys to them.
Okay, only Linus van Pelt does that last one, but his persistent belief in the Great Pumpkin—whom he believes simply needs better publicity, like Santa Claus—causes great derision among his friends.
Set the proper mood lighting while carving a pumpkin as you enjoy the film. And, for another on-brand bonus, you can complement your pumpkin with a rock.  
If you have limited space: Buried (2010), directed by Rodrigo Cortés, rated R
You might be more familiar with Ryan Reynolds as Deadpool or co-owner of the Welsh Wrexham Association Football Club, but Buried is his tightest role to date. And we mean that quite literally — the entire film takes place inside a coffin.
Reynolds stars as Paul Conroy, an American civilian truck driver in Iraq who gets kidnapped and buried inside a coffin with only a few sparse items. He tries to piece together his situation and find his way back to freedom using only his wits and a few outside phone calls.
Despite the limited setting, Buried never uses the same camera shot twice. And Reynolds gives an incredible performance in the leading role. After watching this film, it may be helpful to practice some meditation to calm down.
If you love DIY projects: Tucker & Dale vs. Evil (2010), directed by Eli Craig, rated R
Have you ever had a misunderstanding get way out of control? Then this is the movie for you. Alan Tudyk and Tyler Labine play a pair of good-natured hillbillies (the titular Tucker and Dale) headed to their new lakefront cabin in the woods. It's rundown, but they're planning to renovate it into the home of their dreams.
Nearby, several college kids are camping, sharing spooky stories, and going swimming. One of them, Allison (Katrina Bowden), bumps her head and gets knocked unconscious, falling into the water. Tucker and Dale save her, although the rest of the kids believe they're a pair of kidnappers and set out to stop them. A wild series of events and miscommunication occurs.
Tucker & Dale vs. Evil is full of humor and moments that spoof other horror film tropes, but it's also got a good amount of heart. You might even let out a little "aww" by the end, which is certainly better than a shriek of terror. And it just may inspire your next DIY project.  
If you enjoy highlighting your culture: Coco (2017), directed by Adrian Molina and Lee Unkrich, rated PG
The concept for Coco was inspired by the Day of the Dead, which is traditionally celebrated the two days after Halloween. Twelve-year-old Miguel (Anthony Gonzalez) attempts to become a great musician like his idol, Ernesto de la Cruz (Benjamin Bratt), despite strict household rules that forbid music. Miguel stumbles into an entirely new world as he discovers the Land of the Dead.
Like other Pixar films, Coco is visually impressive. The story highlights several aspects of Mexican culture, which might introduce adults and kids alike to new history. And it takes an impactful approach to concepts like family and death through both major plot points and minor details in the background.    
Coco also has a phenomenal soundtrack. We won't spoil anything if you haven't seen it, but good luck getting through the final scene without shedding a tear.  
If you just want to stay wrapped up in a blanket all night: Abbott and Costello Meet the Mummy (1955), directed by Charles Lamont, rated NR
The comedy duo Abbott and Costello are most well-known for their "Who's On First?" routine, which is full of confusing questions about baseball players. It's a delightful bit, but it's not the only gem the pair have in their repertoire.
In this film, they attempt to transport a mummy from Egypt to America but instead wind up in possession of a cursed medallion. You'll see not one but multiple people dressed as mummies, the perfect inspiration for a quiet night tucked under a cozy blanket.
This film is also a nice choice if you get scared easily. There aren't many paranormal activities or jump scares going on, but there are just enough eerie and thrilling moments to keep you on your toes.
Whichever film you decide to watch, we wish you a stylish and fun Halloween!
© 2023 American Homes 4 Rent, LP
American Homes 4 Rent®, AMH®, AH4R®, Let Yourself In®, AMH Development®, American Residential®, and 4Residents® are registered trademarks of American Homes 4 Rent, LP. 4Rent℠, AMH Living℠, and 4Communities℠ are service marks of American Homes 4 Rent, LP.  AMH refers to one or more of American Homes 4 Rent, American Homes 4 Rent, L.P., and their subsidiaries and joint ventures. In certain states, we operate under AMH, AMH Living, or American Homes 4 Rent. Please see www.amh.com/dba to learn more.