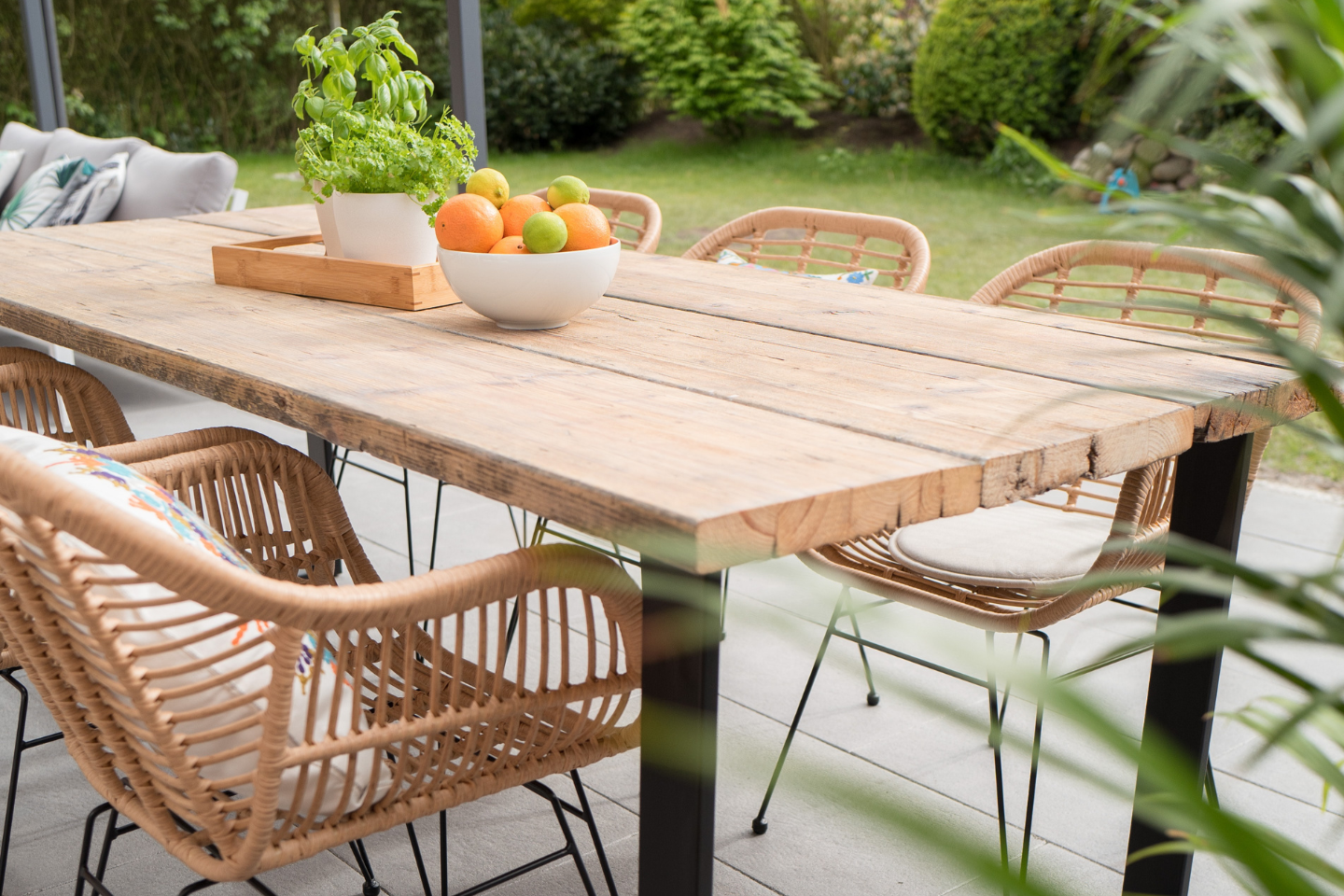 Category
Lifestyle
Homecare
7 tips to keep your patio furniture fresh this summer
Posted by AMH Team
6m read time
Jun 13, 2022
The start of summer is upon us! While that means plenty of exciting moments, like backdoor barbecues, travel plans, hitting the pool, and watching fireworks under a starry sky, summertime also brings unique elements into your yard, from cushions wearing out in the sun to inclement weather damaging furniture. Maintaining a clean and fashionable patio doesn't require breaking the bank or spending a ton of time, but it does take strategic planning. Here are tips to keep your patio furniture fresh this season.
Pick up after yourself
One of the benefits of having a patio is enjoying relaxing meals outside. You might munch on a snack while you read in a hammock, or you could go the full meal route and bring out appetizers, main courses, desserts, and drinks to enjoy with family or friends. However you decide to eat in your backyard, make sure you leave everything the way you found it. Pick up any loose food items — rib or chicken bones, melon rinds and apple cores, or even just leftover pie — and discard them when you finish eating. Leaving stray bits of food or dishes and glasses with food and liquid residue looks messy and can be harmful to any pets who stumble upon them. Leftover food or dishes are also a great way to introduce an anthill into your backyard or even on your furniture itself, which is no picnic.
Prop up an umbrella
Umbrellas can be beneficial in blocking off weather, debris, and other patio nuisances. First, angle the umbrella to deflect leaves falling from a tree. If you have a balcony or ledge that hangs over the patio, an umbrella can also help prevent soot or dust that might fall from an upper level. Of course, an umbrella's primary purpose is to protect you and your furniture from bad weather. When positioned properly, it'll keep you dry during rainy days while also helping to provide much-needed shade when the hot sun beats down. Just make sure to anchor the umbrella somehow or bring it inside when particularly windy weather is in the forecast.
Use patio or balcony covers
If you happen to have a tree or two that hangs over your patio, leaves will be the most frequent guests in your home. One method is to routinely shake off your furniture and cushions. An easier route is to pick up a patio or balcony cover to keep those leaves and other debris at bay in the first place. A patio cover goes over your outdoor furniture and can easily be stored in a box when using your seating and tables (more on storage in a bit). The cover catches leaves, branches, or other debris from the sky that would otherwise ding or muddy up your furniture. If you're not regularly using your patio furniture, a cover is a great solution.
Keep an eye on your cushions
The cushions on chairs and sofas take quite a bit of damage over time. They'll likely pick up some stains or scuffs between people sitting on them, potential spills from food or drink, and harsh weather. While those marks offer some extra character, the chances are that's not the type of décor upgrade you're looking for. Luckily, you can get those cushions looking fresh again with a bit of elbow grease.
Grab a vacuum with an upholstery attachment to run over the furniture, paying particular attention to cracks and corners. That's where grime and debris find lovely little homes, so you need to be extra thorough. Mold and mildew stains are among the most common types of damage you'll see, and you can tackle them by pouring a 1:1 mixture of white vinegar and water on the stain, then using a soft-bristled brush to treat the stain. (This combo also happens to be among our favorite kitchen cleaning hacks.)
Once the white vinegar and water combo has been set on the stain, make a cleaning solution to scrub everything away. Combine warm water, baking soda or borax, and dishwasher detergent in a 2:2:1 ratio. Soak up the solution with a brush and scrub the entire cushion, including front, back, and sides. After the cushions are clean, use a hose to ensure you get all the soap off. The soapy residue is uncomfortable to sit on and can also damage the quality of your cushion seats. Dry the cushions in the sun, pressing down on them to squeeze out excess liquid.
Store delicate items when not in use
One of the best things about patio furniture is its mobility. You probably won't be moving a table or sofa too much, but you can easily shuffle around items such as throw pillows, blankets, table accessories, and baskets. That's good news because you should store those items when you're not using them. A large wicker basket or a sleek storage box can fit right into your patio's aesthetic while safeguarding against the weather. The last thing you want is to be caught out in a thunderstorm trying to protect your more delicate items, so take proactive measures and create your storage space while it's still nice outside.
Regularly clean your furniture
A deep clean is a good idea at the start of summer, but regular patio furniture maintenance goes a long way, too. Beyond treating your cushions, you can use a fabric protection spray for some of your patio furniture. It doesn't eliminate dirt and stains, but it does reduce the risk of them while keeping your fabric colors bright and inviting. Though a broom works well for sweeping up leaves off the patio deck, try a cordless vacuum for easy cleaning of furniture. If your patio deck accumulates a lot of nature — like larger twigs, rocks, or brush — it might be worth investing in an outdoor vacuum. Those vacuums are better designed to handle major outdoor elements.
Invest in durable furniture and easy-to-clean accessories
When thinking about how to decorate your patio, looks are a major factor. But just as important, you want items that are durable and able to withstand the climate where you live. In hotter areas, wood, wicker, and plastic furniture aren't the best choices since they can overheat and even begin to melt. Instead, choose something made from metal or concrete. For dishware options, plastic, melamine, and bamboo are all great choices that won't shatter in case of a spill. Wicker furniture isn't a poor choice in more temperate climates, but it can dry out and age quickly if it gets too much sun. Furniture made from wicker resin doesn't deteriorate as rapidly and is simple to clean. Also, look for cushions with UV and moisture-resistant outdoor fabric, which helps keep your furniture looking vibrant.
Now that you're ready for summer, get outside and enjoy those sunny days in style!
Note: As always, be sure to check with your HOA to comply with any related regulations that may be in effect in your neighborhood regarding patio furniture and structures. 
© 2023 American Homes 4 Rent, LP
American Homes 4 Rent®, AMH®, AH4R®, Let Yourself In®, AMH Development®, American Residential®, and 4Residents® are registered trademarks of American Homes 4 Rent, LP. 4Rent℠, AMH Living℠, and 4Communities℠ are service marks of American Homes 4 Rent, LP.  AMH refers to one or more of American Homes 4 Rent, American Homes 4 Rent, L.P., and their subsidiaries and joint ventures. In certain states, we operate under AMH, AMH Living, or American Homes 4 Rent. Please see www.amh.com/dba to learn more.