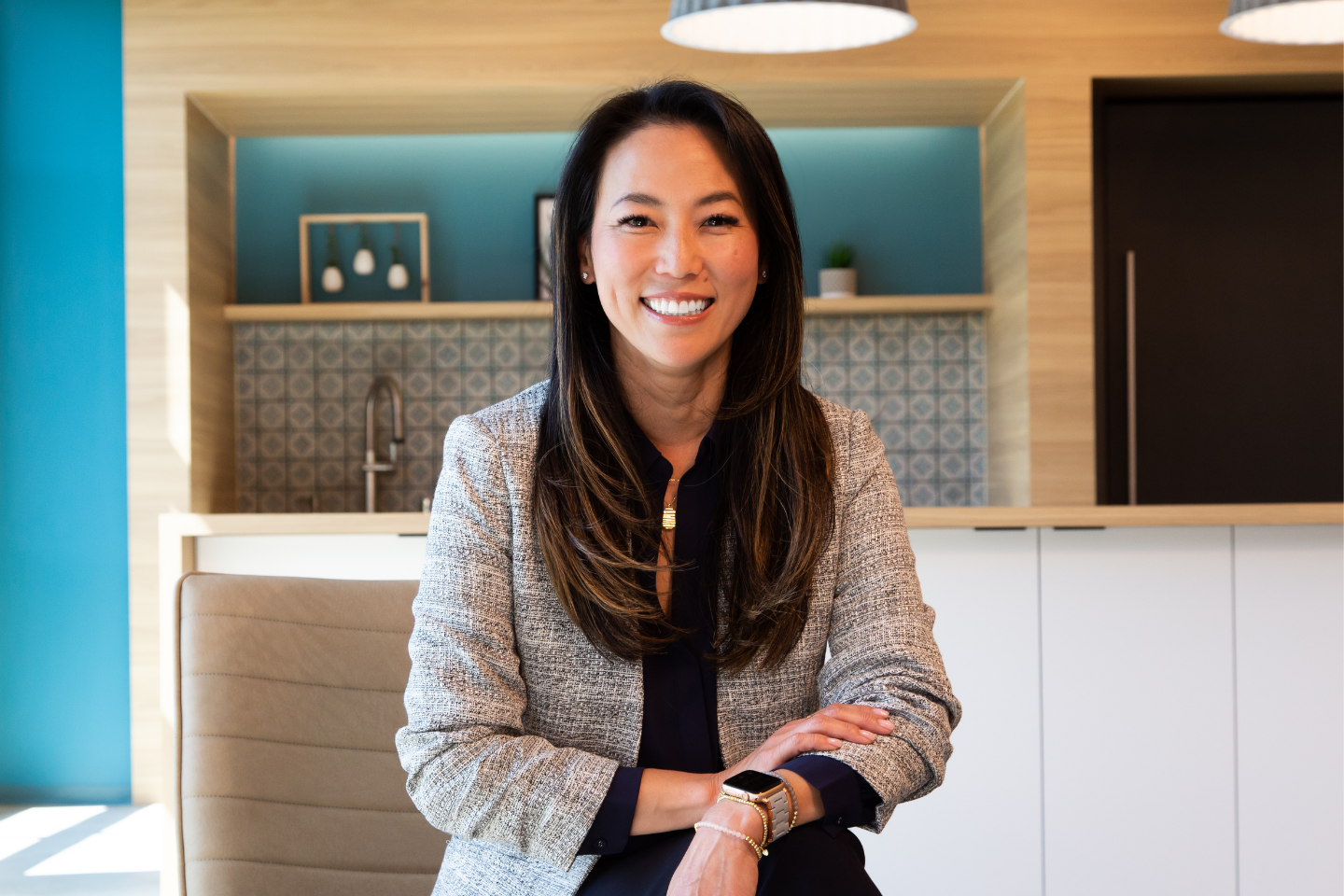 Celebrating Asian American and Pacific Islander Heritage Month with our team
Posted by AMH Team
5m read time
May 2, 2022
May marks Asian American and Pacific Islander Heritage Month, a national event to pay tribute to the generations of individuals of Asian and Pacific Islander descent who have enriched U.S. history and society. In celebration of the occasion, we're sharing an interview with our Chief Legal Officer, Sara Vogt-Lowell, on her personal and professional journey to advance housing options through our company's mission. An adapted version of this article also appears in the online edition of Vanguard Law Magazine, here.   
Born a first-generation American to Korean parents, a young Vogt-Lowell and her mother moved apartments often as they sought better school districts and neighborhoods. But they never had the chance to move into a house, so a backyard and pets weren't possible. 
Now, as Chief Legal Officer for American Homes 4 Rent, one of the leading single-family leasing companies and homebuilders in the U.S., Vogt-Lowell is helping working families access an experience she didn't have as a child.
The company owns and manages over 57,000 single-family rental homes in 22 states, whose residents, for a variety of reasons, opt to lease instead of buy their place of residence. It acquires and rehabilitates houses, provides professional management and maintenance services, and also builds its own communities, many of which have amenities like pools, playgrounds, and fitness centers. 
"I'm proud of what we've built at American Homes 4 Rent and the work we do," she says. "Everything I've experienced in my life brought me to this point and I'm very grateful to be part of helping people find homes they can love and enjoy." 
From student to leader 
Spirited by nature, Vogt-Lowell says she knew at a young age that she wanted to pursue a career in law. 
Focused on this goal, Vogt-Lowell earned her B.A. in political science from the University of California, Los Angeles, and her J.D. from the School of Law at University of California, Berkeley.
After graduating, she joined the law firm of Latham & Watkins as an associate in the Finance and Real Estate group. She started working on the account of B. Wayne Hughes, the late business entrepreneur best known for founding Public Storage, and her talent and drive advanced her career quickly.
In 2006, just four years out of law school, she was recruited to join the Hughes family's commercial real estate firm, American Commercial Equities, as general counsel. Vogt-Lowell humbly recounts that she was daunted by the prospect of leading an in-house legal operation so early in her career but felt motivated to embrace the unique opportunity.  
"I've always believed in working hard and taking challenges in stride and am in a constant state of gratitude for how that's opened doors and presented incredible opportunities for me throughout my career," Vogt-Lowell says.
From investments to IPO 
In 2011, following the Great Recession, Hughes and the company's CEO, David P. Singelyn, founded American Homes 4 Rent. The company acquired and invested in properties to rent, a pioneering model that stabilized the housing market and launched a burgeoning industry.
When Vogt-Lowell was asked to become head of legal for the new venture, she jumped at the chance to build her own department and help build a new company. 
"Once again, I took a leap of faith, said 'yes' and then figured out how to do it," Vogt-Lowell says. "It's the best career decision I've ever made." 
From the outset, Vogt-Lowell worked with American Homes 4 Rent's business units, strategizing on markets and advising on financing as well as issues relating to acquisitions, offerings and joint ventures. 
In 2013, Vogt-Lowell oversaw and managed the process of American Homes 4 Rent becoming a publicly traded real estate investment trust, or REIT.
Guiding the IPO process required Vogt-Lowell to manage filings with the U.S. Securities and Exchange Commission, get the company listed on the New York Stock Exchange and prepare corporate governance and charter documents for the Board of Trustees. 
From buying to building 
Vogt-Lowell divides her 10-year tenure at American Homes 4 Rent into two phases. First, as in-house attorney, she guided the IPO and shaped the company's corporate structure. Later, she built its legal team by hiring attorneys and paralegals in practice areas, such as litigation, real estate and securities law. 
Vogt-Lowell notes, "In assembling the legal team over the years, I deliberately sought out the brightest legal minds in their specific practice areas. I'm incredibly proud of the department that I built, but I'm even more proud that, individually and collectively, they have exceeded even my expectations."
As her legal department expanded, American Homes 4 Rent faced a new challenge in the market: the national housing shortage. According to the U.S. Census, the country is now approximately five million houses short of demand.
In response, in 2018, the company decided to launch its own homebuilding operation to start constructing, in addition to buying, housing to rent. Vogt-Lowell says the company wasn't just looking to build individual houses. It wanted to develop communities, some with as many as 50 single-family homes to rent. 
When the Development division was founded, Vogt-Lowell and her legal team worked with the business unit on land acquisitions and with outside general contractors to guide development and construction. Her team provided legal review and counsel on entitlement, lien and title issues.
They also worked with local authorities to ensure compliance with zoning and environmental regulations, secured relevant liability insurance, established a policy framework to comply with workplace safety regulations and developed a network of outside local counsel to guide the company's efforts regionally. 
Today, the Development division has built more than 4,500 homes in 16 states, extending from Washington to Florida. According to American Homes 4 Rent's website, it launched its 100th community in the fall of 2021, on the heels of being named the top 45th homebuilder in the U.S. by Builder100.  
"It's gratifying knowing that my work here is helping more American households access the joys of living in a high-quality home in desirable communities," says Vogt-Lowell. "A decade later, I continue to feel inspired by our mission: helping people find a better home for their family."
© 2023 American Homes 4 Rent, LP
American Homes 4 Rent®, AMH®, AH4R®, Let Yourself In®, AMH Development®, American Residential®, and 4Residents® are registered trademarks of American Homes 4 Rent, LP. 4Rent℠, AMH Living℠, and 4Communities℠ are service marks of American Homes 4 Rent, LP.  AMH refers to one or more of American Homes 4 Rent, American Homes 4 Rent, L.P., and their subsidiaries and joint ventures. In certain states, we operate under AMH, AMH Living, or American Homes 4 Rent. Please see www.amh.com/dba to learn more.