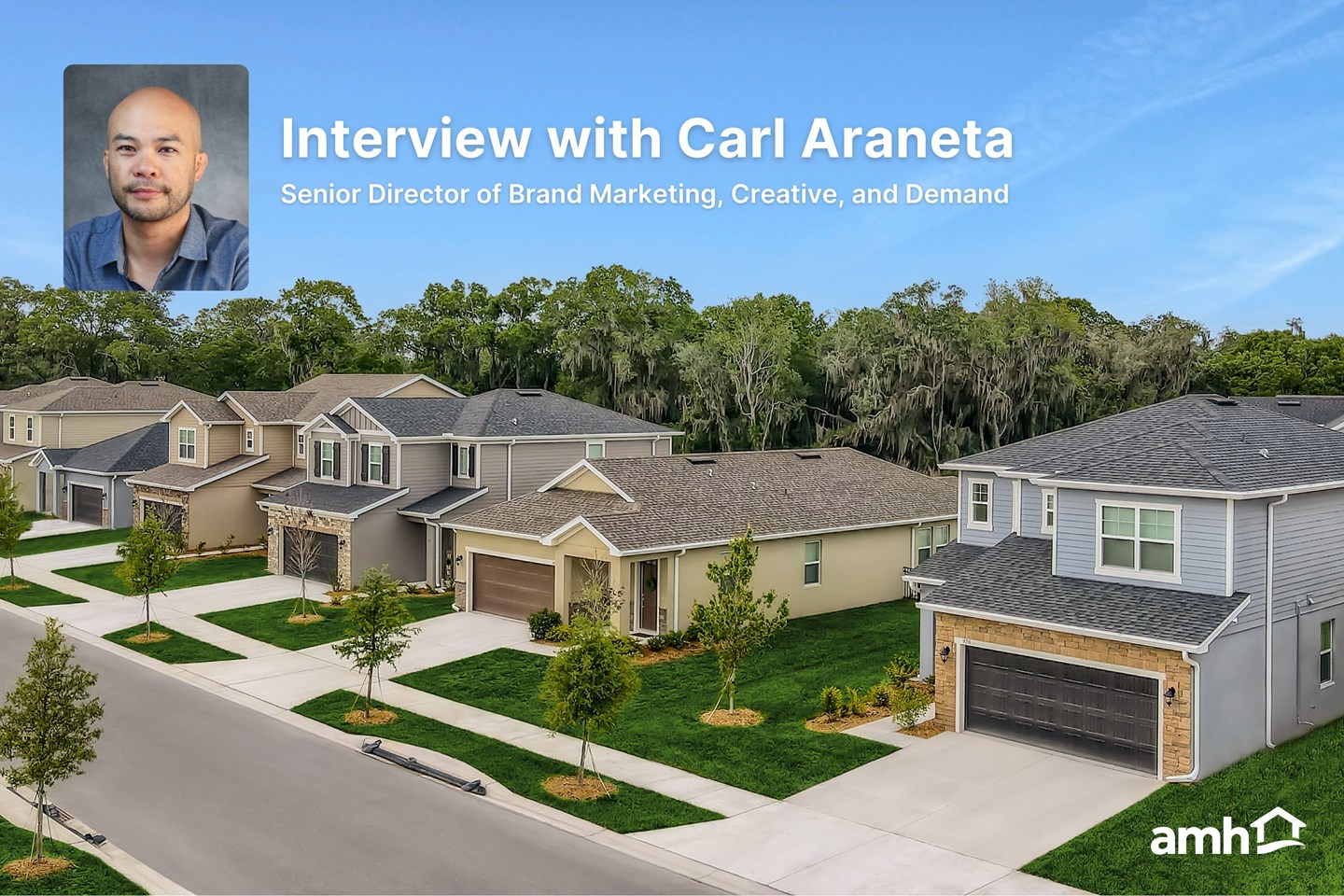 Celebrating Asian American and Pacific Islander Month with the AMH team
Posted by AMH Team
6m read time
May 30, 2023
Every May, Asian American and Pacific Islander Month marks an opportunity to celebrate the achievements of AAPI individuals and recognize the pivotal role they play in advancing our society, culturally, politically, and economically.
To observe this occasion at our organization, we're spotlighting professionals in our organization throughout the month to amplify their voices and share their valuable experiences and perspectives.
Today, we interview our Senior Director of Brand Marketing, Creative, and Demand, Carl Araneta, a rising leader in our Marketing department who practices servant leadership and continues to inspire his team and peers with his professional and personal story.
Tell us about your professional background?
Growing up in Southern California, my career journey began with a passion for art and music in high school, where I landed my first job as a graphic designer at a small agency producing ad layouts for the Yellow Pages. As a side project, my friend and I started a local DJ service. However, it was during college that I discovered my passion for marketing and creativity after establishing a student organization that hosted music events throughout the year and co-hosting a college radio show. I fell in love with creative concepting, designing websites and flyers, and driving attendance.
After earning a Bachelor's degree from the University of California, Irvine, and an MBA from California State University, Long Beach, I worked in non-profits, freelanced, and relocated to Las Vegas where I ended up working in hospitality, casino-resort retail, and the single-family home rental industries. I had an opportunity to work on well-known brands like Harley-Davidson, Tumi, and Swarovski. I also taught for a bit at UNLV's Internet Design & Technology Certificate Program. Throughout my career, I have worked on everything from design and photography to traditional and digital marketing. As a generalist, I currently have my hands in a lot of different types of projects, and this is what gets me excited – figuring things out, putting the pieces together, and seeing our work in the wild and how it impacts the business.
What is the best advice you've never received?
As a child, my parents always stressed the importance of education. While I agree that it is an invaluable investment in oneself, I've come to realize that school may not fully prepare you for the real world.
To bridge this gap, it's important to seek out jobs, internships, and other opportunities that can help you get hands-on experience and provide personal insight into your field. In addition to the technical know-how, I can't stress how important it is to develop soft skills such as communication, relationship building, and teamwork, which can help you get a leg up in your career.  
Lastly, finding work that aligns with your passions, values, and strengths can lead to greater self-fulfillment. After all, we spend a huge portion of our lives working, so it's important to find something that you truly enjoy.
What challenges have you faced as a corporate leader, and how have you overcome them?
Like others in the industry, I constantly face the challenge of balancing between creativity and practicality. I want to push for more creativity, but I also have to be mindful of resources, timelines, and scalability. I have found that building a diverse team helps with this. When you hire people that are good at what they do and bring to the table different perspectives, personalities, and skill sets, you tend to have opposing forces that will help strike just the right amount of balance, a yin and yang, where aesthetic appeal meets functionality.
What advice would you give to young professionals beginning their career?
If you're a young creative starting out in your career, my advice would be to prioritize building a strong portfolio that showcases your abilities. If you don't have standout examples from school or work, consider starting up your own projects that make you proud – building a website, designing a new brand, or writing blog articles. The key is to be able to show what you can do.
For those in marketing, seek out opportunities to take ownership of KPIs like website traffic, social media engagement, or email campaign metrics. By measuring performance, you can demonstrate your ability to deliver results and prove your value to any organization.
Aside from that, your career is a marathon, not a sprint, so be patient and focus on long-term growth and development.
What're some leadership skills that have been crucial to your success as a corporate leader?
In my experience, corporate leadership requires a combination of strategy, analytics, and most importantly communication. However, I am also a firm believer in servant leadership. Supporting my team and prioritizing their development, I have found that everyone is empowered and self-motivated to reach our shared vision.
How do you approach team-building and fostering a positive work culture?
My approach to team culture is inspired by each individual's unique personality and how the team naturally gels together. However, I always begin by defining a shared vision and values, centered around agility and innovation, backed by data. I also strive to establish a common language and shared operating procedures.
At AMH, we call ourselves the A-Team. While this is a nod to the 80's TV series, we explain that it is short for agile marketing team, consisting of B for Brand Marketing, C for Creative Services, and D for Demand Generation. We designate space for one-on-one time, group sessions, kanban boards, and open chat groups with a lot of gif activity, and it's not uncommon for teammates to grab lunch on our hybrid office days.
How do you foster innovation and creativity within your team?
At AMH, we recently launched our rebrand, transforming American Homes 4 Rent into AMH. The process took more than a year, delivering a new brand identity, mission, vision, values, photography, videography, and website UX, among other elements. Throughout this time, I focused on securing stakeholder support, fostering a sense of creative freedom and ownership, and cultivating a culture of collaboration and experimentation. I try to provide inspiration and guidance, advocate the team's ideas, and create a safe space for open communication and constructive feedback. Together, we concentrate on brand experience and the emotions involved throughout each stage of the customer journey.
My team – Brand Marketing, Creative Services, and Demand Generation – combines strategy and creativity together, enabling us to have a good understanding of how creative output impacts the business. We also have strong, collaborative relationships with Customer Experience, Communications, and IT, furthering our capabilities to drive CX, shape UI and UX, and communicate our brand story.
During the rebranding process, we worked hard together, but made sure to laugh along the way, establishing our own sense of culture, community, and inside jokes. There were times where we participated in full day workshops to brainstorm, but we also broke out into smaller focus groups to talk "inside baseball." There was also a six-week stretch where the core brand team met daily, or many times more than once a day, leading up to the launch. We naturally bonded with one another and began to understand each individual's unique value and expertise. It's a constant work in progress, but I am proud of how far we've come along and what we've been able to create together so far. 
© 2023 American Homes 4 Rent, LP
American Homes 4 Rent®, AMH®, AH4R®, Let Yourself In®, AMH Development®, American Residential®, and 4Residents® are registered trademarks of American Homes 4 Rent, LP. 4Rent℠, AMH Living℠, and 4Communities℠ are service marks of American Homes 4 Rent, LP.  AMH refers to one or more of American Homes 4 Rent, American Homes 4 Rent, L.P., and their subsidiaries and joint ventures. In certain states, we operate under AMH, AMH Living, or American Homes 4 Rent. Please see www.amh.com/dba to learn more.