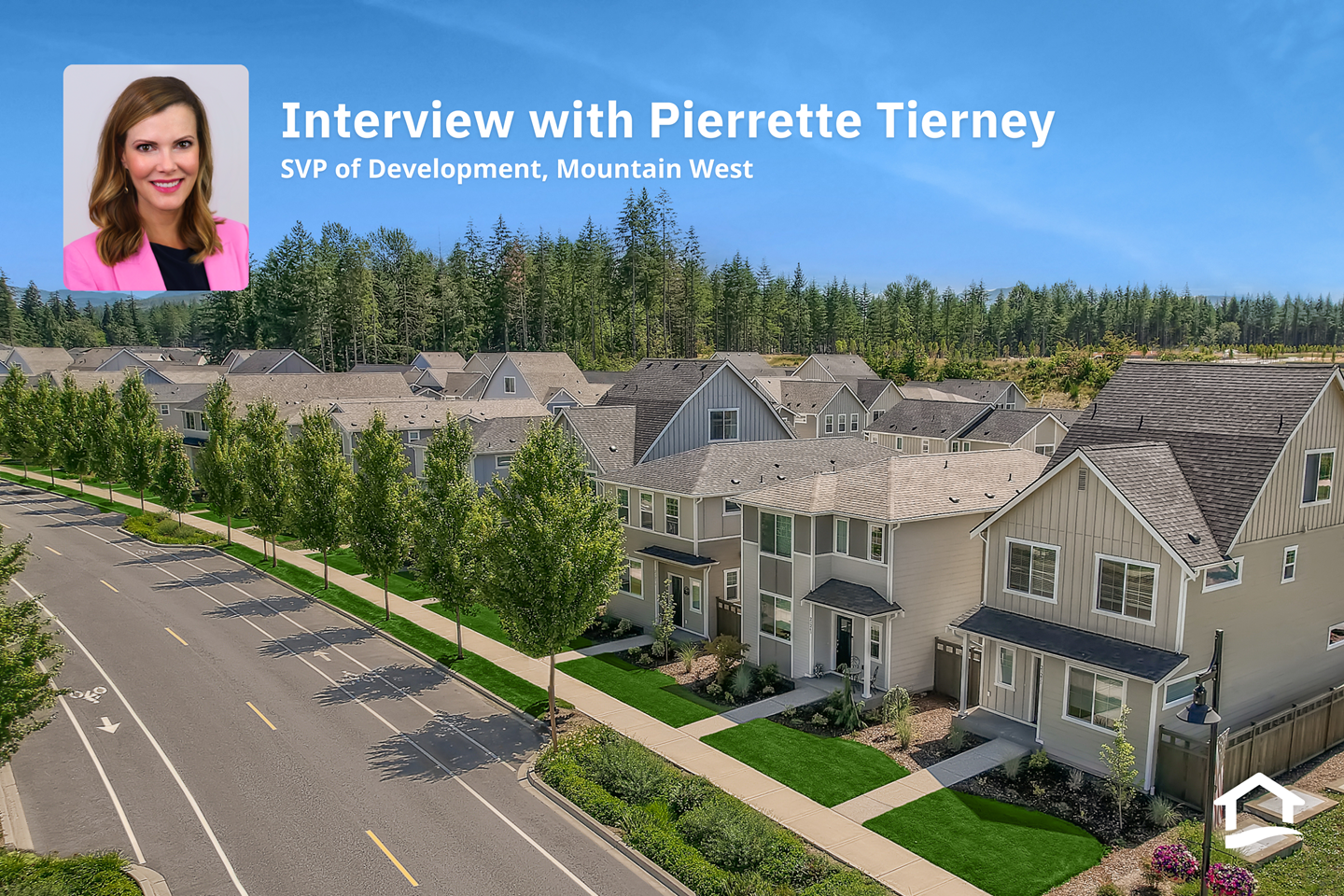 Celebrating Women's History Month with our team
Posted by AMH Team
7m read time
Mar 8, 2022
Every March, Women's History Month and International Women's Day mark an opportunity to celebrate the achievements of women and recognize the pivotal role they play in advancing our society, culturally, politically, and economically. To observe this occasion at our organization, we're spotlighting one of our rising female executives with a motivating story to tell, both personally and professionally.
Pierrette Tierney, Senior Vice President of Development for the Mountain West region, is responsible for our in-house homebuilding program across the Washington, Idaho, Colorado, and Utah markets. A working mother, she is currently based in Salt Lake City, brings 18+ years of experience in the construction industry, and is a founding member of the Utah chapter of Professional Women in Building, whose work is supporting the next generation of female builders. We asked her some questions about how she got to where she is, what drives her, and what advice she'd like to relay to the women considering a career in housing.
Tell us about your journey.
I grew up in a small town in Northern California with three brothers, so I always had to be tough and competitive. I guess it prepared me for a career in a traditionally male-dominated occupation! But I also had really amazing female role models in the family. My great grandma survived World War I, emigrated from France as a single mother, and lived to be 97. My grandma was a "spitfire" despite only being 5' tall, and lived to be 95, too. Finally, my mother, who was a special education teacher, raised me and my brother as a single parent before meeting my stepfather. She was brave, independent, and always emphasized the importance of being able to support yourself through hard work. 
In high school, I played varsity sports, was Student Body President, performed as a singer, and generally liked keeping busy. I majored in Communication and Vocal Performance at the University of California San Diego, received a Master's degree in Journalism and Strategic Public Relations from the University of Southern California, and worked at CNN's London Bureau. I never considered real estate as a career path, but I've always been curious and open-minded about exploring new things. So, when my friend at Pulte Homes in Las Vegas encouraged me to apply, I did. I got a job in Sales and assumed I would just try it for a short period, but instead I dove deep into the industry, made life-long friends, and met my husband who is also in construction. Years later, I've done everything from production homebuilding to custom residential and, now, built-for-rent!
What drove you to work in the construction industry, and what do you enjoy about it most?
Number 1 is the people. There are so many different career paths in this industry, so you get exposure to a variety of people and personalities. I love the team in the field and the trades—salt of the earth, hard-working, grounded, passionate—just like my husband. I also enjoy the teams in the office: the strategy, the operations, and the teamwork that it takes from so many different disciplines to accomplish goals. I appreciate the variety of work, the creativity of design, and most of all the fact that what we do is tangible and meaningful. We build something that people live in and enjoy with their families. We take raw dirt and turn it into a community. I love going back to projects from my past and drive through to see how the landscaping has matured, how the homes have grown into a bustling and thriving neighborhood.
What's the greatest challenge you've faced in your career, and how have you managed to overcome it?
My biggest challenges have typically also resulted in my most significant growth as a leader. I've moved positions and markets quite a few times in my career. Each time it is uncomfortable at first, and there is a confidence level that needs to be reestablished. I've learned that I need to surround myself with people that are better than me at various parts of the business, not be afraid to admit weaknesses and ask questions, and to always give credit to the team so that I can build them up while they build me up. 
What's your proudest professional moment?
I'm most proud of the peers and employees that I've been able to influence or grow in this industry. I've worked in Las Vegas, Phoenix, Sacramento, the Bay Area, Park City, Sun Valley, and now Salt Lake City, Boise, Seattle, Denver, and Colorado Springs, so I've been able to interact, recruit, train, and hire a lot of industry professionals along the way. Keeping in touch with them and witnessing their contributions has been extremely rewarding. 
Over the last couple years, I was also able to help with a project called The House That SHE Built through the Utah Professional Women in Building association. It has received national recognition and inspired a children's book by the same name that will continue to expose a new generation to the construction industry. We also raised about $400,000 that we will use for scholarships for girls and women interested in exploring a career in construction. I'm very proud of the team that came together to create such an impact. 
What motivates you daily as a professional?
I'm competitive and have an internal drive to succeed and to see others around me succeed. I thrive on building people and teams. Being able to look back and keep in touch with employees that have grown in their careers and achieved their goals motivates me. I also want to be an example of a professional working mother for my children. It isn't always easy to balance leading a home building organization with leading a home life—but exposing my kids to a strong work ethic and being a role model for them is probably my strongest motivator.
What inspired you to become involved in the Utah chapter of Professional Women in Building?
I had been involved in Professional Women in Building in other markets when I worked for prior homebuilders. I felt that it was a meaningful way to give back as a woman who had been fortunate to move up in my career. I wanted to encourage other young women to see a path in this industry. When I moved to Utah, there wasn't a PWB Chapter here. So, in collaboration with an incredible group of women, we established one. At the time, I was working for my husband's family construction company, and it allowed me a lot more time and freedom to be involved in extracurricular projects like PWB and The House That SHE Built. I wanted to take advantage of that opportunity while I had stepped away from a more corporate homebuilding position. I also have an 11-year-old daughter and being able to show her, her cousins, and her friends a little more of what I do and what my coworkers do was very motivating.
What advice would you impart on female professionals starting in your industry today?
Find a network of support. Make sure it is diverse—men, women, different expertise, young, old, etc. Surrounding yourself with people that have varying experiences, and are willing to share and collaborate, will allow you to learn and succeed. Explore all the facets of the business—if you are in finance, spend a day in a sales office or on a construction jobsite. If you are in construction, spend a day in the office with the purchasing team or in a sales office or leasing office meeting customers. Gain an appreciation for all the parts that need to come together for the whole team to be successful.
Why is celebrating women significant to you?
I think it's important to acknowledge that diversity is important. Having a team that includes all genders, diverse ethnic and racial backgrounds, various socio-economic backgrounds, and even just different experiences makes for a much more interesting world and interesting work environment. I love being a woman in business. I love being a daughter and granddaughter. I love being a mother. And I love being a woman in construction. I think that in many cases it has been an advantage. I enjoy encouraging other women to pursue it as a career, through support and mentorship, and helping them to build their confidence and connecting them to the right network. I know that I was fortunate to have opportunities that got me to where I am today, and I'm grateful that I'm now in a position to be able to provide that to others.
© 2023 American Homes 4 Rent, LP
American Homes 4 Rent®, AMH®, AH4R®, Let Yourself In®, AMH Development®, American Residential®, and 4Residents® are registered trademarks of American Homes 4 Rent, LP. 4Rent℠, AMH Living℠, and 4Communities℠ are service marks of American Homes 4 Rent, LP.  AMH refers to one or more of American Homes 4 Rent, American Homes 4 Rent, L.P., and their subsidiaries and joint ventures. In certain states, we operate under AMH, AMH Living, or American Homes 4 Rent. Please see www.amh.com/dba to learn more.