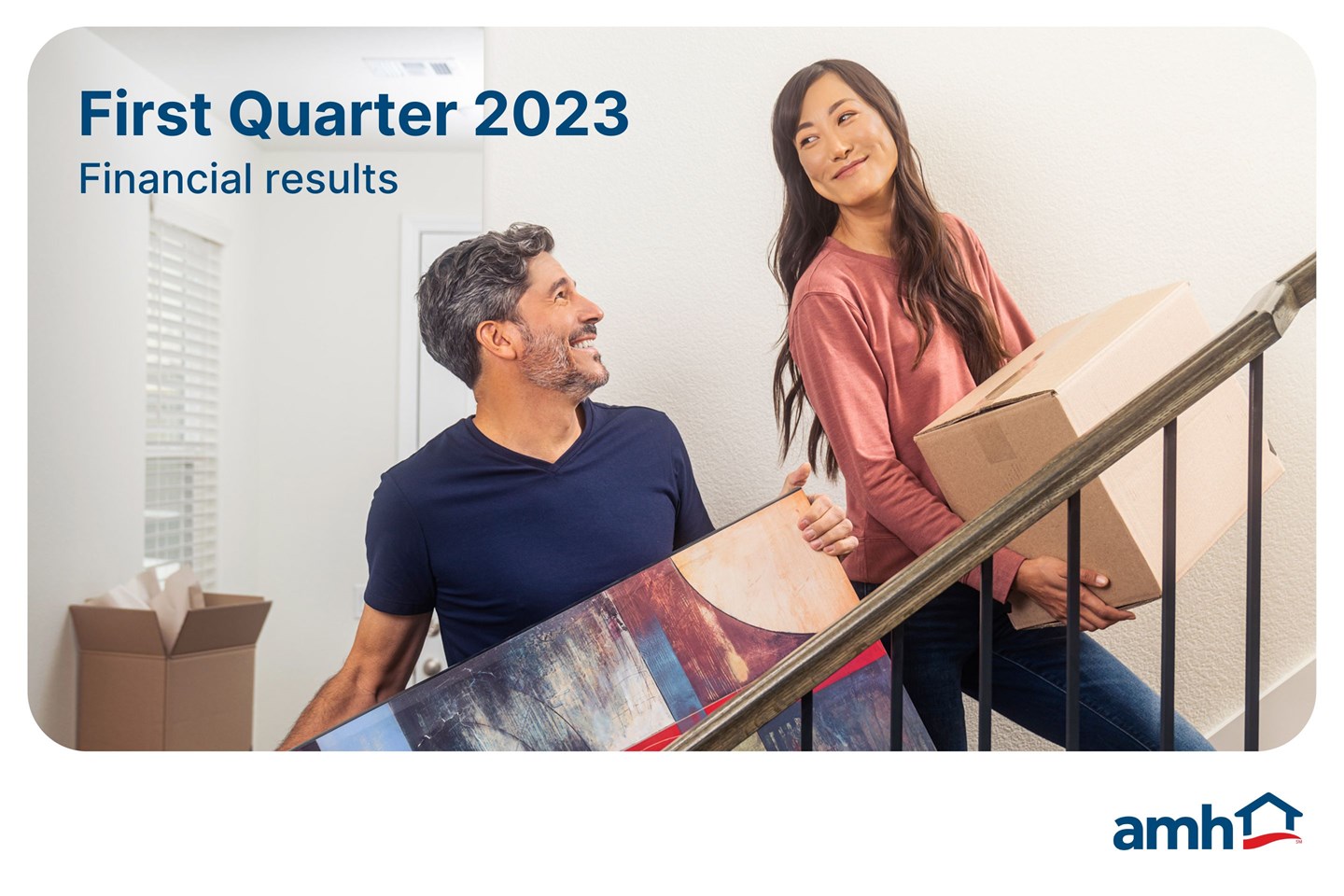 Cementing our reputation for reliability
Posted by AMH Team
5m read time
May 5, 2023
Our country continues to suffer from a persistent housing shortage, and the current interest rate environment has exacerbated the affordability crisis.
In this backdrop, our value proposition has never been stronger:
We offer an accessible way for our residents to enjoy the American Dream of single-family living. And we're building new high-quality homes consistently quarter over quarter, reliably increasing the housing stock.
In this morning's earnings call, our leadership team outlined key takeaways and financial results from the first quarter of 2023, demonstrating the resilience of our sustained growth strategy.
We're rising to meet continued strong demand for single-family rentals.
Professionally managed single-family rentals today have matured into a core asset class, and provide an essential, elevated housing option for the millions of people who choose to rent. In these uncertain economic times, households throughout the U.S. continue to seek out AMH homes for value and stability. We observed historically high leasing volume for the quarter, which is a trend that we expect to continue into the spring: same-home average occupied days was 97.2%, representing a 30-basis point improvement over the fourth quarter of 2022. And, through our Resident 360 program, we continued to invest in customer retention by strengthening our staffing and training plans. Thanks to these efforts, we're already seeing reports of increased satisfaction among our residents. On Google reviews, which help us evaluate the move-in, move-out, and maintenance experiences of our residents, we achieved a record high 4.75 average rating, with 92% of reviewers rating us 5 out of 5.
We continue to consistently deliver new premium homes to the housing market.
Our development program remains the backbone of our growth, through which we're adding much-needed supply to the national housing stock. With a total of 7,700 homes in over 130 communities built to date, we were recently named the nation's 39th largest homebuilder by Builder 100. This quarter alone, we delivered 466 homes to our wholly owned and joint venture portfolios, representing a total investment of $175 million. Our team continues to successfully navigate a dynamic supply chain environment, in which we're seeing gradual input cost improvements. And, since we don't rely on equity financing, we're able to continue to grow this portfolio consistently and predictably, concentrating our construction activity in the regions where people most want to live.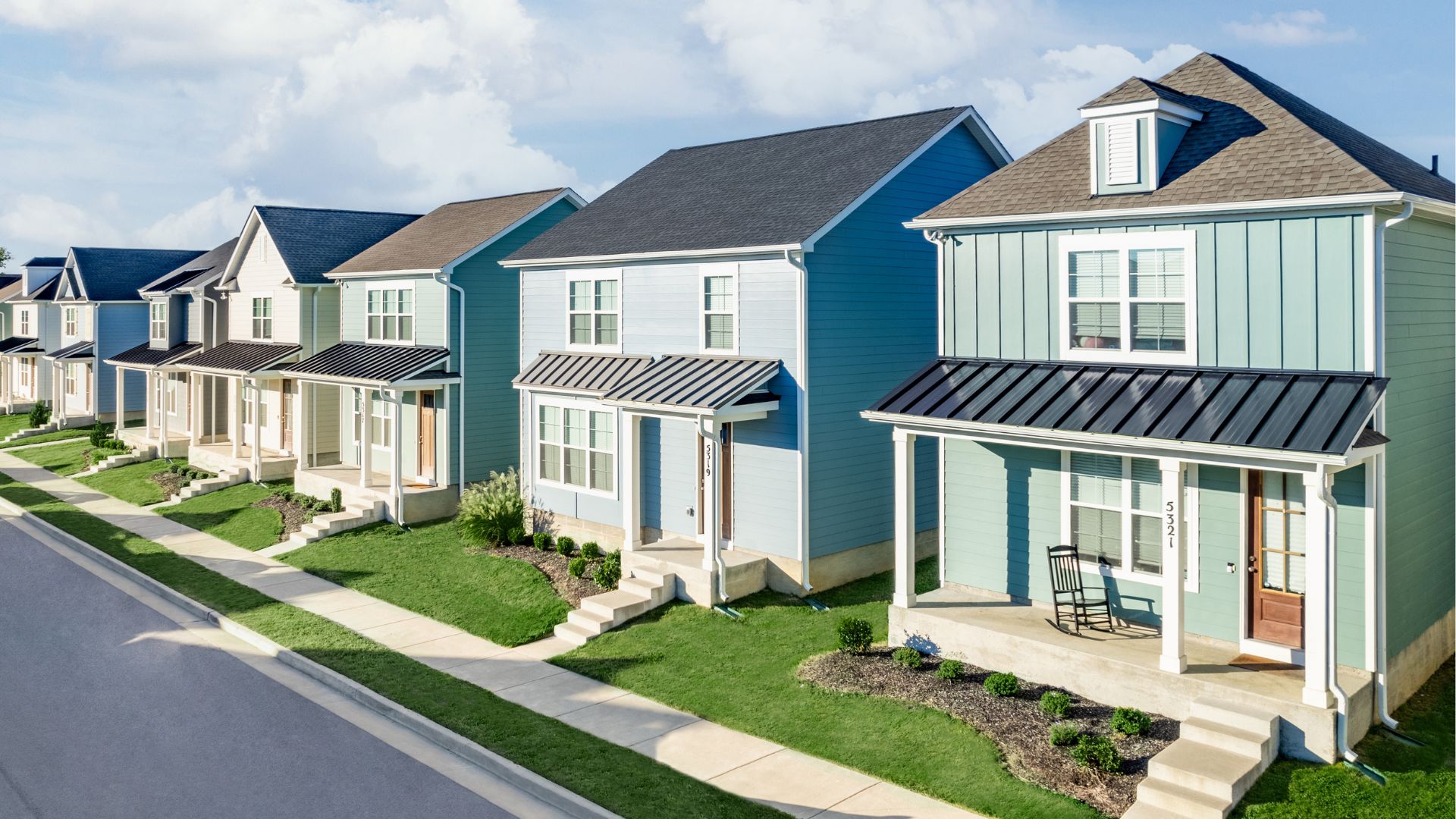 Our investment-grade balance sheet pillars our economic resiliency.
The AMH balance sheet demonstrates its strength in times of capital market uncertainty. As we continue to closely monitor the broader markets, disruptions in the banking system, and choppy economic waters, we remain confident that AMH has the ability to outperform in any economic environment. Our staggered maturity profile and focus on long-term fixed-rate debt minimizes our exposure to near-term interest rate volatility. And our leverage profile, which ended the first quarter at 5.4 times, positions us for further resiliency as well as flexibility for growth.
We maintain an adaptable strategy to leverage market conditions and opportunities.
We continue to conduct ongoing discussions with market participants and are poised to act should conditions change. For now, our acquisition channels remain largely on pause as we patiently wait for stabilization in home values and cost of capital. With that in mind, we acquired just 13 homes during the first quarter, consisting of pre-existing national homebuilder contract closings. On the disposition side, we continue to monetize non-core homes and take advantage of private market home values that remain historically strong. During this quarter, we sold nearly 670 properties that were identified through our rigorous asset management process, generating nearly $185 million in net proceeds.
We're making inroads in our sustainability journey as a responsible corporate citizen.
As we continue to lead the industry in providing better housing options and adding high-quality housing supply, we're also focused on doing so responsibly, for both planet and people. Earlier this week, we announced the publication of our fifth annual Sustainability Report 2022, in which we provide transparency into our ongoing Environmental, Social, and Governance priorities and progress. Thanks to our team's dedication this year, we're proud to report the implementation of an Environmental Management System, the expansion of our Greenhouse Gas Inventory, the continuation of our renewable energy pilot program, the strengthening of our workplace benefits and training programs, and new investments in the community, in service of the employees, residents, neighbors, partners, and investors who rely on us.
This article is adapted from remarks delivered to shareholders on May 5, 2023. For more information, including details regarding AMH results for Q1, please visit our Investor Relations page.
This letter contains "forward-looking statements." These forward-looking statements relate to beliefs, expectations or intentions and similar statements concerning matters that are not of historical fact and are generally accompanied by words such as "estimate," "project," "predict," "believe," expect," "anticipate," "intend," "potential," "plan," "goal," "outlook," "guidance" or other words that convey the uncertainty of future events or outcomes. Examples of forward-looking statements contained in this letter include, among others, our belief about our future operating results, our expectations for our ability to outperform in any economic environment, our expectations about our debt maturity profile, and our belief that our and homebuilding program will result in continued growth. The Company has based these forward-looking statements on its current expectations and assumptions about future events. While the Company's management considers these expectations and assumptions to be reasonable, they are inherently subject to significant business, economic, competitive, regulatory and other risks, contingencies and uncertainties, most of which are difficult to predict and many of which are beyond the Company's control and could cause actual results to differ materially from any future results, performance or achievements expressed or implied by these forward-looking statements. Investors should not place undue reliance on these forward-looking statements, which speak only as of the date of this letter. The Company undertakes no obligation to update any forward-looking statements to conform to actual results or changes in its expectations, unless required by applicable law. For a further description of the risks and uncertainties that could cause actual results to differ from those expressed in these forward-looking statements, as well as risks and uncertainties that could cause actual results to differ from those expressed in these forward-looking statements, as well as risks relating to the business of the Company in general, see the "Risk Factors" disclosed in the Company's Annual Report on the Form 10-K for the year ended December 31, 2022, and in the Company's subsequent filings with the SEC.
© 2023 American Homes 4 Rent, LP
American Homes 4 Rent®, AMH®, AH4R®, Let Yourself In®, AMH Development®, American Residential®, and 4Residents® are registered trademarks of American Homes 4 Rent, LP. 4Rent℠, AMH Living℠, and 4Communities℠ are service marks of American Homes 4 Rent, LP.  AMH refers to one or more of American Homes 4 Rent, American Homes 4 Rent, L.P., and their subsidiaries and joint ventures. In certain states, we operate under AMH, AMH Living, or American Homes 4 Rent. Please see www.amh.com/dba to learn more.