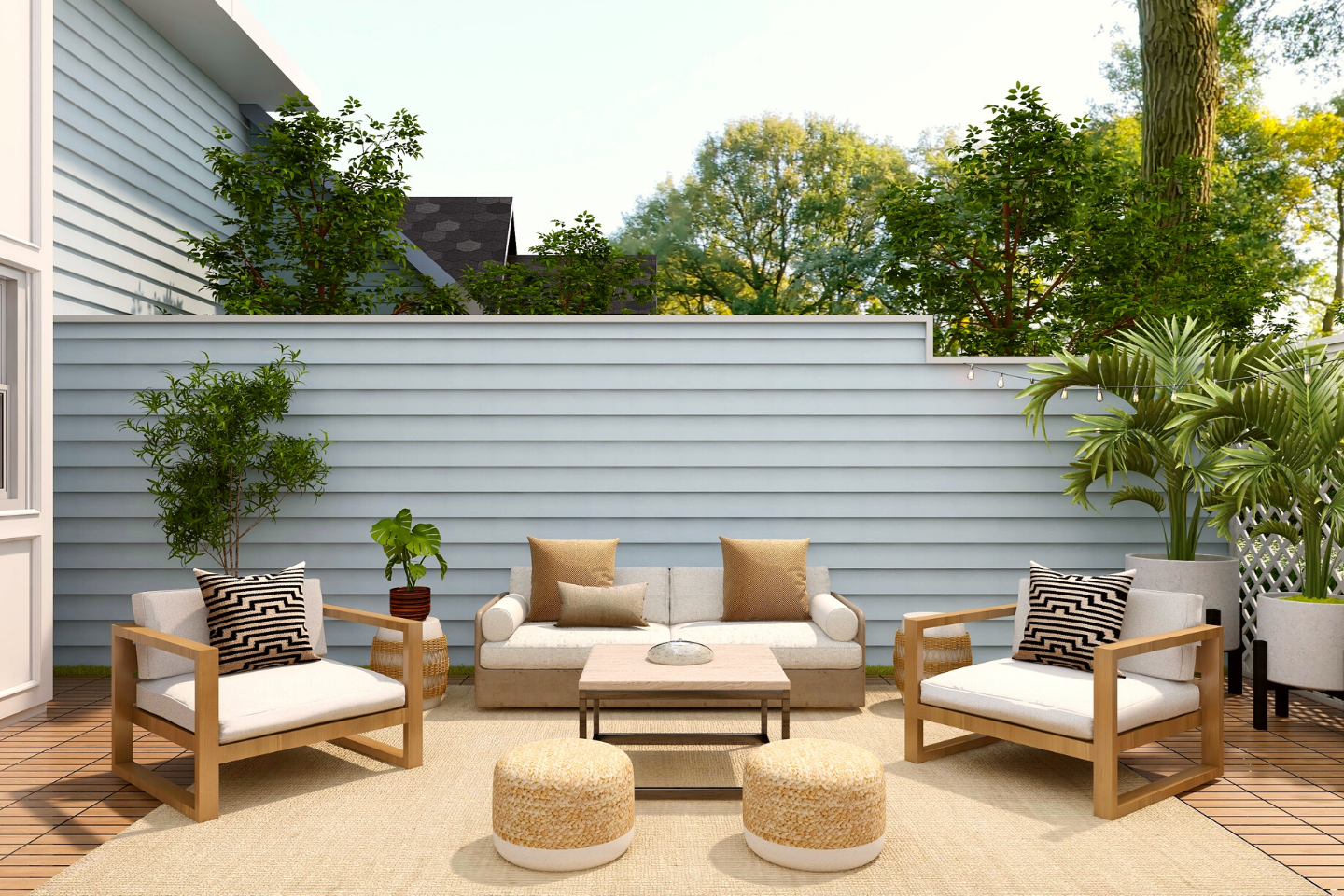 Do's and don'ts of decorating your patio
Posted by AMH Team
5m read time
May 26, 2022
As the weather gets nicer, we want to spend more time outdoors among the chirping birds, sunny skies, and blooming trees. If you have a yard, it's easy to do that right at home, without having to travel far. Check out our tips to transform your patio into an inviting destination this season — no major renovations required! As always, just be sure to check with your HOA to comply with any related regulations that may be in effect in your neighborhood.  
Do have a plan
When you're shopping for furniture either online or in-person, it's easy to go overboard. But that's a recipe for ending up with too many disparate items that don't match or don't accommodate your actual lifestyle. To avoid this, it's worthwhile mapping out which activities you want to design dedicated spaces for outside in advance. For example, you may want to reserve a section for a dining table set to entertain dinner guests, while the other side is reserved for lounging chairs to sunbathe on or potted plants to delight your inner gardener. By planning ahead, you'll ensure everything you purchase has a purpose and that you're making the most of your investment.
Don't treat it like your living room
While patio furniture is certainly an essential item to nearly every backyard, there's a fine line between a nice outdoorsy look and confusing visitors into thinking they're still in the house, only now the walls have disappeared. Remember, a patio — even if it's covered on the top or sides — is still outdoors. Don't try to turn it into another room of the house. Avoid taking an old sofa, recliner, or coffee table and haphazardly tossing it outside. It looks sloppy and won't impress any guests.
Do add some potted plants
Have you ever pictured yourself with a lush garden, complete with fresh fruit, vegetables, and herbs growing in an endless bounty? It's a beautiful scene, isn't it? Container gardening offers a portable option to easily move around your garden to create any style. And, when the weather turns cold, it's much easier to bring in a few pots than to figure out how to properly store a garden bed under tarps or blankets. Need plant inspiration? Here are spring bulbs to plant for summer blooms and fall bulbs to create gorgeous spring flowers.
Don't skimp on storage
Particularly during rainy seasons, you're likely not spending a lot of time outside. Keep your patio space looking clean by putting pillows, blankets, or other smaller items out of sight and safely in storage. Many storage spaces are sleek enough to blend in with the rest of your patio décor. Opt for something durable to protect against harsh weather — you might even include some items for winterizing your home in your storage areas. You can also use your storage space to shelter equipment for gardening supplies or seasonal hobbies.
Do regularly remove debris
Depending on where you live and the time of year, different elements will fall onto your patio. That picturesque tree that hangs over your backyard is gorgeous, until leaves start falling. If dirt and leaves get trapped into the surface, the wood can quickly rot or become moldy. Treating that type of damage is far more costly and time-consuming than simply preventing such an incident in the first place. Make it a regular habit to sweep off leaves or invest in an outdoor vacuum to help clean up some of Mother Nature's unwanted gifts.  
Don't overcrowd things
Each addition to your patio should serve a purpose. Maybe you want a spot where you can have an outdoor date night, so you set up a small table and seating for two. That's a charming setting, but it would quickly become cumbersome if you added a long bench right next to it. Do your best to avoid overcrowding. It helps to think of your patio like a meditation space. You want to create a feeling of calm and relaxation. Clutter introduces the opposite effect and can instead leave you stressed and anxious every time you go outside. 
Do choose durable patio furniture
While furniture adds flair to your patio, consider your local climate before starting to decorate. If you live somewhere that's more temperate, you might be able to explore a wider variety of materials. If you live somewhere that's hot most of the year, wood, wicker, and plastic furniture may overheat to the point of being unusable. Instead, something made from metal or concrete might make more sense. Those durable materials will be able to withstand the harsh heat in the summertime, and can also take some punishment in the winter. Think durability when choosing your dishware, too. Instead of glasses and ceramic plates, invest in something that won't lead to broken shards in case of a spill. Plastic, melamine, or bamboo are all durable options that are also dishwasher safe, so you can use them in a variety of settings.   
Don't use a wire brush to clean
At some point, your patio or deck may acquire some stains. It could be from a dinner party gone rogue or regular wear and tear from inclement weather. You might want to clean the surface to get things looking good as new. But if what you're cleaning is made of wood, concrete, or stone, remember not to use a wire brush. Doing so can leave long-term damage on the surface. Make sure to research how to properly maintain the unique surfaces of your patio furniture, so they last for several seasons to come.
Do add lighting
It's possible you may only use your patio during bright, sunny days. However, if you ever step outside at night or on a cloudy afternoon, you'll be grateful for lights that enhance visibility. Effective lighting doesn't require an elaborate installation. String lights can add a cozy charm to the backyard, while portable outdoor lamps or even lanterns offer ample light for any outdoor activities.  
Your patio is an extension of your home, so don't be afraid to give it the attention it deserves! A creative approach and open mind can create some truly special, personal designs.
© 2023 American Homes 4 Rent, LP
American Homes 4 Rent®, AMH®, AH4R®, Let Yourself In®, AMH Development®, American Residential®, and 4Residents® are registered trademarks of American Homes 4 Rent, LP. 4Rent℠, AMH Living℠, and 4Communities℠ are service marks of American Homes 4 Rent, LP.  AMH refers to one or more of American Homes 4 Rent, American Homes 4 Rent, L.P., and their subsidiaries and joint ventures. In certain states, we operate under AMH, AMH Living, or American Homes 4 Rent. Please see www.amh.com/dba to learn more.