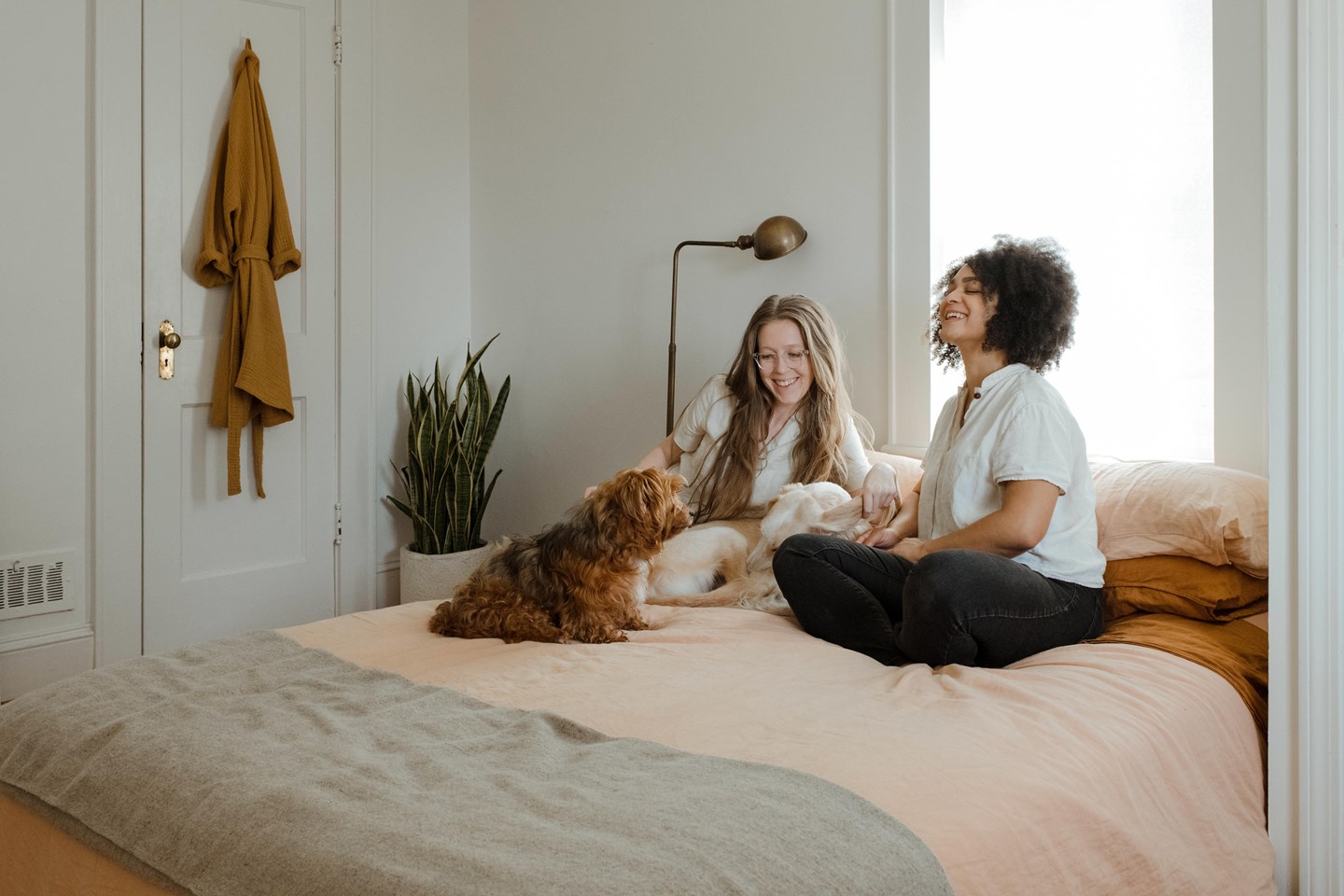 Easy upgrades for better health and wellness at home
Posted by AMH Team
6m read time
Jan 25, 2022
We're all aware that our surroundings directly affect our health, but did you know your indoor environment can impact your well-being, too? Creating a wholesome interior living space that supports your physical and mental health doesn't require a complete renovation. Consider the following home upgrades to reduce pollution, protect your family, and support your day-to-day wellness.
Improve your air
With so many external products in our home, it's hard to know what pollutants are in the air we breathe and how they affect our health. To improve your indoor air quality, consider these simple steps for improving your interior environment:
- When selecting furniture and decor items, opt for natural materials like wool, cotton, and linen, which emit fewer volatile organic compounds (VOCs).
- Open your windows and operate your fans for five minutes a day to circulate air.
- Incorporate these purifying houseplants—like spider plants, which are effective at reducing benzene, formaldehyde, carbon monoxide, and nitrogen dioxide, or palm, fern, ivy, and peace lily, which capture pollutants like mold.
- Diffuse essential oils like tea tree, eucalyptus, lavender, and clove, which can reduce airborne bacteria as well as dust mites.
- Take your shoes off when coming inside to avoid carrying in pesticides, pollen, fungi, bacteria, or feces.
- Groom your pets often to minimize dander in your home, which can cause or exacerbate asthmatic symptoms.
- Avoid or regularly clean common sources of dust build-up like window dressings and curtains.
- Use an anti-allergy vacuum with a HEPA filter, which can trap 99.97% percent of airborne particles, and is especially helpful if you suffer from allergies or asthma, or if you live with a pet.
Use non-toxic cleaners
Non-toxic cleaning supplies are a simple way to start making your home a healthier place to live in. They contain fewer chemicals that can cause eye, nose, throat, and lung irritation, and could be harmful to you and your family. These cleaners are also safer to store and use around children.
Historically, green cleaning products were costlier and harder to find, and the lack of regulation rendered terms like "organic" and "natural" misleading. There's also the perception that these cleaners generally take more time to take effect—or require more elbow grease—than their counterparts, which has been debunked.
Thanks to chemical advances, manufacturers have made their prices much more comparable to the standard, and you can now buy many of these online. Use this handy guide to navigate the options (or to DIY your own!).
Think hybrid
In 2020 and 2021, our living space became much more than a place to hang your hat at the end of the day. For many of us, it also acts now as our workplace, school, gym, and yoga studio. As our homes become multifunctional, many are turning to multipurpose furniture pieces to maximize square footage and accommodate these activities.
Dual-purpose items that can be folded into compact shapes and stored away when not in use offer versatility, are often more sustainable, and help reduce clutter in favor of a tidier, minimalist environment. Some examples include stools and ottomans with built-in storage, tables that convert and expand, and changeable bookshelves that grow and retract based on your needs.
You can also use these pieces to transform underused spaces—under the stairs, next to laundry areas, or even the pantry—into a discreet home office nook or study area. With a few thoughtful items that work double duty for you, you can avoid overcrowding while adding game-changing comfort to your space.
Sleep green
More and more mattress brands are opting for organic components to make their products friendlier to the environment as well as your health. These beds are responsibly sourced, free from harmful chemicals, and made with at least 95% organic materials, which are nontoxic and chemical-free. 
Some of the most common organic materials used in today's mattresses include latex, cotton, and wool. Organic and natural latex beds, for example, are breathable, hypoallergenic, and antimicrobial, meaning household allergens like bacteria, mold, and mildew are unable to grow within the foam. These green mattresses have become particularly popular for their buoyancy, pressure relief, and durability.
Look for brands that have received certifications from reputable authorities such as the Global Organic Textile Standard (GOTS), Global Organic Latex Standard (GOLS), and the U.S. Department of Agriculture, and who disclose their sustainability practices in the manufacturing process, to ensure your bed is as beneficial to the environment as it is to your sleep quality.
Create an interior garden
It's widely reported that spending time in nature, even for as little as ten minutes, reduces stress levels. Here are some unique ways to bring the outdoors inside:
- Commandeer a shelf or closet to display a collection of succulents, many of which thrive even in low light.
- Set up a small terrarium in your office or workspace that functions as a sound absorber to create a quieter work environment.
- In the bedroom, fold in plants like aloe vera, bromeliads, and orchids whose photosynthetic rhythm increases oxygen levels at night, promoting better sleep.
- In the kitchen, grow herbs in pots year-round to supplement your cooking while adding color.
- In the bathroom, hang eucalyptus stems on your shower head. The steam will activate the oil compounds, releasing a soothing fragrance that promotes relaxation and clears nasal congestion.
Carve out a meditation zone
Between a global pandemic, supply chain shortages, rising living costs, The Great Resignation, and general uncertainty, people are looking for ways to reduce their stress. One of the best methods for that is meditation, which has seen significant increase across the globe since 2020.
Meditation is an at-home activity that requires minimal equipment and space, but provides ample benefits. According to the Mayo Clinic, people who regularly meditate experience greater emotional well-being, such as building skills to manage stress, reducing negative emotions, and increasing creativity, patience, and tolerance. Meditation can also serve as a complement to treatment for a wide variety of diseases and illnesses, like anxiety, cancer, chronic pain, heart disease, and sleep problems.
Creating a meditation space at home doesn't have to be a complex exercise or necessarily follow a set of rigid rules. It's up to you which direction you want to take your space in. If you're feeling stuck, here are a few essentials and tips to consider.
Over to you
Upgrading your home to improve your health and wellness doesn't have to feel daunting or be expensive. Wherever you're based, you can leverage your living space to feel healthier and happier daily, without structural changes required. Start by incorporating one new habit at a time and seeing what works best for your physical, emotional, and mental well-being. Here's to a healthy 2022! 
Written by: Jacky Xu is the Chief Operating Officer at Maid Sailors Cleaning Service ©: #1 Maid Service NYC. Maid Sailors take pride in providing unparalleled cleaning services at affordable prices and helping transform your house into a home.
This content is not a substitute for professional medical advice, diagnosis, or treatment, and does not constitute medical advice. Always consult a qualified healthcare provider or licensed physician before beginning an exercise program or nutritional regimen.
© 2023 American Homes 4 Rent, LP
American Homes 4 Rent®, AMH®, AH4R®, Let Yourself In®, AMH Development®, American Residential®, and 4Residents® are registered trademarks of American Homes 4 Rent, LP. 4Rent℠, AMH Living℠, and 4Communities℠ are service marks of American Homes 4 Rent, LP.  AMH refers to one or more of American Homes 4 Rent, American Homes 4 Rent, L.P., and their subsidiaries and joint ventures. In certain states, we operate under AMH, AMH Living, or American Homes 4 Rent. Please see www.amh.com/dba to learn more.