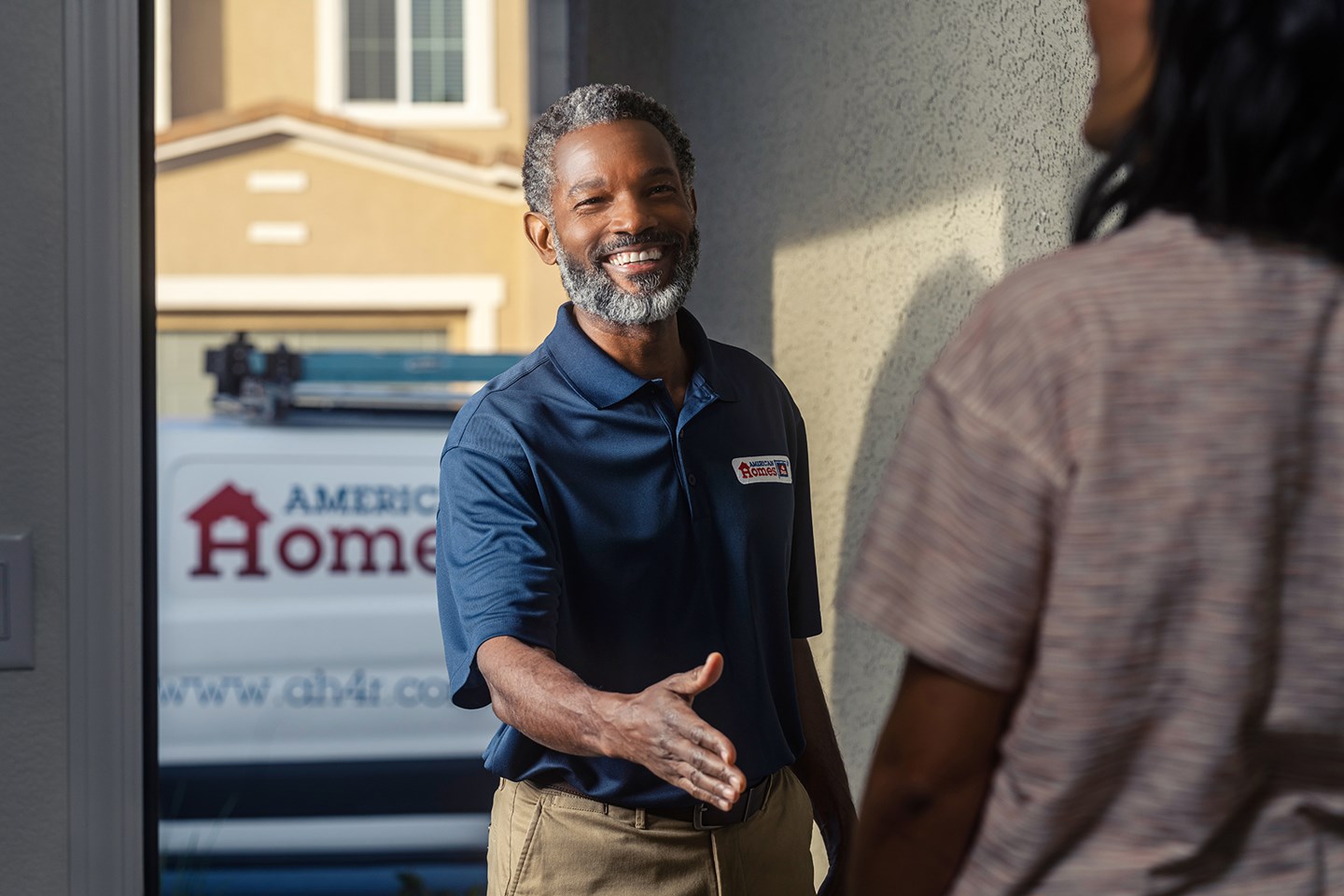 Home maintenance items you should outsource to a professional
Posted by AMH Team
6m read time
Oct 11, 2022
Social media is full of home improvement warriors tackling every maintenance issue that pops up in their houses. But, realistically speaking, most people don't have the time, tools, or skillsets to do the job safely or efficiently. As you look at your home maintenance checklist, here are the tasks that are best left to the professionals. As always, if you live in a rental, make sure to reference your lease first to learn which maintenance items are your responsibility and which services your property manager will provide or help facilitate for you. 
Tree trimming
Trees add a beautiful dimension to your landscaping, but they do require some effort to maintain. Not only can pruning help keep trees healthy, it's also a must in order to protect your home from limbs falling on the house, your car, or even people walking in the yard. 
Trimming trees is a hugely important task to outsource. Not only can high heights quickly turn into a safety issue, but most people also simply don't have the specialized knowledge to understand what different types of trees need in order to thrive. A professional tree company can also identify any diseases that need to be addressed to ensure a healthy future and understand the ideal structure to make sure any cuts are aesthetically pleasing. 
On top of that, professional tree trimmers will have the right safety equipment to reach and cut high branches. They should also be licensed and insured so that any risky moves are financially protected. 
Pest infestation
Any perusal of a home improvement store presents plenty of options for at-home pest infestation resources. But it's best to hire a professional to take care of any pest issues that pop up. For starters, they'll be able to identify exactly what type of bugs or rodents are causing problems. They'll also have a range of products that are appropriate for your home. 
For instance, you definitely want to make sure you're using the right sprays and traps for inside versus outside, especially if you have small children or pets at home. A professional ensures that both the chemicals used and the placement of those products are the right call to keep your family safe. Plus, you don't have to worry about storing potentially toxic sprays that are leftover from a DIY job. 
Gutter cleaning
Staying on top of gutters is an important part of successfully diverting water away from your home. But just like tree trimming, gutter cleaning poses a danger when you're up on a high ladder, likely without the proper tools to get the job done safely. There's also a risk of accidentally scooping out sharp debris that has lodged inside the gutter. 
While most residents may just put on some gloves and start grabbing leaves, professionals have cleaning tools that quickly and efficiently get the job done. Rather than wasting a Saturday afternoon perched precariously at the top of the ladder, you can schedule a gutter cleaner to be in and out of your yard while you're at work. 
External window washing
Many gutter cleaning companies also offer external window washing. This is a great way to batch multiple jobs and potentially get a discount on these home maintenance jobs that don't otherwise get done. If it's been a while since you last had your windows washed, you'll likely notice a huge difference in the quality of light that streams into your home — especially during the winter months. 
Another benefit of outsourcing your window washing is that you don't have to store specialty equipment and leftover cleaning solution for six months. This is a job that only needs to be done once or twice a year. It's not worth the effort to clutter your space with supplies. And if you live in a two-story home, there's a major risk in trying to reach those heights in a way that doesn't put you at risk of falling.  
Weed treatment
Weed control keeps your lawn and landscaped areas looking fresh. But not all treatments are created equally. Unless landscaping is already included in your lease services, enlist the help of a pro to find the right products to target the weeds appearing in your yard. Additionally, it may be unsafe if you grow produce in your yard, like a container herb garden. 
Let your weed treatment company know about who uses your yard and how. You want to avoid harsh chemicals that can kill native pollinators (like bees and butterflies), and that won't hurt your toddler if she eats a fistful of dirt. There are plenty of diverse treatment options available that fit your family's needs and values while still addressing those pesky weeds throughout your yard.
Chimney cleaning and inspection
Before the weather gets too chilly each year, you should hire a chimney cleaning and inspection in advance of lighting your first fire in the fireplace. This is definitely a task that should not fall on your DIY project list. Instead, get a professional out to your home to make sure the chimney lining is in good shape and that there isn't any build-up inside that could catch on fire. 
Don't wait too long to schedule your appointment. As you can imagine, chimney companies become increasingly busy as the months get colder. Try to get an appointment in late summer or early fall to be fully prepared when colder temperatures arrive.
Projects that need specialized tools and skills
It's tempting to hop on the "DIY weekend warrior" bandwagon and make a list of all the home projects you want to tackle by yourself. But there are several types of maintenance projects that are better left to the professionals in terms of safety, time, and cost. Here's how to gauge which projects are best suited to an outsourced contractor or specialty company:
Tools
A one-off DIY project may not be worth the cost of specialized tools by the time you accumulate everything you need. Think about the job you want done and how much you would realistically spend on tools and supplies versus the cost of hiring a pro. 
Skills
Factor in your current skillset before scheduling a DIY project. How many YouTube videos will you need to watch before actually starting a project? Evaluate how likely you are to master those skills and how often you plan to use them again. If this is a project that only needs to be done once or twice a year, it may not be worth your time to learn how to do it. 
Safety
Anything involving heights, electrical wiring, plumbing, or heavy machinery is not worth the safety risk to yourself and those around you. It's very possible to hurt yourself, a loved one, or even just your home because you were not properly equipped to handle a job. Keep yourself protected during dangerous jobs by hiring licensed and insured professionals.  
Final thoughts
Keeping up with home maintenance projects doesn't have to take up your entire life. Using a variety of professionals for specialized tasks is the easiest way to stay safe and protect your free time. When in doubt, consider hiring out to take care of your home maintenance needs.
© 2023 American Homes 4 Rent, LP
American Homes 4 Rent®, AMH®, AH4R®, Let Yourself In®, AMH Development®, American Residential®, and 4Residents® are registered trademarks of American Homes 4 Rent, LP. 4Rent℠, AMH Living℠, and 4Communities℠ are service marks of American Homes 4 Rent, LP.  AMH refers to one or more of American Homes 4 Rent, American Homes 4 Rent, L.P., and their subsidiaries and joint ventures. In certain states, we operate under AMH, AMH Living, or American Homes 4 Rent. Please see www.amh.com/dba to learn more.