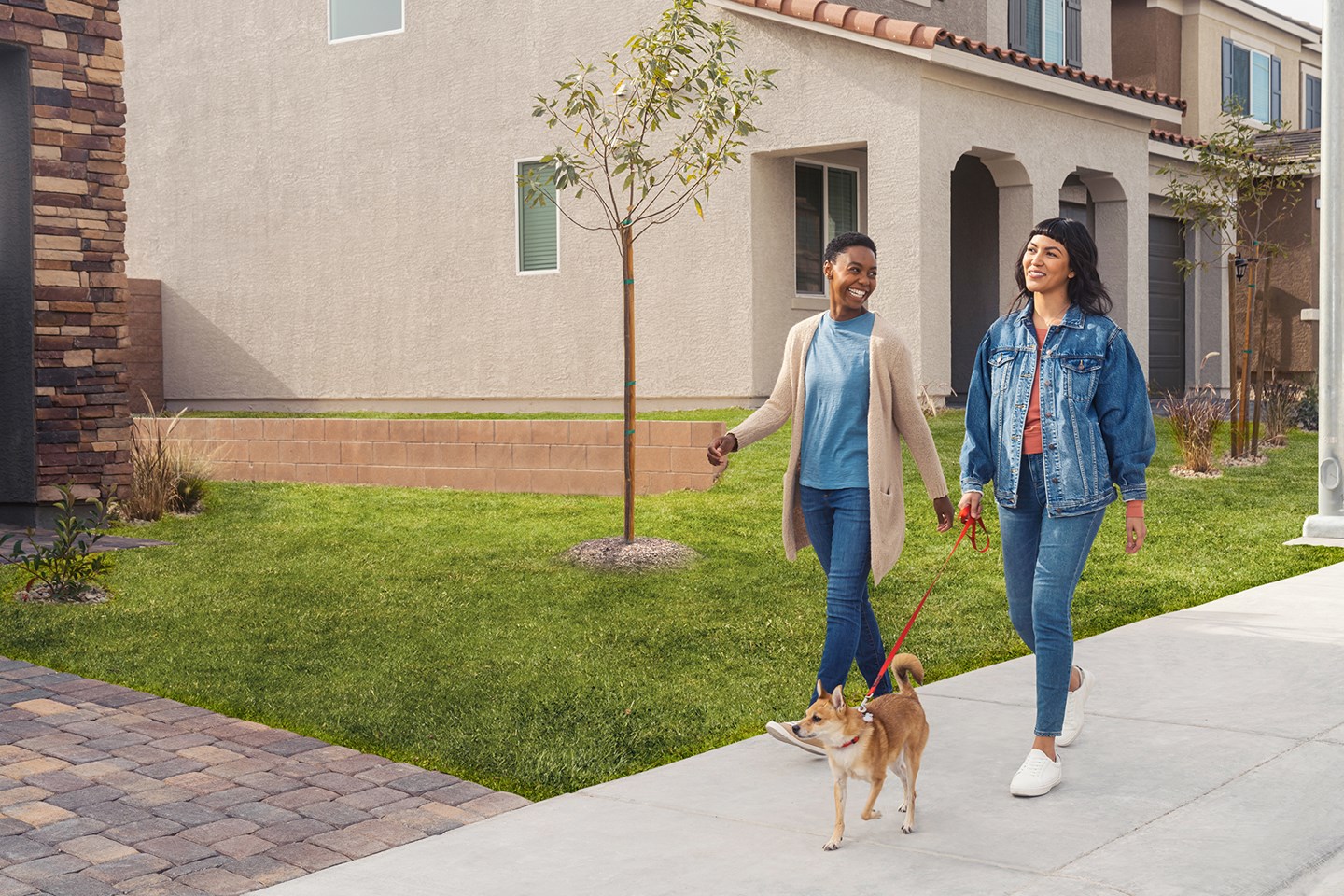 How to be a better neighbor
Posted by AMH Team
6m read time
Sep 27, 2022
Over the course of the year, there are several national events that serve as reminders to strengthen community where you live by practicing neighborly etiquette, whether that's Random Acts of Kindness Day on February 17 or National Good Neighbor Day on September 28. No matter if you're just moving in or have lived in your home for years, here are some easy but effective ways to be a better neighbor! 
Keep noise down
Everyone expects a little bit of noise from their neighbors. However, when there's routinely an onslaught of sound coming from your home, it becomes an issue. Common household tasks such as mowing the lawn or DIY projects can cause significant noise. You never realize quite how loud a hammer can be until one's pounding away while everyone else is trying to sleep.
If you're having friends over, limit loud music or any outdoor gatherings to daylight and early evening hours. The same goes for practicing a musical instrument, yelling at a sports team, or anything else that might cause excessive noise. Aim for quiet time between 10 p.m. and 6 a.m. Your neighborhood may even have guidelines with a specific silent timeframe.
It also doesn't hurt to give neighbors a heads up when hosting a large event. Beyond the additional noise, there may also be cars parked out in front of their house. Lessen their concern by letting them know what's going on ahead of time.   
Maintain curb appeal
The front of your house is the first thing everyone sees. Unless it's Halloween, avoid scaring your neighbors away with a frightening lawn and walkway to the front door. Unless landscaping services is provided by your property manager or homeowners association (HOA), be sure to mow your yard regularly, pick up toys scattered across the lawn, and sweep — or powerwash — your walkway at least once a month. Doing so will remove any leaves or trash that have built up. You can spruce up the door and surrounding doorframe using a handheld vacuum or a microfiber cloth, brushing away cobwebs, dirt, and other debris. Remember to start from the top and work your way down for an easier cleanup. 
Just about every neighborhood has a designated day for trash, compost, and recycling pickup. Each city has different requirements for recycling certain items, such as milk cartons or batteries, so it's important to brush up on those guidelines. It also helps to occasionally clean out those bins so the smell doesn't repulse neighbors walking by. Use dishwasher detergent and water to give the bins a thorough rinse and scrub. Just remember to let them air dry before placing more items inside.
Practice fence etiquette
Though the front door is the first thing your neighbors see, your fence is an equally important view. Make sure you're showing off your best side by keeping good fence etiquette.
First and foremost, if you're a renter or live in a neighborhood governed by an HOA, be sure to check the community guidelines (or Declaration of Covenants, Conditions and Restrictions, commonly known as CC&R) to learn what you can and can't display on the exterior and perimeter of your home.
Then, with your direct neighbors, communication is key. If you want to add something to your yard that could potentially impact your neighbor's space, such as potted plants or hanging decorations, let them know your plans in advance. Ideally, they should do the same for any adjustments they make. Particularly if you have a corner home, maintain your patio furniture and clean the deck. You'll likely have people peering over your fence as they walk by—it's human nature to be curious!
Make sure your kids or pets aren't getting into mischief, either. A small hole in the fence can turn into an invitation for trouble, particularly if your neighbors also have pets. Sticking a nose or hand through a fence gap can quickly turn into an injury. If you're living in a rental home, contact your property manager to consult on how to best address maintenance for these items. Finally, and this part should go without saying, don't throw any debris over the fence!
Respect their things
At some point, you may need to borrow something from your neighbor, like an extra glove to play catch at the park. Or a ball or frisbee may sail into your yard. Whatever the item, return it the same way you found it.
That mentality goes for their yard and curb, too. If you accidentally drop something in their yard, pick it up. During a holiday such as the Fourth of July, if your community permits it, you might use fireworks — don't let the remnants sit on your neighbor's property. 
Be a mindful pet owner
Pets can be a great way to meet neighbors, but you don't want them getting off on the wrong foot (or paw). Take a few steps to ensure your pets are just as neighborly as you are.
To start, brush up on any community guidelines regarding pets in common areas, including leashing expectations. When you're on a walk, even if leashed, pay attention. Animals need physical activity, which means they might start pulling or running to places they shouldn't. Keep them off other people's yards and sniffing in trash bins on the street. And always keep doggy bags handy in case you need to clean up a mess. Throw the bag away in a communal garbage bin or hold on to it and toss it when you get home.
Be considerate of other people's pets, too. For example, a housecat may hang out in your driveway or even under your car. It doesn't hurt to peek before backing out into the street. Or, if you're walking your dog and come across another one, don't immediately let your dog go wild. Take extra caution and be ready to separate the two as needed.
Follow community rules
Many neighborhoods have HOAs or private organizations that manage living communities. Even as a renter, you must follow these rules and regulations. Most community rules are simple and fall under these other neighborly tips anyway, so you're already in a good spot.
Still, it can't hurt to brush up on guidelines through community portals or emails about events and notices. For example, a neighborhood pool might keep certain hours or have requirements on attire and supervision. Your garbage collection days may vary and sometimes might feature bulk item pickup.
You don't want to be the neighbor that stands out for the wrong reason. Learn your community rules and stick to them.
Embrace the chance to connect
It's easy to avoid chatting with your neighbors. Maybe you've even adjusted your morning schedule on occasion so you're not walking out the door at the same time. While this is understandable from time to time, you may want to consider occasionally taking a moment to chat and learn about the people who live on your street.
You may discover new things about your neighborhood and might even make long-lasting friendships. There are health benefits, too: social connection has been shown to lower anxiety and depression while boosting self-esteem and empathy.
Read the room, of course. If your neighbor is struggling to carry, say, a half-dozen grocery bags, it's probably not the right time to stop them to gossip about your last happy hour. But if you're both available and present, even a minute-long chat can brighten someone else's day.
Contribute some extra cheer in your community during National Be a Good Neighbor Day with these neighborly tips, which will keep the good times going all year round!
© 2023 American Homes 4 Rent, LP
American Homes 4 Rent®, AMH®, AH4R®, Let Yourself In®, AMH Development®, American Residential®, and 4Residents® are registered trademarks of American Homes 4 Rent, LP. 4Rent℠, AMH Living℠, and 4Communities℠ are service marks of American Homes 4 Rent, LP.  AMH refers to one or more of American Homes 4 Rent, American Homes 4 Rent, L.P., and their subsidiaries and joint ventures. In certain states, we operate under AMH, AMH Living, or American Homes 4 Rent. Please see www.amh.com/dba to learn more.