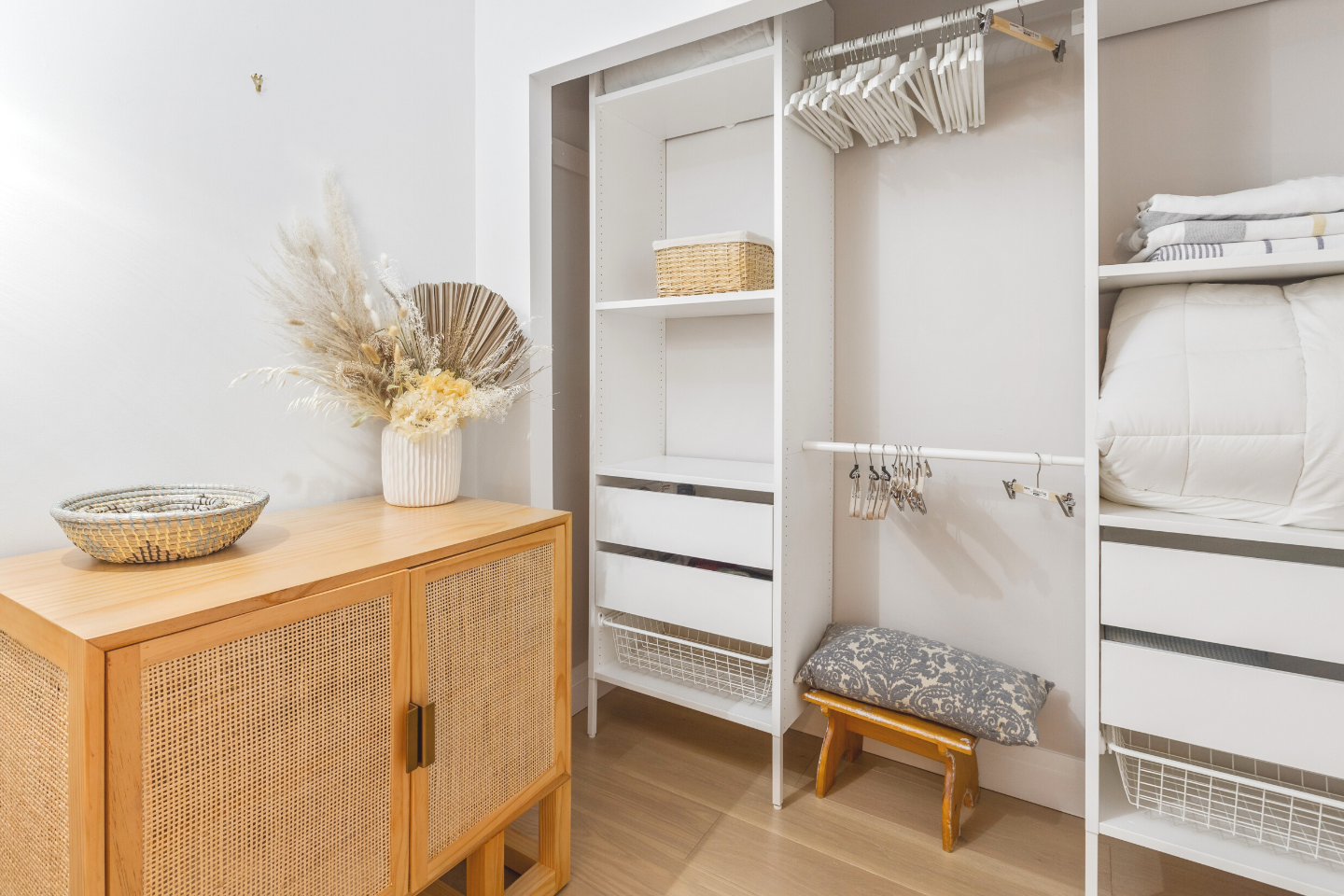 How to better organize your closet
Posted by AMH Team
6m read time
May 17, 2022
Getting organized helps to reduce stress and clear your head so you can focus on the more important things in life. By maintaining a clean, well-kept closet space, you'll start each day with a brighter outlook, while also making it easier to choose outfits and put away laundry. Here are nine simple tips to organize your closet and maximize its space, without needing an expensive or customized closet system: 
Purge first
There's no sense in organizing clothing, shoes, and accessories you no longer want or need. Before you even start thinking about how to best use your space, go through your closet and get rid of anything that you don't use anymore. If it's still in wearable condition, donate it to your local thrift store; otherwise, toss it in the trash. 
There are a few different strategies to consider when purging your closet. The popular KonMari Method™ involves holding each item individually and gauging your own emotional reaction to it. If the item sparks joy when you touch it, then keep it. But if it leaves you with a lackluster feeling, put it in your donation pile.
Another option is to judge each piece by how long it's been since you've worn it. If you haven't used it in six months to a year, it could be time to say goodbye. Once you finish purging, you'll have a clean slate, with a closet full of things to organize that you truly love.
Think seasonally
If you're short on space, consider dividing your wardrobe into two main components: pieces for spring/summer and fall/winter. Swapping out your seasonal clothes not only saves space in your closet, it also saves you time when picking out an outfit to wear since you only have weather-appropriate pieces in front of you to choose from. 
To truly maximize space, place your out-of-season clothes in vacuum-sealed bags and tuck them away. Get creative with where you put them, such as in a linen closet, laundry room, or the top shelf of your closet. You can even fill up empty luggage with your off-season wardrobe. Keep similar items together, like sweaters or shorts, then label each package so you can easily identify the contents when the next season rolls around. 
Avoid wasted space under hanging clothes
One of the most important elements of organizing a closet is to avoid wasted space. This often happens when you have a top rack to hang your clothes on. Unless you have lots of long dresses, most of the space underneath ends up remaining empty. There are several easy and inexpensive ways to put that open area to good use. 
First, consider sliding in a dresser or bookshelf. The depth and the height often match the bottom half of a closet easily. Then you can use those extra shelves for access to shoes and handbags, or you can use cubbies to store socks and other small items.
Another idea is to add a tension rod for a second layer of hanging clothes, using felt pads to protect the walls. This could really get you organized by placing your tops on the higher rack, and your pants and skirts on the lower rack.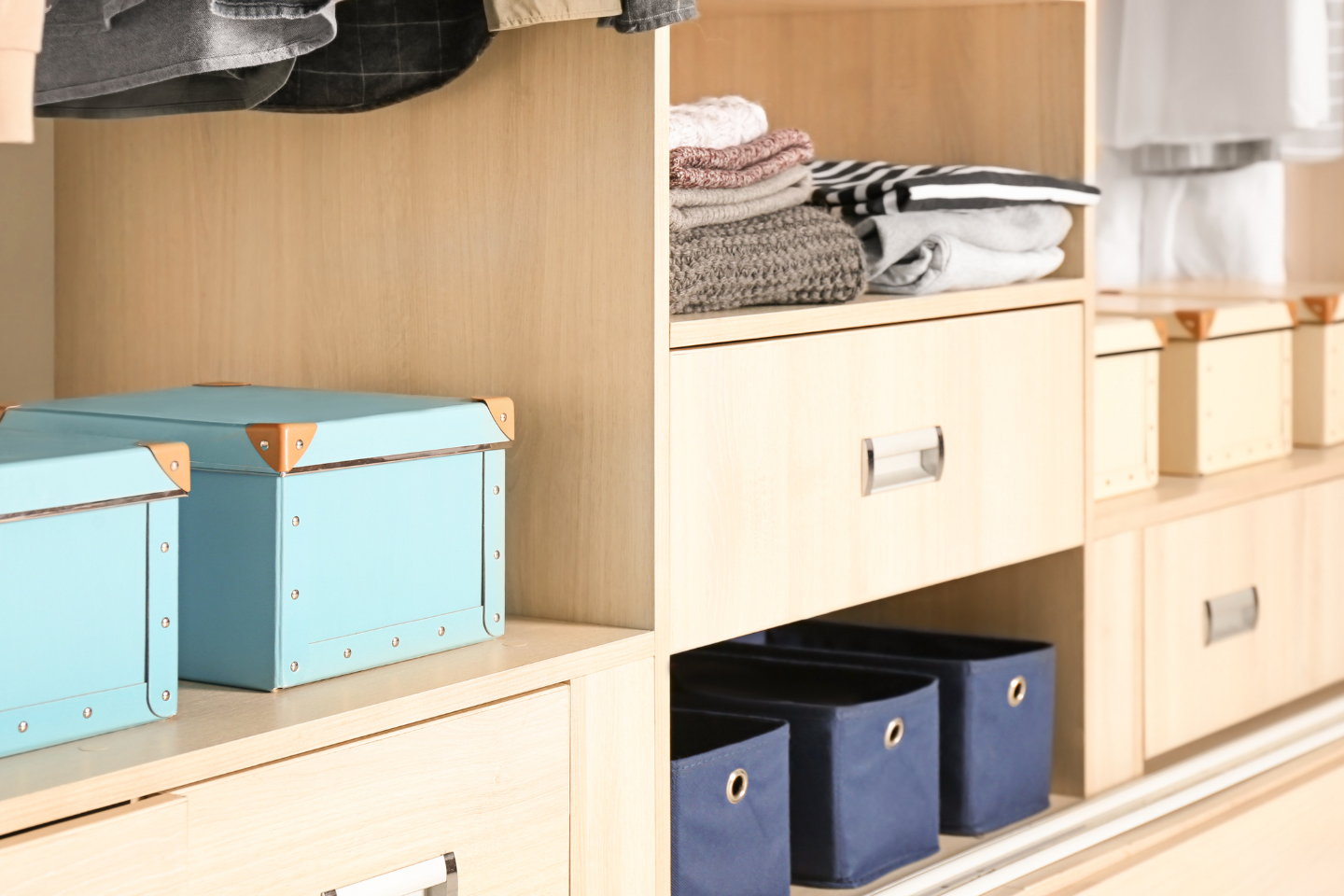 Categorize your clothing
A primary goal of organizing your closet is to know exactly what you have and where it's located. As you maximize the space you have to work with, avoid randomly filling the space with your clothing and accessories. Instead, separate each section by the types of items, such as pants, short sleeve shirts, long sleeve shirts, skirts, dresses, jackets, etc.
An easy way to do this is by adding some clothing divider tags, similar to what you'd see on department store clothing racks. If you've brought in extra shelving, label each area with the items you'll place there. This strategy is especially helpful when you share the space with your partner. No matter who does the laundry, you'll both know exactly where everything goes. More organization and less conflict makes it a win-win for everyone!
Add vertical and tiered hangers
Choosing the right tools to use in your closet space also helps you stay organized. Vertical and tiered hangers are budget-friendly solutions that streamline your clothing into categories while also saving space. You could place a set of work pants on one tiered hanger and work shirts on a vertical hanger. When it comes time to get dressed in the morning, you have all of your options in one accessible place. 
Use wall space
The open space in your closet isn't the only area you can use to organize your belongings. Get creative by using wall space as well. Add some Command™ hooks to hang necklaces, scarves, belts, hats, and other small items, without damaging the wall underneath. When it comes time to move or reorganize, you simply pull down the adhesive tab and the hook comes right off without stripping the paint.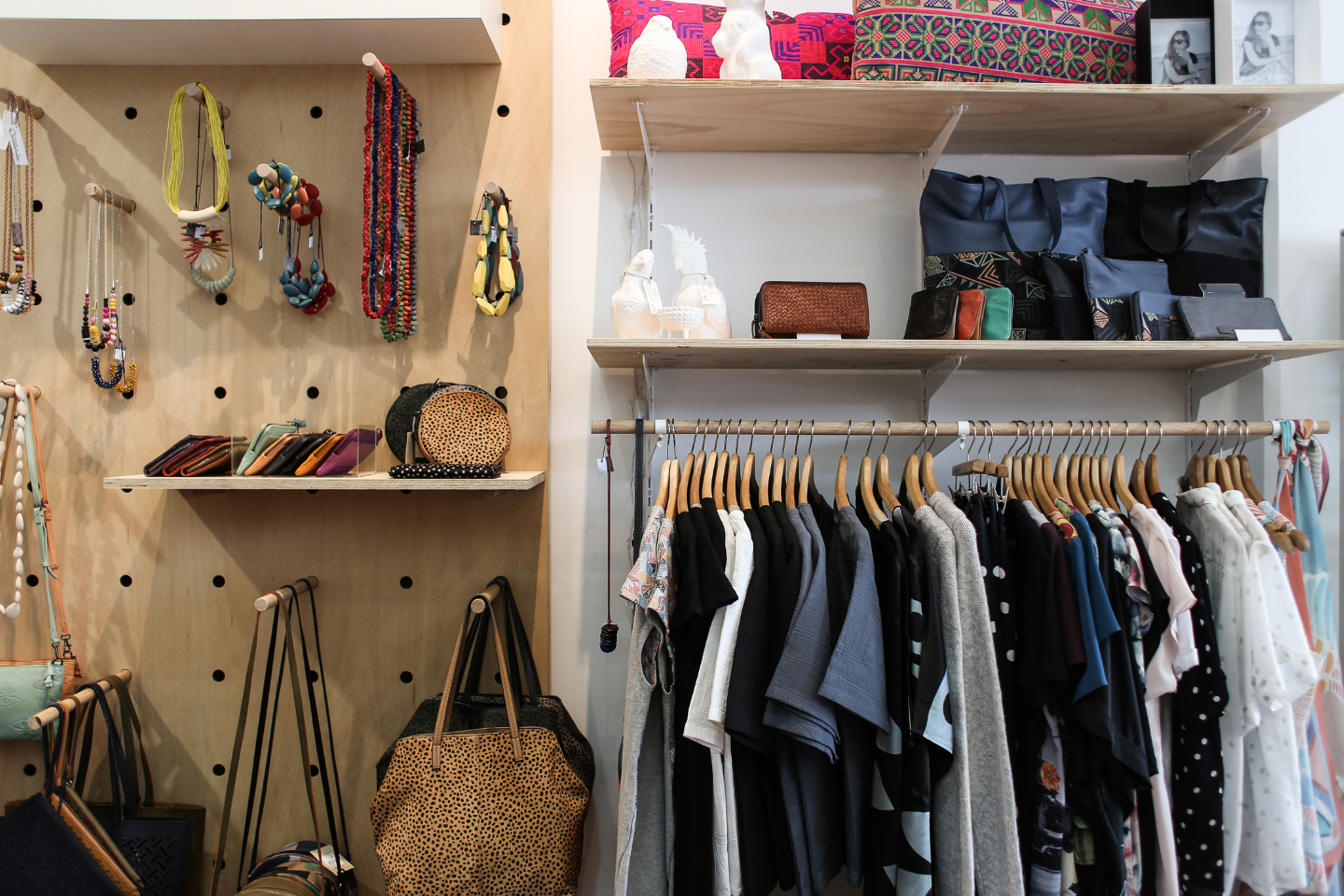 Optimize your closet door
In addition to adding usable space to your walls, think about using the inside of your closet door as well. There are lots of products available to hang over your door, making them easy to take off and on. You can find shoe and jewelry caddies, or narrow hanging baskets for small items like makeup, perfume, and toiletries. There are even hampers that hang on the back of the door so that you truly maximize your space and keep all of your wardrobe-related items in one space. 
Place drawers under your bed
No matter how much or how little space you have under your bed, you can use the area to store any overflow items from your closet. The area is perfect for things like shoes or out-of-season clothing. You can certainly buy storage containers with built-in drawers for easy access; just make sure the height matches the amount of space you have under your bed. You can also get creative to avoid buying something new altogether. For instance, you can use cardboard boxes that easily slide in and out, or vacuum-sealed bags for off-season clothes. 
Use dividers in dresser drawers
Whether you keep your dresser in your closet or in your bedroom area, inserting dividers keeps you organized when you're ready to find something specific. Start by emptying your drawers and performing a quick inventory of what you want to keep in there. Then find some budget-friendly inserts that match your needs. There are all kinds of products available to customize your drawers for any type of item, including socks, underwear, and t-shirts. Start off with a few options to see what works best. Also, remember to measure before you order to make sure your new product fits in your drawers.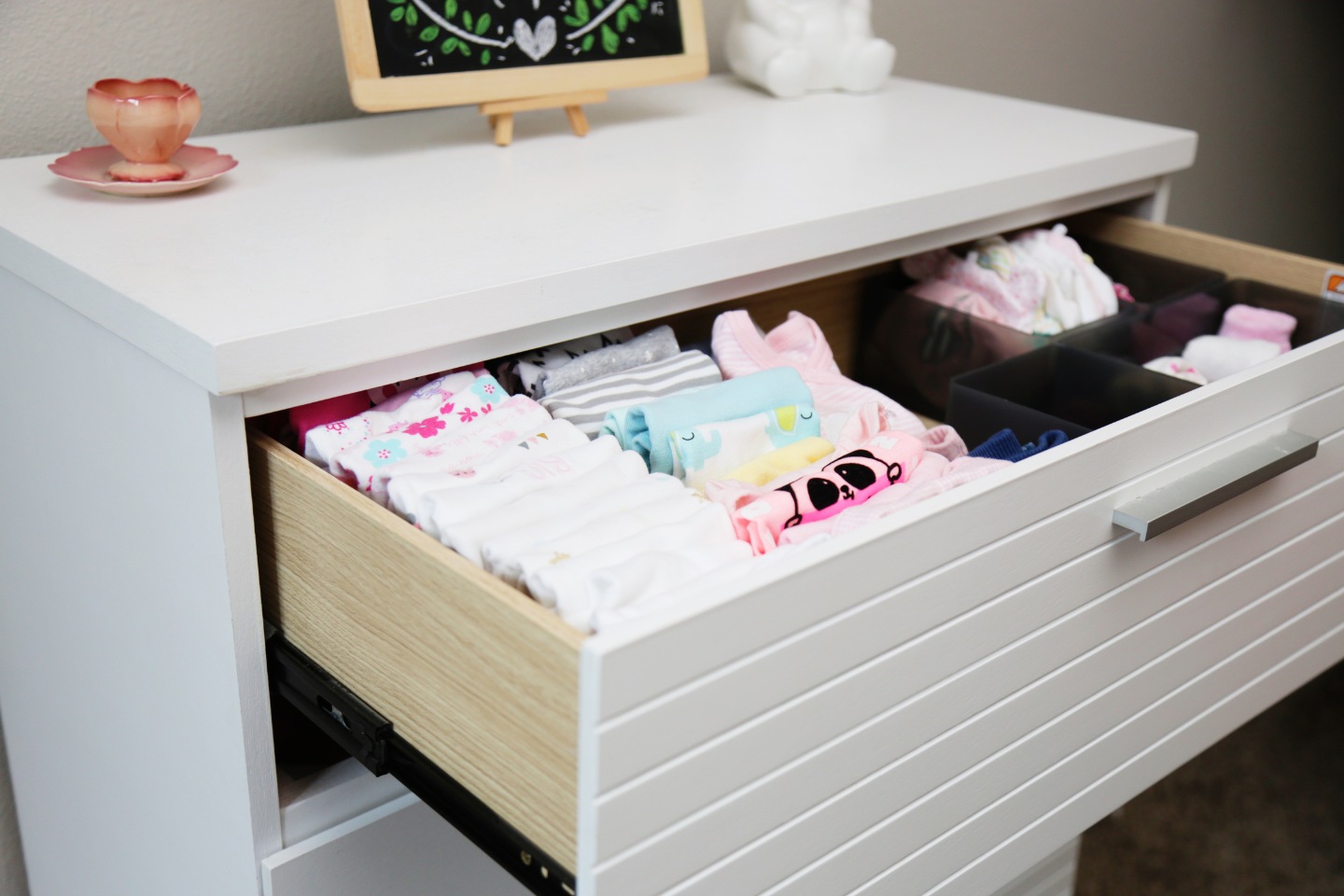 Final thoughts 
Taking some time to organize your closet will make you look forward to opening those doors each morning and evening. Set a relaxing tone for your day by implementing a few of these tips. With just a couple of hours and a minimal budget, you can create a Pinterest-worthy closet that you'll enjoy on a daily basis. 
© 2023 American Homes 4 Rent, LP
American Homes 4 Rent®, AMH®, AH4R®, Let Yourself In®, AMH Development®, American Residential®, and 4Residents® are registered trademarks of American Homes 4 Rent, LP. 4Rent℠, AMH Living℠, and 4Communities℠ are service marks of American Homes 4 Rent, LP.  AMH refers to one or more of American Homes 4 Rent, American Homes 4 Rent, L.P., and their subsidiaries and joint ventures. In certain states, we operate under AMH, AMH Living, or American Homes 4 Rent. Please see www.amh.com/dba to learn more.