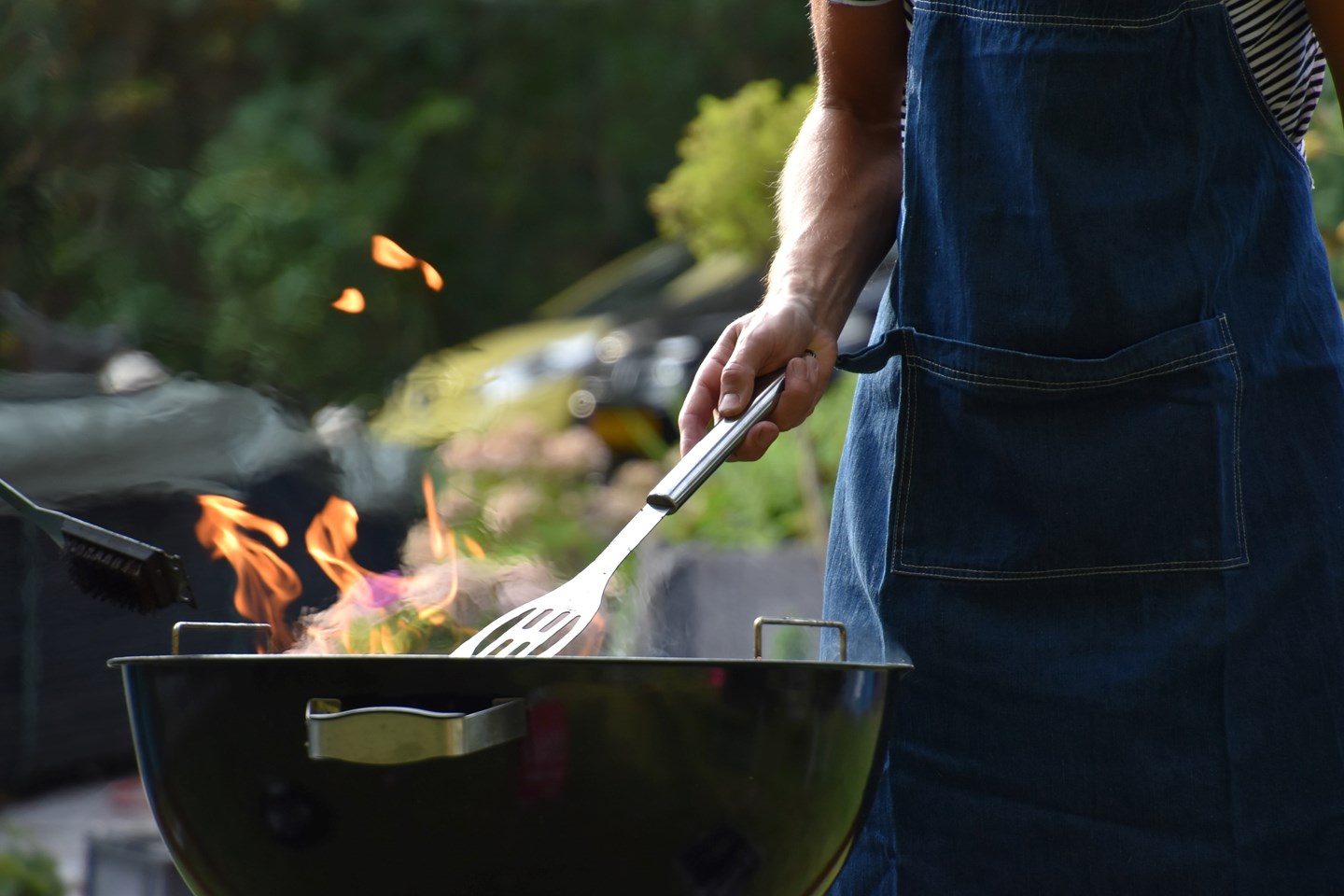 How to maintain your grill in top condition
Posted by AMH Team
5m read time
Jun 17, 2022
No matter the time of year, cooking out on the grill is a hallmark of enjoying good food, company, and weather, from the warm sun of the summer months to the cooling days of early fall. To keep your grill in tip top shape throughout this season, it's important to take care of it with both routine maintenance tasks as well as some seasonal ones. Here's everything you need to know about maintaining your grill so it continues to serve as the catalyst for memorable backyard barbecues.  
Use a grill cover
Regularly keeping a grill cover on your outdoor appliance helps protect it from extreme elements throughout the months it's in regular use. One of the major benefits is that it prevents rusting caused by rain, so that hinges and screws keep working properly. Additionally, a grill cover also keeps your grill looking good. Colors won't fade and won't be damaged by hail, bird droppings, and other elements that can impact the grill's aesthetic. Finally, remembering to use a grill cover keeps out unwanted creatures from nesting inside, like mice or birds. While this is less likely to happen if you frequently use your grill, it may become a problem if you go weeks at a time without opening the hood. Pro-tip: opt for a vented grill cover in humid regions to prevent trapping moisture inside.
Store your grill during colder months
Most people take a break from grilling during the winter months, rather than cooking outdoors for 12 months straight. To fully protect your grill, move it from the outdoors into a covered shelter, such as a garage. It does take up some room, but this annual step can vastly lengthen the lifespan of your grill. Just as constant exposure to rain can lead to rusting during warmer months, the same holds true throughout the winter. Plus, constant freezing and thawing can cause damage that would otherwise be avoidable with just a bit of extra insulation. Small animals are also more likely to look for a safe nesting place during cold months, and your grill is a prime real estate location for them. This can cause a lot of damage, not to mention unpleasant clean up, by the time spring rolls around. 
Invest in quality cleaning tools
Before you get ready to clean your grill, whether it's propane or charcoal, make sure you have the right tools on hand, which helps you do a better job in less time. Here's what you'll need:


Grill brush and scraper: A brush and scraper are a must for removing charred food from the grill grates. You can find these at any hardware or home improvement store near you. Consider opting for a bristle-free brush, since they can leave behind bristles that could later attach to your food.
Grate cleaning brick: A cleaning brick is a nice addition to your caddy of cleaning supplies. It fits between grills to remove residue without scratching the surface. 
Grill cleaning spray: For smaller cleaning jobs, a grill cleaning spray is helpful in wiping off lighter dust and debris. 
Regularly clean the grill
Here's how to routinely clean two of the most popular types of grills: charcoal and propane. 
How to clean a charcoal grill
The first step of cleaning a charcoal grill is to clean off the grates with a brush, brick, or even a wad of aluminum foil. This causes any residue to fall down into the ash catcher. Next, dump out any remains from the ash catcher into the trash. Make sure everything is completely cool before taking this step. You can then rinse and dry both the ash catcher and the grate, and replace on the grill. 
How to clean a propane grill
Cleaning a propane grill takes a few extra steps. Start by turning off the propane tank and removing the grill grates. Clean these with a scraper or brick, just as you would with a charcoal grill. Also remove and scrub the burners and burner tubes. Finally, check the bottom of the grill and remove any debris before wiping it down. 
Monitor grease trap
Most grills have a grease trap that collects drippings whenever you cook meat. Be sure to regularly monitor and empty the grease trap to avoid a large mess. If it spills over, you'll have a tough time getting the rest of the grill clean. Plus, a full grease trap can attract unwanted animals. Start by simply dumping the cooled grease into a garbage bag (and never down the sink, which can clog!). Once the bulk of the grease is gone, submerge the trap into hot, soapy water, which will help break down build-up on the sides. Wipe it clean, rinse, and dry before replacing the grease trap on the grill. Depending on the size of your grill and how much food you cook at one time, you may need to clean the grease trap after every use, or only after every few uses.
Deep clean at the end of each season
At least once a season, before putting the grill away, take the time to give it a deep clean. Start with the steps you would do for a routine cleaning, and clear away the grease trap. Then use paper towels or a rag to wipe down the entire grill, both inside and out. You can use soapy water or a grill spray for this step. Once every surface is clean and dry, you can reassemble the grill. Finally, lightly spray the interior components, including the grill grates, with cooking oil. This keeps your entire grill clean and rust-free until you're ready to use it again. 
Replace parts as necessary
No matter how much maintenance you perform to take care of your grill, you'll eventually need to replace some parts for it to continue to function properly and safely. One of the first things you may need to replace is the burner hood, simply because of the high degree of heat it's exposed to during frequent use. The cooking grates may also need to be replaced when you notice rust or chips on them. You may find it increasingly difficult to clean the grates as well, which is a sign that it might be time to order a new piece. 
Final thoughts
Consider your grill an investment that needs to be taken care of, just like any other major purchase you make. Some minor routine cleaning along with a few annual care tips can make a big difference in the look and lifespan of your grill, no matter what type you own. By regularly taking care of this backyard favorite, you'll be ready to enjoy perfectly cooked meals with friends and family for years to come. 
© 2023 American Homes 4 Rent, LP
American Homes 4 Rent®, AMH®, AH4R®, Let Yourself In®, AMH Development®, American Residential®, and 4Residents® are registered trademarks of American Homes 4 Rent, LP. 4Rent℠, AMH Living℠, and 4Communities℠ are service marks of American Homes 4 Rent, LP.  AMH refers to one or more of American Homes 4 Rent, American Homes 4 Rent, L.P., and their subsidiaries and joint ventures. In certain states, we operate under AMH, AMH Living, or American Homes 4 Rent. Please see www.amh.com/dba to learn more.