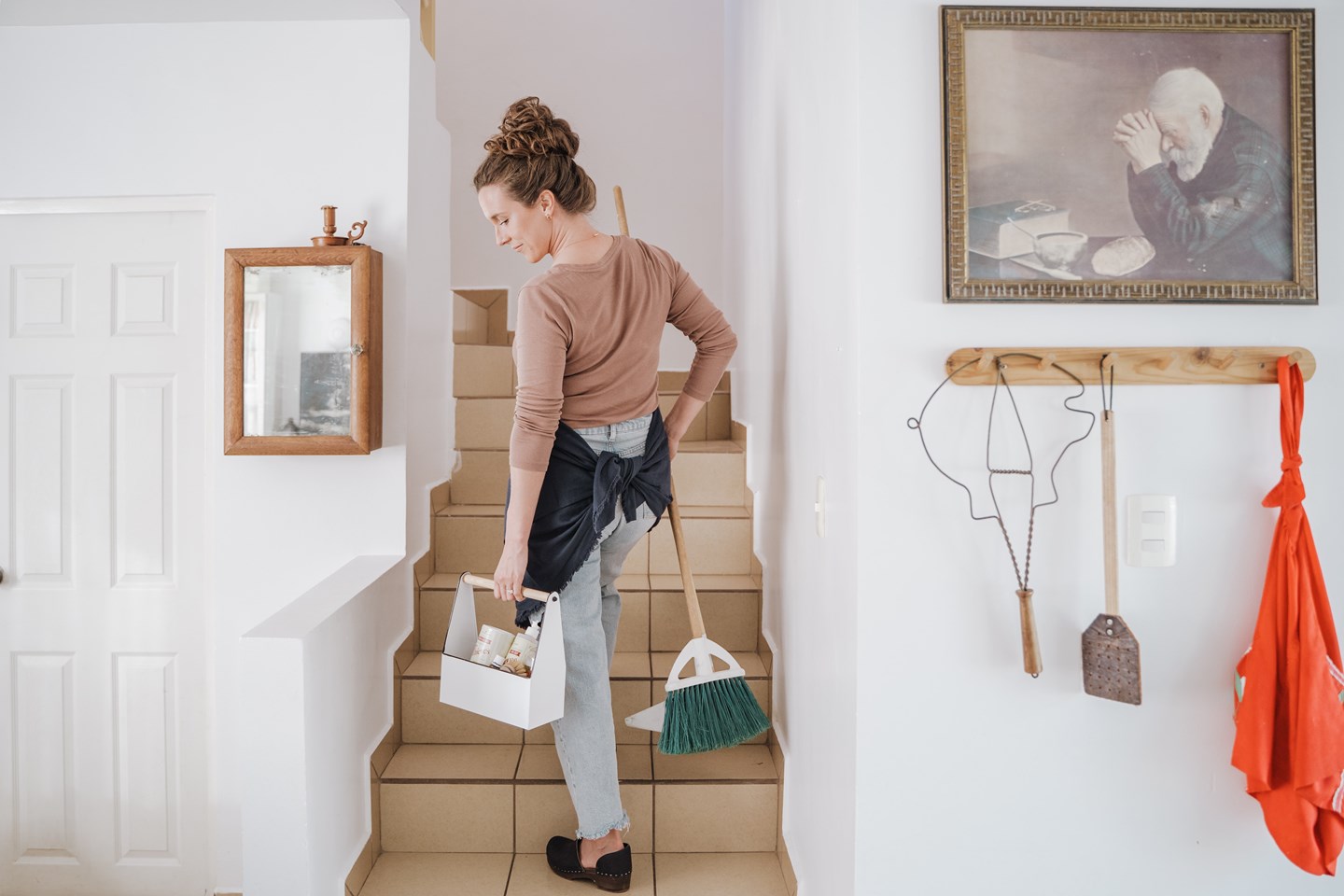 How to prepare your home for fall this Labor Day
Posted by AMH Team
7m read time
Aug 29, 2022
Labor Day Weekend marks the unofficial end of summer. Kids are returning to school and the days are getting shorter, making it the perfect time to prepare your home for seasonal changes. With the extra day off, Labor Day Weekend also provides a more relaxed opportunity for home cleaning. Before you know it, Halloween, Thanksgiving, and Christmas will be upon us, and it can be stressful to try to squeeze in maintenance and winterizing chores around those holidays. Here's how to start leisurely preparing your home for autumn this long weekend, with tips for every room and area of the house.
Patio and balcony
Let's start outside. Those autumn leaves sure look pretty, don't they? Well, they're not quite as beautiful when they're covering your patio furniture. Keep your chairs, chaise lounges, and tables fresh by using patio or balcony covers, particularly if you have a tree in your backyard. These covers go over your furniture and catch leaves, branches, and other debris from the sky that would otherwise harm your decor. A cover is a great solution for outdoor items you don't typically use. If you regularly find yourself on the patio or balcony, an umbrella may be easier to maneuver. Angle it to deflect leaves falling from a tree; it'll protect you against soot, debris, and inclement weather. Secure the umbrella or bring it inside to combat strong gusts of wind.
Labor Day Weekend is also a big grilling weekend—and if you've got a football fan in the house, every weekend until the Super Bowl could be a big grilling weekend—so you'll want to maintain your grill in prime condition. Like a patio or balcony cover protects your furniture from the elements, a grill cover keeps your grill in tip-top shape. The biggest benefit is preventing rusting after rain, so all the pieces stay functioning properly. During colder months, bring the grill inside, especially if you're not using it very often. Doing so can increase its lifespan. You'll also want to invest in cleaning tools to regularly clean your grill. Here's how to do it the right way.
Bedroom
Labor Day was created to recognize workers' substantial contributions to America. The original celebrations included parades and parties full of recreation and amusement. Today, we still celebrate that general theme: we work hard all year, so we deserve some time to relax.
Of course, relaxing is more difficult if your bedroom is a mess. So, Labor Day Weekend is a great time to do an annual bedroom refresh. Get started with the easier stuff. Make your bed every morning and wash the sheets once a week. Then, pick up and put away any clutter on the floor, dresser, or end table. Lastly, fold the laundry and put it away to keep it clean.
For a deeper clean, dust or use a vacuum attachment on your bedroom surfaces and walls, starting from the top down. Select a streak-free cleaning agent for mirrors and windows. Finally, use an anti-allergy vacuum with a HEPA filter to clean the floor, from under the bed to tight corners in the room.  
There are ample benefits to cleaning your room. You may see improvements in your mood and focus, and you're more likely to exercise, too. Plus, making your bed every morning invites a sense of accomplishment—you've already gotten something done and you're barely awake! That's impressive. 
Bathroom
Your bathroom is full of germs. While the toilet is a primary culprit, germs love to travel—perhaps they're part of a frequent-flier rewards program—and can find a home in your sink and shower or on your faucet, mirror, and toothbrush holder. Viruses, bacteria, mold, staph, and yeast are the most common germs that can negatively impact your health. Here's how to clean your bathroom like a pro.
To start, make sure you have the right supplies. A stack of disinfectant wipes or multiple cleaning cloths will avoid cross-contamination. Bathroom cleaners, disinfectant sprays, and mirror-cleaning sprays will do the bulk of the dirty work in making your bathroom shine. Each toilet in the house should have an individual scrub brush for cleaning. Finally, bring a trash bag to quickly discard dirty rags and wipes and collect any other disposables you find along the way.
You should already be doing daily bathroom cleaning tasks, such as clearing loose items, wiping down the sink and toilet seat, and picking up dirty laundry. By taking a few minutes for those, you'll save yourself time on weekly and monthly tasks. Once per week, sweep or vacuum the floor, scrub the toilet, shower, and tub, wipe down the mirror and pour some vinegar down your sink drain to loosen any hair or gunk and prevent clogging. Fortunately, some tasks only need to be done monthly, including cleaning behind the toilet, scrubbing grout, disinfecting your trash can, and monitoring your cleaning supplies to see if you need any replacements.
You can also use this weekend to make some easy bathroom repairs. If your toilet regularly runs or runs for a long time after flushing, you likely need to adjust or replace the flapper valve or ballcock. Both are simple fixes that won't break the bank and will save you money on your water bill.
Kitchen
Like your bathroom cleaning, creating a daily kitchen routine makes life much easier. A popular method is SOSD: surfaces, oven, sweep, dishes. If you can manage that every day, it will save you time when you do a deeper clean.
Some of our favorite kitchen cleaning hacks include putting smaller items inside a mesh bag to save dishwasher space, using vinegar and lemon to clean your garbage disposal, and pairing hot water and bleach to freshen up your garbage can. Always check your cleaning supplies, too. Don't hang onto sponges for more than a month, and ensure you use the proper cleaners for each type of kitchen surface. Check out more kitchen hacks here.
You should also know a few tips for preventing and removing rust from kitchen appliances and silverware. Oxidization, another name for rust, occurs when certain metals contact oxygen and water for an extended period. Keeping your appliances dry or leaving a couple of silica gel packets in silverware drawers can help limit rust.
If you find your pots, pans, silverware, or other appliances rusting, you have several options for treating them. Soaking items in white vinegar or using a mixture of baking soda and water before thoroughly scrubbing them with steel wool or a metal or wire brush will help remove rust spots. Just remember to rinse and completely dry any items. You can also go a different route and try cutting a potato in half, put dish soap on the open end, and use the potato as you would a scouring pad. It sounds a bit strange, but it's highly effective!
Indoor garden
Many herb varieties, including parsley and cilantro, thrive in cooler temperatures. Some perennials, such as sage, lavender, and mint, can plant roots in the fall for solid growth when spring rolls around. No matter the size of your home or indoor garden space, learn how to create an indoor fall herb garden.
There's lots to love about autumn scenery, like changing leaves, tasty apple cider, and gorgeous, colorful sunsets. Flowers might not be on that list, but planting bulbs in pots in the fall leads to beautiful spring blooms. A sturdy terra-cotta or concrete container is a lovely indoor bed for planting bulbs in pots. Most flowers need about two to four months to develop shoots; if you wait too long, the bulbs might not survive harsh winter elements. Fall flower bulb options include daffodils, alliums, snowdrops, irises, and more. By starting to plan now, your spring will be a celebration of color and charm.
General tips
Between athletic gear, swimwear, and your regular garments that get sweaty, you've likely used your washing machine more frequently during the summer. Did you know you can wash your washing machine? Doing so removes bacteria and other gunk from the washer while giving you more effective washes and fresher-smelling clothes. You only need white vinegar, baking soda, a microfiber cloth, a toothbrush, and a large bowl for collecting excess water build-up. Just follow the instructions linked above and, soon, your washing machine will be like new! 
Finally, if you have luxury vinyl flooring, the transition between seasons is an ideal occasion to give it some TLC. And don't forget to check out our home maintenance checklist by month for August and September to-do's, like scheduling your annual chimney cleaning, vacuuming your refrigerator coils, and more. You can absolutely enjoy a few leisurely activities this weekend. But spending some time preparing your home for fall will help make the rest of the year a breeze. Happy Labor Day!
© 2023 American Homes 4 Rent, LP
American Homes 4 Rent®, AMH®, AH4R®, Let Yourself In®, AMH Development®, American Residential®, and 4Residents® are registered trademarks of American Homes 4 Rent, LP. 4Rent℠, AMH Living℠, and 4Communities℠ are service marks of American Homes 4 Rent, LP.  AMH refers to one or more of American Homes 4 Rent, American Homes 4 Rent, L.P., and their subsidiaries and joint ventures. In certain states, we operate under AMH, AMH Living, or American Homes 4 Rent. Please see www.amh.com/dba to learn more.