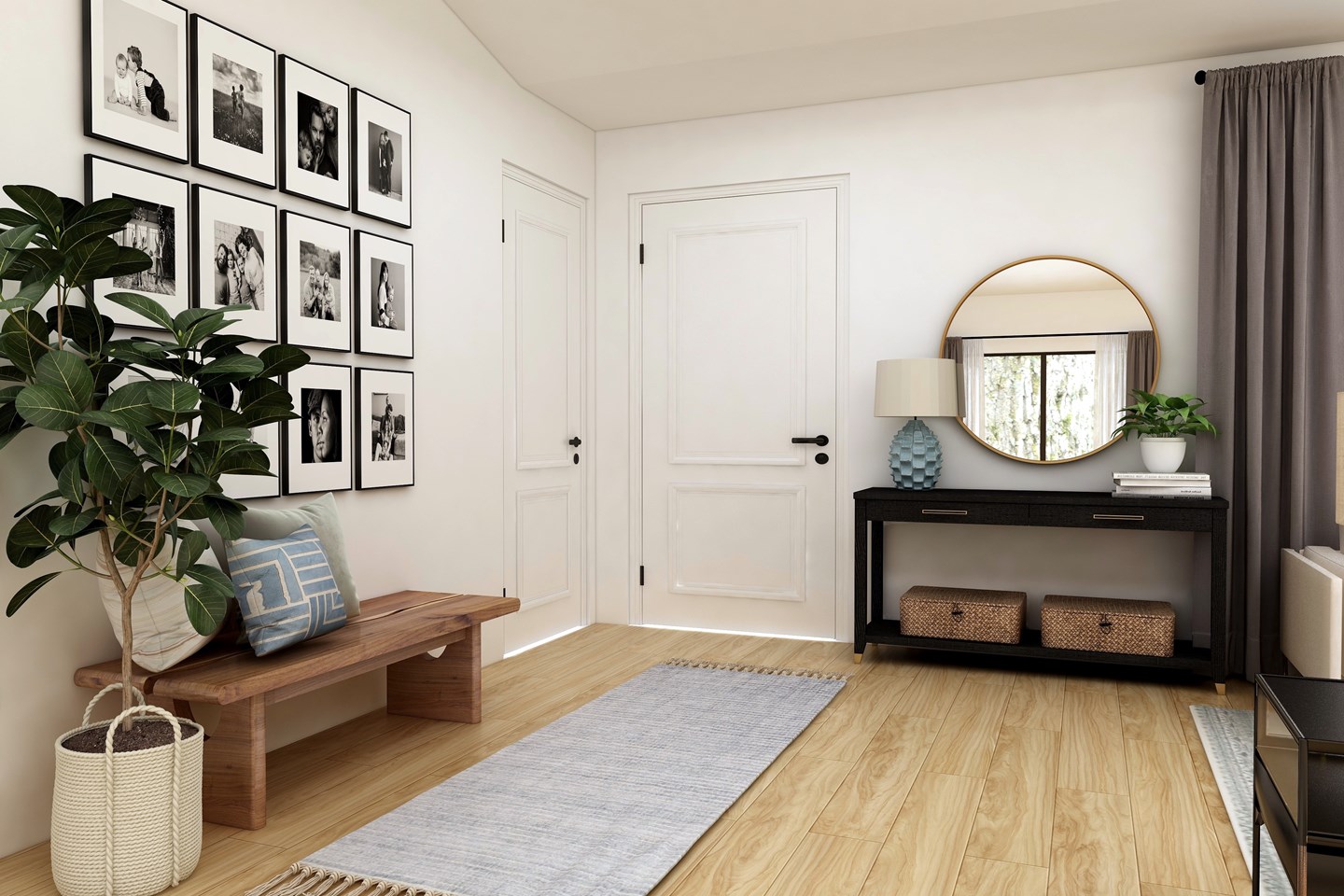 How to take care of your luxury vinyl flooring
Posted by AMH Team
5m read time
Jul 19, 2022
Luxury vinyl flooring is a home feature that offers several benefits. It's a durable surface and typically waterproof, so scratches, stains, and moisture that might significantly damage other tiles, such as wood or laminate, won't be as harmful. Vinyl also gives your floors a sleek, modern look, and has good thermal properties, which add comfort and warmth to your home. However, keeping this surface in good condition over time does require some maintenance. Learn how to take care of your luxury vinyl flooring with these do's and don'ts.
DO: Embrace area rugs and rug pads
Even if you never move your furniture, it can cause damage simply by applying constant heavy weight onto the same spots on your floor. Putting a rug underneath your tables, sofas, and ottomans can help minimize that damage. But most rugs are made from heavy, non-breathable materials, which stick to your floor over time, so if you put a rug underneath a dining room table or sofa and don't touch it for years, you might find an unappealing surprise when you finally do move it. Use a rug pad underneath to provide extra cushioning and protection for your floor, prevent your furniture from slipping around as much, and reduce the potential for scuffs. Plus, your toes will appreciate the additional comfort of a soft pad. 
DO: Use dust mops, brooms, or vacuums
Unless you never leave your bed, you're going to have to walk across your floors at some point. And that means you're likely to encounter dirt, mud, grime, and other grit. You or someone in your house might spill something on the floor. Or maybe a guest forgets to take off their dirty shoes, tracking mud everywhere they go. When you do encounter a mess, make sure to clean it up quickly and thoroughly. Vacuum or sweep away larger debris, and use a mop or mildly damp cloth for sticky surfaces. Just be sure to never use a steam mop or heavy detergent cleaners, since they can leave a residue and lead to cloudy film over time.
Pro-tip:
If the color of your floor becomes duller, vacuum up loose dirt, wash the floor with a damp mop, and apply a couple of coats of base restoring polish. Take care to use a product specifically made for vinyl surfaces, or try a homemade solution. One example is baking soda, dishwasher detergent, apple cider vinegar, and water. When done properly, your vinyl floor will look as good as new!
DO: Place felt tip protectors on furniture legs
Felt pads are good for all kinds of floors, but especially vinyl. They also come in multiple colors, so you can often coordinate with your furniture's legs. Because felt floor protectors are soft, you can quickly move furniture without making too much noise or leaving any dents, scratches, or discoloration on your vinyl floor. Do keep an eye out on your felt pads, though. Over time, they'll accumulate dust and grit, leading to larger problems down the road. When that happens, either clean out the felt pads or replace them.  
DO: Keep pet nails trimmed
Pets are wonderful, but they're a constant threat to pristine floors. Puppies especially need to be let out regularly, or else you risk an accident on the floor. If that happens, immediately clean up the mess. Letting urine or feces linger on a floor can leave unsightly stains and smells! Take additional preventative measures by regularly trimming your pet's nails at home or at the vet. Long, sharp claws are a nightmare for any floor, leaving scratches and dents.
DO: Put entryway and walk-off mats by doors
It's easy to neglect the flooring around entrances. We usually walk right past those areas en route to another room, and there typically isn't any furniture nearby. But ignoring those spaces is a bad idea. Encourage people to remove their shoes when they enter the house. In case they don't, keep entryway and walk-off mats next to any doors that lead outside. Guests can wipe their feet on these mats, scraping off excess dirt, mud, and other outdoor elements. You can then clean your mats with a vacuum, damp cloth, or mop. Alternatively, if you have washable mats, you can shake them outside and then toss them in the washing machine. They'll come out ready to collect even more debris and keep your floors looking good.
DON'TS: Four things to avoid
As much as you can take preventive measures with your luxury vinyl flooring, there are also certain items you shouldn't get anywhere near this type of surface:
Rubber protective pads.
Rubber mixed with vinyl is a bad combination. It doesn't matter if the rubber is natural or synthetic — the chemicals in rubber lead to stained vinyl surfaces when exposed to too much heat, such as from sunlight. Additionally, rubber pads on chairs can scuff up your floors from overuse when the chairs are pulled out or pushed in.
Certain floor polish, floor cleaning wax, or soaps with oil.
Vinyl floors aren't meant to be power-washed like some other surfaces. Certain types of floor polish, wax, and soaps with oil will all cause a reaction with a vinyl floor, creating a damaging film. Always check to ensure a product is safe for vinyl tile before using it.
Sharp nails or heels.
Strong nails can damage a floor. One of the most common sources of nail damage comes from high heels. If they're too sharp, they'll cause scrapes, scratches, or punctures in the flooring.
Sliding furniture.
Whether you're trying to improve your feng shui or simply decide a couch would be better off facing the other way, you may have to move furniture at some point. When you do, avoid sliding the furniture across the floor since it can damage vinyl flooring. Instead, lift the table, couch, or chair and walk it to where it needs to be.
Vinyl flooring offers an appealing shine in your home, but it requires some extra attention and TLC. By avoiding damaging products and behavior, and taking proper proactive measures, you'll keep your floors looking spiffy and new!
© 2023 American Homes 4 Rent, LP
American Homes 4 Rent®, AMH®, AH4R®, Let Yourself In®, AMH Development®, American Residential®, and 4Residents® are registered trademarks of American Homes 4 Rent, LP. 4Rent℠, AMH Living℠, and 4Communities℠ are service marks of American Homes 4 Rent, LP.  AMH refers to one or more of American Homes 4 Rent, American Homes 4 Rent, L.P., and their subsidiaries and joint ventures. In certain states, we operate under AMH, AMH Living, or American Homes 4 Rent. Please see www.amh.com/dba to learn more.