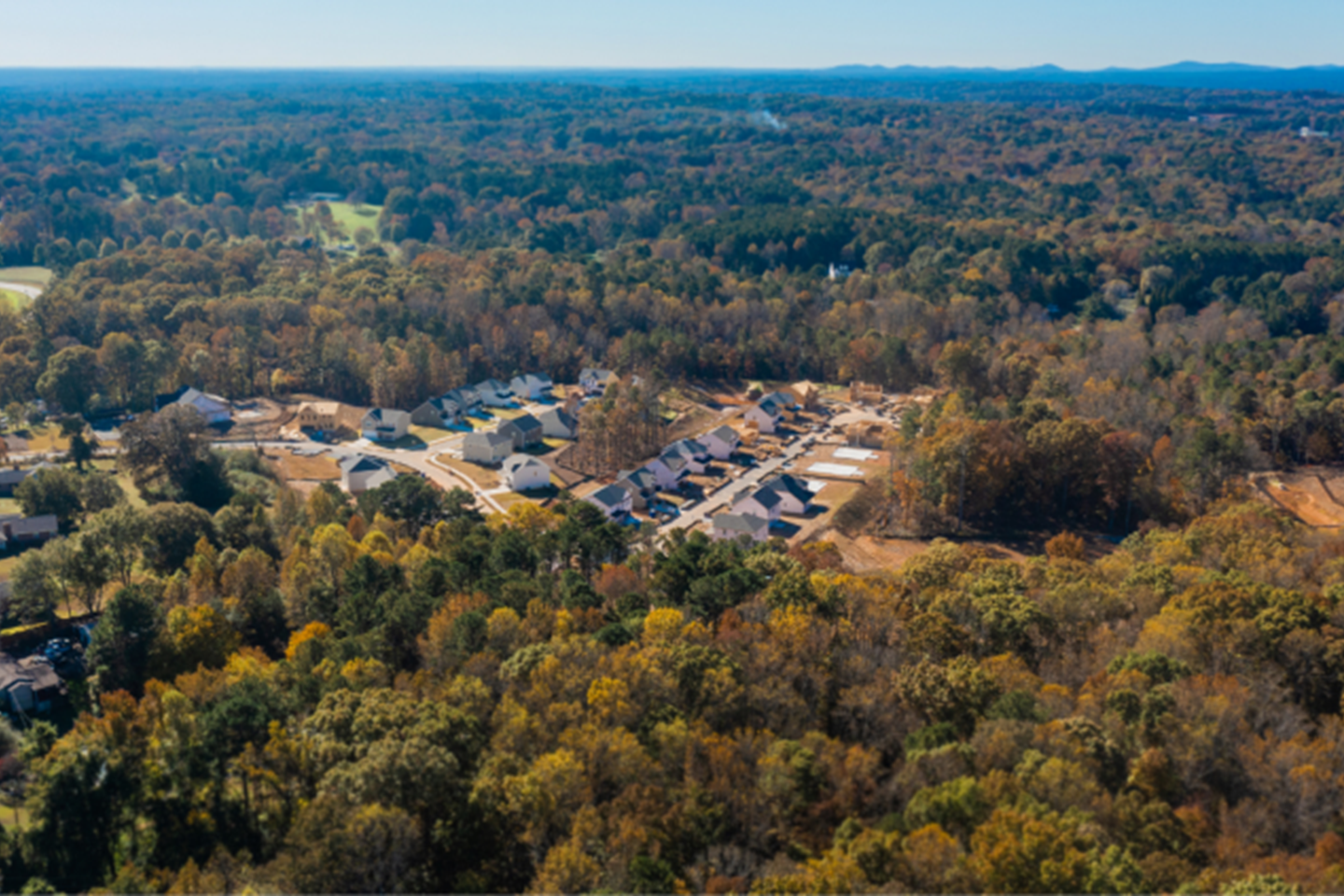 How we're stewarding the environment
Posted by AMH Team
5m read time
Apr 22, 2022
Today marks Earth Day, an annual event to raise awareness about and demonstrate support for environmental protection. In celebration of the occasion, and in tandem with the release of our 2021 Sustainability Report, we spoke to our Senior Vice President of Sustainability, Carrie Leonard, about what our organization is doing to safeguard the planet.  
Can you define what environmental sustainability means to our company?
As one of the nation's leading single-family rental companies and homebuilders, we define environmental sustainability as a commitment to stewarding our surroundings as we develop land, property, and neighborhoods.
What this means specifically is that, in the decisions we make when rehabilitating homes, designing new ones, and providing maintenance support to our residents, we remain laser focused on building responsibly and operating efficiently. And that, as we grow, we're constantly exploring new ways to make our homes, services, and processes green.
What are some existing initiatives that we currently undertake to apply this commitment?
As a standard, we build homes that are designed to last and to conserve. For example, we integrate well-insulated thermal envelopes into each home, invest in glazed dual pane windows, use durable construction materials like quartz countertops and luxury vinyl plank flooring, and implement energy-efficient fixtures to lower our long-term carbon footprint, such as LED lighting and ENERGY STAR® dishwashers.
When deciding where to construct, we evaluate sites for access to transportation, sewage and infrastructure, and the economic corridor, to ensure that our communities are sustainable within their regions. We also consider the ecological impact of our development by evaluating storm water runoff and erosion control, as well as applying water-saving landscape design.
On the maintenance front, our Property Management team advances several eco-friendly programs to operate as efficiently as possible, while serving the needs of our residents. This includes recovering, reusing, or recycling refrigerant when servicing air conditioning units, and using a third-party utilities administrator to monitor electricity and water consumption. When scheduling repair services, we also take care to diagnose needs remotely and optimize routes to reduce unnecessary maintenance vehicle emissions.
Additionally, since 96% of our emissions come from natural gas and electricity usage at our rental properties, we communicate regularly with our residents to engage and educate them about efficient practices at home.
What are some initiatives that we implemented in 2021 to strengthen our commitment to the environment?
One of our main impacts on the environment occurs through AMH Development, our homebuilding arm. This past year, we delivered our 100th community and were named a top U.S. homebuilder by Builder Magazine. This is a significant contribution in light of the housing shortage in America, which according to the U.S. Census is lagging by approximately five million homes. But that also means that we need to continue to be thoughtful about the way in which our business growth affects our surroundings. With that in mind, in 2021, we launched several measures to monitor our impact and hold ourselves accountable.
For one, we started measuring the RESNET Home Energy Rating System (HERS) scores for all of our newly built homes to track energy efficiency, following a successful pilot in 2020. A HERS rating is an assessment of energy performance, where a lower score indicates higher efficiency. Our average HERS score among our newly built homes in 2021 was 62.8. In other words, these homes use less than half the energy of the average house in this country.
Secondly, we began implementing an Environmental Management System, which is a set of processes and practices in a "plan, do, check, act" format that enable an organization to understand its environmental impacts and increase its operating efficiency. In essence, this system provides an internal framework through which we can identify and reduce risks across land acquisition, land development, and vertical construction. Establishing this infrastructure represents a big step in the maturity of our both our development and sustainability programs.
Lastly, in 2021, we also completed a formal greenhouse gas inventory and management plan. This has allowed us to define our baseline emissions across our services and facilities, which includes our maintenance vehicle fleet, offices, homes, and community amenities, like swimming pools, clubhouses, and fitness centers. Moving forward, this will help us improve the consistency and accuracy of the data we collect and report, and empower us to better identify opportunities and evaluate progress.
Looking ahead, what's on the horizon for our environmental sustainability strategy?
I'm excited to report that we're currently partnering with award-winning energy solutions company Elevation to explore new ways and technologies to generate cleaner energy. Through this partnership, which started in 2021, we implemented a pilot renewable energy program at select amenity centers in our portfolio. We've already installed premium solar panels at The Ponds at Walden Woods and Creekside Ranch communities, whose high-grade quality ensures reliable production in varying weather conditions and reduces the likelihood of failure or underperformance.
This year, we're preparing to launch a second pilot phase of this program at select homes. This will entail custom-designing and installing solar panels, upgrading the insulation and sealing leaks in ducts and vents, and adding a Curb energy monitor device that connects to the homes' electric system to provide real-time updates on energy usage and production, which is data that residents will have access to as well. We'll be closely evaluating the results of these pilot programs over the next months as we consider potentially expanding it to more of our residences.
By definition, the work and pursuit of sustainability is unending. But, as a company and leader in the industry, we now have a strong foundation of checks and balances, meaningful goals, and baseline data in place to pillar a greener and brighter future for American housing.
You can read our full 2021 Sustainability Report here.
© 2023 American Homes 4 Rent, LP
American Homes 4 Rent®, AMH®, AH4R®, Let Yourself In®, AMH Development®, American Residential®, and 4Residents® are registered trademarks of American Homes 4 Rent, LP. 4Rent℠, AMH Living℠, and 4Communities℠ are service marks of American Homes 4 Rent, LP.  AMH refers to one or more of American Homes 4 Rent, American Homes 4 Rent, L.P., and their subsidiaries and joint ventures. In certain states, we operate under AMH, AMH Living, or American Homes 4 Rent. Please see www.amh.com/dba to learn more.