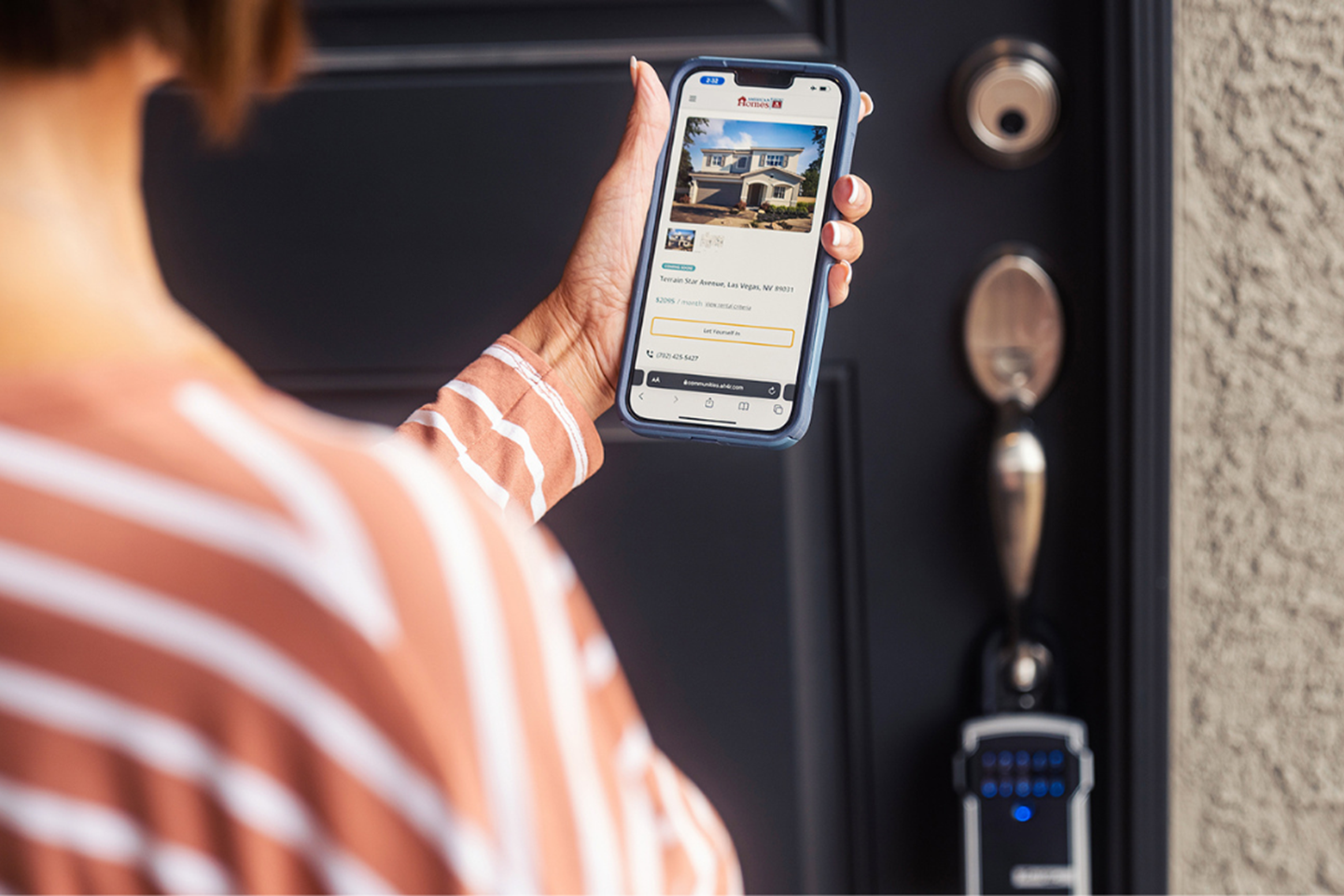 Innovating the single-family industry through technology
Posted by AMH Team
6m read time
Jul 1, 2022
This article was authored by our Chief Technology Officer Philip Irby and also appears online in PropTech Outlook here.
The single-family rental space is a relatively young industry. As an institutional asset class, it originated in 2012, in the aftermath of The Great Recession. But its value proposition—to professionalize and scale the leasing of single-family homes—has been transformative within the real estate sector, and made uniquely possible by emerging technologies that streamlined the acquisition and underwriting processes.
Inspired by the promise and potential of this industry to change the way America lives, I left The Cosmopolitan of Las Vegas to assume the role of Chief Technology Officer at one of the leading single-family rental companies and top homebuilders in the country. My initial focus was to establish a reliable and secure IT platform that could pillar our rapid national expansion, propelled by growing investor interest and capital.
This work included establishing an industry-leading cybersecurity program; accelerating the development and adoption of proprietary systems; implementing a microservices architecture; reducing operational risks, points of failure, and bottlenecks; and building a skilled team that could take all of this foundational work to the next level.
Today, our IT department supports the management of over 57,000 properties, maintenance services for approximately 200,000 residents, and operations of a prolific homebuilding arm through which we've delivered over 100 new rental communities across the country. Looking ahead, we're betting on technology again to innovate the future of housing in America.
Simplifying the resident experience
The single-family rental space has historically been a mom-and-pop industry, plagued by unreliable landlords, a lack of transparency, drastic variance in quality, and financial instability. Technologically, we've improved this resident experience by making the entire leasing process easier, quicker, and more accessible, from touring and applying to moving in and submitting maintenance requests.
In 2013, well before our competitors and the COVID-19 distancing mandate, we implemented a custom Let Yourself In® technology, which allowed residents to schedule house tours online, enter the property, and view it at their own convenience without needing an agent present.
Since then, we've launched a mobile-first website that serves as entry point into all of our systems, platforms, services, and products, and centralizes the resident experience via a single portal. Through their online account, the user can access and manage all of their leasing documentation, payments, and service requests.
The website sits on a flexible and extensible system called the 4Platform, centered around microservices and event-driven architectures. This gives us the capability to integrate third parties, more custom applications, and other API-based tools quickly and easily, allowing us to seamlessly accelerate and enhance the resident experience.
Now, we're continuing to eliminate friction at another key touchpoint by stripping the application process down to the basics. We're working on leveraging soft-pulls, pre-populated data, and information repurposing to simplify this traditionally cumbersome process.
The goal is that a prospective resident will not only be able to remotely schedule a house tour and let themselves in, but also securely transfer a certified deposit, upload required documentation, and sign a lease, all directly from their smartphone and within the span of a lunch break. In short, you'll be able to walk into a home you're interested in, apply on the spot, and walk out its new resident.
We know that the generations we all increasingly cater to—GenZ and the Millennials, who now account for half of U.S. households with children—prefer convenience. And we're meeting that head on by continually investing in self-service tools, on-demand support, multi-channel communication, and mobile-first interactions as the new standard for housing.
Building smart communities
On the homebuilding front, we're developing thousands of new homes every year. This presents a unique opportunity to implement technology at the ground level, so that these communities grow into resilient, sustainable, and successful neighborhoods.
For example, we're working on establishing private Wi-Fi networks at each of our communities that will streamline our property operations onsite. By connecting all home devices on this network, such as the thermostat, door locks, and Curb energy monitoring system, we can remotely control the home's environment and access, to ensure that it operates efficiently, securely, and consistently, when unoccupied.
This also paves the way for predictive and preventative maintenance. Through machine-learning, we'll be able to detect usage and failure patterns, and start servicing appliances in advance, like a home's HVAC unit, based on analytical trends and insights. This will minimize day-to-day disruptions to our residents, whose peace of mind guides our mission, and optimize our maintenance activities.         
Because our primary purpose is to ease single-family living for our residents, we're being intentional about not just implementing isolated and disconnected instances of smart technology, but rather establishing a smart platform that is integrated and supports a holistic user experience.
To that end, we're working towards a single sign-on component in conjunction with this technology, so that when a resident applies and moves in, they'll only ever have to create one account during their tenancy, through which they'll be able to access all smart applications, including integrated third-party ones, in their home.
Leading the industry in cybersecurity
Improving residents' quality of life also means safeguarding the data they exchange with us throughout their leasing process. To earn the trust of those who rely on us, we maintain a disciplined security-first, zero-trust approach.
Our robust cybersecurity program, which incorporates checkpoints throughout our existing environment, rates well above the industry range per BitSight and ISS. We've accomplished this by developing strong risk management and oversight procedures, implementing leading data protection standards, and maintaining a comprehensive set of policies in compliance with the International Organization for Standardization (ISO) 27001.
And, as we expand our offerings through single sign-on capabilities and smart communities, we are laser focused on staying ahead of the risks implied in adding systems and networks. We've retained a third party to conduct ongoing comprehensive external reviews, supplemented by regular phishing and other cyber-related testing that we conduct throughout the year.
As an industry leader serving the fifteen million households in the U.S. who opt to rent single-family homes, we take our responsibility to protect data seriously, and continue to work to mitigate risk on their behalf.
Changing the way America lives
The future of housing will be driven by tech-enabled living. But in order for that to become a reality, and a successful one, it'll have to be drop-dead simple. While the industry has made strides in advancing new technologies, no one's entirely there yet; no one's created a truly integrated and interconnected ecosystem of smart services at scale that just works.
One of the exciting opportunities I see at American Homes 4 Rent is that, as an experienced homebuilder, property manager, and tech innovator, we have the unique expertise and in-house capabilities necessary to cohesively leverage smart technology throughout the resident journey—from prospect to alumni—to elevate the user experience in a way that's never been done before.    
As our company and industry kicks off its second decade, we're positioning ourselves to lead the single-family rental space with an innovative suite of services that seamlessly integrates both the technology we develop as well as the third-party add-ons we complement it with. Powered by this best-in-class platform, we'll continue to fulfill our vision of radically simplifying the home for our residents, so they can sleep better at night, knowing we have them covered.
© 2023 American Homes 4 Rent, LP
American Homes 4 Rent®, AMH®, AH4R®, Let Yourself In®, AMH Development®, American Residential®, and 4Residents® are registered trademarks of American Homes 4 Rent, LP. 4Rent℠, AMH Living℠, and 4Communities℠ are service marks of American Homes 4 Rent, LP.  AMH refers to one or more of American Homes 4 Rent, American Homes 4 Rent, L.P., and their subsidiaries and joint ventures. In certain states, we operate under AMH, AMH Living, or American Homes 4 Rent. Please see www.amh.com/dba to learn more.