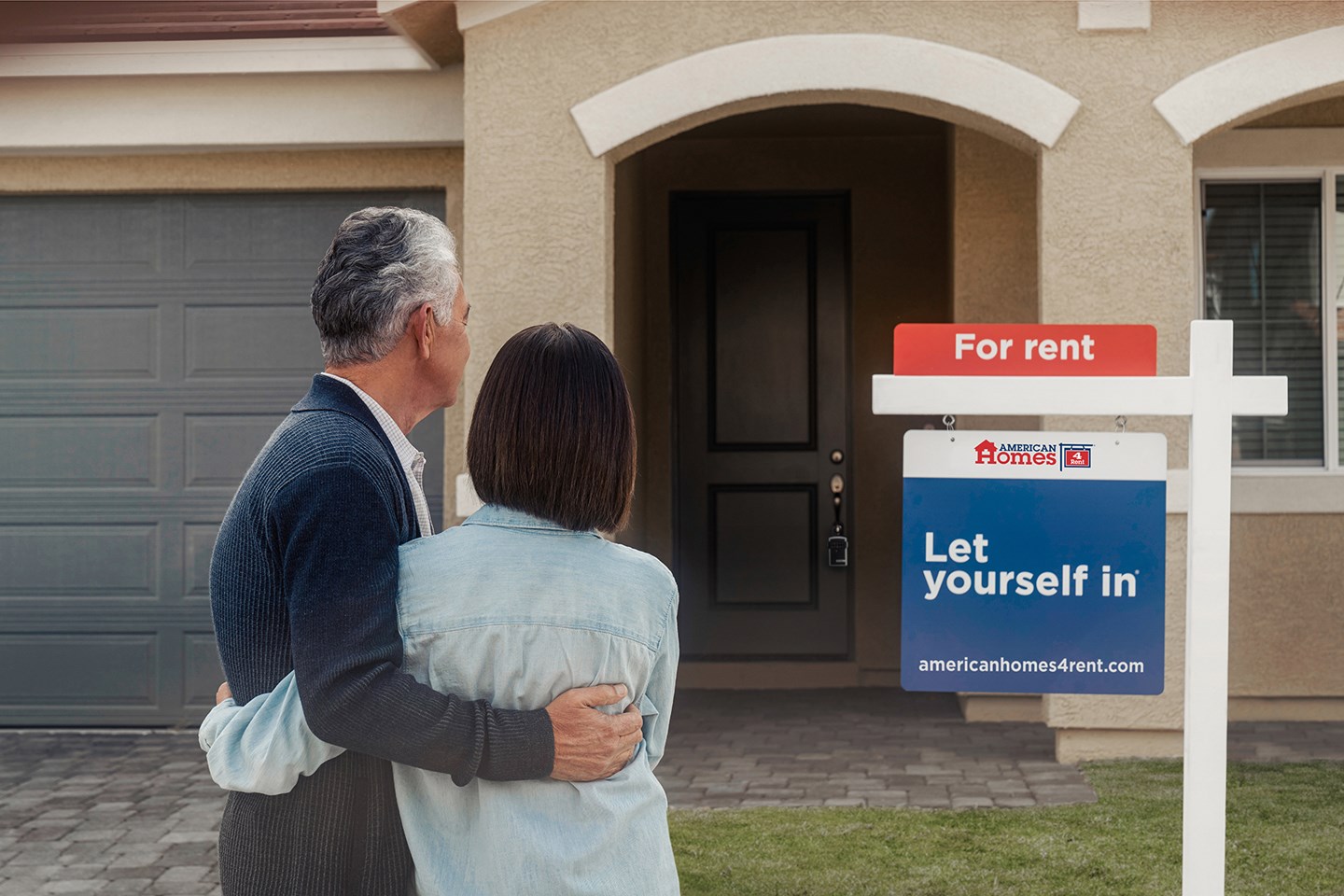 Steadily supplying housing stock to meet growing market demand
Posted by AMH Team
6m read time
Nov 4, 2022
It's undeniable that we're collectively in uncertain economic territory. Elevated inflation, rising interest rates, and forecasts of a recession continue to make headlines. The housing sector, in particular, remains plagued by undersupply. CNBC recently reported a drop of nearly 19% in year-over-year housing starts for single-family homes in September, according to the U.S. Census. And building permits, which are an indicator of future construction, fell 17%, with projections of greater declines in 2023 that would only exacerbate the existing shortage.
But housing is a bedrock need, and demand keeps growing as Millennials age into their prime household formation years. More than ever, single-family rentals offer an invaluable and reliable recourse to families across the U.S. who are wary of investing their livelihood and savings into purchasing a home in this precarious landscape. The data supports their current choice: with mortgage rates hovering at a daunting 7%+, it's now more affordable to rent than own a home in many metropolitan areas—specifically, leasing a home is about 15% cheaper across the top 20 markets where AMH operates, per recent John Burns estimates.
"Contrary to popular belief, single-family renters are not typically 'renting-in-perpetuity' or locking themselves out of home ownership, but rather are seeking out the best current value amid a challenging and rapidly evolving economic environment over which they have little control," reports Housing Wire. "And the numbers back up this counter narrative. According to a recent National Association of Realtors (NAR) survey, 86% of tenants renting single-family homes end up purchasing a home within five years." 
It's these renters that we continue to serve, and who are contributing to greater demand for the housing option that we offer. The numbers speak for themselves: this quarter, we received approximately 250,000 inbound leasing inquiries, and saw a year-over-year increase of 21% in website traffic. Distinct showings per rent-ready property remained 60% above pre-pandemic averages, too. Most tellingly, same-home average occupied days was 97%, suggesting families are staying put until the proverbial storm passes.
While this demand, like all things in real estate, may be cyclical, its outcome enables us to power and execute a more lasting, elevated vision: we continue to invest our gains in steadily advancing our Development program, through which we build new, high-quality homes that contribute much-needed supply to an emaciated housing market. This quarter alone, we delivered 501 new residences—265 of them wholly-owned, bringing our portfolio to 58,961 homes.
Unlike traditional homebuilders who rely solely on for-sale market for growth, and are therefore slowing their production as sales cool, our built-for-rent proposition positions us for continued growth—and to take advantage of timely opportunities to leverage favorable price movements in construction materials and labor, as well as acquire newly available land, including vacant developed lots that are ready for vertical building. 
In this backdrop, we continue to deploy capital into new development assets with higher risk-adjusted returns. At quarter-end, we owned or optioned more than 15,000 land lots, representing a long runway for future growth. "Our growth programs, supported by our investment grade balance sheet, are unparalleled in their ability to consistently deliver inventory from the backbone of our development program, while our nimble acquisition channels stand ready to create unique shareholder value from the likely growth opportunities ahead," said Chief Financial Officer Chris Lau.
The strength of our balance sheet—and the opportunities it empowers us to pursue—is driven, in great part, by our continued prudence, which lies at the heart of the recession-proof strategy we've maintained since our origins in 2012. This quarter, we've moderated our acquisition plan, which added just 145 homes to our wholly-owned portfolio. On the disposition front, we sold 164 properties, generating total net proceeds of approximately $49 million. And, as expense cost pressures continue, we're laser focused on mitigating inflationary impacts by optimizing our services platform, which will remain a top priority into 2023.
"Today, we are taking a patient and disciplined approach to acquiring homes and land parcels. Price discovery continues and further adjustments are necessary before it makes sense for us to come back in a meaningful way to the open market," said Chief Executive Officer David Singelyn. "With borrowing rates remaining elevated, challenging times may be ahead for private portfolios, homebuilders, and landowners. This will likely result in significant opportunities for AMH."
Thanks to this strategic resilience, strong operational performance, and steady deliveries from our Development program, we're pleased to report another quarter of consistent results with core FFO per share of $0.39, representing 11.6% year-over-year growth and, most importantly, continued stability for our shareholders, employees, residents, and partners during a delicate and uncertain time. Beyond the numbers, this is the central pillar of our value proposition: ensuring the peace of mind of our many stakeholders, as we weather the seasons together.
This same principle informed our response to yet another variable this quarter. In September, Hurricane Ian barreled up the East Coast, making landfall in Florida and proceeding up through the Carolinas. We want to take a moment to recognize our dedicated team for the care and support they showed our residents in those regions during this devastating event.
"Our teams performed wellness checks in the hardest hit areas, were prepared with emergency supplies, extended around-the-clock resident support, and maintained communications with those affected by the storm," said Chief Operating Officer Bryan Smith. "This highlights one of the major advantages of our internal services platform, which enables us to divert critical field personnel and resources to assist our residents."
We're grateful, too, for our team's generosity during the recovery phase, as they assisted neighbors and communities by volunteering with local non-profits, charities, food banks, and shelters, which you can learn more about here. Although we estimate a net loss of $6.1 million in damages and repairs, we ultimately consider ourselves fortunate in what remains our number one priority: ensuring the safety and well-being of the people we work for and with.
This article is adapted from remarks delivered to shareholders on November 4, 2022. For more information, including details regarding AMH results for Q3, please visit our Investor Relations page.
This letter contains "forward-looking statements." These forward-looking statements relate to beliefs, expectations or intentions and similar statements concerning matters that are not of historical fact and are generally accompanied by words such as "estimate," "project," "predict," "believe," expect," "anticipate," "intend," "potential," "plan," "goal," "outlook," "guidance" or other words that convey the uncertainty of future events or outcomes. Examples of forward-looking statements contained in this letter include, among others, our belief about our future operating results, our expectations for new home deliveries in 2022, our expectations for our technology investments, and our belief that our acquisition and homebuilding programs will result in continued growth. The Company has based these forward-looking statements on its current expectations and assumptions about future events. While the Company's management considers these expectations and assumptions to be reasonable, they are inherently subject to significant business, economic, competitive, regulatory and other risks, contingencies and uncertainties, most of which are difficult to predict and many of which are beyond the Company's control and could cause actual results to differ materially from any future results, performance or achievements expressed or implied by these forward-looking statements. Investors should not place undue reliance on these forward-looking statements, which speak only as of the date of this letter. The Company undertakes no obligation to update any forward-looking statements to conform to actual results or changes in its expectations, unless required by applicable law. For a further description of the risks and uncertainties that could cause actual results to differ from those expressed in these forward-looking statements, as well as risks and uncertainties that could cause actual results to differ from those expressed in these forward-looking statements, as well as risks relating to the business of the Company in general, see the "Risk Factors" disclosed in the Company's Annual Report on the Form 10-K for the year ended December 31, 2021, and in the Company's subsequent filings with the SEC.
© 2023 American Homes 4 Rent, LP
American Homes 4 Rent®, AMH®, AH4R®, Let Yourself In®, AMH Development®, American Residential®, and 4Residents® are registered trademarks of American Homes 4 Rent, LP. 4Rent℠, AMH Living℠, and 4Communities℠ are service marks of American Homes 4 Rent, LP.  AMH refers to one or more of American Homes 4 Rent, American Homes 4 Rent, L.P., and their subsidiaries and joint ventures. In certain states, we operate under AMH, AMH Living, or American Homes 4 Rent. Please see www.amh.com/dba to learn more.