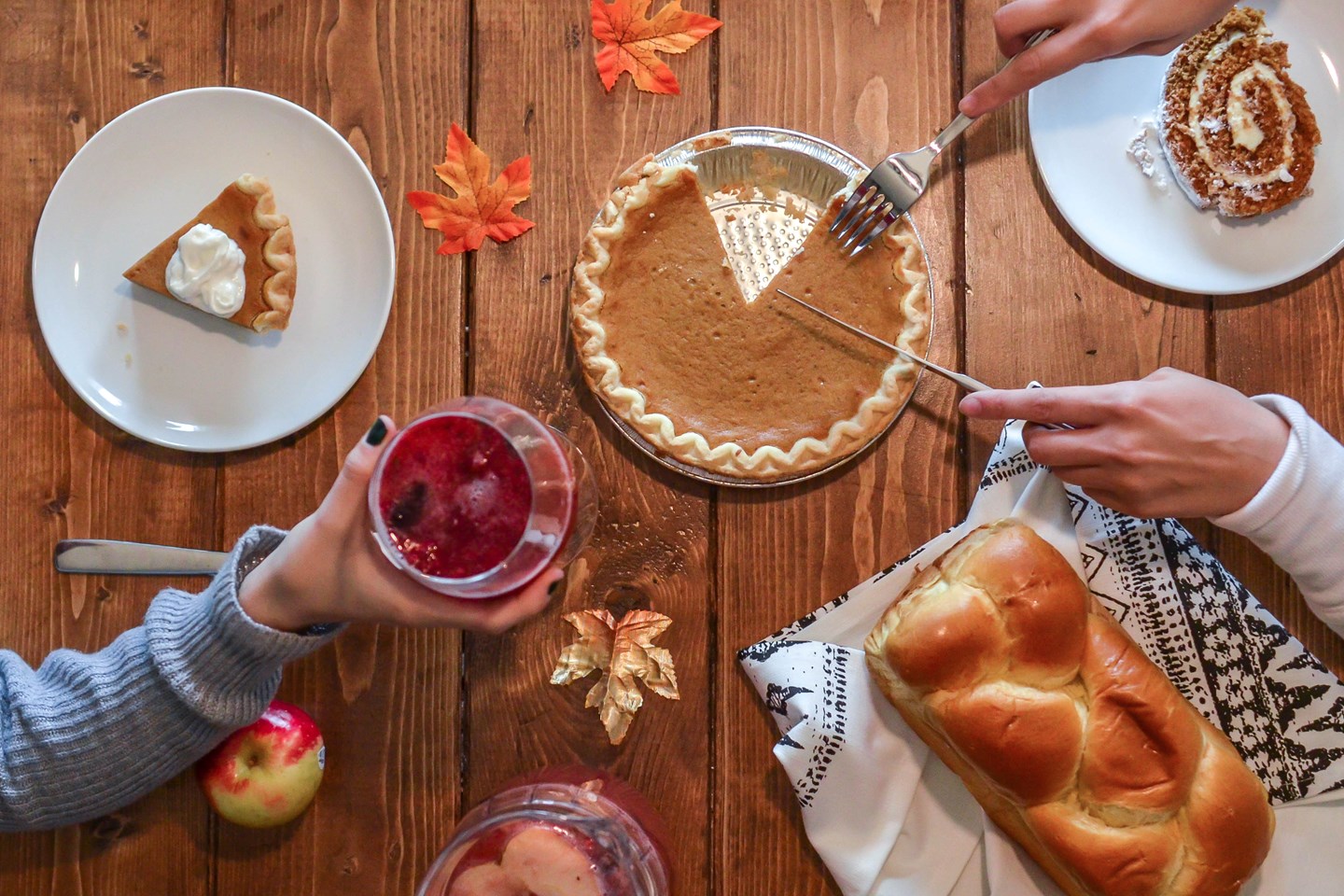 The ultimate Thanksgiving host checklist
Posted by AMH Team
6m read time
Nov 21, 2022
Thanksgiving is a wonderful time of year. Friends and family gather to catch up, express gratitude, and eat tons of tasty food together. But hosting a holiday gathering can be a logistical nightmare if you're unprepared. Not to worry. Our ultimate Thanksgiving host checklist includes efficiency hacks and sustainable tips to simplify your day, from preparation to clean-up, so you can focus on what really matters this holiday season.
Do an efficient clean
Does the thought of prepping your house for Thanksgiving guests give you anxiety? Cleaning doesn't have to be a major ordeal, especially if you do so efficiently.
First, grab a laundry basket or storage bin and walk around the house, picking up any clutter you see. Bringing a container with you allows you to collect everything in one trip. Don't have time to put items back in their proper place? Store the basket in a room off-limits to guests, like a bedroom or office.
You'll want to focus your cleaning efforts on high-volume areas, such as the kitchen, living room, and bathroom. Adopt the SOSD method—surfaces, oven, sweep, dishes—for the kitchen, ensuring a consistent level of cleanliness before guests arrive.  
If you're cleaning surfaces or dusting, start from the top with high shelves, bookcases, and window shades, then work your way down. Any loose debris will fall, so you save time by not having to re-clean the same surface.
Finally, give everything a final sweep and vacuum, particularly under furniture, to avoid dust bunnies creeping into your festivities. You'd be surprised by what accumulates over time. Run a mop across the floor for a final sparkle.
Prep your patio furniture
In warmer climates, you might host part of the day outside on the patio. Hopefully, you're already using a patio or balcony cover on tables and chairs to protect them from falling leaves and inclement weather.
Otherwise, to give your chairs a quick clean, pour a 1:1 mixture of white vinegar and water and use a soft-bristled brush to treat stains. Then, combine warm water, baking soda, and dishwasher detergent in a 2:2:1 ratio to scrub the chair clean. Use a hose to remove any remaining soap from the cushions and let them air dry. Your guests will appreciate the shiny new seats!
Store delicate items when you're not using them, and use reusable or compostable items to serve food (more on that below). Your homeowners' association or property manager may offer landscaping services; if not, instead of raking leaves in the backyard, consider mulching them. It may save you time, energy, and money, and it can help improve the health of your soil and the environment.
Be a respectful neighbor
Hopefully, you're always a kind neighbor, but the holidays are an excellent occasion to shine.
Consider letting your neighbors know that you'll be hosting a gathering and ask if it's okay for people to park on the street. Again, if your homeowners' association or property manager does not offer landscaping services, mow the lawn and shovel snow from any pathways to the house to create an inviting welcome for guests.
Once people arrive, do your best to keep noise levels down after dark. If you venture out into the neighborhood for a stroll with your guests, pets, and kiddos, respect other lawns and properties as you walk by.
Consider recyclable materials
It wouldn't be Thanksgiving without ample seasoning and spices. More than ever, this is an ideal time to make conscious choices when purchasing. Rather than buying plastic spice jars every time you need more thyme or nutmeg, grab a few refillable glass jars, and purchase your spices in bulk. It's more sustainable and will likely save you money in the long run since you're only buying what you need.
Many companies also have cookware made from recycled materials, such as copper or aluminum. These recycled materials require significantly less energy to produce than first-use alternatives. Use these pots and pans, and you'll still have a great product while cutting carbon emissions.
For serving, do your part to reduce the amount of waste your party produces. Plastic straws are one of the most dangerous things for the environment, so use metal or glass straws. They last longer and won't deteriorate in a beverage. Glass pans are reusable and can hold a variety of Thanksgiving dishes. If you don't have a reusable serving tray, a compostable one is better than plastic or paper plates.
Get creative with decorations
Americans throw away more than 12 million tons of furniture every year. Seek out used items from thrift stores, online marketplaces, or yard sales, which add a sustainable burst of charm to your home.
Encourage your guests to participate in a fun activity before or after food is served. Make paper wreaths or show off your creativity with a classic hand turkey using recyclable construction paper.
Plan a post-meal wellness activity
It's a common Thanksgiving pitfall: you overeat and start slipping into couch potato mode. Sure, a post-meal snooze might feel nice for a few minutes, but it will make you cranky and tired and could set you up for a rough long weekend.
Take time after the meal for a wellness activity. Maybe walk around the block—something your fur babies will love—or play a portable game like bocce ball or cornhole in the backyard. Alternatively, you could set up something before the meal, such as a friendly game of touch football. 
Your activity can be more than just physical, too. Stimulate your guests' minds with a board game or try an interactive experience like Jackbox. Cast the action on a TV screen or laptop while people play on their phones. Most of the games are simple enough to pick up without lengthy explanation, and you'll likely burn a few calories laughing along the way.  
Forget plastic when preparing leftovers
Few people have participated in a Thanksgiving celebration and escaped without a pile of leftovers. But before you grab a handful of plastic snack bags or disposable containers, consider these alternatives.
For instance, glass is a better choice than plastic for both sustainability and health—chemicals from plasticware can potentially seep into your food. Reusable silicone and mesh snack bags are great for storing solid foods. And beeswax food wraps are more durable and easier to handle than plastic cling wrap. Even better, beeswax has antimicrobial properties that may keep your food fresh longer.
Compost what you won't keep
Composting offers several benefits, including improving the soil quality of your container garden, limiting chemical fertilizers, and reducing trash headed to landfills.
While you may save plenty of leftovers, you'll likely also have fruit and vegetable scraps, coffee grounds, or eggshells. All of these are compostable. Chop them up and keep them in a compost bin to add to your garden in six to eight weeks, or put them in the larger city-issued compost bin for your city to collect. 
Brush up on cleaning hacks
The aftermath of a Thanksgiving celebration is often a whirlwind. Stacks of dirty plates and glasses. Leftover food. Decorations and toys on the floor.
Check out a few of our favorite hacks to make clean-up a breeze:
Mix dish soap and white vinegar to clean stainless steel appliances.
Combine vinegar with lemon juice to unclog and freshen up your garbage disposal.
Clean your oven by soaking your racks in a large plastic storage bin with powder washing detergent and coating the inside with a mixture of 1/3 cup white vinegar, ½ cup baking soda, and 1/3 cup water.
Use mesh begs in the dishwasher to hold loose items, such as drink tops, storage container lids, measuring cups, and even some cutlery.
Remember, the essential part of Thanksgiving is surrounding yourself with good company. Your guests won't mind if something is imperfect if you're having a good time together. And, once you've said goodbye to the final visitor, feel free to retire to the bed or couch for the night—you've earned it!
© 2023 American Homes 4 Rent, LP
American Homes 4 Rent®, AMH®, AH4R®, Let Yourself In®, AMH Development®, American Residential®, and 4Residents® are registered trademarks of American Homes 4 Rent, LP. 4Rent℠, AMH Living℠, and 4Communities℠ are service marks of American Homes 4 Rent, LP.  AMH refers to one or more of American Homes 4 Rent, American Homes 4 Rent, L.P., and their subsidiaries and joint ventures. In certain states, we operate under AMH, AMH Living, or American Homes 4 Rent. Please see www.amh.com/dba to learn more.