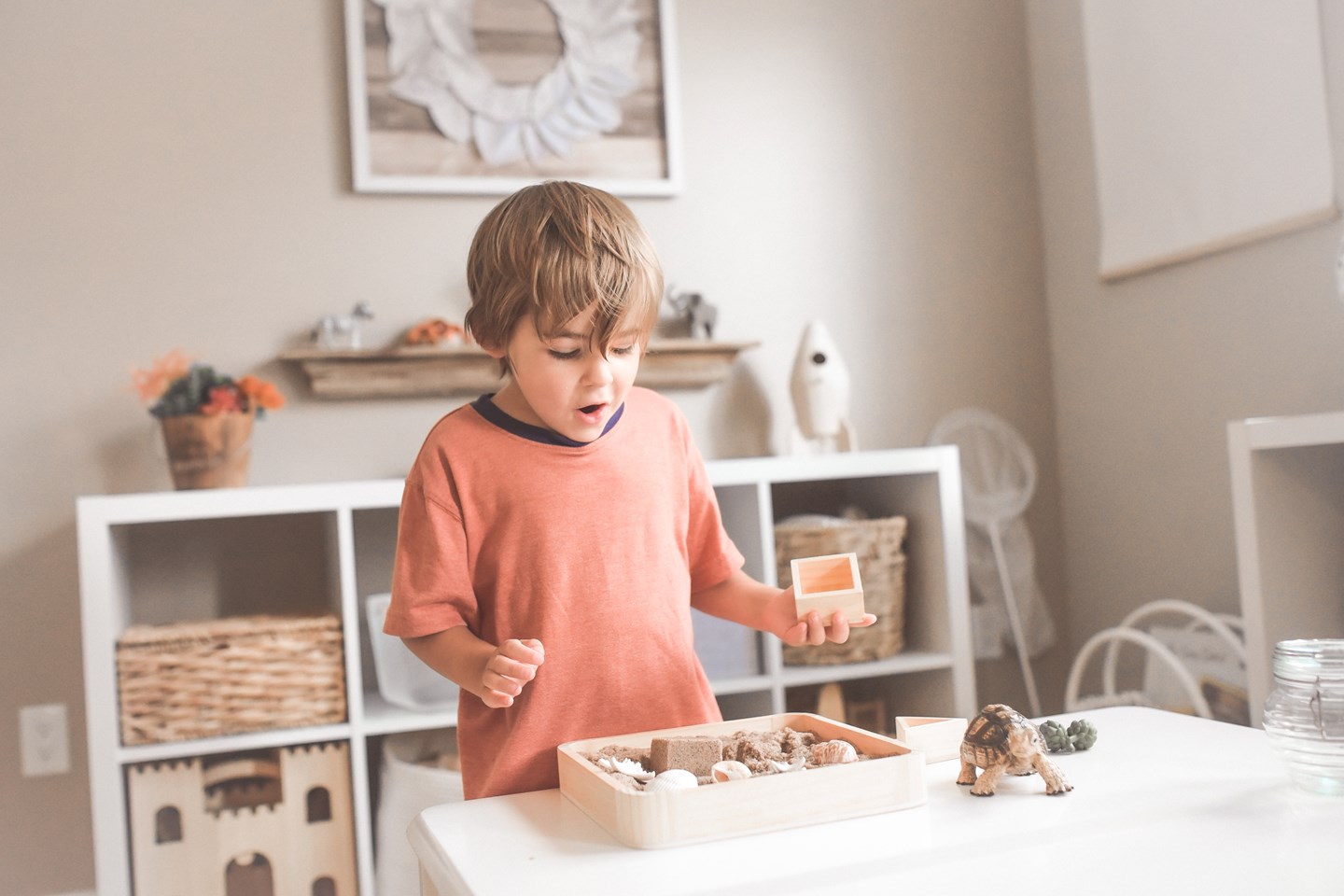 Top 13 ways to organize your child's room
Posted by AMH Team
8m read time
Jan 13, 2022
In honor of National Organize Your Home Day on January 14, we're offering some of our best organizational tips for one of the most problematic areas in people's homes: children's bedrooms! Between toys, schoolwork, clothes, and arts & crafts supplies, it can be hard to create some calm out of the chaos. Beyond keeping the space clean, these organizational techniques empower your children to easily tidy up after themselves, enjoy everything they own without things being hidden away, and avoid having to ask you where something is because they can't find it. 
Purge toys
Before you figure out where everything should go in your child's bedroom, make sure you actually want everything to stay. It's likely that your child has toys that are broken, duplicative, or too young for them. Depending on their age and temperament, you might want to choose to go through everything with or without them. That being said, it's best to involve your child in the process so you don't accidentally purge a toy that has sentimental value to them. As you go through them, create three piles: (1) keep, (2) pass on to a thrift store, and (3) throw away. You can even create a small fourth pile if there are heirloom items or things that hold sentimental value to you that you want to keep. 
Downsize their closets
Just as you purge toys that don't meet your child's needs, it's time to do the same with their clothing. Get your child involved by having them do a fashion show to see if things still fit. You could keep old t-shirts as cleaning rags or create a donation pile to pass on the items that are too small. A lot of people with multiple kids save older siblings' clothes to use for younger children when the time comes. This is a great idea, but we have a couple of tips on how to stay organized so you don't miss that window of opportunity when the clothes fit the next child. First, keep everything in a designated spot. That way, when you're ready to find that next size, you know exactly where to look. Also, organize those hand-me-downs in bags or tubs by size. That way you don't have to dig through everything to find what you're looking for. 
Make one memory box per child
Having your children get older is a bittersweet experience. It can be tempting to hang onto every onesie, rattle, and preschool drawing to remember those precious years. Before you go overboard, allow yourself one box of memories for each child. You can pick your very favorite drawings, baby clothes, and other sentimental items — as long as they fit in that box. It's a great way to give yourself permission to keep those things, without feeling like you have to keep every little baby sock.
Create an art portfolio
Many kids go through an art phase, or maybe they've always been artistic and always will be. All of those notebooks and paper with doodles and drawings can quickly take over a bedroom. Help your child get organized and view their artwork as a process by inviting them to pick their favorite pieces to include in an art portfolio. This large, flat folder can easily slide under a bed or at the back of a closet. It helps your child appreciate their best work without getting emotionally attached to every sketch they've made. 
Use sticky wall hooks
As you look around your child's room, think about what items could be easily stored on hooks for quick access. It's simple to use some sticky wall hooks that go right on the wall, then come off without damaging the wall when you're ready to remove them. Get creative and use the hooks to store things like hats, belts, and scarves. You can rotate what you hang on them throughout the seasons — kids can hang their winter gear during cold months and switch to swimsuits and goggles during the warmer months. Be sure to hang hooks low enough so that your child can reach them on their own. The more self-sufficient they are in cleaning their room, the better!
Choose storage-friendly furniture 
Storage is a must-have in a kids' room. After all, a space is easier to clean up if everything has a place to go. Get creative by using furniture with built-in storage. For instance, you could add a bench with drawers at the foot of their bed or an ottoman that opens up to store extra blankets. These pieces serve double duty by providing extra seating in addition to storage space. Plus, you can find age-neutral options that will grow with your child and not look too young as they get older. You could even swap out the pieces to other areas of your house if your child ever wants a room makeover. 
Add modular shelves
We all love built-in bookshelves, but the truth is that they're both expensive and can cause extensive damage to the walls behind them. Achieve the built-in look without the hassle by getting modular shelves for your child's room. They make it easy to fit into any size or shape so you can maximize the available space. Modular shelves are also good for siblings who share a room. They can each get their own shelf—and you're not limited to just using them for books! Add some fabric bins for a chic way to hide small toys like dolls and action figures, and use the shelves to display trophies and other keepsakes your child wants to see every day.   
You can also add them inside the room's closet. Closets are often designed for adults, with lots of height to hang pants and dresses. But all that space can feel wasted in a kid's closet since their clothes aren't nearly as long. Give them extra storage space by adding shelves there. You can label fabric bins to store socks and underwear, or neatly stack pants and shirts. Alternatively, you can slide in a dresser to save space in the living area, so kid-sized clothes still have room to hang above.
Use under-the-bed storage
If you feel like you need more space for organizing your child's room, find some under-the-bed storage options. You can look for beds with drawers already built-in underneath, or find tubs that fit under your child's existing bed and label what's inside them. If the bed is extremely low, use that space to store things like shoes or crafts supplies. Another option is a loft-style bed. This type of bed is the same height as a bunk bed, but the space underneath is open. As your child gets older, you can place a desk to create a study space or a cozy reading nook. 
Use stylish baskets for odds and ends
Children of all ages have toys with pieces and parts that seem to multiply everywhere. Not everything needs its own drawer or shelf, so instead create stations where kids can easily get their stuff off the floor. Stock up on a few cute baskets that can serve as a dumping ground. Then you can put a lid on it or slip it under an end table to keep those odds and ends out of sight until they're ready to be played with again. Baskets also work well for soft items, especially if closet and dresser spaces are limited. Think socks and sweaters, for instance, or even a basket of play clothes that can be kept separate from nicer pieces for school. 
Separate the dress-up clothes
Closets can quickly begin to overfill if you include dress-up clothes. That doesn't mean your child can't tap into his or her inner thespian. Get creative with the way you store their play clothes and accessories, like wands and swords. Designate a trunk just for these items or create an open rack where each outfit can hang in plain sight, if you want a more curated look. 
Hang totes on the door
You might think of a tote bag as something to just use on the go, but they can actually be a cute, inexpensive way to organize your child's bedroom. You can put wreath hangers on the door to hang on or more tote bags. Use them to store light items and add a stool nearby if your child needs help reaching. If your child participates in after-school activities, this tote storage system is a great way to be prepared for each club. One tote could hold soccer socks and shin guards, while another could hold art supplies. When they come home from their club, they simply hang up the tote bag so they're ready for the next session without having to hunt down everything they need.
Use display shelves for storage and art
Another way to maximize storage space is to use display shelves on the walls. Involve your kids by letting them pick and choose their favorite things to include. Maybe they'll choose to arrange all of their action figures or animal figurines. Maybe it will become a shelf dedicated to Lego mini-figures (which would be a win-win, since it's less pieces for you to step on). Work together to get creative on what toys should go on the display shelves to incorporate both form and function into your child's bedroom.  
Add a shoe holder over the door
A final option for off-the-floor storage is to use a shoe holder over your child's door. While you can certainly use the space for shoes, especially if you have a fashion-forward kid, you can also think outside the box on what to put there. Dolls, Legos, and other compact toys work extremely well. You can either get a fabric shoe holder to hide everything or get a clear one to make it easy for your child to find exactly what they're looking for. 
Bottom line
It can feel overwhelming when you first start to think about organizing your child's bedroom. Get started by getting rid of the clothes and toys that no longer fit your child. Then choose the biggest problem area for both of you and choose one solution from the above to implement. It may be fun to see dramatic before-and-after room makeovers online, but remember that those transformations take a lot of time and effort. Be kind to yourself and take the organization process one step at a time. Above all, don't forget to work with your child to make the space feel like a true reflection of their personality and interests. 
© 2023 American Homes 4 Rent, LP
American Homes 4 Rent®, AMH®, AH4R®, Let Yourself In®, AMH Development®, American Residential®, and 4Residents® are registered trademarks of American Homes 4 Rent, LP. 4Rent℠, AMH Living℠, and 4Communities℠ are service marks of American Homes 4 Rent, LP.  AMH refers to one or more of American Homes 4 Rent, American Homes 4 Rent, L.P., and their subsidiaries and joint ventures. In certain states, we operate under AMH, AMH Living, or American Homes 4 Rent. Please see www.amh.com/dba to learn more.