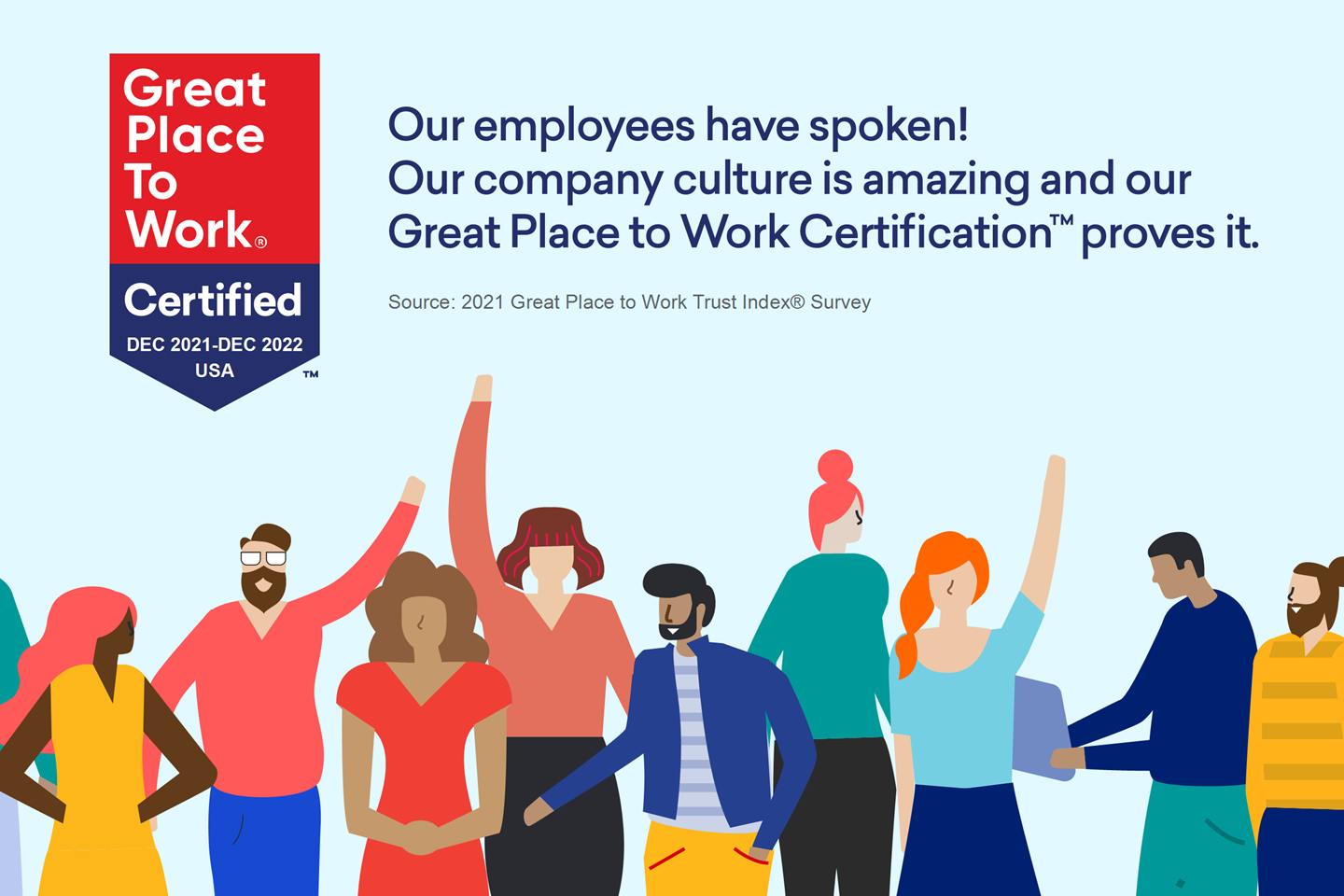 Building a "Great Place to Work" to lead the industry
Posted by AMH Team
6m read time
Dec 27, 2021
Our Senior Vice President of Human Resources, Lisa Phelps, represents a story of personal and professional success earned through resilience and perseverance.
As a mother of two with mixed-race heritage, Lisa has championed diversity, equity, and inclusion throughout her career in the historically white and male industries of real estate, oil and gas, and finance.
She's led the HR function at a Fortune 100 Best Company, was named one of Oklahoma Magazine's 40 Under 40, and has volunteered for several non-profit boards.
Now, she's setting high ethical standards for the workplace that will shape a new generation of real estate innovators, working to make single-family housing in America more accessible.
Since joining us in 2017, she has raised the stakes to cultivate a people-first company culture recently recognized as a Great Place to Work®.
We asked her to share what values inspire her work.
Building trust
For the last four years, Lisa has been on a relentless mission to build a culture of trust, which she considers the cornerstone of an engaged workplace. That work is made easier, she adds, when there's already a baseline of integrity.
"Our people are unique and valuable, and they make this place special. We have good leaders at the top, who believe in doing the right thing. And it's my job to connect with each of those leaders in our organization to help them instill trust throughout our company."
Accountability is how you earn the trust of those who rely on you, she adds, in which she includes our customers, shareholders, and—not least—employees. To index that trust internally this year, Lisa campaigned to implement Workday Peakon Employee Voice, a pulse survey platform that invites dialogue on a regular, voluntary, and anonymous basis.
"We work hard to foster transparency. Offering a listening tool is key to maintaining that. It's a powerful way to enable conversations, amplify voices, give our people frequent opportunities for feedback, and better understand employee sentiment over time."
Establishing safe lines of communication is another fundamental trust-building strategy for Lisa, who believes it readies companies to weather events with resilience. When COVID-19 first shut down our offices in March of 2020, she spearheaded her team in making personal phone calls to hundreds of employees, asking how the company could help them in working from home. Mindful that some groups would be more impacted than others, the HR team collected cross-functional feedback and used it to make policy changes that supported the unique needs of our workforce.   
"One of our core company values is caring about people. And that means caring for each other, first, so that we can take care of the residents we serve."
Building belonging
"Community means belonging, both for the residents who make our houses their homes and for the team members who work to make them feel safe and happy there." 
To build a team that understands the power of community, Lisa explains, it's essential to cultivate an environment of inclusion, empowerment, and support. That doesn't happen overnight, she cautions; it's carefully stitched with steady, incremental change.
On the recruitment front, she has advanced initiatives to ensure that our employee base reflects the communities we operate in. Shortly after her arrival, she led the Talent Acquisition team in implementing a long-term strategy to reach and engage diverse groups, the result of which has been transformative: in 2021, almost all of our senior-level hires identified as minority status.
"Racial diversity in the real estate sector is below the national average across the board. But that's not a valid excuse to fall behind. We're proud to lead industry benchmarks in minority representation today, and we're committed to continuing that positive trend. To do that, we're focusing our efforts on creating opportunities to build on that progress, as well as recognizing the areas in which we still have work to do."
Following the tragic death of George Floyd in the summer of 2020, Lisa made it her responsibility to activate dialogue within the organization to unite our nationwide team during a challenging and divisive political time. To help her, she hired two full-time team members with experience in diversity, equity, and inclusion (DEI) training to develop a custom program for awareness, healing, and learning.
The result was Valuing Differences, a series of conversational modules premised on storytelling in which employees were guided in expressing, listening, and responding to each other's shared accounts and perspectives. All 1,500+ employees, including executive officers, participated in this first module, followed by a second module in 2021 and a third module in the works for 2022, which you can learn more about here.
"We want to set a precedent for tactfully navigating sensitive topics and to empower our team to use respectful, effective communication in the workplace, even—or especially—when it's tough. This training doesn't just impact our people at work; it's a life skill that they can benefit from beyond the workplace."
Building pride
"Just as we provide our residents a sense of pride and dignity when leasing our homes, we strive to create an environment where our employees can feel proud of where they work, too."
That pride, she says, is born when employees feel trust in leadership, derive inspiration from the company's mission and values, perceive their employer to be ethical and socially responsible, and are treated considerately.
One of the ways in which Lisa and her team nurture that sentiment is by creating a balanced work experience that promotes the psychological, physical, and financial well-being of employees. To attract and retain the top talent in the industry, she has worked hard to shape a meaningful employee value proposition that includes competitive benefits; robust healthcare plans and mental health resources; annual safety trainings; an employee stock purchase program; paid time off for vaccinating and volunteering; and lifelong learning opportunities supported by our tuition reimbursement program.
"It's important to us that our team members feel that they're valued, and that they're growing personally and professionally. We've invested in our development platform to provide impactful support for employees to advance in their journey as the future leaders of the real estate industry."
As part of this holistic approach to employee wellness, Lisa is also the lead sponsor of the company's Planting Seeds giveback program, through which employees are offered company-backed opportunities and time to serve in their communities. And, because she's a firm believer in positive top-down examples, Lisa engaged leadership in committing to complete their own individual community service goals tied to their annual bonus. As a result, in November of 2021, during our Service Month dedicated to fighting food insecurity, our team collectively delivered 400,000 meals through Feeding America and clocked approximately 500 hours of charitable work at local food banks and non-profits.
"As we continue to grow, we're conscious of our social responsibility to build strong communities for a sustainable society—and that work always starts on the inside, by strengthening the people at the heart of the business who carry out our shared mission."
© 2023 American Homes 4 Rent, LP
American Homes 4 Rent®, AMH®, AH4R®, Let Yourself In®, AMH Development®, American Residential®, and 4Residents® are registered trademarks of American Homes 4 Rent, LP. 4Rent℠, AMH Living℠, and 4Communities℠ are service marks of American Homes 4 Rent, LP.  AMH refers to one or more of American Homes 4 Rent, American Homes 4 Rent, L.P., and their subsidiaries and joint ventures. In certain states, we operate under AMH, AMH Living, or American Homes 4 Rent. Please see www.amh.com/dba to learn more.