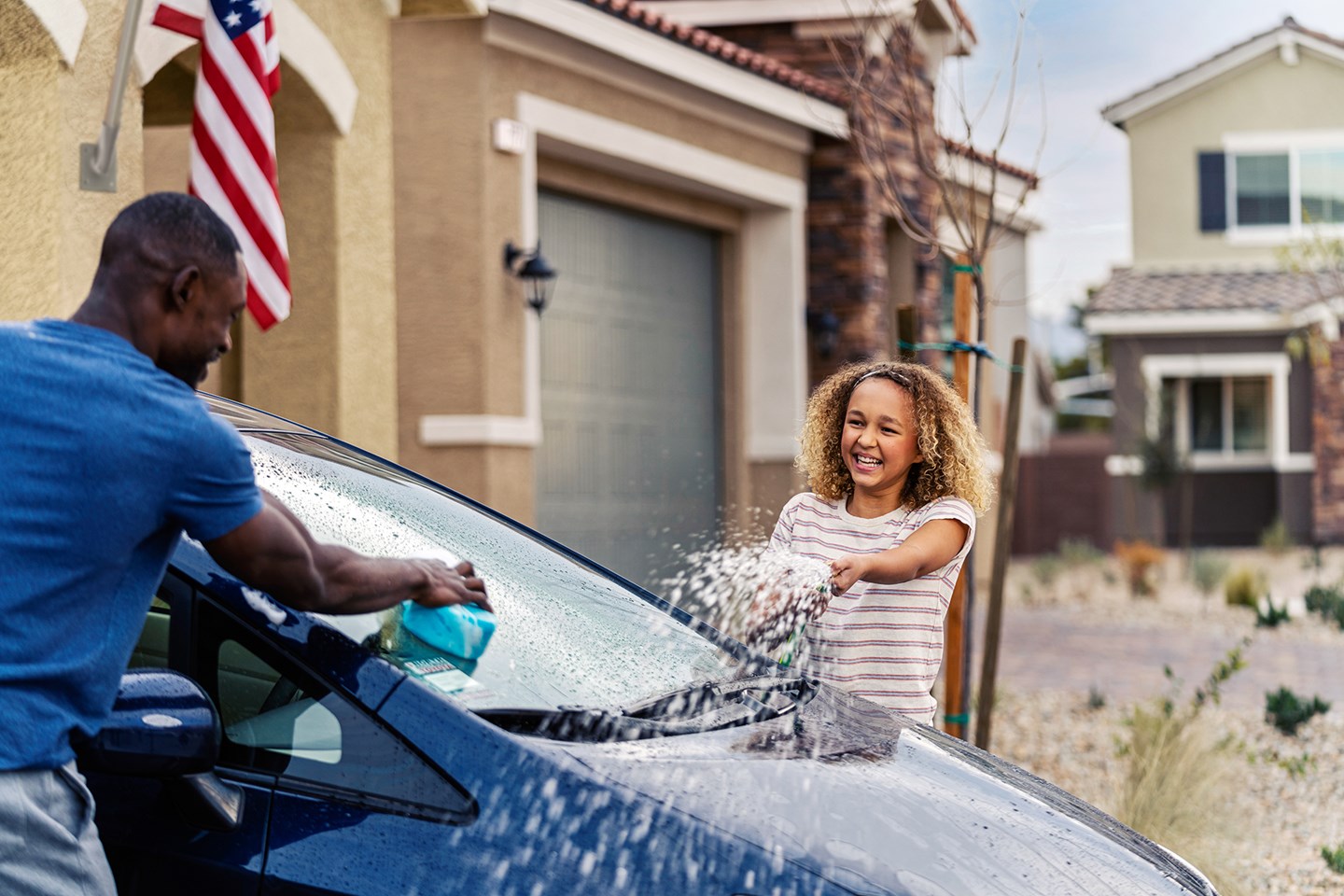 Championing diversity today for a more equitable tomorrow
Posted by AMH Team
8m read time
Oct 14, 2022
This October, we're eager to join the international community in observing Global Diversity Awareness Month to celebrate all of the ways our different ethnicities, cultures, heritages, experiences, abilities, and other individual attributes contribute to more dynamic, innovative, and effective workplaces.
As one of the nation's leading single-family operators and developers, we know that building a sustainable future for American housing can only be accomplished through an inclusive culture and a diverse workforce that reflects the communities we serve. Our purpose as an employer is to make people feel safe and happy in the workplace, so that our team can in turn help us make residents feel safe and happy in their homes.
This principle guides our approach to talent recruitment, employee engagement, and professional development alike—a three-legged stool on which the success of a diversity platform sits.
In recruiting, we set year-over-year goals to proactively reach talent across multiple diversity categories, which we execute through targeted job fairs and listing platforms, and consistently work to increase the pipeline of qualified candidates among minority groups to help ensure equitable hiring. As a result, we're making progress to match or exceed overall industry benchmarks in representation among the primary groups identified by the U.S. Bureau of Labor Services, and remain committed to continuing to transparently report on this journey: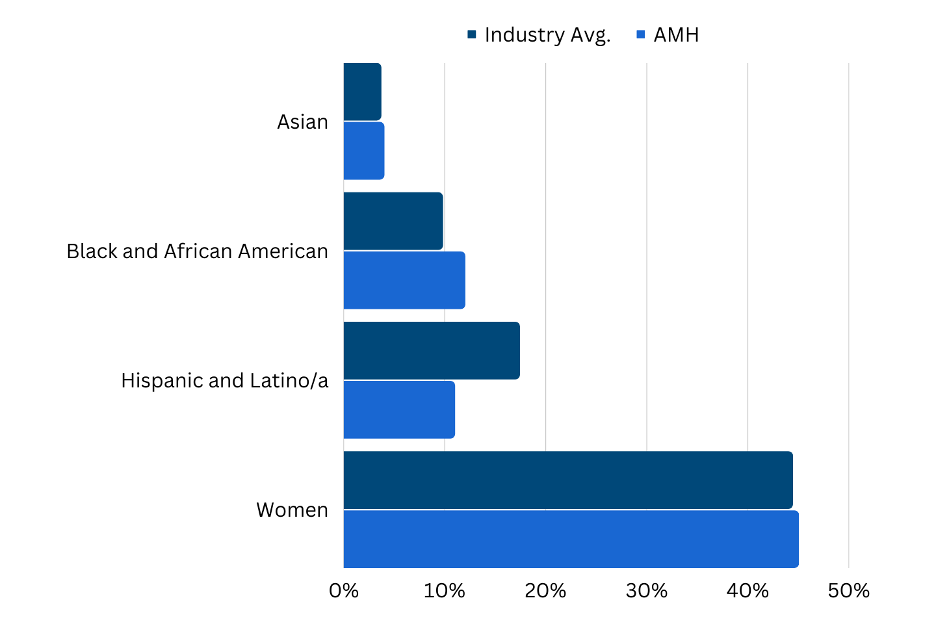 Note: Please see our 2021 Sustainability Report for more details.
But we also recognize that it's not enough to simply recruit diversely. We know it's just as essential to foster an environment of respect, and a sense of belonging and community, to ensure that our team members are supported once onboarded as well. 
That's why, since 2020, we offer an annual Valuing Differences learning program that provides all employees unconscious bias training, tools for effective communication, and specific guidance for activating allyship. You can read more about this ongoing training series on our corporate blog here.
Thanks to these efforts, in a third-party company-wide survey we conducted in December of 2021 through Great Place To Work®, our employees rated us: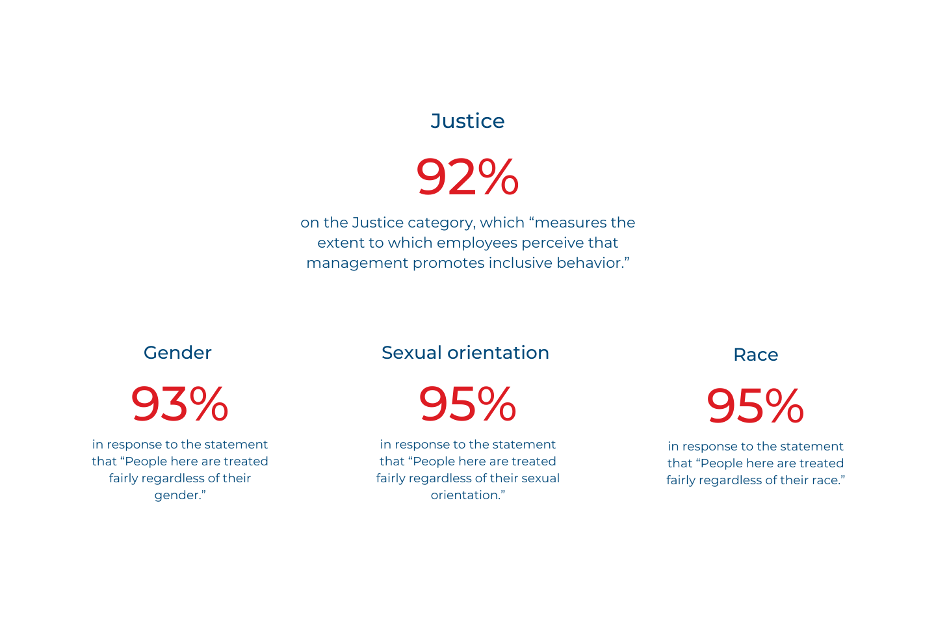 Following these encouraging results, we implemented two additional programs in 2022 in support of these positive cultural trends and our team's well-being:
Knowing that—in order to build a diverse company for the long term—we must develop talent in a way that empowers employees to bridge skills and diversity gaps, we're investing in providing tools for lifelong learning for our team, so they can pursue their goals and passions while working with us. That's why, in addition to the approximately 66,000 hours of leadership, development, coaching, and succession training facilitated internally, our new Tuition Reimbursement Program is designed to promote the voluntary pursuit of external degreed education by offering partial reimbursement for annual tuition and fees.  
Most recently, we also launched six Employee Resource Groups (ERGs), which represent safe community spaces designed to provide networking opportunities, raise cultural awareness, and promote trust. These voluntary ERGs are open to all employees, meaning that, while they're aligned with historically underrepresented populations, we encourage participation of both individuals who identify with these communities as well as individuals who identify as allies and advocates, in order to engage our entire workforce in this community-building movement.
As we continue to work towards building a more equitable, diverse, and inclusive culture, we're proud to highlight today a few of the many inspiring employees on our team who are leading this momentum:
Ryan Bartolome, Asian American and Pacific Islander ERG: As co-chair for the AAPI ERG, my main goal is to provide a space where our members feel accepted and empowered to bring their authentic selves to the table. I hope that our members see that AMH values their input, and that our members ultimately take action and share their perspectives. If we are successful in doing this, we can continue to innovate, develop our talent, and contribute to a great workplace. Reflecting on the last few months as we began our ERG journey, I'm amazed by the participation of our members and their willingness to share and be open with each other. I'm also proud of the leadership of our executive sponsors and executive management. Tone at the top means a lot, and seeing our leadership share their personal and professional experiences has been key in promoting and emphasizing the importance of our ERG goals. I'm excited to see the tangible impact of our ERGs in the short term and excited to see how our ERGs evolve in the future!
Danielle Phillips, Black and African American ERG: What is most meaningful to me is the sense of community within the organization that ERGs foster by providing a space for underrepresented employees to find and connect with each other. This creates opportunities for members to build trusting relationships and inspire conversations that lead to growth and mentorship within our group. I read somewhere that "powerful communities instigate action." That's what I envision for our own ERG. As it matures, we look forward to providing tactical and strategic resources for members that address the challenges affecting Black employees in the workplace and within our personal lives.
Gloria Garcia, Hispanic and Latino/a ERG: As a first-generation immigrant, I witnessed my parents starting over, building, and sacrificing everything they knew so that my siblings and I could have a chance at the American Dream. I wear my parents' struggles and victories as a badge of honor, and I carry with pride the legacy that millions of immigrant and native Latinos/Hispanics have left for current and future generations. Now, as co-chair of Sí 4Latinos, the first Latino/Hispanic Employee Resource Group at American Homes 4 Rent, I'm committed to supporting a future of diversity, equity, and inclusion. We're establishing an engaging community where we share our stories, celebrate our heritage, discuss our obstacles, promote cultural awareness, and empower each other to carry our identity as a superpower. Having these open conversations across levels, with entry level colleagues as well as top executives, all in the same virtual room add value to the employee experience, foster belonging, and help members find their voice. This platform allows members to grow, connect, and thrive, and shows that we are a force when we work together, regardless of background, spoken language, or accent. At Sí, we strive to be a pathway to personal and professional development, networking opportunities otherwise not available, mentorship, and proximity to leadership and executives. I take pride in representing a company where senior leaders, who serve as executive sponsors of our ERGs, are intentional about championing minorities and diversity. At Sí, everyone has a seat at the table.
Peter Montanez, LGBTQ+ ERG: When I joined AH4R in 2019, I had never planned to share that I was part of this community. But I discovered there was a colleague who also identified as LGBTQ+ in the department, and they were welcomed and supported by our team. I had never experienced that in the workplace before and it helped me to understand that being transparent about my identity was nothing to fear. In the end, I didn't need a special event or circumstance to help me in my journey of self-acceptance; all I needed was feeling a sense of belonging, even in my uniqueness. As we continue to establish our LGBTQ+ ERG, I look forward to helping to provide a similar safe space for all of my peers, like the one my team has held for me.
John Myers, Military and Veterans ERG: I joined the Air Force at 17 to serve my country for four years, and left 27 amazing years later. It was a privilege to serve with, learn from, and lead members from every branch of service over the course of my career. I discovered there aren't any limits to what a well-trained and motivated team can accomplish, and I have carried the Air Force core values of "integrity first, service before self, and excellence in all we do" into my second career at American Homes for Rent. I feel blessed to have found a company that values veterans and the experience we bring to an organization. Recently, we established the Military and Veterans Employee Resource Group, which I have the great honor of co-chairing, as yet another way to demonstrate their support to us. This group creates a community for active military members, veterans, and their allies to connect, share, and serve others.
Nikol Hurley, Women's ERG: We all want to be seen for the people we are, what makes us unique, and how those things challenge us every day. We want to feel supported and understood. This goes for everyone, not just women. Launching AH4Women has been one of the most fulfilling things that I've done since I started working here almost five years ago. In the few short months that AH4Women has been active, we have worked to create a safe place for our members. When we come together, we speak comfortably about our personal experiences, because we know we're with people who will listen to understand us and are open to seeing the world in a different way. Knowing our company values this type of employee support system keeps us engaged in our purpose and makes us proud to work here. I can't wait to see AH4Women continue to grow and make a positive impact on the experience and careers of all those who join.
At AMH, diversity is more than an ESG box to check. Guided by our company values of caring about people and holding ourselves accountable, we feel strongly that representation, equity, and belonging are not just luxuries that are nice to have; they're musts on which the health and well-being of our team, and therefore the success of our business, depend. As we continue to lead the industry towards a more equitable future for American housing, we're laser focused on setting a positive example among our peer group by prioritizing diversity, and we look forward to continuing to share our learnings and progress along this journey with you.
© 2023 American Homes 4 Rent, LP
American Homes 4 Rent®, AMH®, AH4R®, Let Yourself In®, AMH Development®, American Residential®, and 4Residents® are registered trademarks of American Homes 4 Rent, LP. 4Rent℠, AMH Living℠, and 4Communities℠ are service marks of American Homes 4 Rent, LP.  AMH refers to one or more of American Homes 4 Rent, American Homes 4 Rent, L.P., and their subsidiaries and joint ventures. In certain states, we operate under AMH, AMH Living, or American Homes 4 Rent. Please see www.amh.com/dba to learn more.