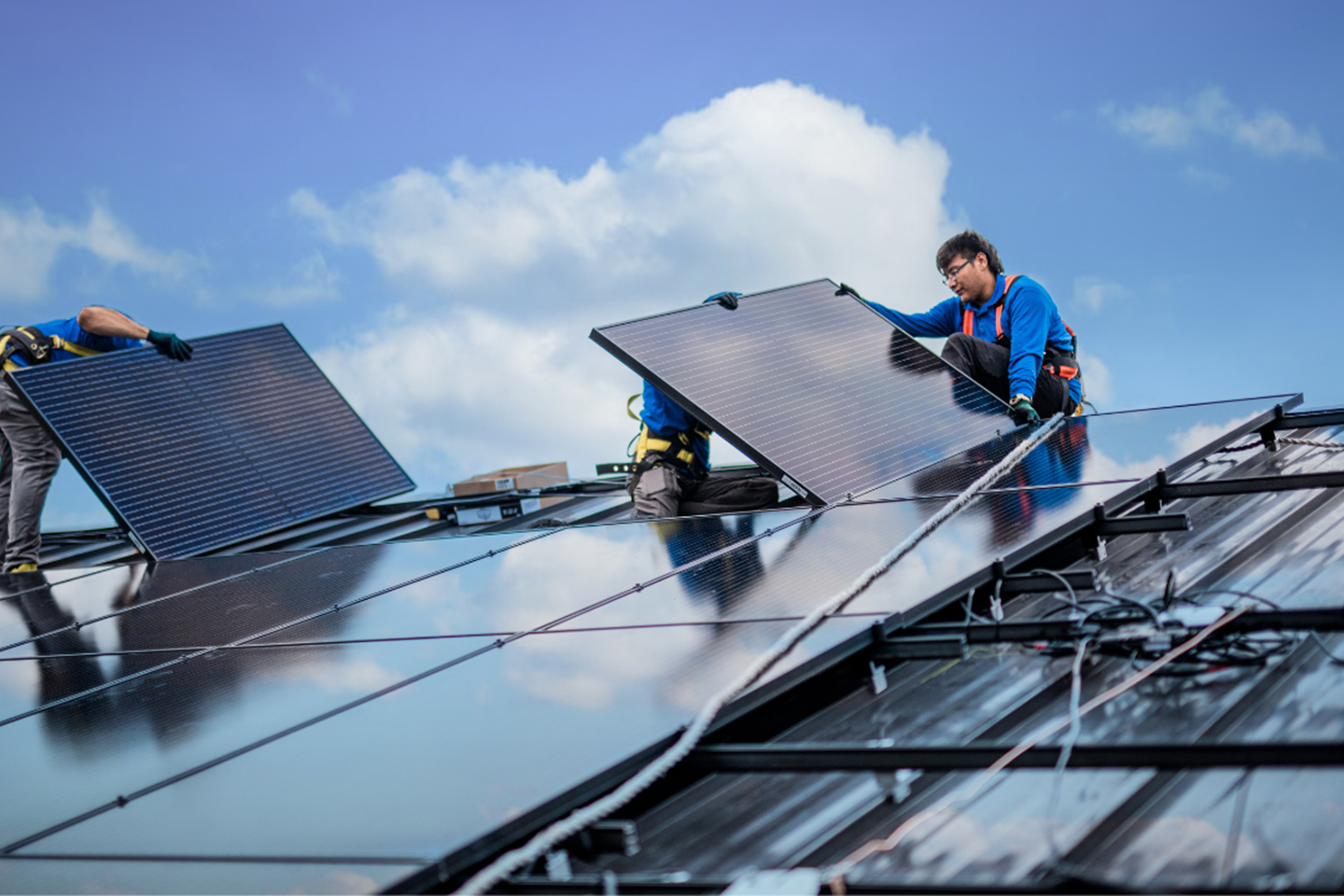 Working towards a greener future for American housing
Posted by AMH Team
3m read time
Jun 5, 2022
This Sunday, June 5, marks World Environment Day, an international event designated by the United Nations to raise awareness and encourage action around sustainability.
As one of the top single-family rental operators and homebuilders in the U.S., we're conscious of our responsibility in this collective effort to steward the environment.
That's why we have been taking numerous steps to evaluate the ecological impact of our property management and land development, and to implement measures and systems that make our operations throughout more efficient.
Some of these include:
Building homes that are designed to last and to conserve. We integrate well-insulated thermal envelopes, invest in glazed dual pane windows and upgraded roofs, use durable construction materials like quartz countertops and luxury vinyl plank flooring, and implement energy-efficient fixtures to lower our long-term carbon footprint, such as LED lighting and ENERGY STAR® dishwashers.
Submitting all of our new construction plans for RESNET Home Energy Rating System (HERS) scoring to track energy efficiency. A HERS rating is an assessment of energy performance, where a lower score indicates higher efficiency. Our average HERS score received in 2021 was 62.8. In other words, these homes are designed to use less than half the energy of the average house in this country.
Evaluating new construction sites for access to transportation, sewage and infrastructure, and the economic corridor, to ensure that our communities are sustainable within their regions. We also consider the ecological impact of our development by evaluating storm water runoff and erosion control, as well as applying water-saving landscape design.
Advancing eco-friendly programs in our maintenance operations, such as recovering, reusing, or recycling refrigerant when servicing air conditioning units, and using a third-party utilities administrator to monitor electricity and water consumption. When scheduling repair services, we also take care to diagnose needs remotely where appropriate and optimize routes to reduce unnecessary maintenance vehicle emissions.
Communicating regularly with our residents to engage and educate them about efficient practices in their rental homes, whose natural gas and electricity usage accounts for 96% of our company emissions. Through our blog and email communications with them, we share green living tips like: The renter's guide to sustainable living, Your green office policy for working from home, and Your 101 guide to recycling at home.
Implementing an Environmental Management System, which is a set of processes and practices in a "plan, do, check, act" format that enable an organization to understand its environmental impacts and increase its operating efficiency. This system, which we began establishing in 2021, provides an internal framework through which we can identify and reduce risks across land acquisition, land development, and vertical construction.
Completing a formal greenhouse gas inventory and management plan in 2021, which has allowed us to define our baseline emissions across our services and facilities, including our maintenance vehicle fleet, offices, homes, and community amenities, like swimming pools, clubhouses, and fitness centers. This will help us improve the consistency and accuracy of the data we collect and report, and empower us to better identify opportunities and evaluate progress.
Partnering with energy solutions company Elevation to implement a pilot renewable energy program in 2021at select amenity centers in our portfolio, where we've already installed premium solar panels. In 2022, we're preparing to launch a second pilot phase at select homes, which will also entail adding a Curb energy monitor device that connects to the homes' electric system to provide real-time updates on energy usage and production.
By definition, the work and pursuit of sustainability is unending. But, as a responsible corporate citizen and leader in our industry, we're proud to now have a strong foundation of checks and balances, meaningful goals, and baseline data in place to pillar a greener and brighter future for American housing.
We look forward to continuing to do our part to protect the environment and share updates with you throughout our sustainability journey, which you can learn more about in our 2021 Sustainability Report.
© 2023 American Homes 4 Rent, LP
American Homes 4 Rent®, AMH®, AH4R®, Let Yourself In®, AMH Development®, American Residential®, and 4Residents® are registered trademarks of American Homes 4 Rent, LP. 4Rent℠, AMH Living℠, and 4Communities℠ are service marks of American Homes 4 Rent, LP.  AMH refers to one or more of American Homes 4 Rent, American Homes 4 Rent, L.P., and their subsidiaries and joint ventures. In certain states, we operate under AMH, AMH Living, or American Homes 4 Rent. Please see www.amh.com/dba to learn more.