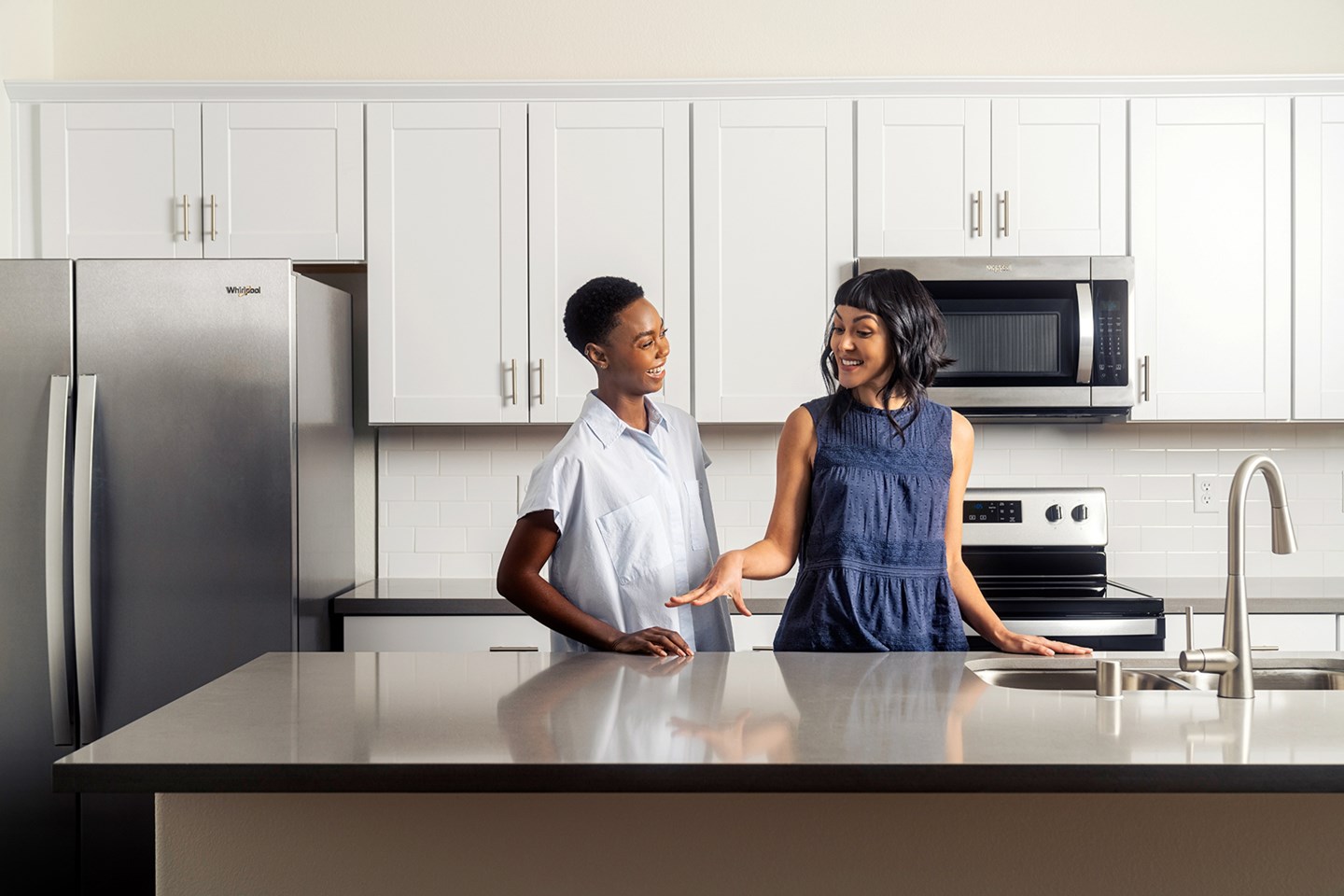 How to care for kitchen countertops
Posted by AMH Team
6m read time
Jun 26, 2023
Your kitchen countertops are one of the most essential pieces of furniture in the house. They're where you prepare and serve food, drop off groceries, and go through the mail. And, of course, the kitchen always seems to be where people congregate at the end of the day or when you're throwing a party. With how much time you spend in the kitchen, you want your countertops to sparkle and be clutter-free, which supports both your mental and physical well-being!
Benefits of clean kitchen countertops 
A fresh kitchen countertop brings a room together. If you start your day by brewing a cup of coffee or end it with a cup of tea and a book, a clean counter will keep your nerves calm and your stress levels low.
Having open space on the counter also makes cooking, baking, and prepping meals easier. You're not constantly playing foodie Tetris by trying to navigate around clutter, dirty plates, and other obstacles.  
The benefits aren't merely cosmetic, either. Dirty kitchen countertops can attract bacteria and bugs. The average kitchen counter contains 18 times the bacteria of a dog bowl. Consider that the next time your dog goes in for a kiss!
Tips for cleaning kitchen countertops
Luckily, you're not resigned to a lifetime of a hopelessly dirty kitchen. To ensure maximum effectiveness, you'll just need to strategize based on the type of countertop you have. Different surfaces require unique cleaning techniques. What works for one material might not necessarily work for another. Most AMH homes, for example, feature granite or quartz countertops. Here's how to best tackle each surface:
Granite
Granite countertops look beautiful and offer incredible durability. A granite countertop can last for a very long time if properly cleaned and maintained.
Avoid harsh chemicals and cleaners, and don't use abrasive brushes or scour pads. Treat the countertop with water or mild soap for basic stains and spills. More extensive stains may require a more thorough stone cleaner. Just be sure to check the product instructions to ensure it's safe for granite.
If you have oily or greasy stains that have seeped into the surface of your granite countertop, combine baking soda and dish soap in a bowl, then use a brush to apply it to the surface. Cover the surface with plastic wrap, let it sit overnight, and rinse it the following day.
View this post on Instagram
Quartz
Quartz chips or quartz dust is bound with resin to create quartz countertops. The individual stones give the countertop that beautiful, speckled appearance. These surfaces are quite durable and won't scratch or chip easily.
There are a few things to avoid doing to your quartz countertops. Metal and quartz don't play well together, so don't chop, slice, or julienne any food directly on the countertop. Direct heat can also damage quartz, so use hot pads, trivets, or other accessories to prevent hot pans, bowls, and coffee pots from damaging — or even melting — the countertop. 
To clean a quartz countertop, apply water and mild detergent to a microfiber cloth or a paper towel. When you're done scrubbing the quartz, rinse the surface thoroughly and dry it with another clean cloth or towel.
For grease stains, use a plastic scraper or knife to remove hardened grease or other build-up, and clean with a product specifically designed for stone care. Harsh, acidic cleaners and solutions containing bleach will damage the countertop. 
View this post on Instagram
Marble
Most marble countertops are made from cultured marble, which binds stones together with resin. You'll still get a sleek look with unique marbling and mineral patterns. Marble is also heat-resistant and durable from long-term damage, though it's quite susceptible to staining and scratching.
Cleaning a marble countertop is easy. Pair warm water with non-abrasive dish soap and scrub the surface. Be sure to avoid acidic cleaners, including lemon juice, vinegar, and some store-bought solutions. It's also a good idea to seal a marble countertop every year to keep it in solid condition, especially if you frequently cook in the kitchen.
View this post on Instagram
Laminates
Plastics, resins, and paperboard combine to make laminate countertops. This combination leads to a nonporous surface that reduces the likelihood of stains, mold, and bacteria. However, laminate countertops are susceptible to heat, so avoid putting hot pots and pans on the surface. 
A dish soap and water mixture will help keep the laminate clean on a regular basis. Use a microfiber cloth to scrub the countertops, then rinse the cloth with water and wipe the suds off. For tougher stains, leave a paste of water and baking soda on for five to ten minutes, then use a clean cloth to wipe away.
View this post on Instagram
Ceramic tile
You're more likely to find ceramic tile in the bathroom than on your kitchen countertop. Yet wherever the tile is in the home, the cleaning process remains the same.
Regular sweeping or vacuuming helps with surface-level cleaning, while commercial cleaners or a combination of hot water, detergent, and hydrogen peroxide can handle most stains. 
The most challenging part of cleaning tiles is the grout, which is the material between each tile. Create a water and baking soda paste and let it sit overnight. The next morning, scrub with a nylon brush to avoid scratching the tile. Grout sealer also helps minimize the damage future stains will do. 
View this post on Instagram
Stainless steel
Stainless steel surfaces are ideal for people who like it hot — it's highly resistant to heat damage. These countertops also tend to remain free of mildew and mold.
That heat resistance comes with a trade-off. Stainless steel surfaces are easily scratched, and fingerprints and water stains are more common.
There are several ways to clean stainless steel. A sponge and Bar Keepers Friend may be the most impactful, though a combination of vinegar and olive oil also works well. These cleaning methods work for all stainless steel appliances, not only countertops. 
View this post on Instagram
Wood
A wood countertop adds a rustic feel to any home and is good for the environment. However, wood requires regular sanding and resealing every few years to remove scratches and stains. Doing so also reduces the risk of mold and mildew growing on your kitchen counter — never a pleasant sight!  
If you want to feature wood in your kitchen but don't want to commit to countertops, consider adding a gourmet cutting board or butcher block instead.
View this post on Instagram
Enjoying your refreshed kitchen 
With these tips, your kitchen countertops will serve you well for a long time. Now go on and enjoy that renewed sense of energy that a clean counter brings! 
For additional ways to make your kitchen shine, check out our favorite kitchen cleaning hacks. And when you're ready to move to other rooms, here's how to be more efficient with your cleaning. 
© 2023 American Homes 4 Rent, LP
American Homes 4 Rent®, AMH®, AH4R®, Let Yourself In®, AMH Development®, American Residential®, and 4Residents® are registered trademarks of American Homes 4 Rent, LP. 4Rent℠, AMH Living℠, and 4Communities℠ are service marks of American Homes 4 Rent, LP.  AMH refers to one or more of American Homes 4 Rent, American Homes 4 Rent, L.P., and their subsidiaries and joint ventures. In certain states, we operate under AMH, AMH Living, or American Homes 4 Rent. Please see www.amh.com/dba to learn more.