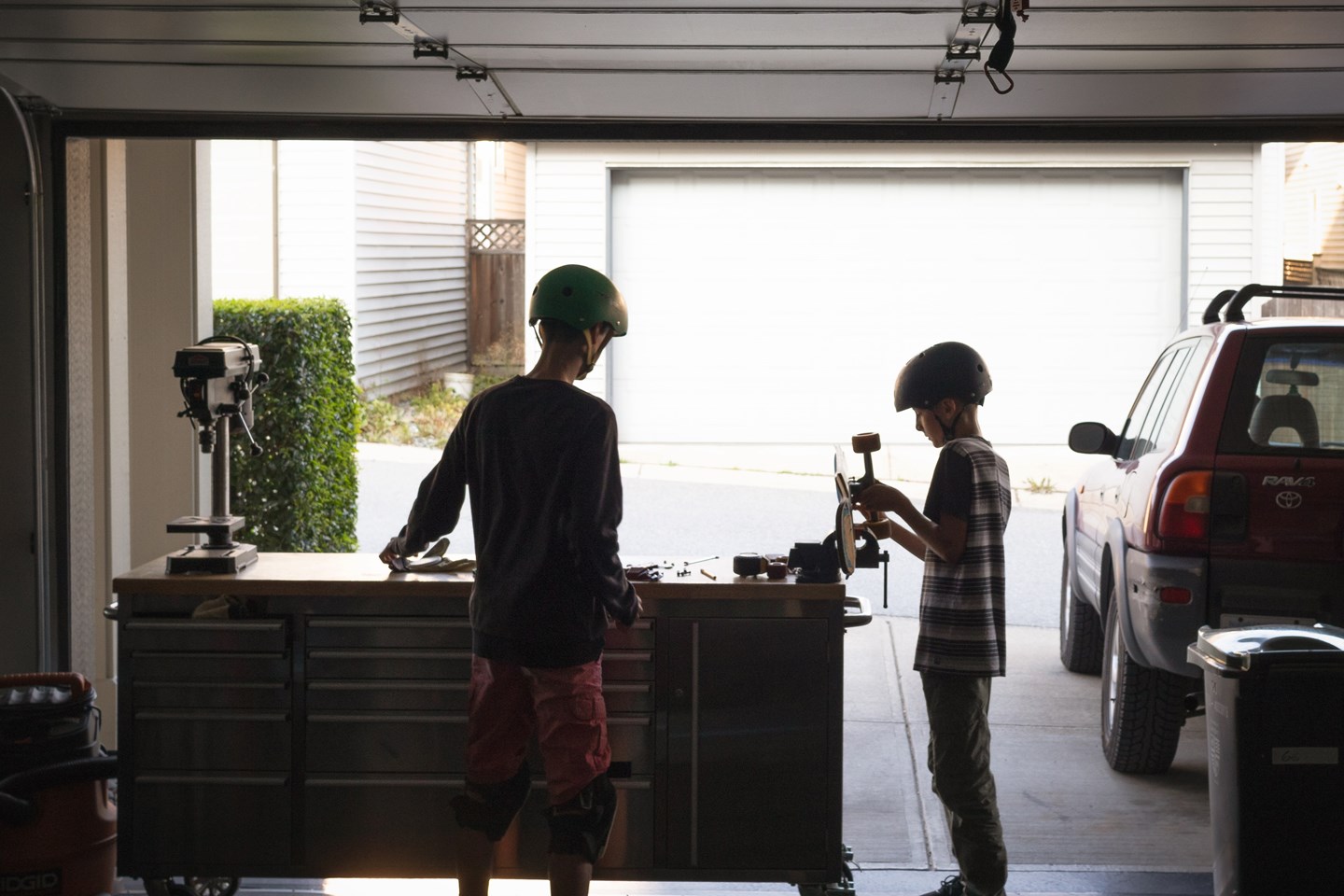 How to maximize your garage space
Posted by AMH Team
4m read time
Dec 2, 2022
You might just think of your garage as a place to park your car, store your lawn mower, and house a few unsightly tools. But, depending on your space needs, you could turn your garage into a beautiful, organized space that meets additional needs. While you should never set up a bedroom in your garage, you can still transform it into an inspiring multi-use area or efficiently expand your storage surface area to maximize your home. Here's how to make it happen without undergoing a huge structural project that takes a lot of time and money. 
Identify your needs
In order to maximize your garage space, first identify your bare minimum storage needs for the things that usually stay in your garage. How many cars need to be in there? Do you have a lot of large lawn care equipment, like a mower, leaf blower, and weed whacker? Determine how much floor space is needed for the things that are too big to tuck away elsewhere.
Think creatively
Next, think about other recreational or daytime activities that could benefit from a private space, like a home office, art studio, or game room. By having a specific goal in mind, you can create solutions for that idea. (Just make sure that the space is safe and well-ventilated as appropriate for whatever activities you'll be doing in there.)
For instance, if you want to create a craft space, you can map out the exact amount of space you can devote to your hobby, then think of ways to make it work. You might not have room for a huge desk, but maybe you could create a fold-down desk. 
Or perhaps you want to set up a home gym in your garage. Look for space-saving equipment that suits the space, rather than trying to make oversized items work in a small area. By starting with the available space, you can design around what you actually have to work with.   
All of these ideas can be implemented without any type of construction or major budget. If you have a growing family or simply a growing set of interests, think outside the box about how you can get more use out of your garage. 
Consider seasonal storage
No matter what time of year you're rethinking your garage space, remember to take into account the rest of the seasons. That way you leave space for seasonal storage for things like snow tools, outdoor furniture, or your grill.
Keep everything clean and mildew-free by properly storing things like cushions and camping gear in plastic tubs that click shut. Opt for clear versions to easily identify what's inside, or label each one so you know its contents. 
Also keep similar seasonal items stored together. Your Christmas decorations can be near your snow gear so you can pull everything out at the same time. Your summer grill can go near your camping supplies when they're out of season as well. Then you can swap and replace storage spaces with your in-season and out-of-season gear. 
Get smart with organization supplies
There is no shortage of garage organization supplies available to purchase. But before you start loading up your cart, choose wisely so you don't overspend. The best way to prioritize your organization gear is to pick your biggest pain points. Are your kids' sports gear is spread all over without a clear drop zone? Then you might want to consider a sports equipment organizer to hold all those balls, bats, and rackets. 
Once you've organized those bulky items, you can move onto smaller things that are easier to find space for in free-standing cabinets or existing shelves. 
Incorporate easy temperature controls
In order to use your garage all year long, consider adding in some temperature controls to make it comfortable throughout extreme weather. 
Beat the summer heat by bringing in two fans to create a lovely cross breeze. Paired with an open door or window, you'll feel good whether you're working out or working at your job.
In the winter, a plug-in space heater can bring in warmth. Just be sure to follow all safety and manufacturer guidance for usage, never leave it unattended, and opt for one with an automatic shutoff so you keep your garage safe. It may shut off after a few hours, or have a button that turns it off if the heater falls over. 
Final thoughts
A home garage is often overlooked in terms of how it can be used. Instead of parking the car and walking away, think about how you could better utilize the space to meet your personal needs. Whether your family seems to be spilling out of your house, or you want a private space to embark on a new hobby, the garage could be the perfect place to give you room to grow. 
© 2023 American Homes 4 Rent, LP
American Homes 4 Rent®, AMH®, AH4R®, Let Yourself In®, AMH Development®, American Residential®, and 4Residents® are registered trademarks of American Homes 4 Rent, LP. 4Rent℠, AMH Living℠, and 4Communities℠ are service marks of American Homes 4 Rent, LP.  AMH refers to one or more of American Homes 4 Rent, American Homes 4 Rent, L.P., and their subsidiaries and joint ventures. In certain states, we operate under AMH, AMH Living, or American Homes 4 Rent. Please see www.amh.com/dba to learn more.