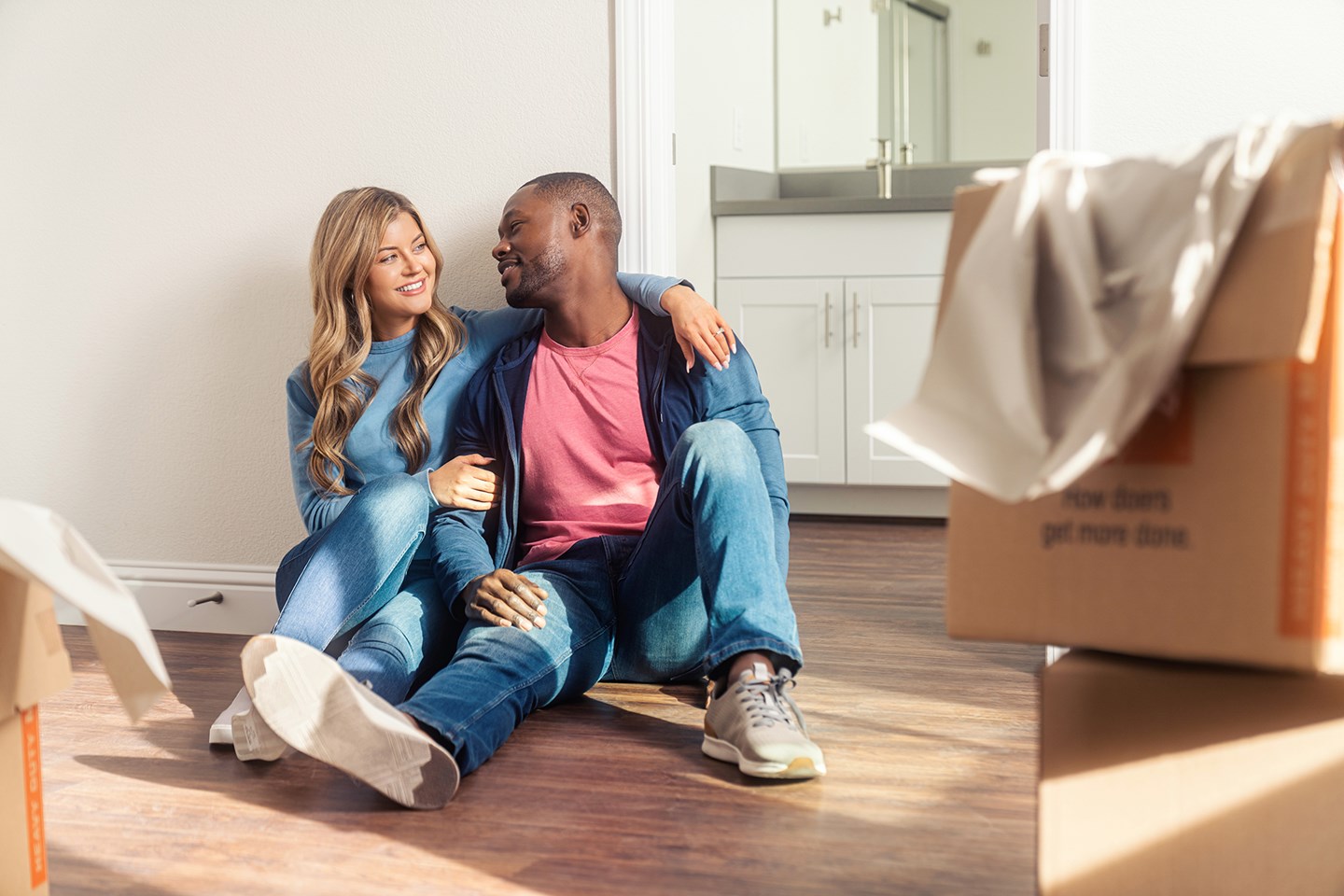 Looking back on 2022: A year in review
Posted by AMH Team
6m read time
Dec 19, 2022
This year, the housing landscape has appeared riddled with contradictions:
Home prices spiked almost 50% between January 2020 and June 2022, according to the S&P CoreLogic Case-Shiller National Home Price Index.
Supply continued to lag household formation. The U.S. is short millions of homes—estimated to be somewhere between 3.8 million and 5.5 million, depending on the source—and this is predicted to worsen in 2023.
Construction slumped, with new home starts and permits both slowing, according to the Census Bureau and the Department of Housing and Urban Administration.
Homebuying demand fell as mortgage rates climbed above 7% to 20-year highs in the fall, which cooled sentiment to new all-time lows.
Existing-home sales plummeted for 9 straight months through October, the longest streak since the National Association of Realtors began tracking this data in 1999.
Renting became cheaper than buying in most metropolitan regions, and the national rental vacancy rate has been hovering near historic-low territory.
And the most recent consumer price index report indicated that inflation was cooling, but affordability—and therefore homebuying demand—remains elusive.
In this backdrop, AMH has continued to do what it does best: provide a reliable, accessible housing alternative to residents across the country who are understandably wary of making significant financial decisions at this uncertain juncture.
As the market continues to whiplash, we've doubled down on our strategy, which has proven successful over the last decade of our business: steady supply growth and continued investment in our people.
Building better housing
While, for some, the American Dream is still rooted in home ownership, we know that there are times when that's not a desirable option for our residents, whether for economic reasons or lifestyle preferences. In those instances, we're committed to remaining a stable resource and high-quality option for the households who choose to lease instead, indefinitely or otherwise. 
That's why, despite moderating our acquisitions to remain resilient and nimble ahead of likely opportunities, we grew our overall wholly-owned portfolio this year—and now offer nearly 60,000 professionally-managed homes to households across America who are looking for peace of mind, don't want to deal with the costs of ownership, or simply want the flexibility of renting.
This growth is thanks, in great part, to consistent deliveries from our development program. In 2022 alone, we plan to deliver 2,000+ move-in ready homes in 110+ pet-friendly communities, many of which feature state-of-the-art neighborhood amenities like pools, fitness centers, playgrounds, basketball courts, and nature trails to support a better quality of life of wellness and ease.
We also purchased or optioned over 3,000 additional land lots, bolstering a robust pipeline and long runway of growth into 2023 and beyond. Unlike traditional homebuilders who rely solely on for-sale market for growth and are slowing their production as sales cool, our build-to-rent model allows us to take advantage of opportunities like favorable price movements in construction materials and labor, as well as newly available land and developed lots that are ready for vertical building. 
As we've grown, we've invested in doing so sustainably, too. We design our purpose-built homes to use approximately 50% less energy than the average U.S. home. And, this year, we expanded our pilot renewable energy program to install solar panels and energy monitoring devices at additional amenity centers and communities as well.
As we continue our sustainability journey, we were proud to be named one of 2022 America's Most Responsible Companies and 2022 America's Most Trustworthy Companies by Newsweek and Statista, a company specializing in market and consumer data. Although the pursuit of sustainability is by definition unending, we're laser focused on advancing our commitment to the environment, to corporate governance, and to social responsibility, in service of a greener and brighter future for American housing. 
Building stronger communities
Since our origins, we've believed that taking care of our customers begins with taking care of each other. This year, we've rolled out new programs and benefits to make sure that our colleagues have the tools and support they need to thrive personally and professionally. Following the launch of our Employee Stock Purchase Plan in 2021, we established a Tuition Reimbursement Program and welcomed our first Employee Resource Groups—two key investments in the financial and social well-being of the individuals who drive our mission daily.
As we continue to work to cultivate a people-first culture, we're proud to see our efforts resulting in a positive impact on our team. This year, we saw that reflected in our recognition as a 2022 Great Place To Work® and one of Fortune's 2022 Best Workplaces in Real Estate, both determined by employee feedback through a company-wide, anonymous survey administered by a third party.  
This investment in our team has yielded returns in our customers' satisfaction, too. Today, we serve approximately 200,000 residents nationwide, who continue to put their trust in us to provide an elevated, simplified rental experience. Last quarter alone, same-home average occupied days was 97%, suggesting households across the country are choosing us as a preferred housing option.
Beyond our team and our residents, we're committed to being good neighbors to our local communities as well. This year, we announced our investment in Liberty Village, a planned affordable housing development for veterans and first responders in Mooresville, North Carolina, where residents will have access to services to help them reintegrate into the community. As Liberty Village's first corporate partner, we're also working to supplement our $50,000 gift by raising a matching donation from our vendors to assist in realizing the town's vision of building a "place where our residents care for each other, especially our veterans and heroes."
But, perhaps more importantly, being good neighbors means being there when times are hard. In the wake of Hurricane Ian this fall, which devastated the Southeast, our teams on the ground mobilized to quickly repair the homes of our affected residents, and volunteered to assist with clean-up efforts and material donations to households in need through various nonprofits. Inspired by their goodwill, we donated $60,000 to the American Red Cross and other charitable organizations to support the local communities.
"While the hurricane has passed and home repairs are underway, you can never underestimate the emotional and financial toll a disaster takes on those impacted," said our Chief Executive Officer David Singelyn in a press release. "As an organization that cares about people, we are committed to rolling up our sleeves and demonstrating what it means to be a responsible corporate partner to our residents and neighbors."
Looking ahead
Our company started with one goal: to improve the experience of leasing a home. We accomplished this by offering residents a professionally-managed option that hadn't existed before. In 2017, when we established our homebuilding arm, we pioneered a new means by which to advance this goal. We started adding quality rental stock to an undersupplied housing market, through which we could better deliver on our promise to elevate home-leasing.
Today, we remain driven by the same original mission, and committed to providing solutions to the greatest challenges in America's housing landscape. As existing homeowners hold on to their inventory, homebuilding activity remains in a downward trend, and the affordability crisis prices buyers out of the market, AMH will continue to contribute much-needed supply to meet housing demand in 2023.
In doing so, we'll focus on the fundamentals we've always stood for: providing a path to access high-quality single-family homes, leading customer experience in the industry, and delivering peace of mind to our residents, employees, and investors. Our product may be real estate, but our business has always been about people—and, next year, we'll continue to work to make them feel at home, wherever they are in life.
Subscribe to our newsletter on LinkedIn for more company updates
© 2023 American Homes 4 Rent, LP
American Homes 4 Rent®, AMH®, AH4R®, Let Yourself In®, AMH Development®, American Residential®, and 4Residents® are registered trademarks of American Homes 4 Rent, LP. 4Rent℠, AMH Living℠, and 4Communities℠ are service marks of American Homes 4 Rent, LP.  AMH refers to one or more of American Homes 4 Rent, American Homes 4 Rent, L.P., and their subsidiaries and joint ventures. In certain states, we operate under AMH, AMH Living, or American Homes 4 Rent. Please see www.amh.com/dba to learn more.