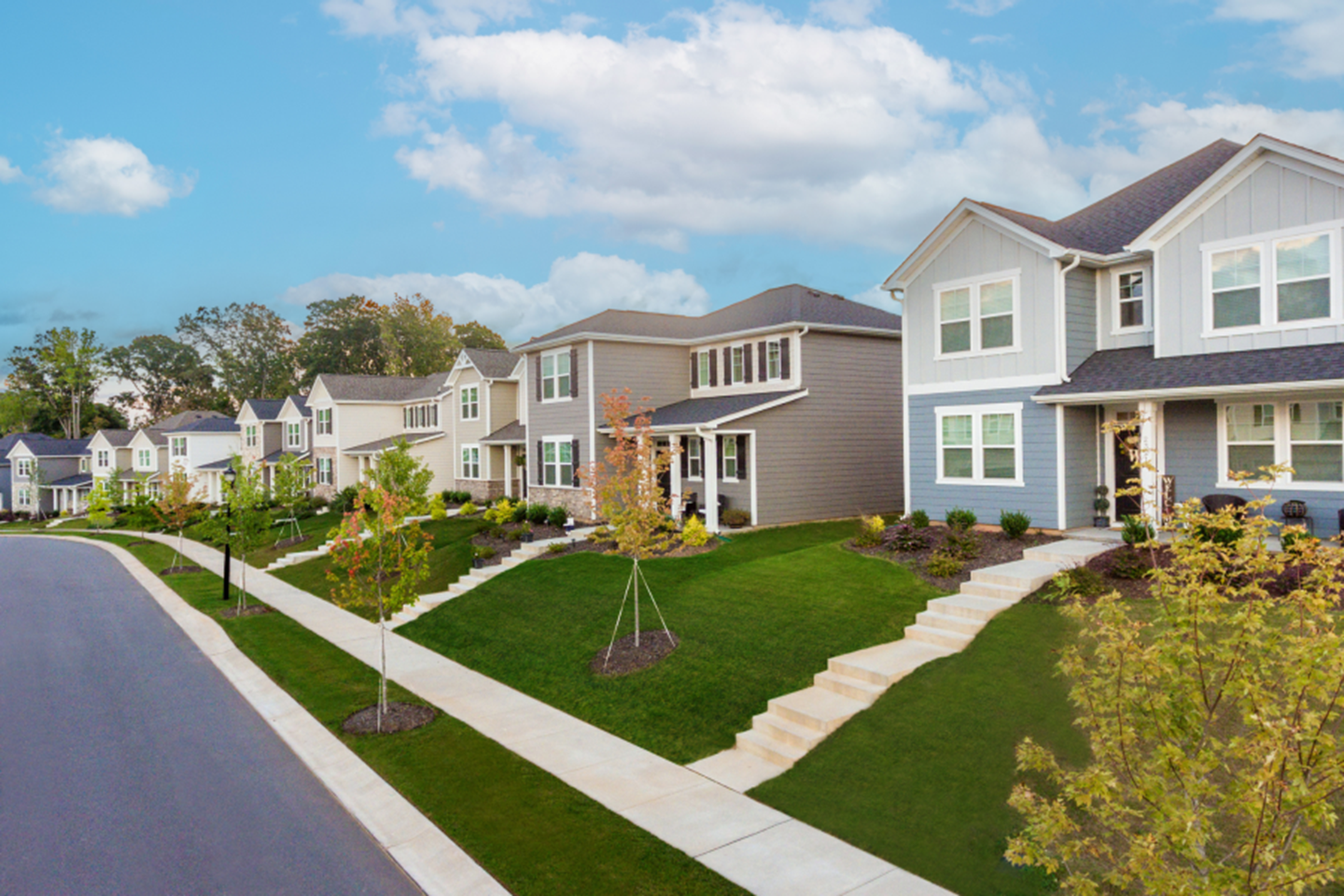 What the housing market in America needs is more homes and more options
Posted by AMH Team
6m read time
Mar 30, 2023
In 2023, it's more affordable to rent than buy a home in the U.S.
Declining home ownership affordability represents one of the main reasons why millions of people in the U.S., many of them Millennials, choose to rent instead of buy—at least until prices come down—or are planning to relocate this year.
This month, we take a look at the key drivers behind this housing trend, according to data and experts in the industry.
Mortgage rates remain high
According to the latest annual consumer expectation survey on housing released by the Federal Reserve Bank of New York, average mortgage rates are expected to reach over 8% by 2024 and nearly 9% over the next three years. As Yahoo Finance recently reported, "with a 8.2% mortgage rate and 20% down, a homebuyer would have a $2,165 monthly mortgage payment on a median-priced home of $363,000. That's over $500 more a month than if the mortgage rate was at the current 6.42%."
Home prices are still elevated
In a majority of markets, home prices ticked higher in February. According to Fortune, "the housing correction is losing steam" after declining in recent months. "U.S. house prices still look very high – so potential buyers should consider delaying their purchase for another six months with the economy's struggles likely to continue," Yale economist Robert Schiller told Business Insider this week.
Monthly costs surge upward
Bloomberg recently published that "the cost of homeownership has surged 71% over the past three years, or an average of about 20% per year, compared to average annual rent growth of 6.3% over the same period. As a result, the premium owners pay over renters is now wider than it's been since third quarter of 2006." According to their calculations, and assuming a 10% down payment and a 30-year fixed rate mortgage, that means owning a home could cost over $1,000 more a month than renting, depending on your region.
There aren't enough homes
Earlier this month, we shared a snapshot of building activity across each decade spanning back to the 1970s, which shows a dramatic dip in construction since 2010 that has resulted in a stark national housing shortage. George Ratiu, senior economist at Realtor.com, further explains that "the real estate landscape remains marked by a significant shortage of new homes in light of the past decade's growing population and sharp rebound in household formation. We need over 2 million new housing units to match the number of new households formed in the last 10 years, a noticeable gap in the market which continues to drive the price imbalance." 
Construction forecasts are temperate
Although builder sentiment has seen modest optimism this year thanks to improved lumber pricing, senior U.S. economist at Pantheon Macroeconomics Kieran Clancy projects "that a sustained recovery in housing construction is out of the question, for now. Mortgage applications nudged higher in January, but plunged by 13% in February as rates shot higher and are on course to dip again in March. This points to a drop in single-family building permits in the months ahead."
Regulatory roadblocks are stifling supply
In The Atlantic, Jerusalem Demsas explains that "a lack of supply is caused by a complex web of rules and regulations that prevent developers—profit and nonprofit alike—from building enough housing to meet demand." This topic is the focus of a recent study published by the Terner Center for Housing Innovation at the University of California, Berkeley, which concludes that, "while many factors contribute to the intersecting crises of rising unaffordability and racial and economic inequity, local housing and land use regulations and practices… are among the driving forces. Increasingly, it is clear that state action is needed to overcome local resistance to housing production and incentivize necessary shifts in policy. Regulatory tools must be designed to fit the desired supply response."
With mortgage rates, home prices, and ownership costs soaring, and construction and pro-housing regulation lagging, the current undersupply will continue to present affordability challenges into the foreseeable future. And these challenges, the housing theory of everything stipulates, "also drive inequality, climate change, low productivity growth, obesity, and even falling fertility rates."
Fewer homes near metropolitan hubs—whether for sale or rent—and less housing density often also increase car use, including related carbon emissions, traffic, and commute times, which in turn results in less physical activity and a higher likelihood of obesity. And not having access to greater living spaces, or the higher costs associated with them, may dissuade people from starting or expanding their families, according to a theory supported by a Zillow study that correlated a rise in house prices with a fall in overall births.  
That's why, at AMH, we believe that the U.S. needs not only more homes, but more homes both to own and to rent—that is, more homes and more options. In Zonda's 6th annual millennial survey, among the respondents who expressed interest in becoming homeowners at some point in the future, 53% of them answered that they're choosing to rent right now as they wait for prices to come down, and another 33% attributed their decision to rent to not being able to afford buying in a location they like. That signals strong demand for greater supply of homes, which determines availability, competition, and therefore prices.
But it also signals a demand for more options across consumer needs and wants: for the 22% who need a place to live because they haven't found the right home to purchase yet, as well as for the 21% of respondents who said they liked the flexibility of renting for now, and the 20% who don't want to invest in a down payment, and are building equity through other investments. Greater supply and choices, in short, means more affordability and equitable access to housing for everyone.  
To this end, over five years ago, we decided to become part of the solution and start building houses ourselves through our in-house Development program. Since then, we've already delivered more than 7,200 homes for rent in 130 communities located where people most want to live, with more under development. Through our professionally managed homes, we strive to make a positive difference in the housing landscape by meeting residents where they are: whether they're seeking a more flexible lifestyle, greater affordability as prices stabilize, a high-quality alternative as they save for a down payment, or simply the convenience of customer and maintenance support.
There's no easy or fast solution to America's housing problem, but we've always worked to advance more options to better serve an undersupplied market—and, now, the unique needs of a new generation of residents.         
Subscribe to our newsletter on LinkedIn for more updates
Learn more about how AMH is contributing solutions to America's housing crisis by building thousands of new homes and providing households a sensible alternative to access single-family living:
© 2023 American Homes 4 Rent, LP
American Homes 4 Rent®, AMH®, AH4R®, Let Yourself In®, AMH Development®, American Residential®, and 4Residents® are registered trademarks of American Homes 4 Rent, LP. 4Rent℠, AMH Living℠, and 4Communities℠ are service marks of American Homes 4 Rent, LP.  AMH refers to one or more of American Homes 4 Rent, American Homes 4 Rent, L.P., and their subsidiaries and joint ventures. In certain states, we operate under AMH, AMH Living, or American Homes 4 Rent. Please see www.amh.com/dba to learn more.