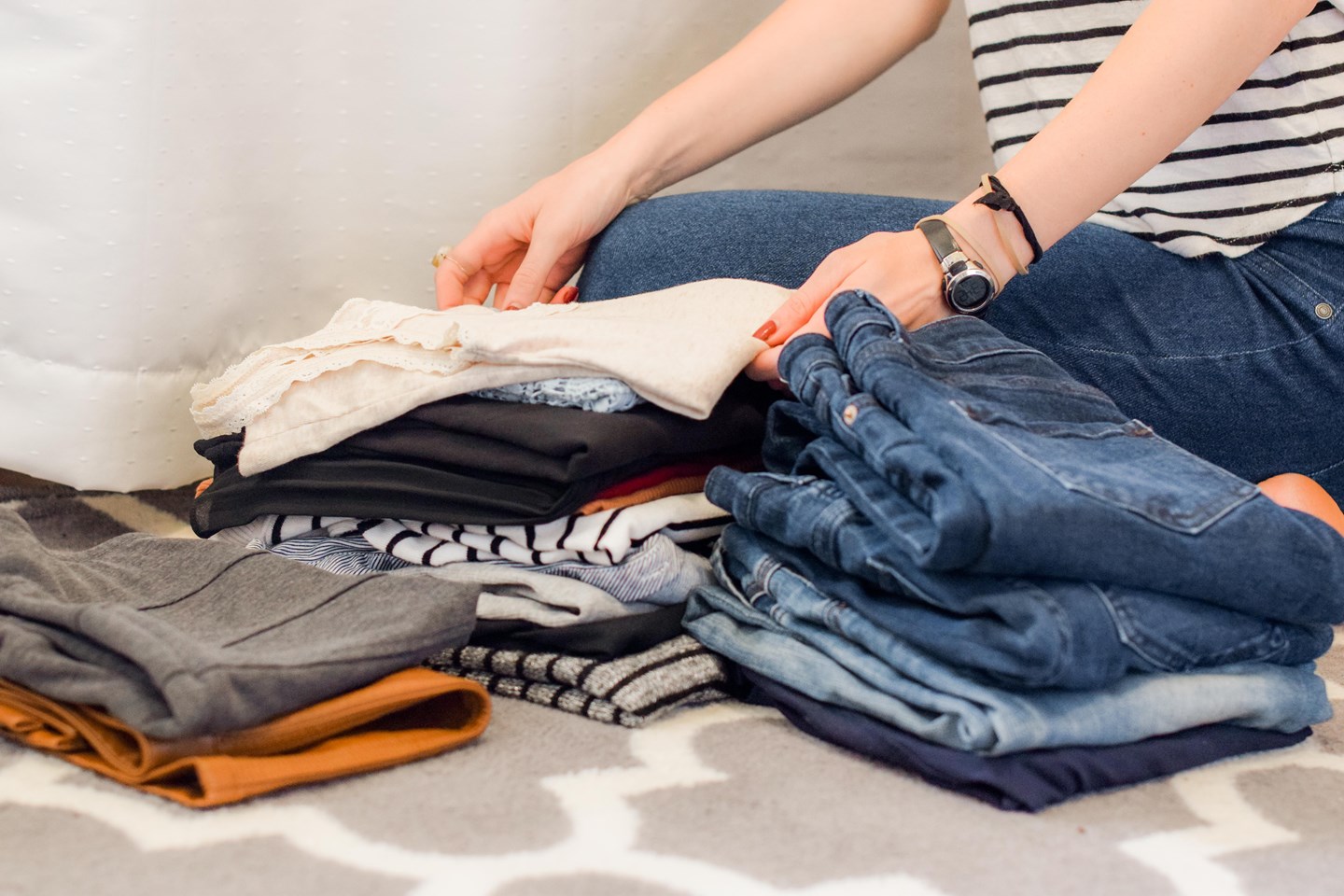 What to do with old clothing at home
Posted by AMH Team
6m read time
Oct 20, 2023
Do you have a closet overflowing with stuff you don't wear? As you decide on the outfit for the day, several items remain on hangers or neatly folded on a shelf, never making it past the closet door.
The good news is that you're not alone. Personal styling service Trunk Club conducted a survey that discovered 28% of items in people's closets have gone unused for more than a year or have never been worn at all.
Unfortunately, all of that excess clothing builds up. The United States Environmental Protection Agency (EPA) estimates that Americans generate about 17 million tons of textile waste annually.  
To help combat this issue, try to limit the amount of clothing you buy. When shopping, visit secondhand stores or look for "recycled content" products.
In the meantime, you've still got to figure out what to do with old clothing.
What to do with old clothing: 5 options
You may find clothes with some wear and tear as you go through your closet. Maybe there's a hole in a shirt or pants that don't zip well anymore. Or perhaps you're looking to downsize your wardrobe, removing items you don't wear but might still be in good condition.
Whether you're just looking to get rid of an item or two or have entire bags full of clothes you'd like out of the house, these methods will help.
One thing to note: Be careful of designs with sequins, sparkles, glitter, or other complex embroideries. These additions can make clothes harder to recycle or repurpose, as they can rub off on other clothing in a bag or potentially clog up a sorting machine.
Now, what to do with old clothing around the home?  
Donate old clothing 
There are ample thrift shops throughout the country, such as Goodwill, Buffalo Exchange, and The Salvation Army. How to donate clothing to them may vary slightly, but typically, you'll put your clothes into a bag or bin and bring them to a drop-off location or the store. Some locations also collect oversized items, such as a washer and dryer, and will take bags of donated clothing in the same pickup. 
While these organizations have an impressive national presence, consider donating to local stores that may only have a singular location. These shops often don't receive the same volume of donations and can more quickly repurpose your items. Plus, you can support a clothing loop by buying secondhand from them, supporting a local business in the process.
You might also wonder what to do with old clothes that cannot be donated. Thrift shops can't take clothes with mildew, so if you've got an old shirt that smells, it's best to throw it out. It'll end up in a landfill anyway; by taking care of it yourself, you're reducing the risk of the item affecting the other clothes you're trying to donate.
Donating items is a great route in many cases. However, if your clothes are still in decent condition, reselling or recycling them could be worthwhile. 
Resell clothing on marketplaces
There's no shortage of online marketplaces for buying and selling used clothes. Poshmark, Depop, and thredUP are popular avenues for listing any items you'd like to part with. You can also consider selling items on marketplaces that cater to more than just clothing, like eBay, Mercari, and Facebook Marketplace.
Remember, you're trying to highlight the appeal of these items. Take quality photos of the clothing, ideally with natural lighting, and clearly list everything someone would want to know about the item. Some marketplaces have parameters to fill in to ensure you're not missing any critical details. 
Listing individual items will likely increase the chances of selling, though you can offer several things at once. If you're feeling creative, you can even do a bundle of clothing and non-clothing items — maybe someone needs a new pair of pants and a bicycle.
Each marketplace has its own rules for selling and what it will accept. You can use a bubble mailer or a smaller recyclable bag for single items. If you're sending several pieces, it may require a box, increasing your shipping costs.
Though you may be able to sell some of your clothing, certain items likely won't make the cut. In those situations, turn to recycling or repurposing those clothes.
Recycle certain textiles
According to Secondary Materials and Recycled Textiles (SMART), up to 85% of clothing and textiles end up in a landfill, even though about 95% can be reused in some way. 
Getting rid of old clothes via recycling is easy to do. Your city may have a textile recycling program. Simply search online for "clothing municipal donation bin near me" and see your local results. Additionally, some neighborhoods offer clothing collection boxes or donation bins where you can drop off old clothing, and many thrift stores will take recyclable clothing.
Several companies also offer recycling programs for old clothing. Some are broader and serve a wide range of items, like Freecycle or Trash Nothing, while others are more specific, such as B.R.A. (The Bra Recycling Agency). In most cases, you can fill a postage-paid bag and ship your clothes to the company, which will handle things from there. Sometimes, the bags are extra stylish, like For Days' Take-Back Bag. 
Different programs restrict what can be recycled, but chances are you've got several items that qualify. If you're ever in doubt, reach out to a program to ensure you're only sending them things they can use, whether for reselling or downcycling into things like insulation or padding. 
Upcycle or repurpose clothes for home chores and activities
While you can send your clothes off to a recycling company to be reused, it might be even more fun to keep those items around the house and repurpose them yourself, giving them a second life beyond clothing.
Using old underwear or socks for rags or dust cloths is a common move. If you're questioning what to do with old cloth masks, turning them into cleaning vessels works great. However, clothing can serve other purposes, especially with DIY projects. 
For example, do you have an old pair of shoes or boots you don't wear anymore? Turn them into planters to add some plants to your home (these ten plants are perfect choices to brighten up any room).  
There's really no limit to your creativity. You can turn old sweaters or t-shirts into tote bags. If you've got a handful of items, grab a pair of scissors and upcycle them into quilts or scrunchies. How cool would it be to highlight different places you've visited by turning old souvenir shirts into a stylish quilt? 
Use old clothing for your pets
We're often looking at ways to be better pet owners. One way to do that is to share your wardrobe with your pet. 
Your old clothing and other unused items can benefit your pets. Here are a few things they may enjoy:
Cut off old pant legs and turn them into pet pillows by stuffing them with other clothes (be sure to clean them first!) or fillings. Sew the other end to complete the pillow.
Use worn shirts and towels to dry pets after giving them a bath. These items also work for drying cars and tables.
Instead of wondering what to do with old baby clothes, you can fashion them into stylish bandanas or booties for your dogs to wear.
Go beyond clothing, too. Old mattress pads and blankets are perfect for lining a bed or crate.
Don't worry any longer about what to do with old clothing. Now that you know how to donate clothes, ways to recycle them, and fun repurposing options, you can turn worn or unwanted items into something greater. Now, enjoy all that extra closet space! 
© 2023 American Homes 4 Rent, LP
American Homes 4 Rent®, AMH®, AH4R®, Let Yourself In®, AMH Development®, American Residential®, and 4Residents® are registered trademarks of American Homes 4 Rent, LP. 4Rent℠, AMH Living℠, and 4Communities℠ are service marks of American Homes 4 Rent, LP.  AMH refers to one or more of American Homes 4 Rent, American Homes 4 Rent, L.P., and their subsidiaries and joint ventures. In certain states, we operate under AMH, AMH Living, or American Homes 4 Rent. Please see www.amh.com/dba to learn more.