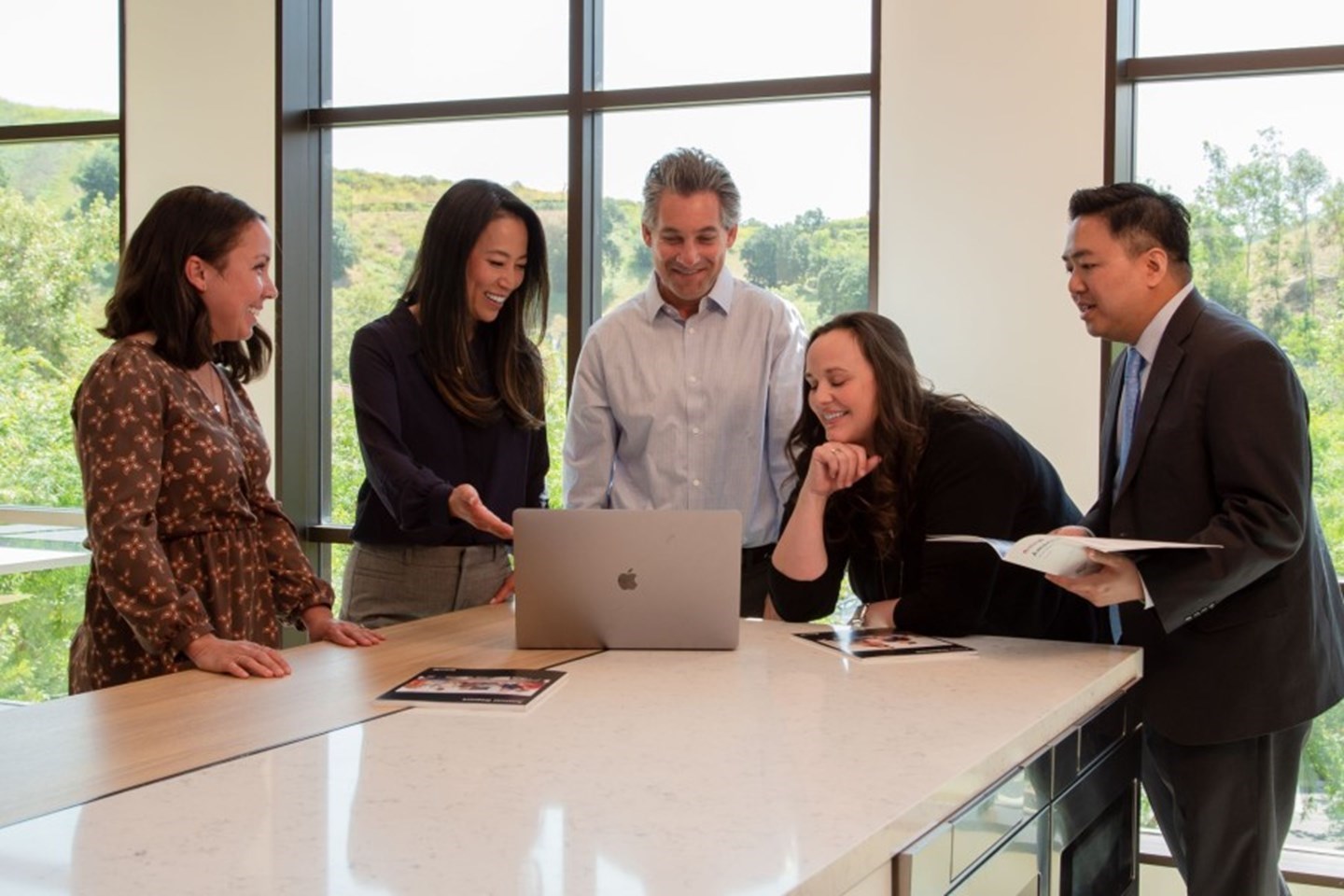 Developing the next generation of leaders in housing
Posted by AMH Team
8m read time
Sep 25, 2023
As a housing provider, we know people rely on us to feel peace of mind in their home. That means we take our responsibility to serve our customers seriously. Our core company values reflect this: we hold ourselves accountable, we care about people, and we make things simple.
The daily stewards of these values are our team members, comprising experts across a variety of business functions, who ensure that AMH provides equitable access to housing and delivers high-quality products and services to the thousands of residents who make their home with us. 
To help us continue to uphold these fundamental commitments as we grow our business, we invest in hiring and training our team with intentionality.
We work to develop ethical leaders who can maintain the trust of our stakeholders, and continue to lead the housing sector into the future responsibly.
That's why we've created a robust leadership development program, designed to support ongoing, people-centric learning for participants at all stages of their growth journey.
Our objective is to equip these existing and future leaders with the skills necessary to navigate a complex business environment with integrity and confidence, helping them and their teams meet the challenges and opportunities of tomorrow.
To accomplish this, we provide participants a strong foundation in leadership concepts, emotional intelligence, communication, and the ability to generate trust and results in an inclusive workplace.
Defining leadership at AMH
The difference between leaders and managers has long been debated, and some have argued that one person cannot be both.
But we believe that, with the right tools and training, professionals have the potential to develop the two skillsets simultaneously, and use them flexibly throughout their career.
The same individual can at times lead with vision and provide strategic direction, and at other times focus on execution and "sweat the details" in day-to-day management.
An organization that trains professionals to balance both skillsets is better positioned to fluidly integrate and cascade strategy throughout its management levels, ensuring leaders at the top are tuned in to operational nuances and managers in the middle are executing with insight into the highest purpose of their role.
With this in mind, we've designed our leadership development program to reinforce agility and situational adaptability at every step of the way.    
Developing impactful leaders
At AMH, the Leadership Journey represents a dynamic collection of learning experiences in which participants, both current and aspiring leaders, are provided access to tools and resources tailored to their development stage.  
The journey is currently organized in four milestones focusing on unique skillsets and mindsets that build upon each other: Personal Leadership, Team Leadership, Impact Leadership, and Servant Leadership. 
While we encourage participants to travel through the entire journey, they also have the option to begin their Leadership Journey at any milestone, depending on the needs of that individual, their team, and the business overall.
As with all growth, the path begins with self-awareness and introspection. That's why, during the initial milestone of our program, participants learn how to lead themselves first.
That means becoming proactive self-starters who hold themselves accountable for executing initiatives, overcoming constraints, mastering goal-setting, building trust with senior leaders, and generating solutions.
From there, the journey moves into developing layers of compounding skills that help leaders build, shape, and guide teams with increasing sophistication.
During the second milestone, for example, participants learn how to communicate with clarity, diagnose barriers and manage conflict, and apply the appropriate leadership style in order to sustain a resilient, results-driven team.
As the journey moves into more advanced leadership concepts, the third milestone focuses on developing leaders of other leaders.
By developing an infinite mindset and honing emotional intelligence tools, participants learn to move beyond day-to-day, reactionary thinking and focus instead on process excellence, which is essential to large-scale project and change management. 
Finally, in the fourth milestone, leaders learn to develop the power of influence.
Participants are equipped with skills to identify and leverage others' motivations, and inspire trust and commitment, enabling them to build high-performing teams, reinforce a strong service culture, and execute enterprise-level strategies in a complex business environment.
"We've thoughtfully designed this voluntary program to accompany and empower our team members throughout all stages of their formation. We work to shape well-rounded professionals with a 360-degree perspective of leadership that is always anchored in accountability, integrity, and effectiveness," explains Lisa Phelps, SVP of Human Resources.
"But we're also mindful of the value of what makes each leader unique. That's why we support participants in developing their own authentic leadership style during this process, which they can continue to strengthen throughout their career."
Developing inclusive leaders
In recent years, the role of belonging in the workplace has taken center stage. Beyond representation, belonging refers to the emotional outcome—the feeling of being part of something and mattering to others—achieved through intentional inclusion.
In 2019, the Harvard Business Review heralded an epidemic of workplace exclusion whereby employees increasingly report feeling isolated, marginalized, and not accepted or recognized, noting: "Even the most effective recruiting strategy for diversity won't lead to long-term change if new talent isn't supported to succeed."
Since then, social unrest, political divisions, an unprecedented health pandemic, the Great Resignation, and "quiet quitting" have exacerbated this trend and underscored the need to focus more attention on community-building at work.
At our organization, we responded by employing in-house specialists in diversity, equity, and inclusion to help us develop and implement a custom training program to promote these values and a culture of belonging.
To ensure its integration and success, all AMH team members across all management levels since 2020 are required to participate in our Valuing Differences program.
"In our Valuing Differences series, our team members are offered a conversational forum where they can bring their authentic selves, share their formative experiences if and when comfortable, and hear the perspectives of others," says CJ Rodriguez, Leadership Development Advisor.
"This open dialogue strengthens our ability to generate understanding and empathy, and clear our bias lens. Being able to tell our story, and being willing to receive the story of others, personally or professionally, surfaces new ways to connect. Storytelling enables us to relate to others and establish commonalities, even with differences."
During the first module called Roots, which focuses on awareness, participants learn about and discuss the wide range of differences we might encounter in the workplace: visible and invisible traits that we may not even be conscious of in our bias. The second module, called Perspectives, focuses on tools for effective communication.
Both are designed to enhance our ability to respectfully interact with those around us who might hold different perspectives, and strengthen working relationships with colleagues, direct reports, vendors, senior leaders, and residents.
"We first want to expose participants to how vast and wide-ranging our differences can be, establishing a baseline for understanding and acceptance," says Brian O'Neill, Leadership Development Advisor.
"Then, we provide specific how-to's on recognizing our personal biases, identifying their influence of bias on our communication styles and practices, and promoting or avoiding specific behaviors to promote deeper connection in our conversations. The goal throughout is to empower team members with self-awareness and usable techniques to better demonstrate empathy and allyship across the company."
Following the success of the first two modules, AMH recently launched a third session called Inclusion, designed to further foster an inclusive mindset and offer practical strategies to stimulate curiosity about diverse experiences.
The workshop introduces four progressive stages of an inclusionary mindset—unaware, aware, active, and advocate—and highlights the perspectives and risks associated with each stage, empowering us to take meaningful action.
Throughout the Valuing Differences series, participants learn about the policies and initiatives developed by AMH to promote fairness and equity, specific steps to implement inclusive behaviors, and ways to translate all of these insights into tools to become more inclusive leaders.
Developing human leaders
Leaders today are tasked with managing more diverse teams, spanning multiple locations in a
variety of environments and across a range of communication channels.
This means that, more than ever, they need "human skills" that empower them to lead effectively in the modern, rapidly changing workplace.
That's why, in addition to leadership, inclusivity, and role- or trade-specific skills training, AMH also offers courses to support the development of key tools and techniques that anchor leaders and their teams through change: self-awareness, empathy, resilience, and authenticity.
Through specialized workshops such as the DISC Foundations and Maxwell DISC Method, TACT Communication Essentials, Customer Connections, and The Trust Lab, participants exercise and deepen their ability to relate to others by learning how to better communicate, collaborate, negotiate, built trust, and integrate a service mindset.
And, through our in-house executive coaching program, our Leadership Development Advisors also conduct one-on-one sessions to provide leaders with additional resources and support to nurture strong relationships and tackle complex business challenges, tailoring coaching sessions to each leader's position, scope, and scale of influence.
Throughout these customized offerings, we design with the following principles:
We curate activities that are relevant to the business and relatable to our teams.
We deliver adaptable solutions that can be personalized to meet evolving needs.
We offer versatile training methods that are inclusive of diverse learning styles.
We pace courses so participants can gain knowledge while continuing to focus on their work.
We partner on implementation strategies to integrate learnings into everyday work.
These guideposts help ensure our leadership development program adds real, tangible value to our people and business, by aligning the specific needs and interests of our organization, team, and customers.
Leading the industry responsibly
We recognize that maintaining our leadership in the industry is dependent on developing a team of present and future leaders who can carry the torch of our vision and values into tomorrow.
In a sense, the greater learnings we're working to impart on our already exceptional talent are those that made us successful in the first place, and earned us the trust of those who rely on us today.
These skillsets have proven essential in navigating the complexities and expectations of the multiple stakeholder groups—team members, residents, shareholders, partners, and communities—to which a large publicly traded housing provider like AMH is accountable.
"Developing strong leaders is the best investment a business can make. Since launching, we've seen improved team morale, better talent retention, and greater organizational success," says Phelps.
"But talent development is not just about future-proofing. It's more aspirational than that. We're training our workforce to lead the industry responsibly, and giving them the tools to create a better future for housing for all."
© 2023 American Homes 4 Rent, LP
American Homes 4 Rent®, AMH®, AH4R®, Let Yourself In®, AMH Development®, American Residential®, and 4Residents® are registered trademarks of American Homes 4 Rent, LP. 4Rent℠, AMH Living℠, and 4Communities℠ are service marks of American Homes 4 Rent, LP.  AMH refers to one or more of American Homes 4 Rent, American Homes 4 Rent, L.P., and their subsidiaries and joint ventures. In certain states, we operate under AMH, AMH Living, or American Homes 4 Rent. Please see www.amh.com/dba to learn more.