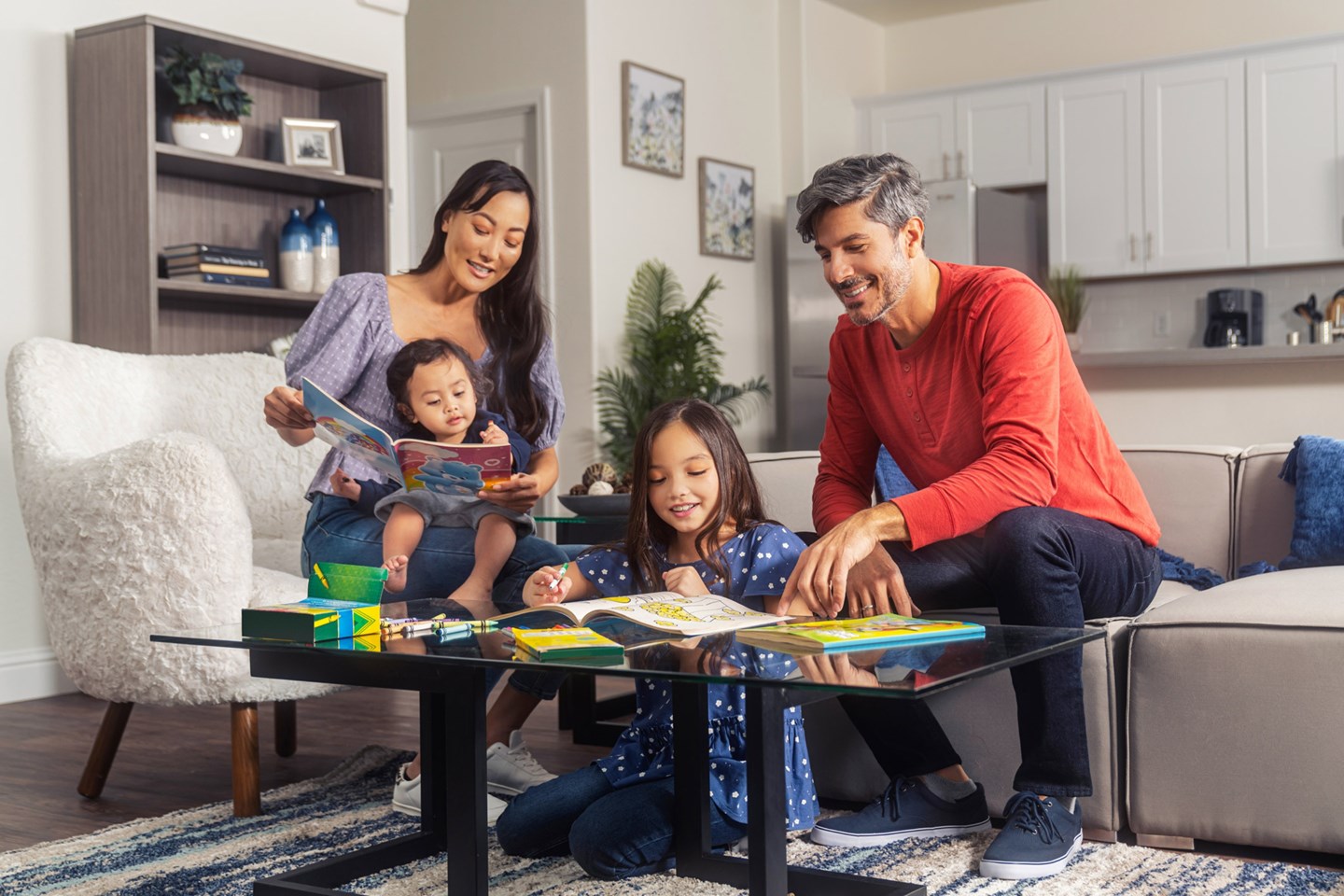 Category
Perspectives
Lifestyle
Living in 3 of the happiest U.S. states
Posted by AMH Team
5m read time
Oct 26, 2023
We all experience ups and downs from time to time, but where you live has been shown to play a major role in your overall mental, emotional, and physical well-being.
Throughout the country, certain locations rise to the top as the happiest U.S. states. 
WalletHub recently documented those ideal places in its annual list of the happiest states in America.
So what makes these states so special?
The study explores dozens of key metrics like income growth and unemployment rate, average leisure time spent per day, and the share of residents who feel productive, in order to determine happiness by state. 
Learn about three of the top 10 happiest states, where AMH offers homes to rent:
Utah: The happiest state in America
Utah is the happiest state in America by a wide margin. It ranks number one in both work and community environments and is high in emotional and physical well-being.
If you're a fan of participating in new things, Utah has you covered. It's the top state for volunteering, a direct result of having the fewest average work hours during the day. W
ith a high sports participation rate, you can exercise and stay fit with several options or catch a thrilling Utah Jazz or Real Salt Lake game.
Utah is home to five national parks and an additional 11 national monuments, historic sites, and recreation areas. No matter where you are in the state, you're not too far from gorgeous scenery and hikes in places such as Zion National Park, Angels Landing, or Pioneer Park.
Prefer your experiences to be indoors? The Utah State Capitol building and the Natural History Museum of Utah are impressive buildings with rich history and culture inside. 
View this post on Instagram
Check out available AMH homes for rent in Utah.
Florida: Home to the happiest place on Earth
Florida is ranked second highest on this list in emotional and physical well-being. And for good reason: there's plenty to do across the Sunshine State.
Orlando is the home of Disney World, the happiest place on Earth. Visitors and residents have a host of theme parks to choose from, including Animal Kingdom Theme Park, Disney's Hollywood Studios, EPCOT, or Magic Kingdom Park. 
Neighboring Universal Orlando provides more thrill rides with immersive lands and a peek at some of your favorite movies. Busch Gardens in Tampa Bay is another strong option, with the Adventure Island water park just across the street.
The Catty Shack Ranch Wildlife Sanctuary, Jacksonville Zoo and Gardens, and the Florida Aquarium are all destinations for families and animal lovers. Florida is home to several markets and shopping centers, and residents have plenty of museums and water activities to check out.
Central Florida is a great place for sports fans, too. The Orlando Magic have a rising team, while the Tampa Bay Rays are routinely among the MLB's best squads. In the NFL, the Jacksonville Jaguars and Tampa Bay Buccaneers have provided some of the league's most thrilling moments in recent years, from wild comebacks to Super Bowl victories. The state also has several beautiful golf courses, so you can keep your swing sharp.
And, in Florida, you're never too far from the beach. Sometimes, a little rest and relaxation under the sun is just the boost of happiness you need.
View this post on Instagram
Explore available AMH homes for rent in Florida.
Idaho: One of the happiest states in America for communities
Idaho ranks number two on the list in terms of community and environment, and has one of the better work environments in the country, too. It's among the top five states in income growth and has one of the lowest long-term unemployment rates in the country.
That's thanks to an influx of tech companies making their home in the state, such as Meta and Micron Technology. Idaho has one of the most favorable business regulations in the United States. Combined with a high quality of life outside of work, it's no wonder Idaho is becoming a hot destination for people to live, work, and play in.
For those who love the outdoors, Boise offers abundant natural beauty. The Idaho Botanical Garden features more than a dozen specialty gardens with unique themes. Bogus Basin provides over 2,600 acres of skiing in the winter and turns into a popular hiking and mountain biking area in warmer weather. The Boise Greenbelt is another marvelous spot for hiking in Idaho, serving as a gorgeous view of the state's biggest city while connecting several landmarks across the area.
The state also has several links to important cultural and historical moments. The Anne Frank Human Rights Memorial is a humbling monument, and the Idaho State Museum explores the journey of Native Americans and gold miners within the state. A trip to Boise Art Glass highlights some of the unique artwork in the area — and you'll leave with a souvenir for your home. Not a bad decor addition! 
View this post on Instagram
View available AMH homes for rent in Idaho.
Living in the happiest U.S. states isn't a fantasy
Even though some companies are requiring a return to the office, many are sticking with a remote working model. That opens up options for living anywhere in the country. A different environment can be invigorating, introducing you to new people and experiences.
AMH has already delivered over 8,000 homes in more than 130 communities nationwide, with thousands of units more in development. Browse through our listings to find your new home in the country's happiest states here!
© 2023 American Homes 4 Rent, LP
American Homes 4 Rent®, AMH®, AH4R®, Let Yourself In®, AMH Development®, American Residential®, and 4Residents® are registered trademarks of American Homes 4 Rent, LP. 4Rent℠, AMH Living℠, and 4Communities℠ are service marks of American Homes 4 Rent, LP.  AMH refers to one or more of American Homes 4 Rent, American Homes 4 Rent, L.P., and their subsidiaries and joint ventures. In certain states, we operate under AMH, AMH Living, or American Homes 4 Rent. Please see www.amh.com/dba to learn more.