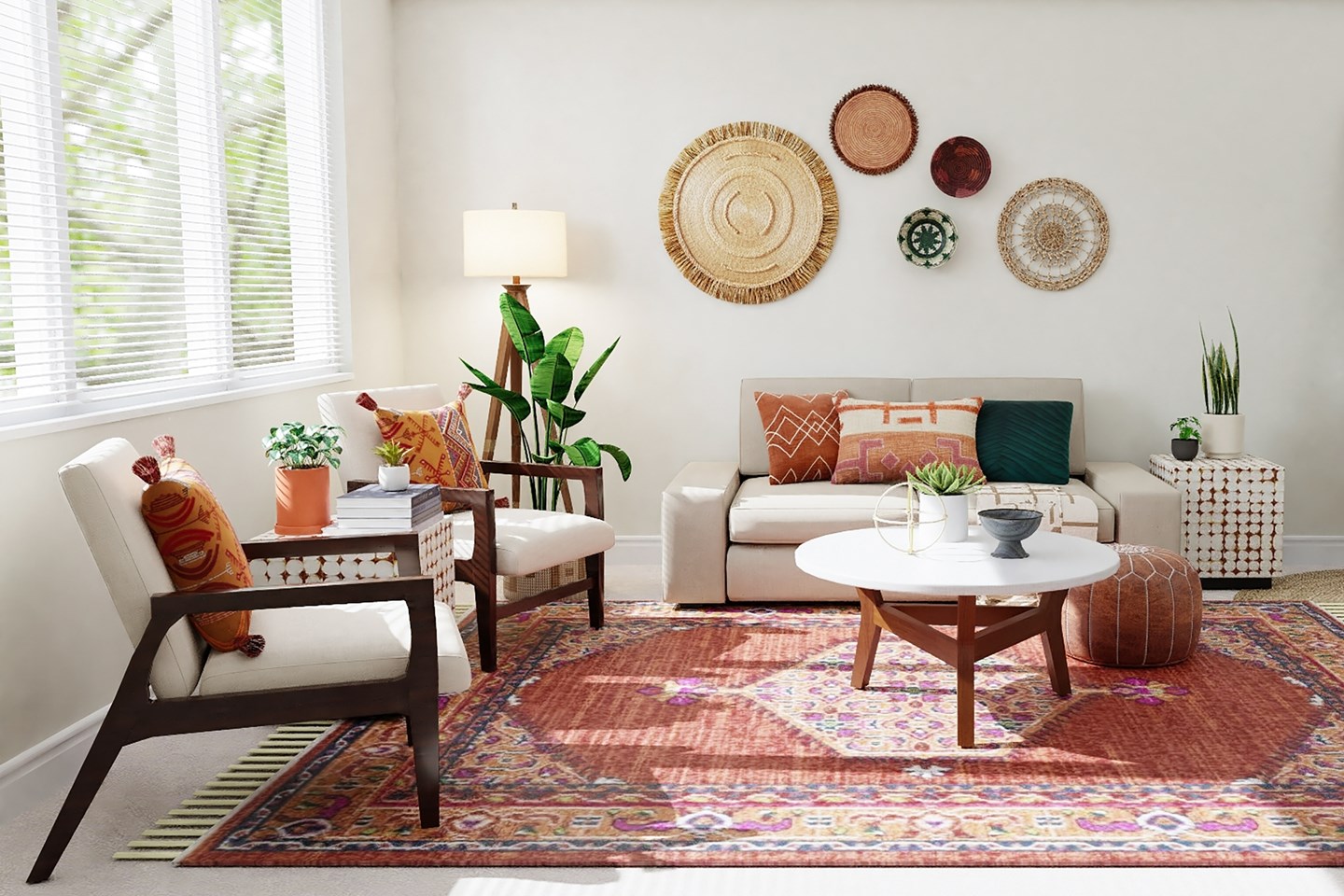 The 7 hottest summer 2023 decor trends
Posted by AMH Team
6m read time
Jun 23, 2023
Summer is here! We've got all the classics in store: hot weather, trips to the pool, and backyard gatherings. But summer 2023 also brings several new decor and interior design ideas to take your home to new heights. We searched Etsy, Pinterest, TikTok, Instagram, and other sites to discover seven of the hottest decor trends for summer 2023.
Mermaidcore
The 2023 edition of The Little Mermaid cost $250 million but has earned nearly half a billion dollars at the global box office. As teasers for the movie started coming out, mermaid-style became a popular beauty and clothing trend.
Now that the movie is out in the ocean… er, the world, mermaidcore is continuing its impressive year by moving from fashion to interior design.
Per Etsy, mermaidcore is "a younger, more whimsical aesthetic that is all about infusing interiors with an ethereal dream-like quality while embracing shells, pearls, seaglass, iridescent accents and under-the-sea-inspired motifs, like scalloped edges and bubbles."
Don't worry about holding your breath under the sea—though you may take your guests' breath away with some mermaidcore charm.  
How to incorporate it into your home: Items like candle holders, tablecloths, placemats, and napkins can all take on sea-colored blue and green hues. And if you have a green thumb, a conch shell planter is a beautiful way to combine land and sea.
View this post on Instagram
Vintage patterns
While certain generations tend to gravitate toward particular designs, we're seeing a shared bonding moment among younger Millennials and Gen Z shoppers. They're both throwing it back to Gen X and Boomer eras with a whole lot of nostalgia.
Notably, floral patterns are the most searched-for designs. They provide a nice balance between solid minimalist colors and clashing design schemes, boosting any contemporary space.
How to incorporate it into your home: Go wild with the embroidery. Floral pillows, comforters, and tablecloths all offer a beautiful vintage look. Toile art prints, napkins, and non-adhesive drawer liners add subtle flair to any room, table, drawer, or cabinet.  
View this post on Instagram
Eye-catching rugs
A rug can brighten any room, whether you have luxury vinyl flooring or another surface. Rugs help with avoiding scuffs and scratches from moving chairs or tables around on a bare floor. Pet owners will also attest that it's at least three times cuter watching their animals roll around on a carpet.
Rugs with intricate designs or big bursts of color have been the most popular searches on Etsy. Searches for handwoven rugs have gone up by 400% this season, while custom, colorful, and wavy rugs have also seen increased search volume.  
How to incorporate it into your home: Finding a rug is a bit like test-driving a car. You want it to look good, but it should also be practical for your needs. Measure the dimensions of where you'll place a rug and consider its use. Are you using it simply for aesthetic purposes? Is it going underneath a table or sofa? What kind of foot traffic will it get? When you can envision how the rug will work, the next step is finding the perfect choice.
Dopamine decor
It's hard to navigate through TikTok without running into dopamine decor. The idea is to surround yourself with things that give you dopamine and create joyful emotions.
What that looks like differs for everyone, so you'll see a lot of variety across dopamine decor. And since specific colors are scientifically proven to spark certain emotions, you can tailor your decor to how you'd like to feel. For example, yellow is a color of warmth and energy, while blue is a bit more calming and relaxed. 
How to incorporate it into your home: What makes you happy? That's a great place to start. Maybe it's a vintage arcade machine or a gaudy couch. It could be colorful portable drawers or a collection of quirky mugs. Like Sheryl Crow once said, "If it makes you happy, it can't be that bad." She might not have been talking about home decor, but the lesson still applies.
View this post on Instagram
Vinyl wrap
Much like vintage patterns, vinyl wrap is a nod to the past. Though it's primarily used for cars, people are starting to spruce up their homes with it, too.
Whereas painting walls or furniture can leave behind messes—there's always at least one paint stain that simply won't disappear—vinyl wrap is easy to clean up. Because it's so simple to install and remove, you can be extra ambitious and have a different color scheme every month.
How to incorporate it into your home: While vinyl wrapping your walls is an obvious choice, use wraps anywhere you want to refresh your space. Try it out on your kitchen counter or dining room table for a new flavor of color, or wrap bookshelves and desks to create a vibrant working area.  
Slow living
One of the most iconic quotes from the film Ferris Bueller's Day Off is, "Life moves pretty fast. If you don't stop and look around once in a while, you could miss it."
That's the thinking behind the #slowliving concept that's taken over TikTok as one of the latest home decor trends. Slow living borrows from the Danish mantra of "hygge," which means building a warm and welcoming atmosphere so you can enjoy the good things in life with those you care about. Put down the phone, disconnect from the Internet, and start living in the moment.
How to incorporate it into your home: Slow living emphasizes lighting and nature. Try to create relaxing spaces in rooms with lots of natural light, and include cozy artificial lighting throughout the house. Houseplants also boost your mood and mental health while adding natural beauty. Upcycling furniture and accessories, from chairs and tables to egg crates, is another way to introduce slow living into your space.
View this post on Instagram
Front porch flair
The summer means spending more time outside. As neighbors walk by the home or you invite friends and family over for a BBQ, your front porch is the first thing they'll see. How do you want them to react to it?
Your front porch is an excellent opportunity to showcase your personality with some pizazz and fun decorations. Or go more practical with a bamboo storage basket or lawn chairs. While you're at it, take the time to clean up your lawn if it needs a little TLC. 
As always, just check your local HOA rules and regulations to make sure you stay in compliance with your neighborhood's guidance on any outdoor displays.
How to incorporate it into your home: You don't need to overhaul anything to make your front porch shine. It's the perfect spot for a quirky welcome mat or a "greeter" like a lawn gnome, porcelain animal, or inflatable. Depending on the space, you could even add a compost bed or long garden planters, then share the fruits (or veggies) of your labor with your neighbors.
View this post on Instagram
These summer 2023 decor trends will keep you cool all summer long and into the fall. They're a great way to infuse your personality into your home and create a unique environment for you, your family, and your visitors.
Want even more decor inspiration? Check out these interior decorators and designers to follow.
© 2023 American Homes 4 Rent, LP
American Homes 4 Rent®, AMH®, AH4R®, Let Yourself In®, AMH Development®, American Residential®, and 4Residents® are registered trademarks of American Homes 4 Rent, LP. 4Rent℠, AMH Living℠, and 4Communities℠ are service marks of American Homes 4 Rent, LP.  AMH refers to one or more of American Homes 4 Rent, American Homes 4 Rent, L.P., and their subsidiaries and joint ventures. In certain states, we operate under AMH, AMH Living, or American Homes 4 Rent. Please see www.amh.com/dba to learn more.