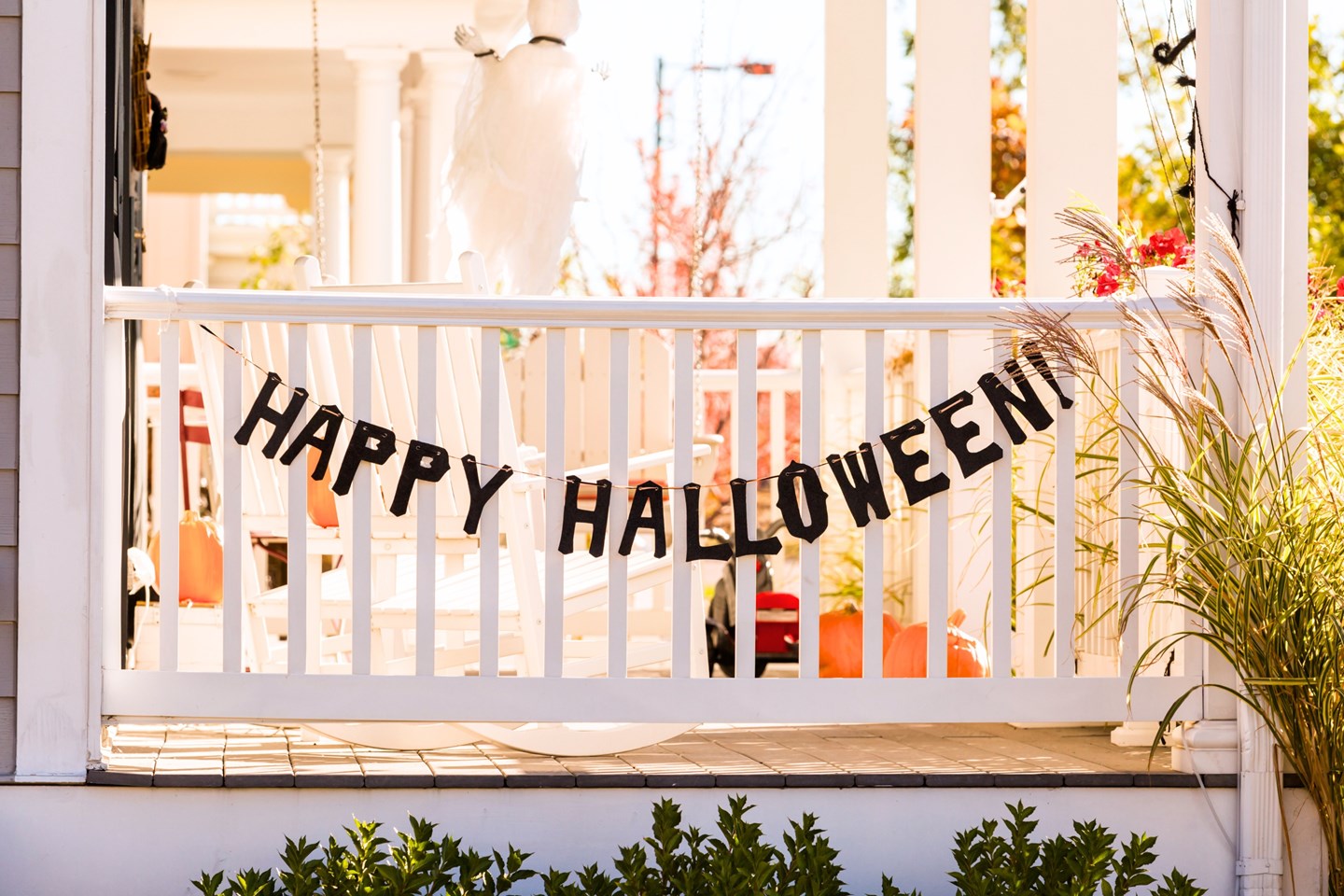 The best places to live if you love Halloween
Posted by AMH Team
6m read time
Oct 26, 2023
When it comes to Halloween cities, Salem, MA, and Sleepy Hollow, NY, get much of the publicity.
But there are so many great spots around the rest of the country that celebrate the holiday in style.
If you love Halloween, these places feature a perfect blend of scares, charm, and food, some of them all year round.
So, queue up your terrifying tunes, grab some spooky snacks, and put on your favorite creepy (or clever) costume.
Here are our top five places to live for Halloween lovers:
Franklin, Tennessee
All the best places to live if you love Halloween have a common theme: they take Halloween seriously, but have a lot of fun celebrating it. That mindset is on display at the annual PumpkinFest in downtown Franklin, TN.
PumpkinFest brings more than 140 arts and crafts vendors and over 30 food and beverage suppliers to deliver a spooky day for everyone to enjoy. Attendees can walk down Autumn Alley, vote on their favorite people and pet costumes, and undertake the Pumpkin Experience while listening to live music. 
Franklin also makes life easy for trick-or-treaters. The residential portion of the downtown district closes streets to pedestrians only, giving goblins and ghouls plenty of room to load up on candy and admire the decorated Halloween homes throughout the neighborhood. 
The city has several haunted buildings around town so you can give your visiting guests (and yourself) some extra goosebumps.
View this post on Instagram
Austin, Texas
One of the draws of Austin for Halloween lovers is the variety of activities you can find no matter what part of the city you're in.
Take a ghost tour at the haunted Driskill Hotel. Visit the House of Torment, which the Travel Channel once named "The Scariest Haunted House in America."
Head over to Pumpkin Nights for a really gourd time, visiting themed lands and checking out pumpkin artists, fire dancers, and tarot card readings.
Watch the bats soar from underneath Congress Avenue bridge — bonus points if it's a full moon!
And there's no shortage of themed bars and brunches, such as Lefty's Shop of Horrors, which includes eerily decorated rooms, festive food and drinks, a murder mystery party, and a Scream Queen Drag Show.
True haunted house fanatics can even volunteer for organizations like SCARE for a CURE. You'll have a blast if you get a thrill from startling and spooking people and keeping them up all night.  
With Texas being in such close proximity to Mexico, there are several Day of the Dead celebrations to attend. For instance, the Mexic-Arte Museum hosts an annual Viva La Vida festival and parade, offering elaborate face-painting and art activities, traditional foods, and a look at the holiday's history.
View this post on Instagram
Charleston, South Carolina
Thanks to a cryptic collection of ghost stories and legends, Charleston is one of the best places to live in for Halloween fans.
The Old Charleston Jail has been shut down for nearly a century but houses more than 130 years of incarcerated spirits. Local establishments, like the Dock Street Theatre and Poogan's Porch restaurant, also offer a ghostly vibe to locals and visitors alike.
Rather not explore on your own? Check out Boone Hall Fright Nights, South Carolina's largest multi-attraction haunted event. The event gets an overhaul each year, so you'll never have the same experience twice.
Other Charleston attractions include a haunted firehouse, a ghost walk and hayride, and a ghost tour that spins tales about pirates, wars, and more. 
View this post on Instagram
Las Vegas, Nevada
If dressing up in lavish costumes is your favorite part of Halloween, you'll love celebrating the holiday in Las Vegas — and you can even win some cash.
Las Vegas and its top businesses host more than 50 parties on and off the Strip every year. The city, known for its elaborate lights and sounds, is the perfect backdrop for costumes and treats. Many also feature costume contests, with prizes in the thousands of dollars. Just think of how much candy that could get you!
Should you prefer dark environments instead of vibrant lights, Las Vegas has you covered, too. Las Vegas Haunts offers Hotel Fear and Asylum haunted buildings and "Behind the Screams" tours to see the attraction's inner workings. Hauntworld Magazine — an authority on the topic, if the name didn't give it away — said it was "the most unique use of space" they had ever seen. 
For fans of the SAW movie series, USA Today voted the Official SAW Escape Room as the top escape room in the country. The venue includes multiple rooms inspired by the movie that will give you a spine-tingling good time — and an extra thrill once you escape. As a bonus, visitors to the SAW Escape Room also receive a discount on The Hunger Games: The Exhibition.
View this post on Instagram
Savannah, Georgia
Why is Savannah one of the best places to live if you love Halloween? Simple: Ghost tours. The city is full of haunted tours and themed pub crawls, and you can pick just about any method of transportation to visit them, whether on foot, in a hearse, or aboard the "Trolley of the Doomed."
The Bonaventure and Colonial Park cemeteries have extensive histories, with phantasmal spectrums hanging out nearby and statues revealing the most hair-raising stories about the cemetery occupants.
Savannah's restaurants provide plenty of mysterious ambiance for dining in spooktacular style. Moon River Brewing is located in a haunted building, while the Olde Pink House serves up tasty Southern food in the city's only 18th-century mansion. The 17Hundred90 Inn & Restaurant even has a resident ghost named Anna Powers — and she might not be the only spirit around.
Finally, the murder mystery novel Midnight in the Garden of Good and Evil is a true-life tale set in Savannah. Take a tour of the city's landmarks and attractions featured throughout the book.      
View this post on Instagram
Halloween decor indoors
To get fully into the holiday's spirit, add some Halloween decor indoors. Don't be afraid to borrow ideas from designers and decor experts.
For example, with Halloween living room decor, interior designer Bilal Rehman suggests embracing nature by using elements such as white pumpkins, dried corn stalks, and autumn foliage. He also believes in a minimalist approach, highlighting a few key pieces and avoiding any over-the-top cartoonish or gory decorations.  
And of course, there are plenty of Halloween films that showcase beautiful interior styles.
Now that you know the best places to live in if you love Halloween, you're ready to take your spooky game to the next level: search available AMH homes for rent in these regions.
© 2023 American Homes 4 Rent, LP
American Homes 4 Rent®, AMH®, AH4R®, Let Yourself In®, AMH Development®, American Residential®, and 4Residents® are registered trademarks of American Homes 4 Rent, LP. 4Rent℠, AMH Living℠, and 4Communities℠ are service marks of American Homes 4 Rent, LP.  AMH refers to one or more of American Homes 4 Rent, American Homes 4 Rent, L.P., and their subsidiaries and joint ventures. In certain states, we operate under AMH, AMH Living, or American Homes 4 Rent. Please see www.amh.com/dba to learn more.