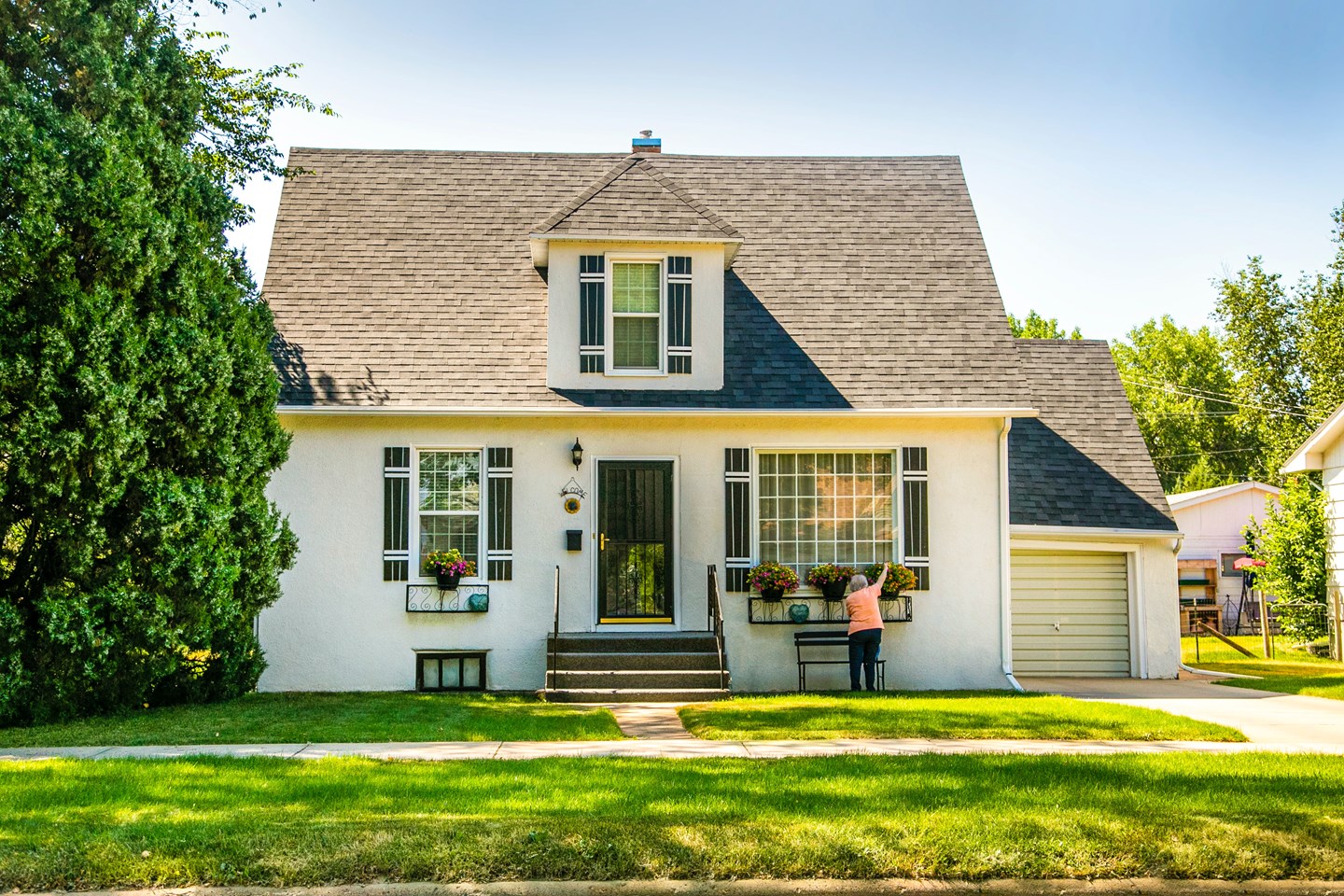 Dewinterizing your home for spring
Posted by AMH Team
6m read time
Mar 21, 2023
The arrival of spring signals time to get your home ready for warmer months by reversing winterization steps you took in the fall to protect it from the elements, avoid weather-related damages, and save energy costs. 
The process to dewinterize home might look a bit different depending on your location, layout, and infrastructure, but here are some basic steps that commonly apply wherever you call home.
As always, if you're living in a rental, be sure to check your lease first to learn which home maintenance items are your responsibilities and which landscaping services are provided by your property manager. 
What is dewinterization?
Winterization is the process of getting something ready for winter. Typically, you'll winterize your home, car, or other larger items because you won't use them as much during the colder months. In the case of your home, winterizing can both help save money on energy bills and reduce the risk of damage and extensive repairs. As its name suggests, dewinterization is the opposite of winterization. You're making those items suitable for use again as the temperatures get warmer.    
Why dewinterize a home?
Have you ever taken an extended break from exercising and then felt incredibly sore after your first workout back? You hadn't used certain muscles in weeks or months, and putting them to work caused them to tighten up and ache. Your home is similar to your body in that sense. If you immediately try to turn something on or change something that hasn't been used for four or five months, like a sprinkler system, it could lead to long-term damage.
How to dewinterize your home
There are several steps in the dewinterization process to get your home ready for spring. While the actual execution may vary based on the layout of your home and the systems within it, these are good places to start your dewinterizing.
Dewinterize your pipes
If applicable in your climate and region, namely where temperatures drop below freezing, one of the most critical ways to get your home ready for spring is to dewinterize your pipes. Think about a time you jumped into a pool or lake of freezing water. It was a shock to the system, wasn't it?
Your home's pipes can also be shocked when turning them back on after the winter, so it's best to take it slow. Start by removing aerators from drains and faucets, turning your home's power off, and shutting off water to any main sources within the home, like your sinks, toilets, showers, dishwashers, and washing machines. 
For more detailed instructions on dewinterizing your pipes, click here. 
Turn on your sprinkler system
Alongside dewinterizing your pipes, you'll also turn on your sprinkler system. You can hire a professional landscaper to do the job, or if you're more of a DIY enthusiast, you can handle it, too.
If you tackle the job yourself, you'll need a flat-head screwdriver, clamps, water shut-off curb key, and possibly sprinkler valve key, depending on your type of setup.  
Identify the location of your sprinkler system shut-offs, then turn the water on slowly. Since the pipes haven't been used for months, too much pressure all at once could damage them.
Close to those handles, you'll see a tube going into the ground and a secondary irrigation shut-off. For above-ground sprinkler systems, you may also need to clean the valve filter, which you can do with a wire brush, cloth, and bucket of water.
When you start up your system, you'll need to run through each zone with a timer, typically at least for five minutes. Check for broken sprinkler heads and low water pressure. You're looking for bubbling water in the ground or malfunctioning sprinkler heads, which likely means an issue with the filter. Luckily, with a clamp and screwdriver, you can easily clean the filter or replace it with a new one. 
Make sure to turn the water off before making any repairs. Otherwise, you may cause more trouble with your sprinkler system!  
Mow and edge landscape areas
The harsh winter months can do a number on your yard. You likely have uneven patches of grass in various stages of growth, and the overhang from your lawn and tree branches could present a hazard for people taking a stroll through the neighborhood.
If you live in an area with an HOA, you may be required to keep your yard in good condition. Don't wait too long into the spring to start mowing to make your lawn more presentable and safer.
Trim shrubbery and overgrown bushes
Just like your lawn may get unruly during the winter, shrubs and bushes on your property continue growing, too. The branches on those bushes may be more tender and crack easily during cooler temperatures, so don't be discouraged if one cracks. At the very least, you want to prune the leaves using garden shears or another tool to keep your shrubs nice and tidy.
As you're tending to the yard, take a moment to assess your tools. They may have accumulated rust during the winter, or the blades may have dulled. Spending additional time upfront to make any tweaks or replacements can save you lots of time and headaches.
Maintain flower beds, refresh mulch, and treat weeds
If you live in a home where you can modify your yard space, starting a garden can be an enriching experience. But, without proper preparation, your garden might end up bringing you more sadness than joy. 
Your first step is to identify if pests are abundant; some pests thrive in specific climates. If necessary, call an exterminator or pest control professional to treat areas of your garden.
The next step is to mulch your container garden beds. Doing so promotes healthier soil and more effectively regulates temperature and water for your plants. Similarly, mulching leaves instead of raking them can give your lawn added nutrients to aid its growth.  
You can also pick some spring bulbs to plant for gorgeous summer flowers. Ensure your plants get the proper sunlight and water, and remove any weeds that have started growing near your garden, which can negatively impact the blooming of flowers and other flora. 
Replace your air filters
During the winter, your air filters can catch all kinds of pollen and debris. Since they've taken a beating, give them a refresh as part of your dewinterizing checklist. Replace your air, HVAC, and furnace filters throughout the house. Changing your filters should be a quarterly activity to ensure you get top-notch air quality throughout your home.
While you're at it, schedule an inspection for your water heater if it's more than five years old. And check your smoke and carbon monoxide detectors to ensure they're working. You'd rather discover any issues in a non-emergency setting!
Do some spring cleaning
The final step for dewinterizing a home involves some good old-fashioned spring cleaning. If you haven't used certain items for months — such as a lawnmower, chainsaw, or motorcycle — they'll likely have picked up some dust or cobwebs. It's a good idea to ensure that they still function correctly, too.
Beyond testing these items, spring is a great time to remove any excess clutter from your home. Go one room at a time and pick out things you don't need. You may be able to donate them; organizations like The Salvation Army will even come right to your home to collect larger items. 
Dewinterizing a home is an essential annual step to take. Taking care of it now will set you up for success all year long. 
For more home care advice, check out AMH's list of top Instagram accounts for home hacks.
© 2023 American Homes 4 Rent, LP
American Homes 4 Rent®, AMH®, AH4R®, Let Yourself In®, AMH Development®, American Residential®, and 4Residents® are registered trademarks of American Homes 4 Rent, LP. 4Rent℠, AMH Living℠, and 4Communities℠ are service marks of American Homes 4 Rent, LP.  AMH refers to one or more of American Homes 4 Rent, American Homes 4 Rent, L.P., and their subsidiaries and joint ventures. In certain states, we operate under AMH, AMH Living, or American Homes 4 Rent. Please see www.amh.com/dba to learn more.