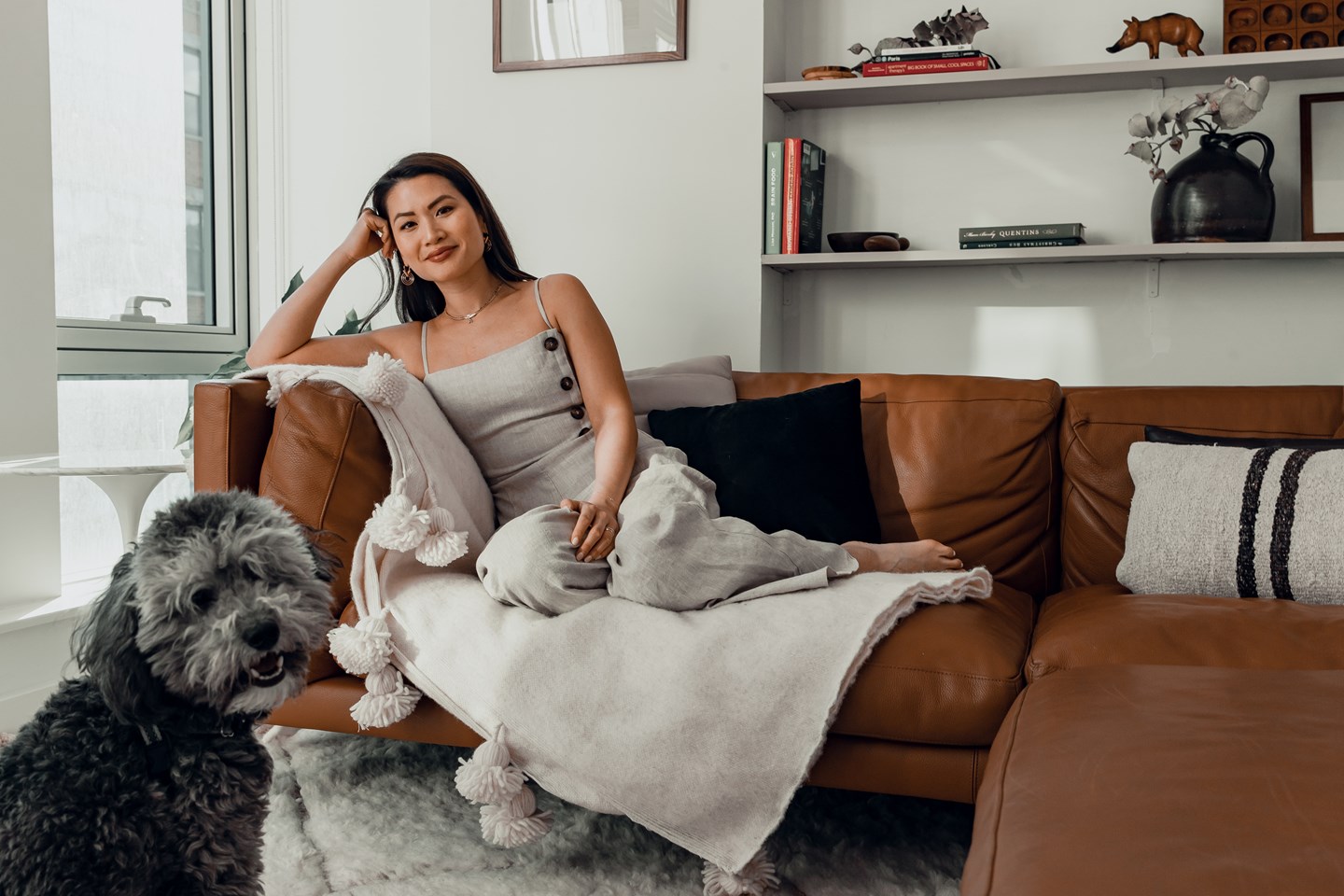 10 Asian American and Pacific Islander interior designers to follow
Posted by AMH Team
5m read time
May 4, 2023
Asian American and Pacific Islander Heritage Month in May is an annual occasion to honor the history, culture, and accomplishments of Asian and Pacific Islander Americans. To celebrate some of these individuals and their contributions, we've compiled a list of ten contemporary Asian American and Pacific Islander interior designers creating beautiful art in the genres of style and décor, to inspire your creativity at home this year.
Do you find yourself gravitating to the quirky and offbeat? Eny Lee Parker is right up your alley. She specializes in furniture, lighting, and other objects, primarily using clay to create stunning items like the Bullet Heart vases below.
Parker embraces trying new and creative ideas—her Instagram bio states she's "making a mess for a living." She also hosts events at Apartment 7x in Brooklyn, so following her will give you a taste of fun designer parties.
View this post on Instagram
Architecture and fashion are often treated as two separate worlds. Airi Isoda is looking to change that by pairing design and clothing. Alongside her husband, Ryan Upton, she founded the studio Wrk Shp. If you've visited a Blue Bottle coffee shop or are familiar with the Commonwealth streetwear brand, you've seen Isoda's work.
The Wrk Shp Instagram account highlights some of their design and fashion work and gives followers a glimpse into different products and ideas Isoda finds attractive. It's a good reminder that design inspiration can come in many shapes and forms.
View this post on Instagram
Dabito calls himself a "passionate vintage hunter" and certainly lives up to his name. His pairing of modern and vintage design may be unparalleled. He's done design work for The Home Depot, Crate & Barrel, HBO Max, Google, IKEA, and several other big brands.
Spend just a few seconds on Dabito's Instagram feed, and you'll see his enthusiasm for color. Every color generates unique emotions and thoughts, so if you're thinking about sprucing up a room, the palette on his Instagram feed is a great foundation to see what you like best. His book, Old Brand New: Colorful Homes for Maximal Living, comes out this summer. 
View this post on Instagram
One of the benefits of growing up in several places around the world? You get exposure to all sorts of remarkable architecture. Jessica Davis and her family lived in Australia, Hong Kong, Dallas, and Los Angeles, and her love of design just kept growing. After working on Home Again with Bob Vila, Davis began her custom hardware company, Nest Studio.
Davis started Nest Studio because she struggled to find the right knobs when working on interior design projects. Over the past decade, she's expanded her portfolio, displaying unique blends of color and styles. Her Instagram account showcases her work while offering design advice along the way.
View this post on Instagram
Michael K. Chen spent his childhood drawing and creating things. He's put that sense of wonder to good use with his design firm, MCKA, and has received numerous accolades, including the Elle Decor A-list and AN Interior Top 50 list. More recently, he founded Design Advocates, a nonprofit organization of design firms focusing on communities in need.
MCKA's feed is pretty thorough in what it covers. As the bio notes, you'll find buildings, environments, interiors, and artifacts. The account includes highlights of different neighborhoods and projects Chen has worked on, offering inspiration for any DIY idea you have. 
View this post on Instagram
Mimi Jung is a must-follow if you're into textiles and woven work. Her installations have appeared across the United States and in major exhibitions across London, Brussels, Copenhagen, and Melbourne. She hopes her work encourages viewers to reflect on their thoughts and behaviors, opening up new avenues of self-expression. 
Jung often shares behind-the-scenes clips and work-in-progress pieces. And if you're really lucky, you might get a peek at her cute dog, Shadow. 
Jane Ko started her food and travel blog, A Taste of Koko, without any prior culinary knowledge. More than a decade later, she's grown it into one of the premier destination accounts for the greater Austin area. As she navigated the city, she found herself equally drawn to the food and architecture of her favorite dining spots.
She's launched her new account, Koko Designs, with an eye on creating a vibe. Her Instagram feed shares restaurant and hotel content that inspires her, home renovation projects, and some cool ideas for sprucing up any living space.  
View this post on Instagram
Ayako Aratani was born in Japan and now lives in Detroit. The former developed her fondness for nature, harmony, and seeing the good in the imperfect. The latter introduced her to materials and how things are constructed. She pairs them both in her design, often fusing two seemingly disparate ideas into functional artwork.
Her Instagram account features works in progress and showcases how functional art serves a valuable purpose and can evoke strong feelings, metaphors, and stories.
View this post on Instagram
Lindsay Meyer was born in Korea and adopted by a family in the Midwest just a few months later. In her own words, her "cultural chameleon" background gave her a unique view for running Batch, a home staging company. Meyer likes to turn spaces into something meaningful, which every project should try to capture, from patio decorations to garage fix-ups.
Lindsay tends to share nature posts from her personal account. That passion for nature occasionally creeps into Batch posts, too. Ideas like these air plant hangers are a refreshing way to use space without cluttering your floor:  
View this post on Instagram
Syrette Lew founded Moving Mountains to produce distinctive furniture across a variety of styles and settings. She named the company in honor of her Hawaiian heritage, a nod to the tectonic Pacific Plate traversing over volcanic hotbeds. Lew collaborates with regional artisans and fabricators, combining an equal mix of aesthetics, functionality, and comfort.
If you're looking to declutter your home—or at least rearrange a room—the Moving Mountains Instagram offers a look at how you can use minimalism to maximize impact. The feed often highlights individual pieces while demonstrating ways to create vibrant and open areas in your home.
View this post on Instagram
© 2023 American Homes 4 Rent, LP
American Homes 4 Rent®, AMH®, AH4R®, Let Yourself In®, AMH Development®, American Residential®, and 4Residents® are registered trademarks of American Homes 4 Rent, LP. 4Rent℠, AMH Living℠, and 4Communities℠ are service marks of American Homes 4 Rent, LP.  AMH refers to one or more of American Homes 4 Rent, American Homes 4 Rent, L.P., and their subsidiaries and joint ventures. In certain states, we operate under AMH, AMH Living, or American Homes 4 Rent. Please see www.amh.com/dba to learn more.