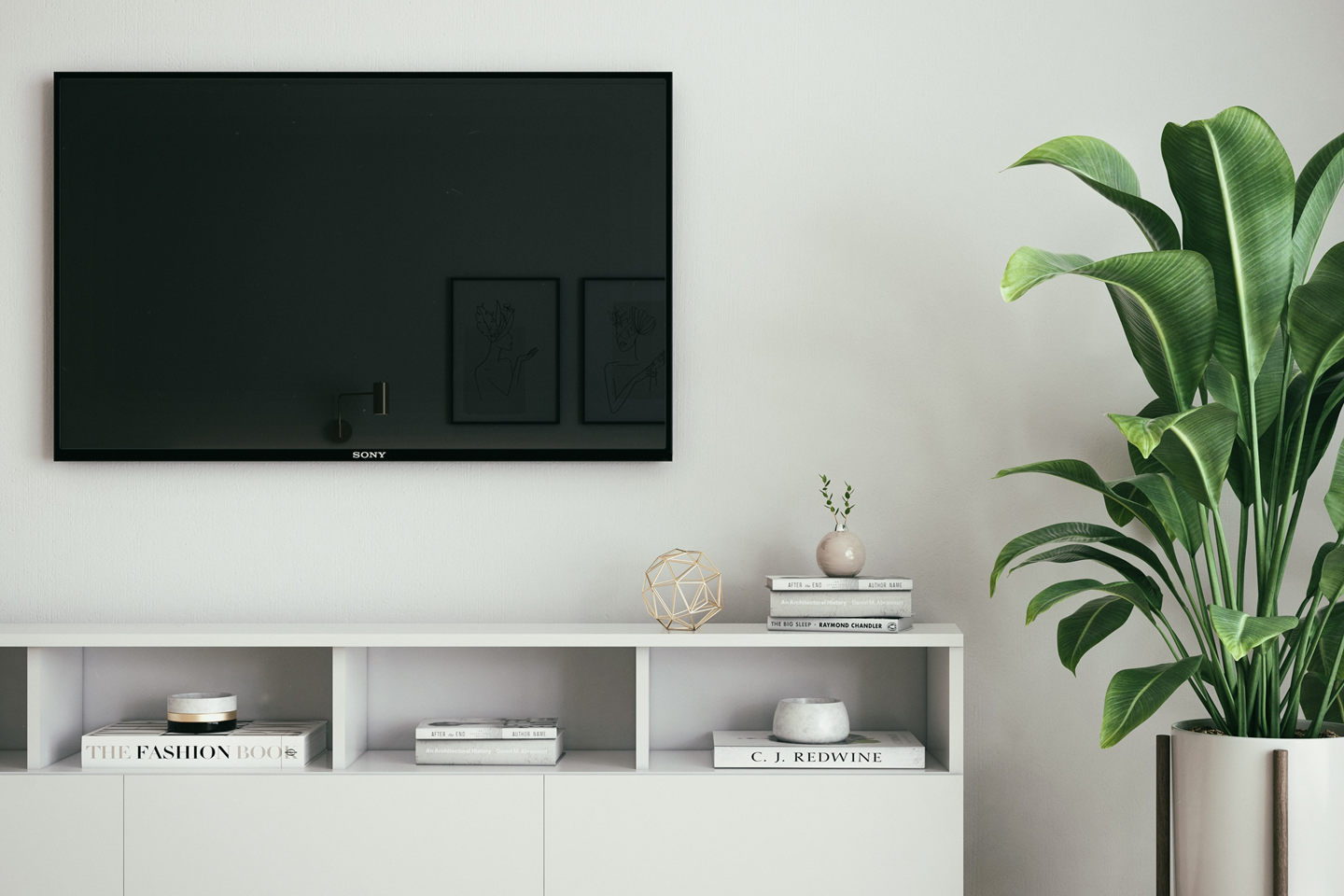 Trending TV shows and movies to inspire your home's style
Posted by AMH Team
6m read time
Feb 22, 2023
We're in a golden age of television and cinema. Rich storylines, memorable characters, and outstanding dialogue all contribute to enjoyable onscreen action. Another thing these trending TV shows and movies have in common? They're all visually stunning, whether they're highlighting impressive period pieces or innovative futuristic styles. The next time you watch one of these shows or films, pay extra attention to the scenery. They just might inspire your next home project.
You — British Cozy
While Penn Badgley has no trouble fitting into all kinds of different monikers, you don't have to be masquerading under a hidden identity to appreciate the glamourous settings of You. Part 1 of the latest season of the show is set in London, United Kingdom, with dark walls, plush seating, and accouterments like writing desks and shelves filled with books. One key to effective British cozy is space utilization since UK homes typically have less room than American ones. This style favors comfort over flashiness and subtlety over going too bold. Your furniture layout should invite intimate conversations, not across-the-room shouts.
Glass Onion: A Knives Out Mystery — Mediterranean Style
Chances are your home isn't on a private island near the coast of Greece. And maybe murder mystery parties aren't your thing. That's okay — you can still look to Glass Onion for Mediterranean-style advice. Many Mediterranean homes feature a central fountain and courtyard, with bright and vibrant spaces throughout the house. Test your green thumb by starting a container garden in the yard or inside along a windowsill. Don't be afraid to utilize natural light, either. Not only could an open window provide refreshing air and sunshine, but it can also help save on your electricity bills throughout the year.
Yellowstone — Ranch Chic
The plot of Yellowstone centers around the Dutton family. They own the largest ranch in Montana, the Yellowstone Dutton Ranch. As we see stories (and drama) unfold, we get a peek into some impressive ranch designs. On a ranch, everything has practical use. Ranch chic should adhere to that same philosophy, though enhancements bring a burst of energy. For example, a wooden dresser provides a rustic element to any room. On top of the dresser, add plants or a decorated box for watches, rings, or other smaller items. Or grab a pair of refurbished oak chairs and tables for a guest room, then bring in a coffee maker to start the morning off right for any visitors.
This style can even extend to your clothing. The "escape dressing" mindset of "Westerncore" has become popular in certain states. Though if you go that route, heed a warning from Robert Gill, the sixth-generation head of the Hereford Ranch in Jackson, Wyoming: "For anyone that wants to put those designer cowboy duds to the test, they can sign up for our summer internship program to put some real Wyoming dirt and dung on those boots."   
Avatar: The Way of Water — Oceania Island
More than a decade ago, Avatar hit screens, and its visual design was lauded as among the most innovative the movie industry has ever seen. As the writing and production of the sequel got underway, James Cameron and his team learned from other CGI-heavy movies, such as Alita: Battle Angel and virtually any entry from the Marvel Cinematic Universe.
The journey from Avatar to Avatar 2 is a beautiful reminder of the power of planning. Cameron wrote the sequel to Avatar before the first movie was ever released, but he wanted to learn from other projects — and wait for new technology — to ensure it was the best movie it could be.
The Oceania Island style is a nice nod to the blue Na'vi and extensive ocean landscapes of Avatar 2. However, perhaps the movie's best tip is that sometimes waiting can be your best option. You don't have to do every home project all at once – tackle one and learn from it before moving on to the next.
The Last of Us — Minimalist
The Last of Us has some similarities to the world right now — set in 2023 amidst a global pandemic — though thankfully, we don't have to worry about zombies in a post-apocalyptic setting. Nevertheless, the show encourages minimalism since characters are consistently on the move and can only bring the essentials with them.
Add multipurpose pieces for your minimalist design. An ottoman and tables with extra storage serve multiple functions, making them great additions to common areas. Clutter is one of the biggest enemies of minimalism, so keep loose items off the floor and don't bring in more without taking something out. Finally, focus on lighting — from windows, overhead fixtures, or table lamps — to make your space shine.
If you really want to go to the extreme, you could only keep a chair, PlayStation, and a copy of The Last of Us video game in one room. We wouldn't recommend it, but that's next-level fandom.   
The Banshees of Inisherin — Biophilic Design
Colin Farrell, Brendan Gleeson, and Martin McDonagh join forces again in The Banshees of Inisherin. Set in a fictional small town in Ireland, the film tells the story of friendship and loneliness, in which plants and pets play key roles. Both main characters have animals they love and make accommodations to their simple homes to improve their pets' happiness. Meanwhile, the gorgeous green scenery of Ireland is in the backdrop of nearly every shot, proving that nature is capable of some beautiful things. Make easy adjustments to better care for your pets. And here are some of the best plants to include in your home throughout the year.
The White Lotus — Renaissance Revival
Each season of The White Lotus takes place in a different location, but there's a consistent theme of lavish, exotic designs throughout the series. In Season 2, the show travels to Italy, and was filmed namely in Sicily. While vaulted ceilings, stone facades, and eye-catching roofs are staples of a Renaissance Revival building, there are a few simple ways to adopt this aesthetic within your home. This style emphasizes symmetry, so keep that in mind when decorating. That can be a pair of plush chairs on either side of the sofa, an art wall you put in your living room, or a mirror that splits the bedroom, which also gives the feeling of more space.
Weird: The Al Yankovic Story — Eclectic Quirk
"Weird" Al Yankovic has been a music industry staple for over four decades. He's ended up with a longer career than most of the artists he's parodied, and it's about time he got a biopic about his storied music career.
Except, true to form, the biopic is full of jokes, parodies, and embellishments. No, Al didn't write his song "My Bologna" while making a sandwich, and his fame didn't come mere minutes after sending a demo tape to a radio station. But the movie doesn't shy away from making a splash.
Don't shy away from making splashes in your home, either. Want to decorate your patio with new furniture? Do it. Wish your bathroom was a spa? Make it happen. Thinking about a DIY project? Go for it. Your home should reflect your style, and you can create some incredible spaces by embracing what makes you unique.
Watching television and movies is a terrific way to unwind and take a break. But with a keen eye, it can also be the launching pad for enhancing your home's style.
© 2023 American Homes 4 Rent, LP
American Homes 4 Rent®, AMH®, AH4R®, Let Yourself In®, AMH Development®, American Residential®, and 4Residents® are registered trademarks of American Homes 4 Rent, LP. 4Rent℠, AMH Living℠, and 4Communities℠ are service marks of American Homes 4 Rent, LP.  AMH refers to one or more of American Homes 4 Rent, American Homes 4 Rent, L.P., and their subsidiaries and joint ventures. In certain states, we operate under AMH, AMH Living, or American Homes 4 Rent. Please see www.amh.com/dba to learn more.