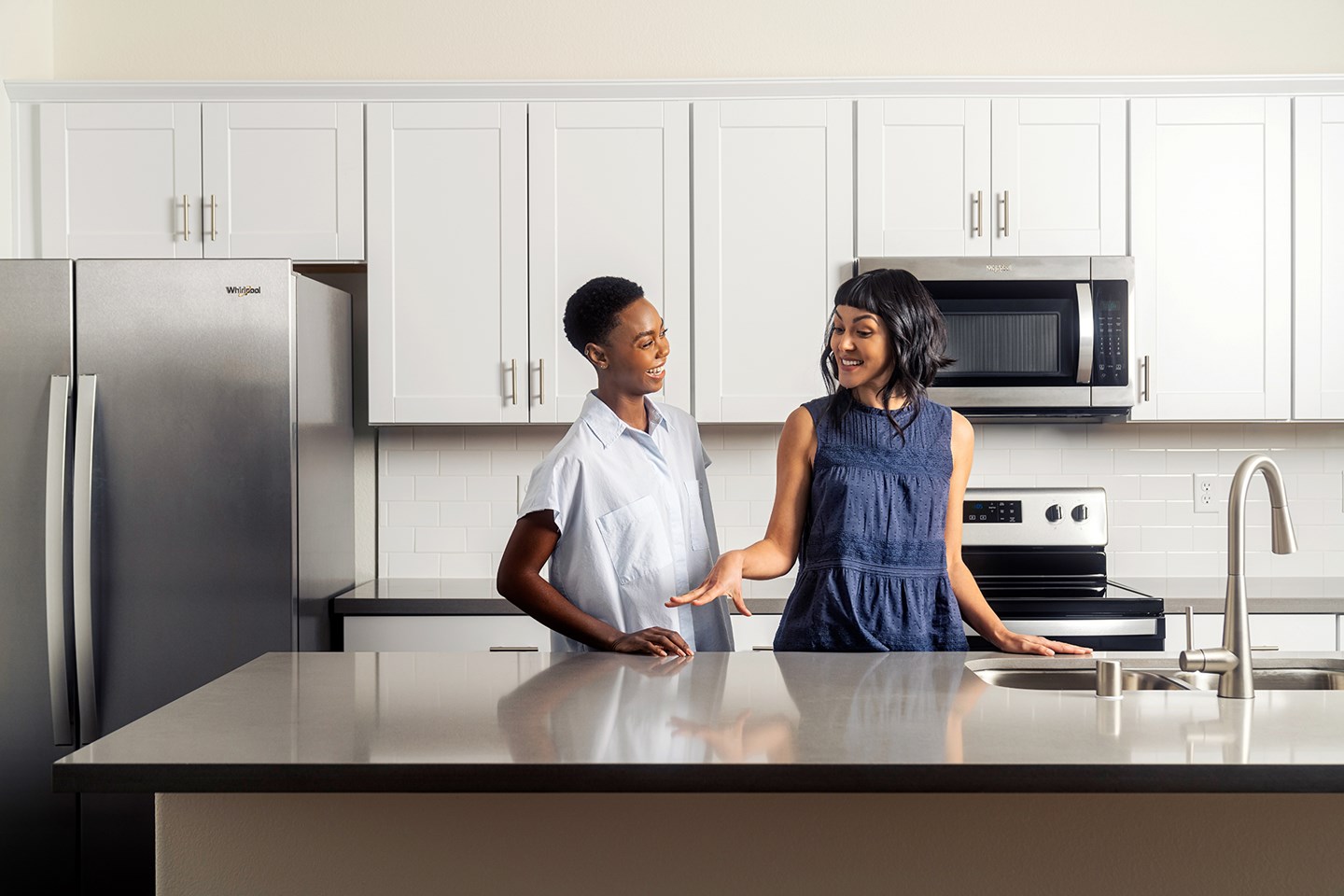 Get inspired by these 10 Black interior designers and stylists
Posted by AMH Team
5m read time
Feb 8, 2023
Black History Month honors and recognizes Black and African American people who have made important contributions to the world. This meaningful occasion offers a chance to discover new people and bright minds across a variety of spaces, including interior design and style. But we shouldn't celebrate Black interior designers and architects only during Black History Month. Here are 10 impressive visionaries, and the brands they've built, who can inspire creative ideas all year round.
AphroChic — Jeanine Hays and Bryan Mason
AphroChic is all about "celebrating creativity from across the African Diaspora." Founded in 2007 by husband-and-wife duo Bryan Mason and Jeanine Hays, the brand combines design, media, and fashion. Among the AphroChic empire is a design studio, magazine, podcast, and artisan products that highlight culture and passion.
Designs from AphroChic tell a story unique to each home or office. Big, beautiful spaces incorporate natural light and modern techniques while highlighting culture and historical artifacts.
AphroChic has also worked on pop-up homes, such as this one from the Helms Bakery District in Los Angeles, the first African-American concept home ever shown on the West Coast.
Right Meets Left Interior Design — Courtney McLeod
Finding the perfect balance between "innovative design (right brain) and analytical rigor (left brain)," Courtney McLeod and Right Meets Left aren't afraid to mix things up. We all have our individual personalities and lifestyles, and our living spaces should reflect that.
Don't be afraid to experiment with texture, pattern, and color. The final design should aim to tell a cohesive story, but that story can unfold at your own pace as you figure out what works best.
After all, McLeod is in her second act, too — she left a 15-year career in the financial services industry to follow her passion for designing interiors.
Rodney Lawrence Inc. — Rodney Lawrence
Rodney Lawrence believes interior design shouldn't merely be decorating. Instead, it's more like "building a collection for someone—creating something that has longevity and is deeply personal."
Lawrence moved from Trinidad to the United States when he was 10 years old and had frequent early experiences with nature, thanks to his grandfather keeping several animals at home. That sense of creativity and collecting has continued throughout Lawrence's career, with a focus on art, objects, and unity.
You know yourself better than anyone else, so embrace that knowledge when working on home projects. Are there certain items that always make you happy? Add them to a bedside table or your office desk. Do you find specific colors soothing? Introduce them into your bedroom or other relaxation areas.
Shakoor Interiors — Erin Shakoor
Something that stands out with Shakoor Interiors is the big, bold designs. Seeing one will make you stop your scroll — and borrowing one of those designs for your home will make guests stop and stare in amazement.
Erin Shakoor has always been curious about the world around her, so interior design was a natural fit. Her work takes inspiration from Brutalist and Art Deco design and beautiful locations like Paris, Florence, Girona, and Mali.
Shakoor Interiors also supports several charities and nonprofits, including After School Matters, Designs for Charity, and The Art Institute of Chicago.
DCDNY — Danielle Colding
Nestled in one of the most bustling hubs in the world, Danielle Colding's DCDNY draws inspiration from the Empire State. The result is a combination of classic elegance and eclectic additions that make you feel like you're in the midst an interior design evolution.
Colding incorporates elements such as travel collections, art, and family heirlooms. Try taking a page from her book and adorning a bookshelf or wall with some of your favorite worldly possessions. And aim for inclusivity for your guests — as DCDNY's website says, "there are no 'you can't sit on that chair' spaces here."
Like Shakoor, Colding also gives back to her community. She's a Black Artists and Designers Guild member and frequently contributes to the Ronald McDonald House, DIFFA, and New York's Housing Works "Design on a Dime" event.
Nikki Klugh Design Group — Nikki Klugh
Nikki Klugh has been in the interior design world for 2 decades, and she emphasizes creating a "Sacred Space," a place where you can go to re-energize yourself. These spaces should bring feelings of tranquility, healing, and joy.
Klugh started her interior design journey after going through school as a self-proclaimed "ugly duckling." She discovered a transformation in helping people create their own "Sacred Spaces." If you've thought a particular part of the home could use a little TLC, a change might just ignite a spark.
The transformation can focus on the entire home or only 1 area. You could work to maximize your garage space or introduce some new practical furniture and accessories to your patio.
Nubi Interiors – Carmeon Hamilton
Carmeon Hamilton's goal is to "help others find beauty in the things that surround them every day." Her modern bohemian style introduces sleek and eye-catching modern elements while incorporating vibrant colors through boho-chic accent pieces like rugs and pillows. The combination can positively affect your well-being, like a meditation space in your home.
Hamilton also has a "jungle of house plants," so if you need extra green in your life, she's a terrific inspiration.
Mikel Welch Designs — Mikel Welch
Mikel Welch started building early on, constructing sofas and dining tables with toy LEGO blocks. Today, Welch runs his own interior design business and hosts the Quibi show Murder House Flip.
Welch and his team believe everyone should live a life of luxury, which means focusing on sophistication, comfort, and functionality. Most of all, make sure to keep everything authentically you.
Clare – Nicole Gibbons
If a DIY painting project is in your future, you can discover plenty of beautiful colors at Clare. With hues like Headspace, Seize the Gray, Current Mood, and Fresh Kicks, you'll find no shortage of tones for interior, exterior, and accessory projects.
Nicole Gibbons founded Clare in 2018 after recognizing the traditional experience of shopping for paint was frustrating and needed to be updated. She already had interior design experience and loves making colors pop, so it was a natural move. Now, her goal is to help everyone love where they live, whether they're staying there for a year, a decade, or more.
Not sure where to begin on your paint journey? The Clare Color Genius is a two-minute quiz that recommends the ideal paint color based on your preferences and living space.
Discover more Black designers doing incredible work through their brands on this list of Black-owned businesses featuring furniture, decor, accessories, and more.
© 2023 American Homes 4 Rent, LP
American Homes 4 Rent®, AMH®, AH4R®, Let Yourself In®, AMH Development®, American Residential®, and 4Residents® are registered trademarks of American Homes 4 Rent, LP. 4Rent℠, AMH Living℠, and 4Communities℠ are service marks of American Homes 4 Rent, LP.  AMH refers to one or more of American Homes 4 Rent, American Homes 4 Rent, L.P., and their subsidiaries and joint ventures. In certain states, we operate under AMH, AMH Living, or American Homes 4 Rent. Please see www.amh.com/dba to learn more.