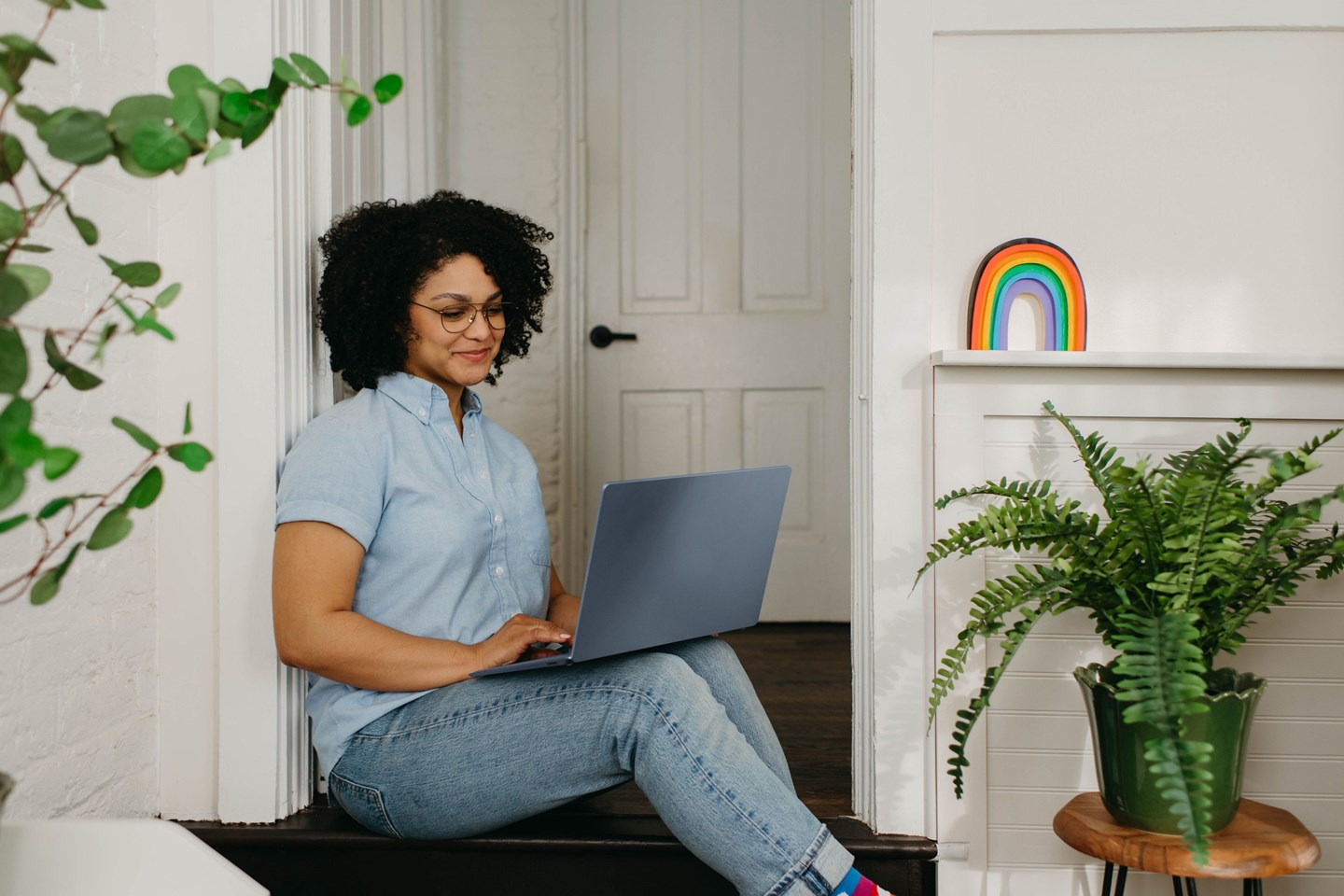 Celebrate Pride Month with these 10 LGBTQ+ interior designers
Posted by AMH Team
7m read time
Jun 13, 2023
The U.S. celebrates Pride Month to commemorate the 1969 Stonewall Uprising in Manhattan, which was a significant turning point in the Gay Liberation Movement. While the initial celebration was held on the last Sunday of June as "Gay Pride Day," it was eventually expanded to a full month, recognizing the meaningful impact lesbian, gay, bisexual, transgender, and queer community has had on our history and culture. This year, to celebrate Pride, we're spotlighting 10 LGBTQ+ designers who have made significant strides in interior design, style, home decor, and more. These designers are doing incredible work throughout the industry, creating thoughtful designs and pioneering innovative trends. We hope they inspire you in your next creative project!
Fans of Queer Eye will likely recognize Bobby Berk. He's the Fab Five's go-to on interior design and home organization. Though Queer Eye has undoubtedly made a global impact—it can be seen in more than 100 countries—Bobby has plenty of impressive accomplishments. He honed his craft working with retail brands, including Bed Bath & Beyond and Restoration Hardware. In 2006, he founded his own company, opening his first showroom the following year. Bobby Berk firm, his full-service custom interior design practice began in 2015, helping residential, commercial, and hospitality businesses be more fab. 
View this post on Instagram
Carmen René Smith — Aquilo Interiors
A quick visit to the homepage of Aquilo Interiors delivers perhaps the most gorgeous playroom that has ever been put together, complete with vibrant hues, playful scenery, and a majestic giraffe standing tall in the center of the room. Such an impressive design is no surprise, considering who oversaw it. Carmen René Smith is the principal designer for Aquilo, focusing on creating designs with soul, wonder, and precision. She's led projects for homes, hotels, restaurants, and more, emphasizing the use of color to bring a room together. For your next home décor project, consider that each color has a different meaning. Take a page from Carmen's book and use unique primary and accent colors to control your perfect ambiance.
View this post on Instagram
Shavonda Gardner — SG Style
Like Shavonda Gardner says, "Just because you live small, it doesn't mean you can't have big, bold style!" Whether you plan on decorating an entire floor or want to spruce up your nook space, Shavonda offers plenty of guidance for eclectic interiors. In 2014, she moved out of a large house and into a bungalow half the size with her wife, kids, dog, and chickens. Since then, she's learned to be intentional with her space—and wants to help others do the same. Shavonda's site dives into her story while highlighting design tips, gardening ideas, travel inspiration, and more.
View this post on Instagram
Don't confuse him with the comedian Martin Lawrence. Martyn Lawrence Bullard has a style all his own. And even if you haven't seen him, you've seen his work. He's designed homes for several A-list celebrities, including Kylie Jenner, Khloe and Kourtney Kardashian, Cher, and Tommy Hilfiger. He's also overseen designs of several hospitality projects ranging from Hollywood to Switzerland. Want to borrow a bit of style from Martyn? Check out his line of furniture and home accessories through his firm, or look at his rug and dinnerware collections.
View this post on Instagram
Jackie Thomas and DeeAnn McCoy — Thomboy Properties
If you don't like tackling DIY projects alone, you can draw inspiration through Thomboy Properties, the renovation company created by wife-and-wife duo Jackie Thomas and DeeAnn McCoy. Jackie and DeeAnn always planned to leave their corporate marketing and advertising careers and move to the desert. They finally made it happen in 2010, during one of the world's worst economic climates. Thomboy's philosophy respects old designs and reimagines them for the modern world. They like to renovate classic buildings, incorporating fresh looks while respecting the authenticity of the original design. It's a good reminder for your home, too—there's beauty all around you, and how you incorporate furniture, artwork, and other accessories should reflect that.
View this post on Instagram
Jason Lai — JL Interiors
After graduating with a Business Marketing and Communications degree from Cal State Fullerton, Jason Lai thought he would enter the business world. But he realized he wasn't feeling creatively driven and needed another outlet for his passion. He turned to the school's Interior Design program and set off on a new career. Jason created JL Interiors based on a simple concept: Design shouldn't only make things beautiful; it should also make things work beautifully. His work has appeared on Million Dollar Listing LA and Open House. Whether working with a traditional or contemporary design, he aims to stay true to that combination of beauty and function. Jason also proves that talking to new people can pay off. He met Kelsey J. Patel on an airplane, they became friends, and she officiated his wedding. 
View this post on Instagram
Olga Rechdouni — Duroque
Olga Rechdouni is no stranger to interior design. She grew up in a furniture manufacturing family and was in her school's art club. Her passion for design led to her building a team at Duroque, which specializes in custom boutique furniture and accessories, from glamorous dog beds to eye-catching neon signs. Olga works with other interior designers, builders, and artists, helping businesses and customers alike add flair to their rooms. Just don't challenge her to a 5k race. As she notes in her LinkedIn bio, she WILL beat you.
View this post on Instagram
Claire Saldaña — Style Done Easy
Have you ever planned to clean out your closet and quickly lost steam once you waded through unorganized shirts, scattered shoes, and misplaced socks? Claire Saldaña feels your pain. She's been into fashion for most of her life, learning about garment construction at The Art Institute of Dallas and as a creative director at a local clothing boutique. Now, Claire is the founder of Style Done Easy, working with women to help them clean their closets and redo their wardrobes. She's also developed runway and special event productions, unleashing new fashionistas with improved organizational skills.
View this post on Instagram
Corey Damon Jenkins — Corey Damon Jenkins & Associates
When Corey Damen Jenkins was a child, he would sketch drawings of highly detailed rooms, complete with futuristic furniture. He attended trade and art schools, pursuing an architectural drafting career, though his parents encouraged him to seek a more secure job. After a decade of working for an auto manufacturer in Detroit, Corey was unexpectedly laid off. While suddenly losing your job might cause some people to mope, Corey took stock of the situation and returned to his passion, launching an interior design firm. At first, business was slow as Corey navigated the Great Recession of the late 2000s. He knocked on nearly 800 doors around the greater Detroit area, bringing a satchel filled with color boards, floor plans and elevations, and hand-drawn interior concepts. He eventually secured his first client, and weeks later, HGTV caught wind of his work. Corey's firm has since branched into furniture and textile designs, adding to his already impressive portfolio. His story is a reminder that following your dreams and hustling can lead to good things.
View this post on Instagram
Elsie de Wolfe
So far, we've featured modern designers in this article, so here's a throwback. Elsie de Wolfe is, by most accounts, America's first interior designer. She began her career as an actor before moving into a home with the literary agent and business representative Elisabeth Bessie Marbury. Elsie designed her own home first and realized she had a knack for it, soon becoming a professional decorator. Her most prestigious project was re-designing the Colony Club, the first club in New York exclusively for women. Victorian style was traditionally dark and neutral, with heavy draperies and furniture that blended into the surroundings. Elsie took the opposite approach, introducing concepts like chintz, chinoiserie, and the use of mirrors while focusing on lighter, airier, and more feminine designs.
View this post on Instagram
© 2023 American Homes 4 Rent, LP
American Homes 4 Rent®, AMH®, AH4R®, Let Yourself In®, AMH Development®, American Residential®, and 4Residents® are registered trademarks of American Homes 4 Rent, LP. 4Rent℠, AMH Living℠, and 4Communities℠ are service marks of American Homes 4 Rent, LP.  AMH refers to one or more of American Homes 4 Rent, American Homes 4 Rent, L.P., and their subsidiaries and joint ventures. In certain states, we operate under AMH, AMH Living, or American Homes 4 Rent. Please see www.amh.com/dba to learn more.